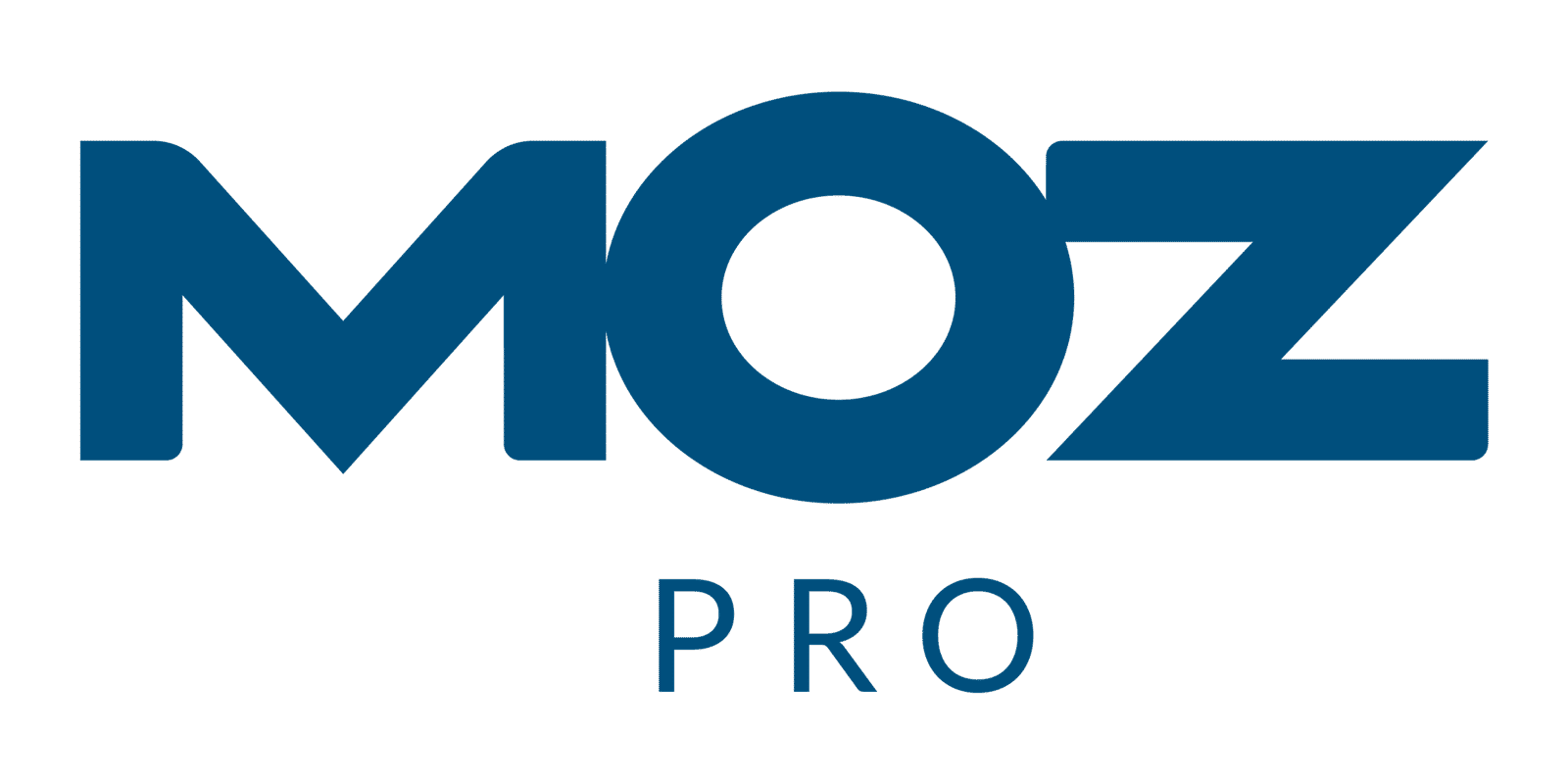 MOZ Pro Overview
Moz Pro is an all-in-one SEO software suite pioneering the search engine optimization (SEO) space with crucial features like Rank Tracker, Keyword Explorer, and Link Explorer. Its metrics are so respected that they've become an industry standard, often included in recommendation lists with other significant tools.
This Moz review will expand on each of the tools' essential features.
What is Moz Pro?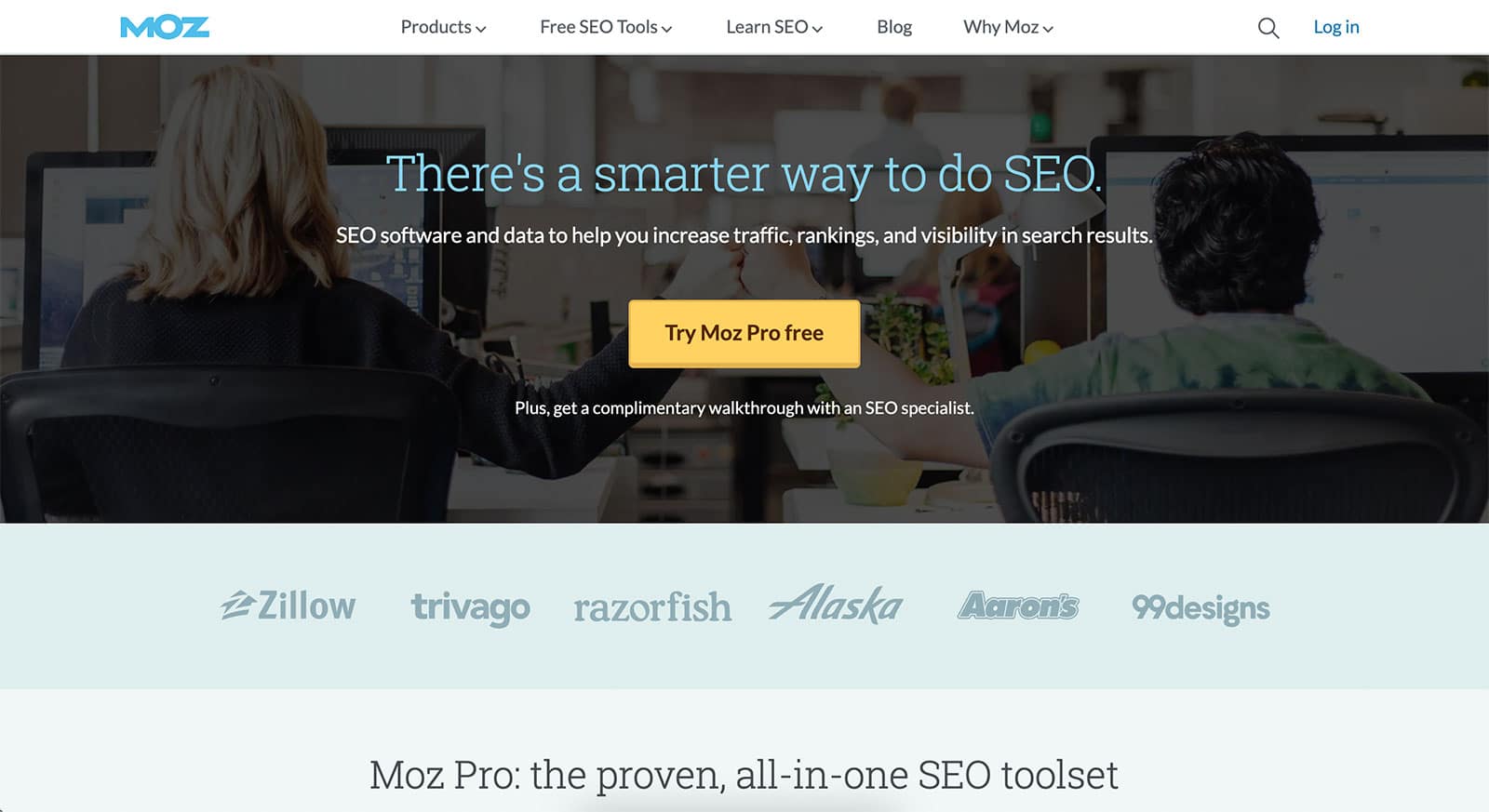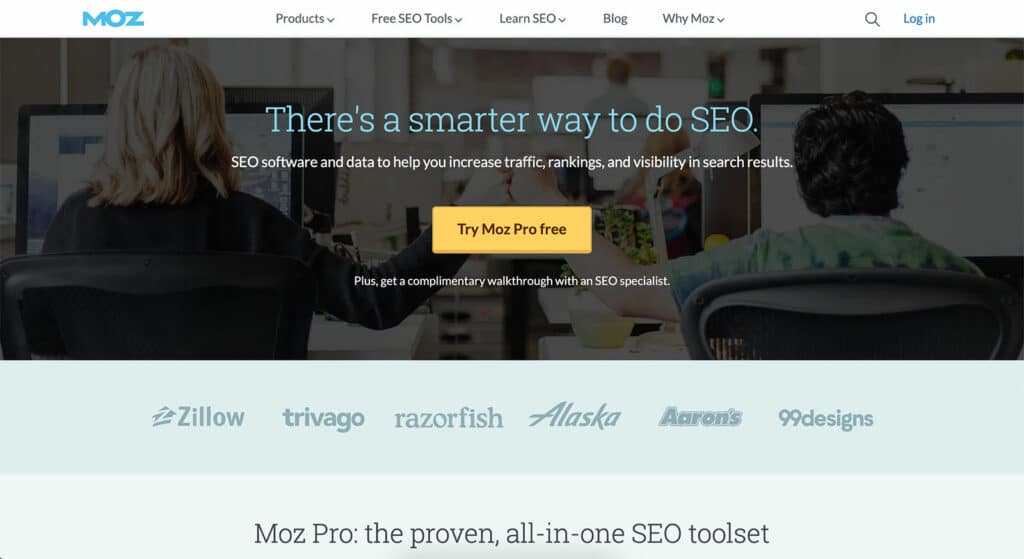 Moz Pro gives its users a comprehensive suite of SEO tools to help manage organic search campaigns with a single interface.
Who is Moz Pro for?
Moz Pro's tools are designed for small businesses, but freelancers can also take advantage of some tools that allow limited free use.
Larger companies may still choose to invest in Moz Pro to use its flagship features, Keyword Explorer and Link Explorer. However, Moz Pro might not have what it takes to handle sprawling enterprises; the platform covers the core SEO areas but lacks technical SEO depth compared to its keyword research and link analysis metrics.
Moz Pro Pricing
There are four pricing options for Moz Pro and a chance to negotiate a subscription for an enterprise.
The most accessible plan is Standard, which is $99/month for a single user. This plan allows one user to crawl 100,000 pages every week in a technical SEO review; most small businesses will find this amount to be plenty. However, the Standard plan also contains additional competitor research and keyword search limitations. For example, you can only make 150 keyword queries and track 300 keyword rankings per month.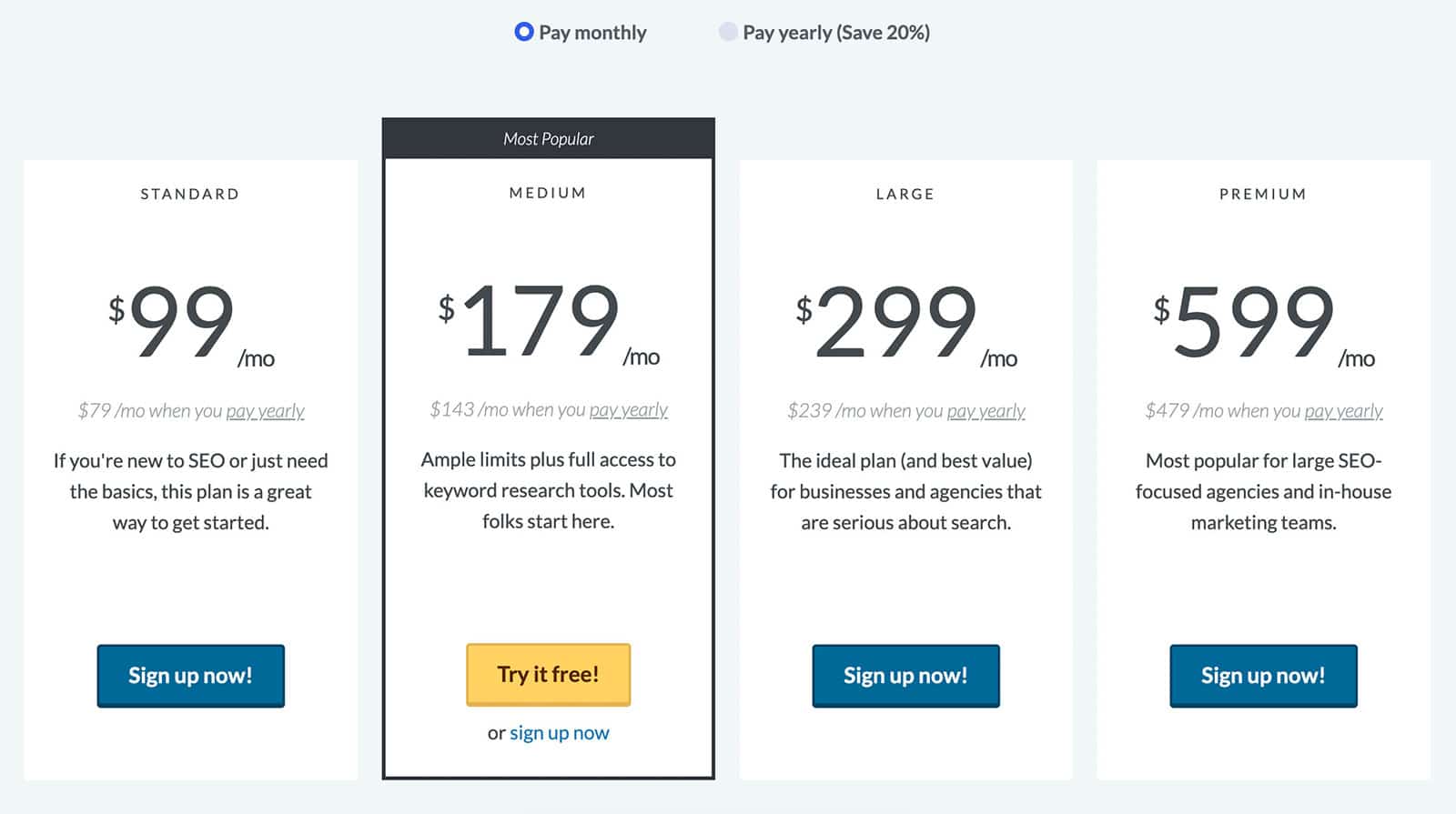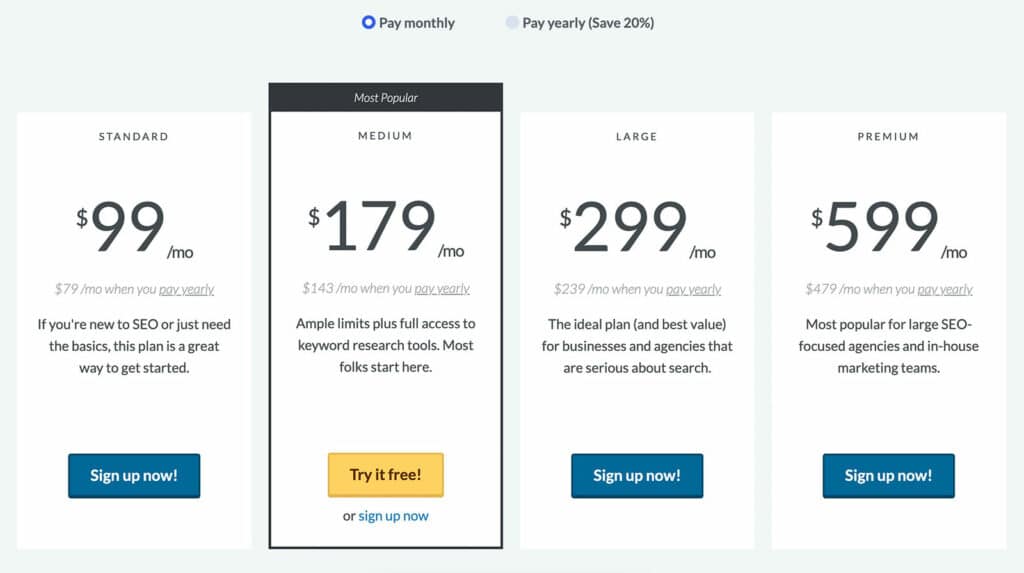 Moving up to the Medium plan costs $179/month for a single user, significantly increasing the limits on lists and keyword searches; you can now track 5,000 keywords a month at this rate.
The Standard plan seems to exist more to nudge larger companies to grab the Medium plan; a price tag of $99 puts Moz Pro on par with Ahrefs and SEMRush, but the limitations make the entry-level choice less viable.
How to Get Moz Pro for Free
Specific tools can be used for free on a limited basis. You can also sign up for a free trial on the website.
Moz Pro's Features
Moz Pro comes with a complete range of SEO tools packed in one suite. These tools cover everything from internet crawling and link analysis to website rankings and page optimization using its Fresh Web Explorer and Open Site Explorer tools. Our Moz review is based on ad-hoc keyword research because most business users find themselves doing this most often to identify the best SERPs to target.
Keyword Research
Scroll down the main dashboard to use Moz Pro's Keyword Explorer; the interface is a little haphazard thanks to Moz's variety of platform tools. You'll find the implement in the second box under Research Tools. Running a query in this search box brings you to an overview page displaying the average monthly search volume, difficulty score, and "opportunity" and "potential" scores representing custom Moz metrics with factors like paid search competition and click-through rates.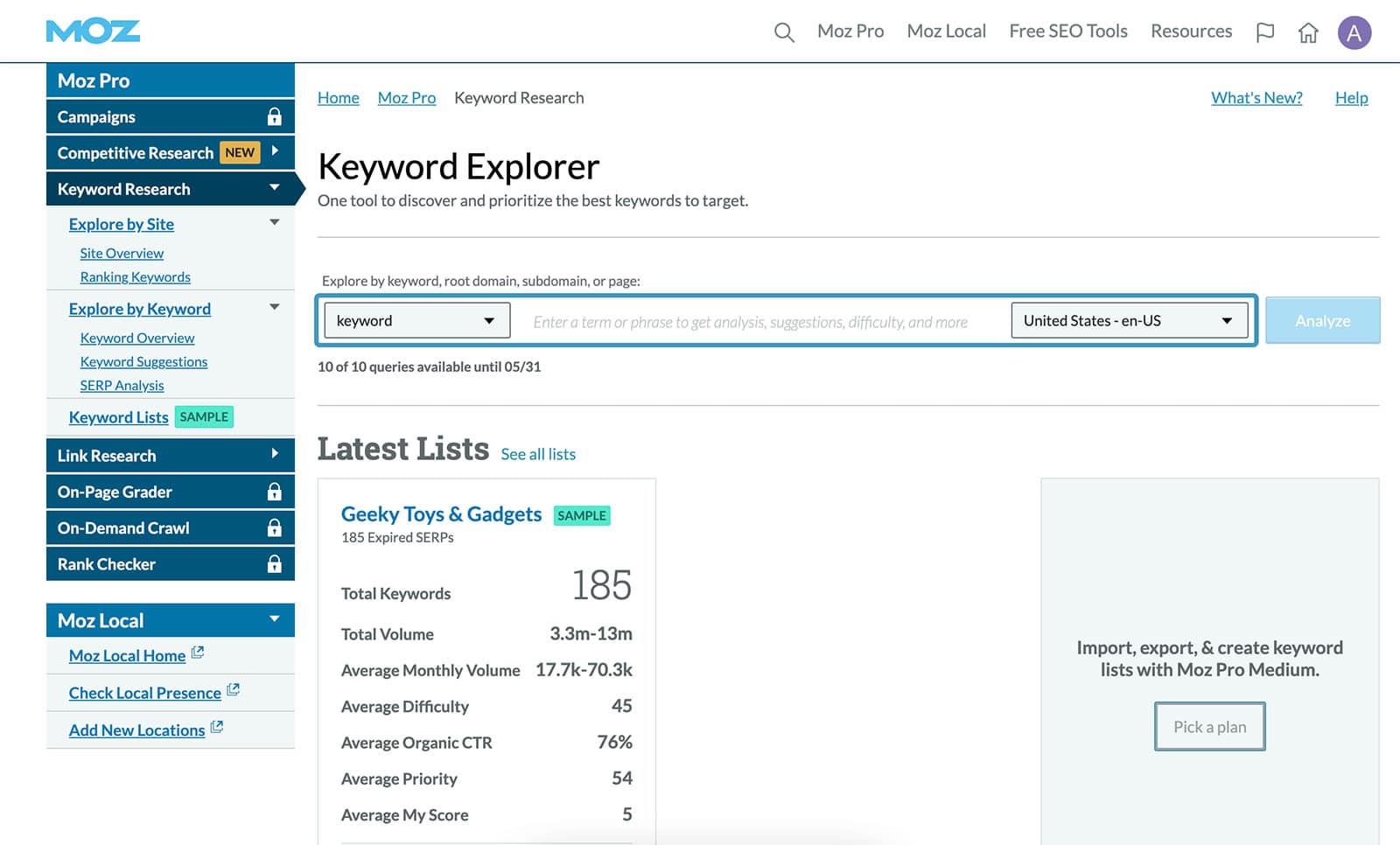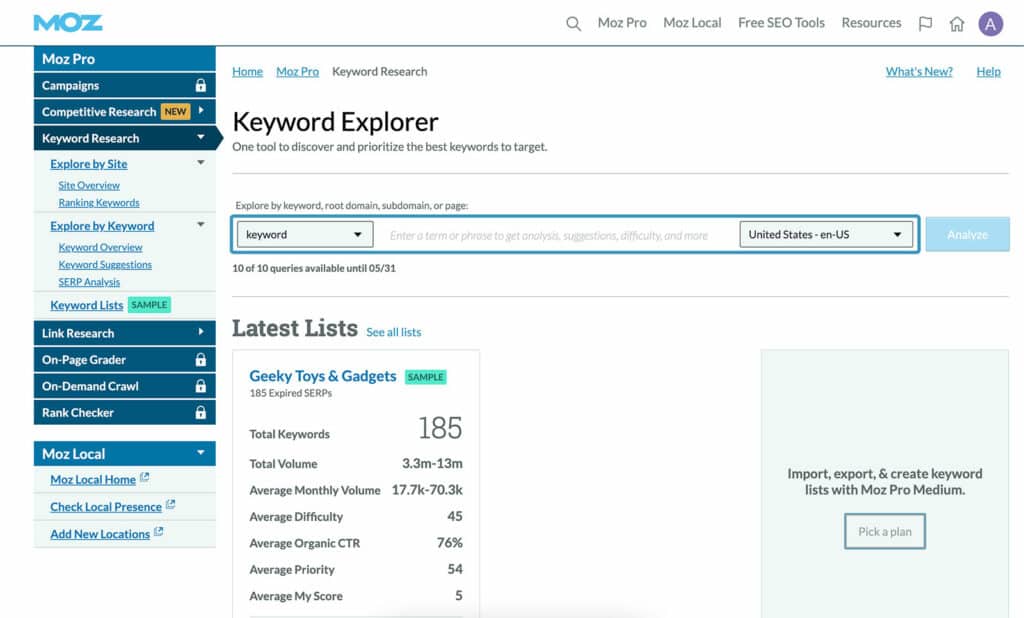 Business users without deep SEO experience, such as sales professionals, will benefit from Moz's conversion into customer relationship management terms; it's a nice touch compared to the barebones metrics provided by Ahrefs. However, the search results table is a little less precise than KWFinder, which can also filter down city-specific results.
Overall, Moz Pro's ad-hoc keyword search is one of the most intuitive processes available; you can filter searches down by country and take desired actions on a search target using the assortment of other tools accessible within the platform.
Link Explorer
Moz Pro's Link Explorer guarantees an in-depth assessment of your backlink profile; it contains an index of more than 40 trillion links.
This feature is excellent for tracking mentions of your brand and new links; both of these metrics help you understand how well your website is ranking. These insights also go a long way toward link prospecting and planning engaging content. SpyFu and SEMRush offer additional tools that go hand-in-hand with Moz's Link Explorer for managing link outreach.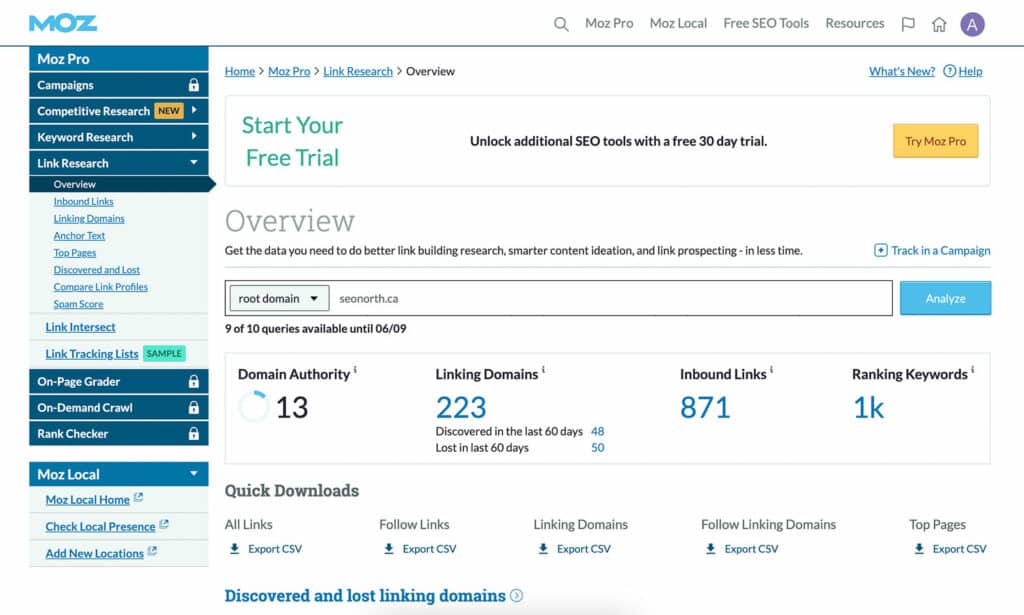 The link-building suite is intuitive, but there is a steeper learning curve than Keyword Explorer for those without an SEO background. In addition, Moz includes several proprietary metrics, such as Page Authority and Domain Authority, which may not be familiar to inexperienced marketers.
These metrics indicate a domain's SEO "strength" based on its link authority and reputation. In other words, a link from a website with more of a reputation can pass more SEO value to your company's website than a less-proven website. Of course, these metrics aren't a direct representation of how search engines see your domain, but they are nonetheless helpful when narrowing down backlink targets for a marketing campaign.
Finally, Link Explorer is useful for mining your competitors for new links. For example, if you see a high authority website often links to your competitors, there's a good chance they are also willing to link to you. Link Explorer generates helpful visualizations to guide you toward these opportunities.
Site Crawling
Moz Pro has replaced its previous crawler tool with a more comprehensive version that uses its equipped features faster and better than ever before, improving its website monitoring, crawling capabilities, and page optimization tools.
The Site Crawler automatically runs its functions on every page every week, generating monitoring alerts to new issues that arise during the weekly check. First, the tool categorizes these alerts by impact level, using metrics like crawl depth and page authority to prioritize them. Then the crawler categories the concerns into descriptive types in a way that aligns with the workflow, dividing them into five categories: Content Issues, Metadata Issues, Redirect Issues, Critical Crawler Issues, and Crawler Warnings.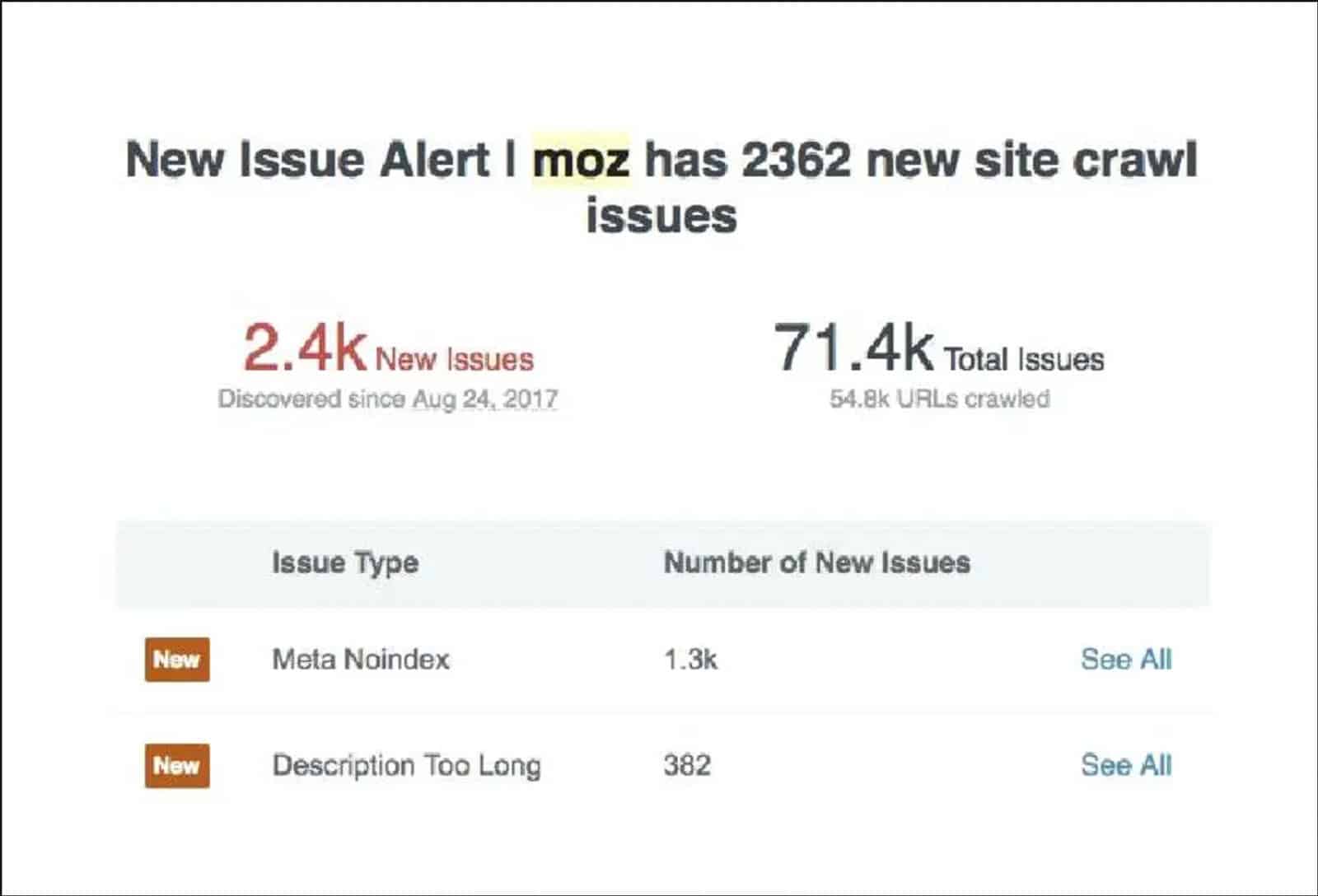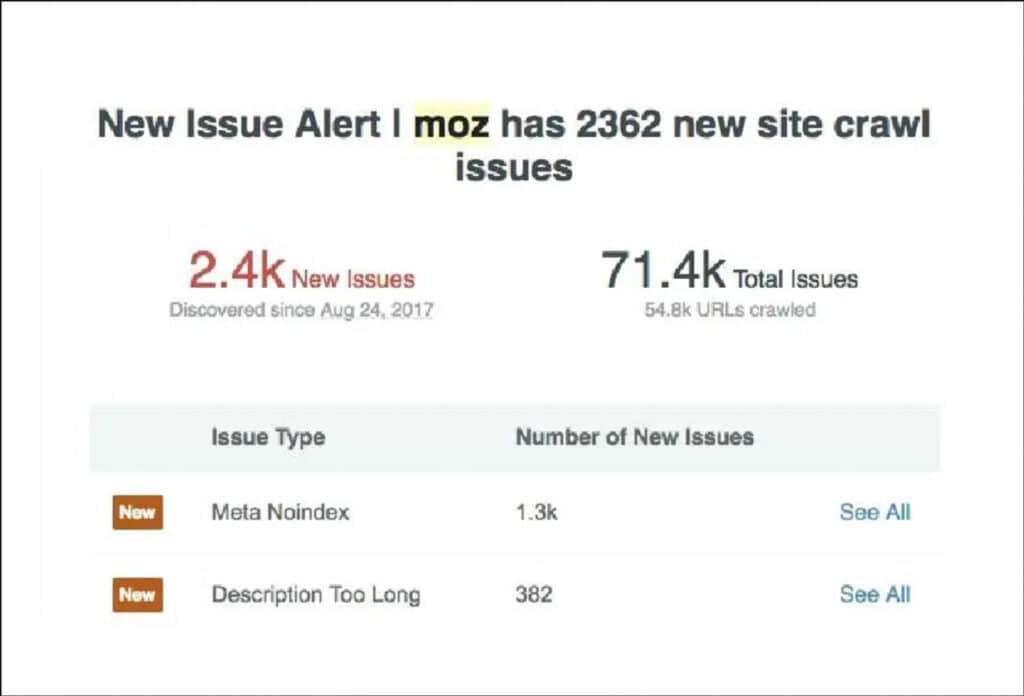 More than pointing out what's wrong, Moz tells you how to fix the problems. For example, crawl diagnostics commonly identify issues like broken links, crawl errors, missing page elements, and duplicate titles and content. In addition, each error includes a description titled "Moz Recommends Fixing," explaining why a specific issue is either a high or low priority.
Additionally, you'll receive instructions for whatever action will resolve the issue, such as editing metadata or adding tags; you can also indicate which pages or issues the crawl should ignore in future scans. Finally, you can click Recrawl My Site to repeat the process, verifying that you correctly fixed the problems you tackled.
Moz Pro's crawling lacks the meticulous depth of crawl-specific tools like DeepCrawl, but we especially appreciate receiving the on-page resolution recommendations. Overall, Moz's crawling features have made a big jump, making it a powerful tool in the Pro suite.
Ease of Use
For the most part, Moz Pro's interface is clean and easy to use. However, it can be a little disjointed in some places, such as with tools like Open Site Explorer; it offers an entirely different experience even though it's part of the same Moz Pro suite.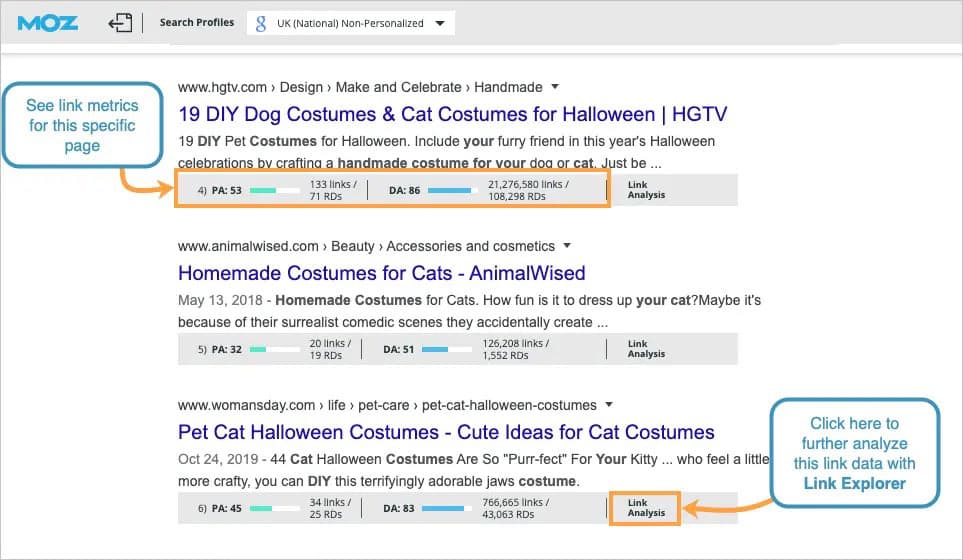 Businesses can use the MozBar Chrome extension to bring the Pro suite right into the web browser, overlaying valuable data on Google search results as you make queries; anyone who dives into the world of organic search should use Moz's SEO toolbar.
Overall, Moz Pro is a very approachable tool for any marketer who needs an essential metrics overview.
Download the SEO toolbar by Moz
Benefits of Moz Pro
Moz Pro offers tools powerful enough for small businesses and easy enough for novices to use; a limited version of these tools is available for free to try out. In addition, Moz constantly improves its Keyword Explorer and Link Explorer tools, ensuring they remain essential tools on the market. Likewise, Moz Pro's educational content continues to pioneer the industry, and the MozBar extension is also crucial.
Bells and Whistles
Moz Pro has several additional features beyond the exploratory and site optimization tools. For example, Moz Pro also publishes SEO help content and blog posts, much of which you can find in the Learn and Connect menu at the top of the Moz Pro dashboard.
SEO newbies can take advantage of the free knowledge base and resources available to get a valuable education in search engine optimization. The company regularly publishes blogs like how to improve organic reach and user experience. Additionally, there is also a MozCon event every year where users can connect with partners, experts, and other users, attend learning sessions to broaden their skills, and hear the latest product news.
Moz Pro Support
The SEO guide is a right of passage for anyone dipping a toe into the world of organic research; Moz's comprehensive guide is detailed but retains a friendly tone, encouraging marketers to feel comfortable engaging with SEO. In addition, the Moz blog continues to be a trustworthy resource for the latest marketing insights, while Moz Academy now offers graduates SEO certification.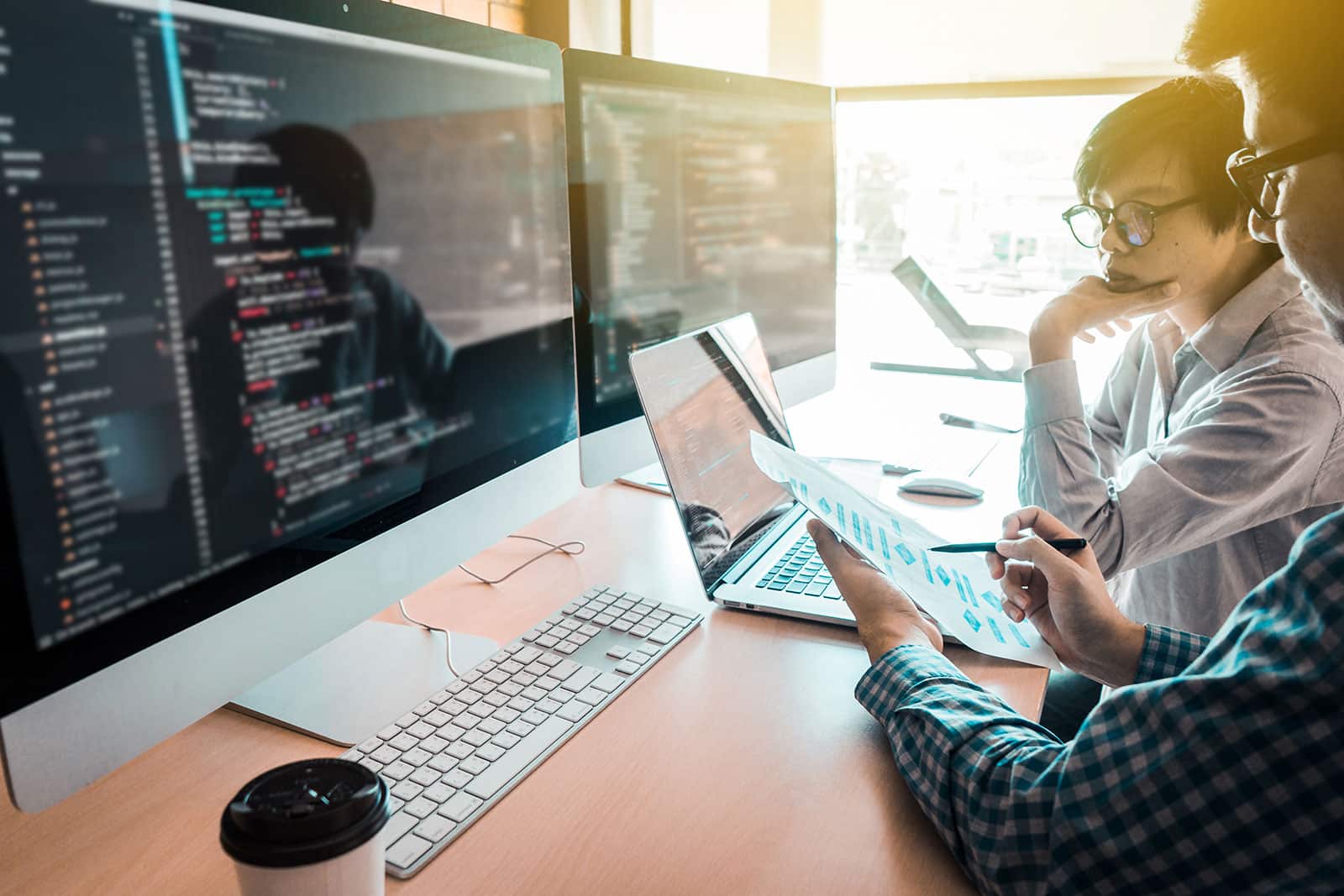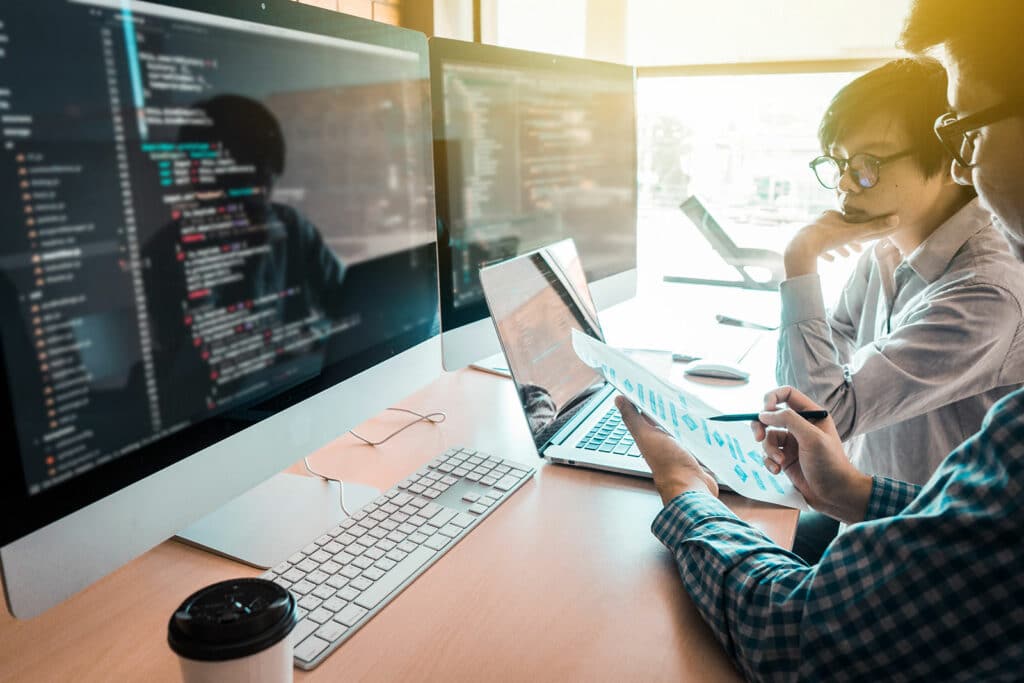 Finally, the Moz Pro platform includes 24/7 email support via the help hub. However, there isn't any live chat or phone number, unlike with Ahrefs and SEMRush.
Next Steps
All too often, marketers try the DIY route to save money, ending up over their heads in a sea of tools and options, wasting valuable time and resources. Let SEONorth bring you back on track.
FAQ
What is Moz for?

Is Moz free?

What is a Moz extension?

What is PA and DA in Moz?

How to add users to Moz?
---
Published on: 2022-05-09
Updated on: 2023-03-14