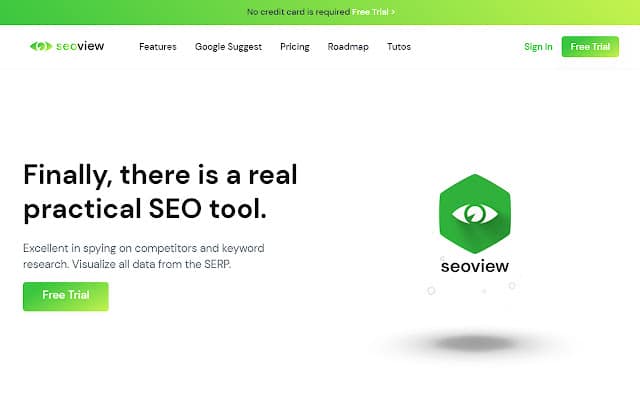 Some people are talking about a new SEO tool for businesses called SeoView. The tool's website claims that it is a leading option for businesses that want to learn about competitors' SEO. This review covers some important aspects of SEO software SeoView.io.
How SeoView Works
The tool works with a Google search as a Chrome extension. Users open a Google start page and type in a search term. After that, the page looks similar to a regular Google SERP. However, there are several additional pieces of data. Users can see a box on the bottom of each of the results, which are the same results they would see in a regular search on Google. The boxes show important SEO metrics for the top SERP links. With this information, users may modify or refine their own SEO strategies. The tool includes some features that may assist in strategic planning.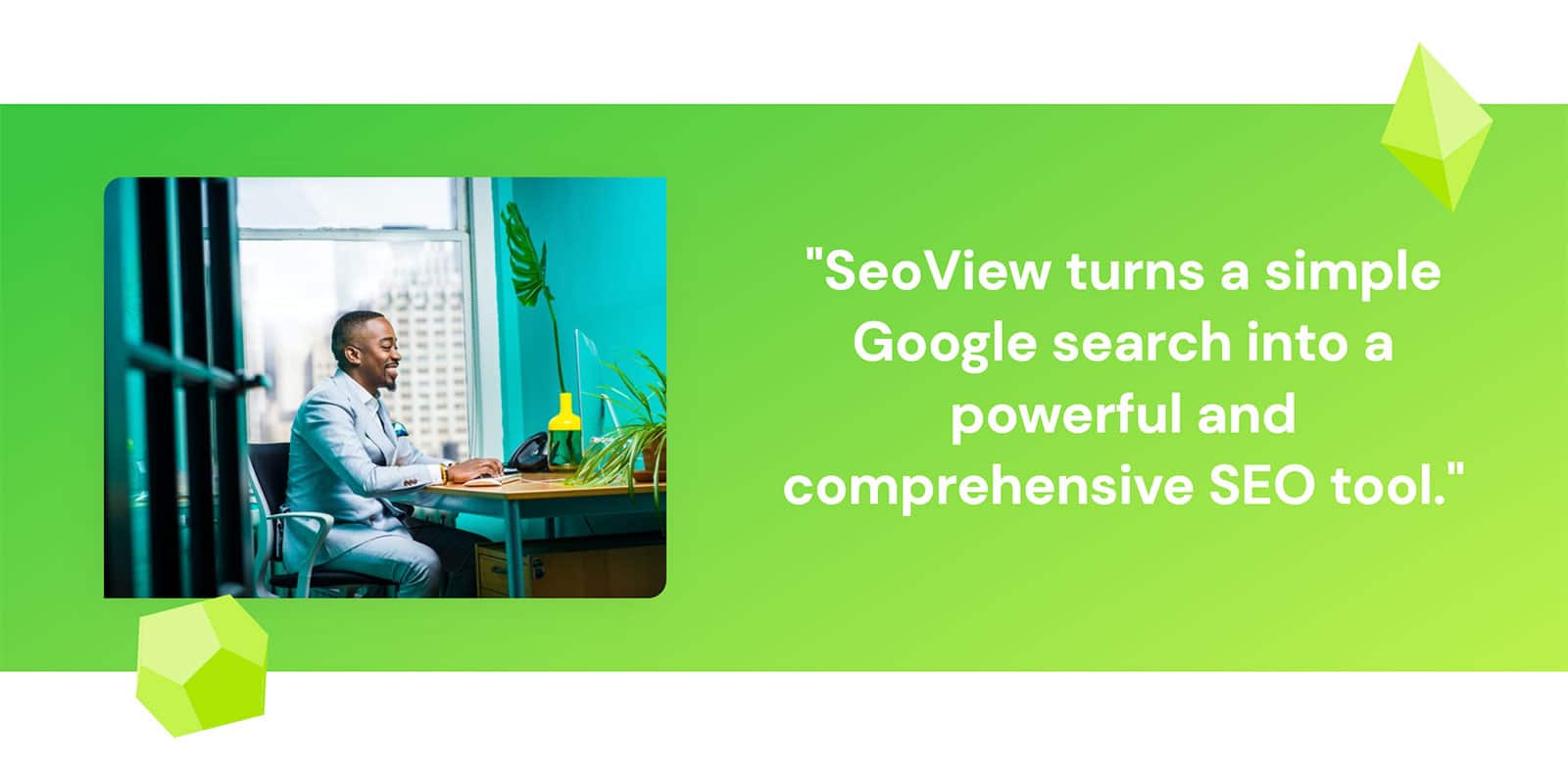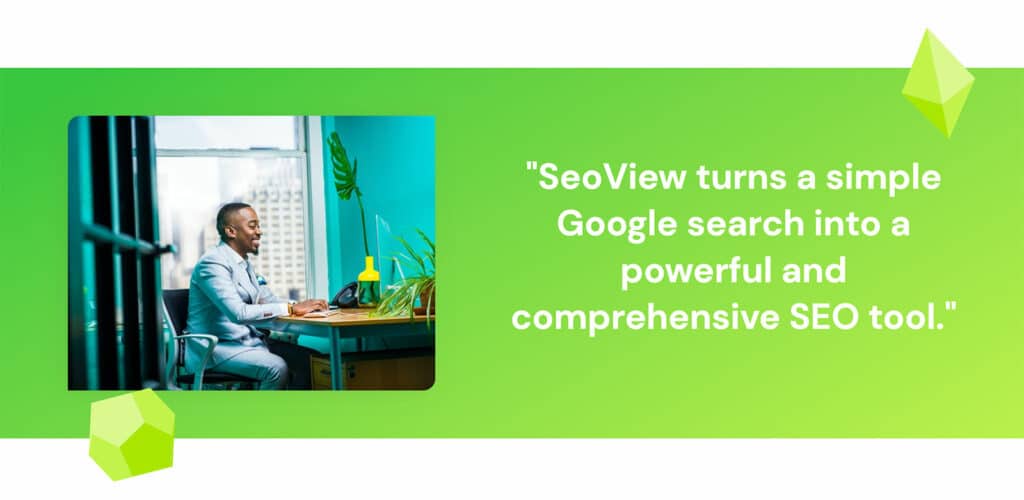 About SeoView
On the SeoView site, there is no link to a page about the company or its history. It was copyrighted in 2021. Although there is a contact form on the site, it does not always work. Several users experienced errors and were unable to send messages to receive a response about inquiries. Aside from the same information on the webpage, there is little information about it online. The site currently shows a link at the bottom to SEO consultation services, but it leads to a 404 error page.
Functionality
The few other reviews on the internet seem to show that the tool performs the functions it claims to perform. However, a few users reported that it only worked on Google.com and would not work on Google.de or some other foreign Google sites. Because the tool is fairly simple in its design, it produces results quickly.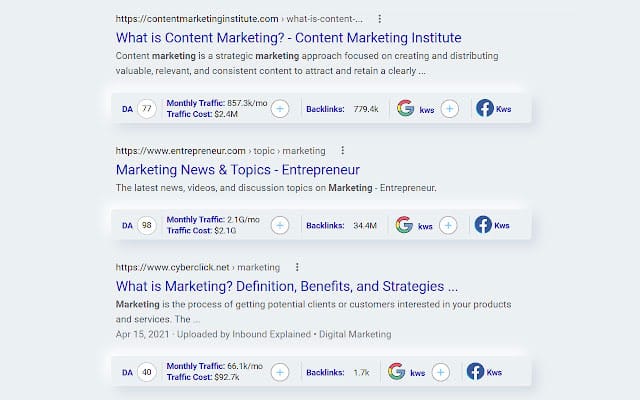 Tool Design and Graphics
SeoView's tool design is simple and easy enough for people who are newer to SEO to understand and use. The graphics are clear. Users who require larger print to see can adjust screen settings to view the metrics and features in a larger font.
Features
SeoView's website has a demo video that shows the tool's key features. These are the main features of SeoView:
Shows volume, competition, and CPC for keyword searches.
Displays domain authority for competitors.
Shows monthly traffic and traffic cost for competitors.
Reveals each competitor's number of backlinks.
Displays Facebook and Google keyword data for top competitors.
Provides millions of keyword suggestions and shows competing ads.
Plans and Pricing
There are two service plans. SeoView offers a monthly subscription and a lifetime deal. The lifetime deal is promoted the heaviest, and the site even has a banner that showcases it along with a discount. The lifetime deal is priced at $59, and with the 20% discount, that evens out to a little over $47. In contrast, the monthly subscription is $27. For the lifetime deal, users have a limit of 1,000 keywords for research per month with SEO data, Facebook data, and backlinks. With the monthly plan, keyword research is unlimited, and users have access to Facebook data, SEO data, and backlinks.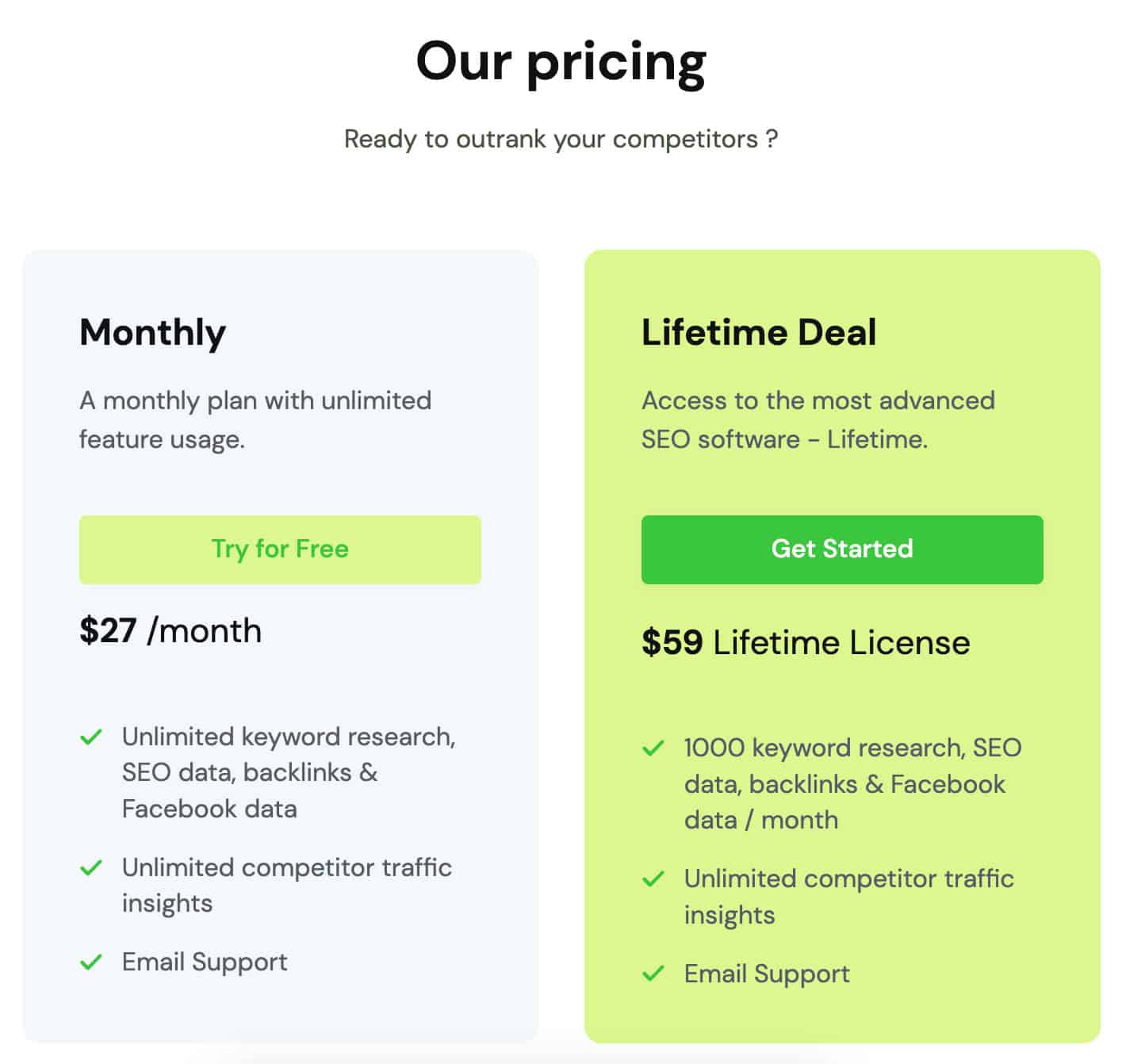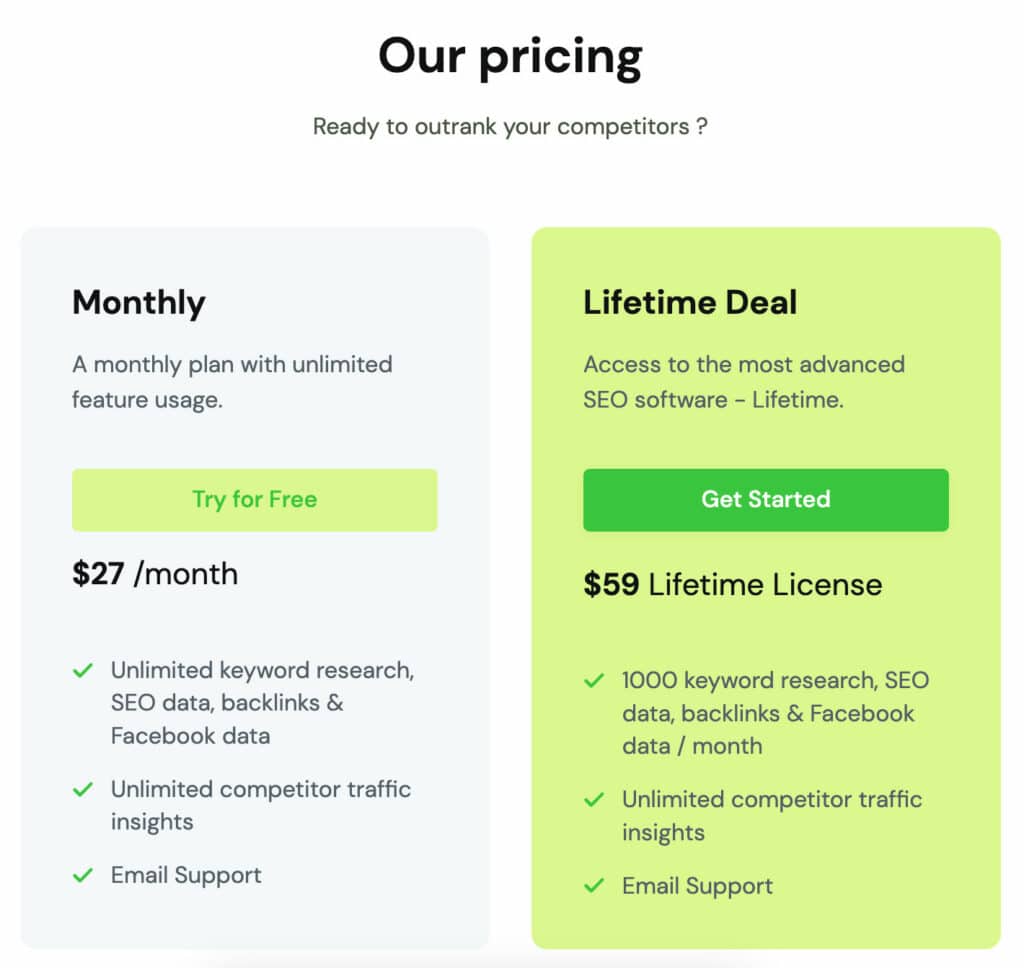 Pros and Cons
As it is with all tools, there are pros and cons with SeoView. Understanding these can help you decide if the tool is something you want to use or not.
Pros
These are the main strong points of SeoView:
Simple-to-use tool design.
Includes several key metrics for SEO strategy planning.
Offers many keyword suggestions.
Keyword suggestions include long-tail keywords as well.
Paying users receive a quick response when they request email support.
Cons
These are some disadvantages and potential drawbacks of SeoView:
May not work on foreign Google sites.
There is not much info about the company, and the contact form for non-member site visitors is glitchy.
Some site links lead to 404 errors.
The lifetime price limits keywords search to 1000 per month.
Although a monthly subscription allows unlimited keyword searches, the price is steep.
How SEO Software SeoView.io Stacks Up To Competitors
If you are a business owner or website manager looking to spy on competitors, there are other tools you can use to accomplish these basic tasks without having to pay. These are two of the top free SEO toolbar providers.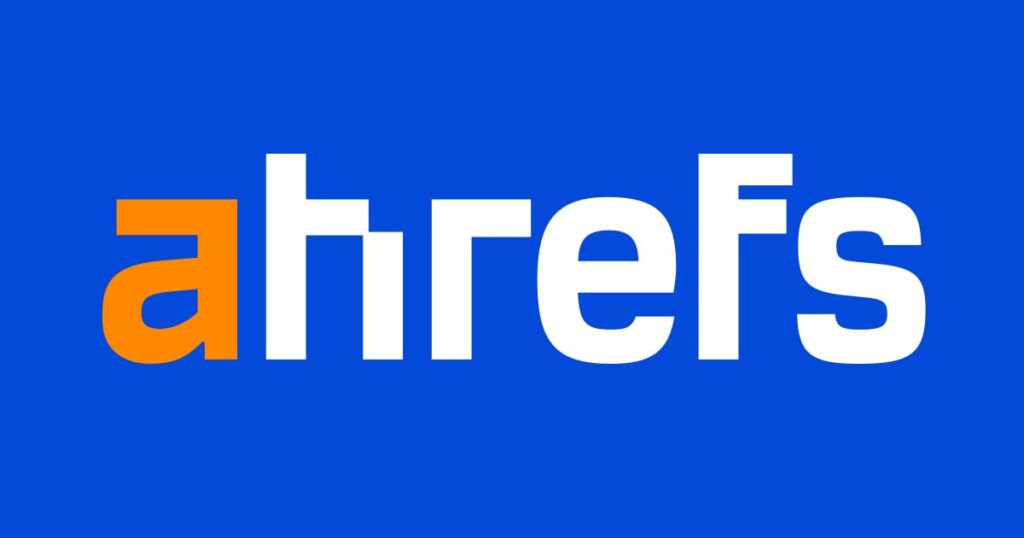 Ahrefs
The Ahrefs toolbar shows your competitors' website insights. It is available for Chrome or Firefox. You can see a free on-site SEO report, which includes content header hierarchy, content update dates, crawler directives, sitemaps, open graph tags, alt texts, titles, and much more. When you use the free tool, you can see domain rating, number of backlinks, search traffic, number of keywords, URL rating, and referring domains. You can access the free toolbar here. In comparison with SeoView, Ahrefs offers similar key features and several others.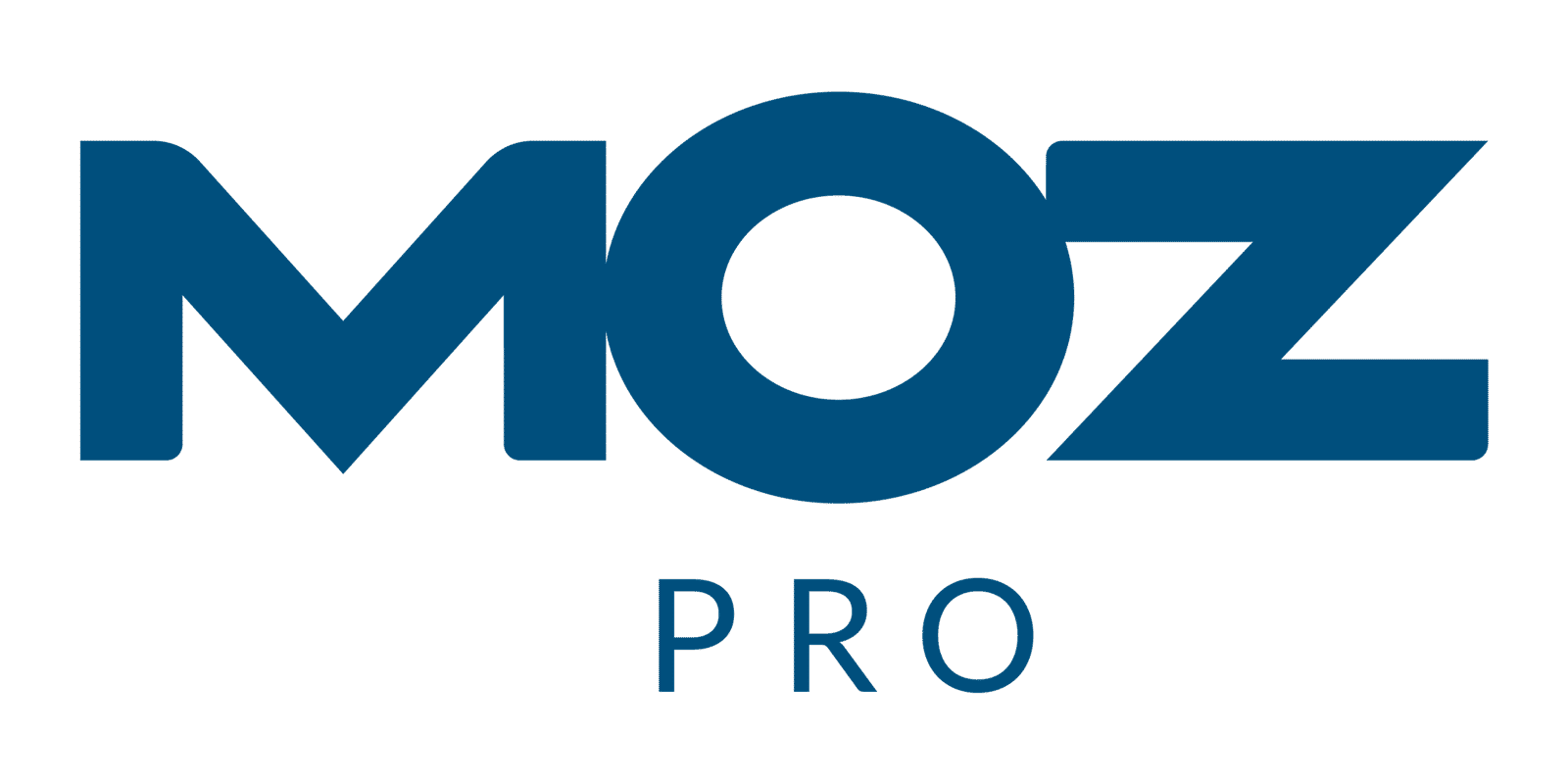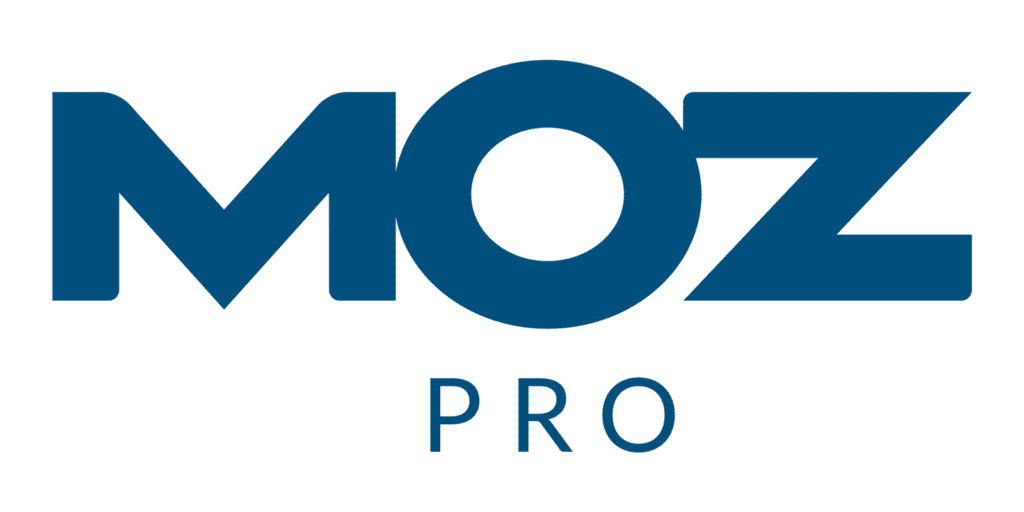 Moz
This is a well-known name in the world of SEO tools. It is available for Chrome. The toolbar is free to download, and you have access to a wide variety of metrics for custom searches. You can see site metrics for keywords, traffic volume, backlinks, ranking, and much more. Also, you can set up specific search profiles to quickly use for future searches. Like Ahrefs and SeoView, Moz also offers keyword suggestions and features to help you optimize your site. You get free DDoS protection as well. You can access the extension here. Compared to SeoView, Moz has several of the same main benefits, and it has features that can help save time.
Value
Is SeoView worth its cost? The site states that the price is a limited-time deal, and the 20% discount certainly adds to the success of creating a sense of urgency for site visitors to buy it. However, even at a cost of a little more than $45, it may not be worth the investment. Considering the disadvantages of the SeoView tool and how it compares to competitors, it may not be the excellent value that it appears to be at first glance. Also, keep in mind that free tools can accomplish at least 75% of the other SEO tasks that people need to do aside from high-volume searches and tasks that require advanced functionality.
Recommendations
While SEO software SeoView.io may sound enticing with its discount and lifetime access to let you spy on competitors online, you typically get what you pay for with such deals. Some of the highlighted features you can benefit from on SeoView are free to use on competing toolbars from well-known names in SEO. It is better to use a free toolbar for basic tasks and leave the complex ones to experts instead of a paid software program.
Although SEO toolbars can be useful to show you important insights, they do not fully cover all the necessary tasks for the strongest strategy. Building a strong SEO strategy can be a frustrating and complex process without the right professional help and knowledge. To add to the complexity, Google's algorithms change. According to Google's CEO, the entity made an average of about 1.5 algorithm changes per day in 2010 alone. There are still hundreds of changes per year, and sites must be optimized to satisfy algorithm specifications. For more information about building a comprehensive and powerful SEO strategy, please contact SEO North.
FAQ
---
Published on: 2022-05-10
Updated on: 2022-10-28