If you offer select professional services to consumers, your company may be excellent, but your online presence may not fully connect with new prospects. The trouble rests with helping people who have never previously done business with your firm develop confidence quickly. Google's recent introduction of Google Screened can address this issue and potentially boost your website's conversion rate.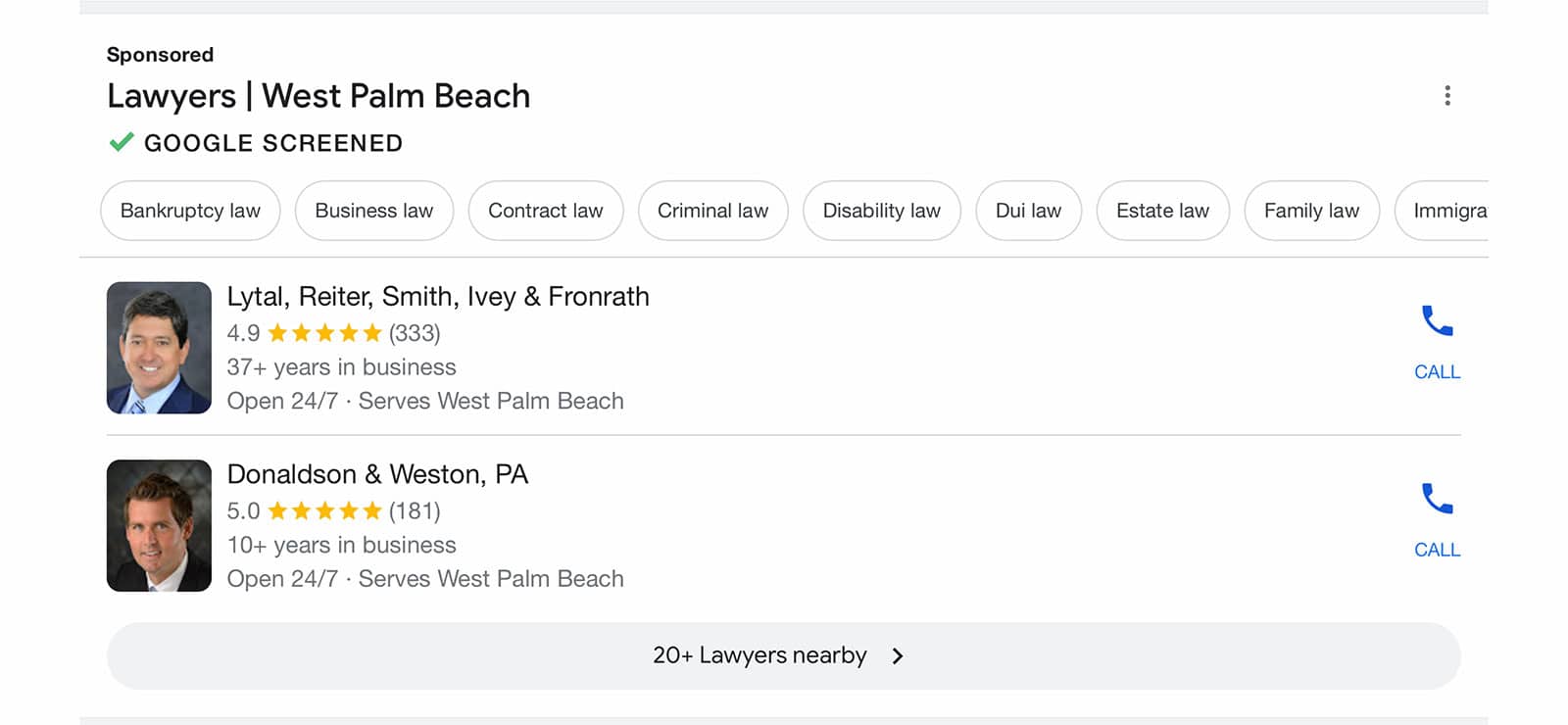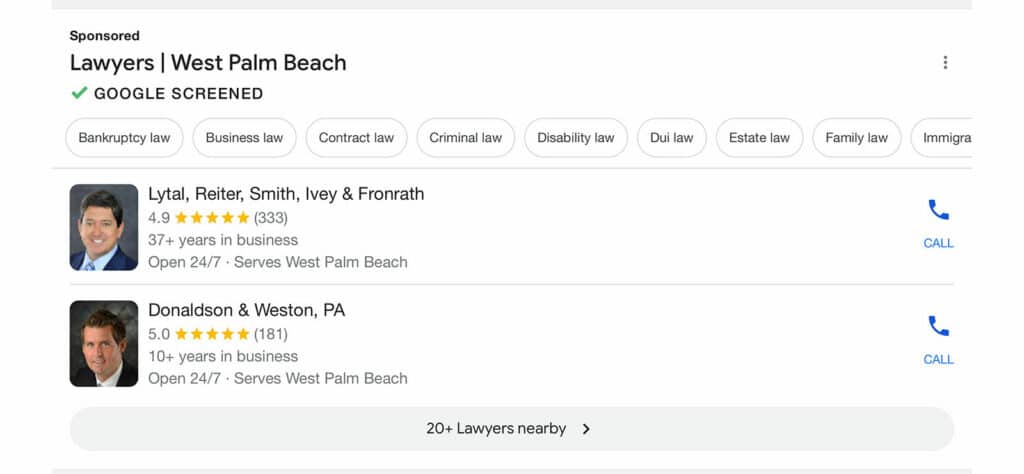 What Is Google Screened?
This business designation lets you look consumers in the eye while they shop for certain services. Google Screened shows a consumer seeking a local service with which your business can be trusted because a third party has thoroughly vetted it. If you participate in Google's Local Services Ads program, this professional designation lets your business enjoy the most significant prominence among all search results when a local consumer plugs a local keyword that matches your firm into Google.
Which Businesses Can Be Google Screened?
Google built this designation for firms that offer professional services to consumers. Currently, businesses that can acquire the Google Screened badge include
Lawyers
Financial planners
Real estate agents and brokers
Preschools and childcare providers
As Google Screened's popularity among business owners like you grows, we may see the global entity broaden the types of businesses it screens for consumers. For example, preschools and childcare providers were not part of this service's pilot program.
What Is the Value of the Google Screened Badge?
Principally, Google Screened's badge is a green checkmark. When you receive the designation, you may place the checkmark on your business's website, but it does most of its work before the consumer arrives at your URL.
In addition to the badge, your Google Screened designation gives your business's Local Services Ads listing a color profile photo, the number of years you've been in business, and your phone number. The consumer also sees your average star rating from Google reviews.
How Do I Become Google Screened?
You must apply through Google for a Google Screened designation. While the search giant does not charge for this service, you must fill out in-depth application forms. The process varies by industry. For example, all states perform background checks on lawyers, so Google Screened skips this step during its review process. When vetting a law firm, Google's Local Services Ads staff verifies all active law licenses.
By comparison, a company offering childcare services will undergo background checks during the Google Screened process. States do not universally run background checks on these businesses.
What Are the Benefits of Using Google Screened?
Being officially Google Screened lets your business
Easily earn the trust of consumers
Gain more visibility
Enjoy more leads
Think of each of those benefits from the perspective of time your company can save.
Trust can be built through relationships, but that method may require years. The volume your business needs to operate in the black cannot patiently wait years for trust-based relationships to form. Google Screened allows you to develop trust in moments, not years. Subsequently, you might say Google Screened offers you time travel.
You can couple Google Screened with Local Services Ads from Google for visibility. Commonly known as LSAs, these ads place your business prominently above all listings for a consumer's keywords. By acquiring your Google Screened designation and participating in LSAs, you put your business in front of your target audience in less time than via other marketing means.
Without Google Screened and the accompanying LSAs, your business's listing will fall further down the search engine results. Your brand will be lost among the crowd. This fact will result in fewer leads. The time spent acquiring sales leads through other means might leave you no time to use on different aspects of your business. Likely, those other aspects, not lead generation, are your core capacities. Google Screened saves you time, money, and headaches by generating more leads.
What Is the Difference Between Google Guaranteed and Google Screened?
Though it is a similar designation, Google Guaranteed is meant for businesses that perform contract services. Colloquially, consumers refer to these businesses as contractors. Put yourself in the consumer's shoes for a moment. If you hire a contractor who has received the Google Guaranteed badge, that designation offers protection. Crucially, you can get a guaranteed refund if a contractor with the Google Guaranteed badge does not hold up their end of the deal.
Google caps the refund amount, which varies by business sector, but the consumer is still significantly protected against monetary loss. Also, Google Guaranteed verifies the business's location. If a business has multiple locations, each one must be individually verified to receive the Google Guaranteed badge.
Meanwhile, Google Screened does not verify locations, and it does not offer refunds to consumers. The Google Screened badge alone shows that your business is vetted and trusted. After all, you must maintain a three-star minimum average review to keep your Google Screened badge.
Which Designation Is Right for Me, Google Guaranteed or Google Screened?
As we write this, no crossover markets exist for Google Guaranteed and Google Screened. Typically a service business will only be covered by one of these badges. As a result, it will usually be obvious to you which badge suits your business.
Of course, Google may later offer both products to the same industry. If that occurs, we suggest you focus on trust. Google Screened provides plenty of that. Also, if you take advantage of its Local Services Ads potential, Google Screened lets you perform a handshake with new prospects before they even reach your website.
Those are significant plusses without the risk of potential four-figure refunds associated with Google Guaranteed.
Is Google Screened Worth It?
Google offers Google Screened for free, so your costs are time and effort. Of course, if your business is one for which Google requires background checks to award the Google Screened badge, you will also have to pay for those.
We submit Google Screened is entirely worth acquiring. Consider the advantages the designation provides to your business. It shows people that an objective and professional third party trusts your firm to deliver what it promises. Further, if you avail your business of Local Services Ads' high placements and other benefits, Google Screened lets you meet people before you ever physically greet them.
With those benefits, Google Screened offers you the chance to win the local SEO battle. Your competition will be relegated down the page when your optimal prospects look for the services you provide. Whether you are a lawyer, home seller, accountant, financial planner, or childcare provider, Google Screened is an excellent way to build consumer trust and local SEO clout.
Choose an SEO Partner That Truly Understands Your Local SEO Needs
You can throw a rock and hit a company that offers SEO services. To boost your website's conversion rate, you need the data-driven expertise of SEO North. They can guide you through the Google Screened process, optimize your site's keywords and chart the ideal local SEO path for your business. As a result, you will enjoy a higher page ranking and clickthrough rate, giving you additional opportunities to build trust in your community.
Contact us today for more information about SEO North's local SEO services.
---
Published on: 2022-11-29
Updated on: 2022-11-29