Whether you are operating a purely online business or a brick-and-mortar company, a sales funnel is a key way to bring new customers into your business. By tracking the right metrics, you can determine if your current sales funnel is working or not. If you need to improve your business model, there are a range of different types of sales funnels you can use and convert more visitors into paying customers.
What Is a Sales Funnel?
A sales funnel is essentially the process behind a customer's decision to buy your products. At the start of the sales funnel, the customer discovers your brand. Later in the customer's journey, they take an interest in your offerings and determine if your products will solve one of their problems. A great way to measure the success of your sales funnel is to track your conversion rates.
From the awareness and interest stages, customers move into the decision stage. At this point, potential customers will look at your prices, features, and other factors. If they like what you have available, they will enter the action stage of the sales funnel. In this stage, they will choose whether they want to make a purchase or not.
The Different Types of Sales Funnels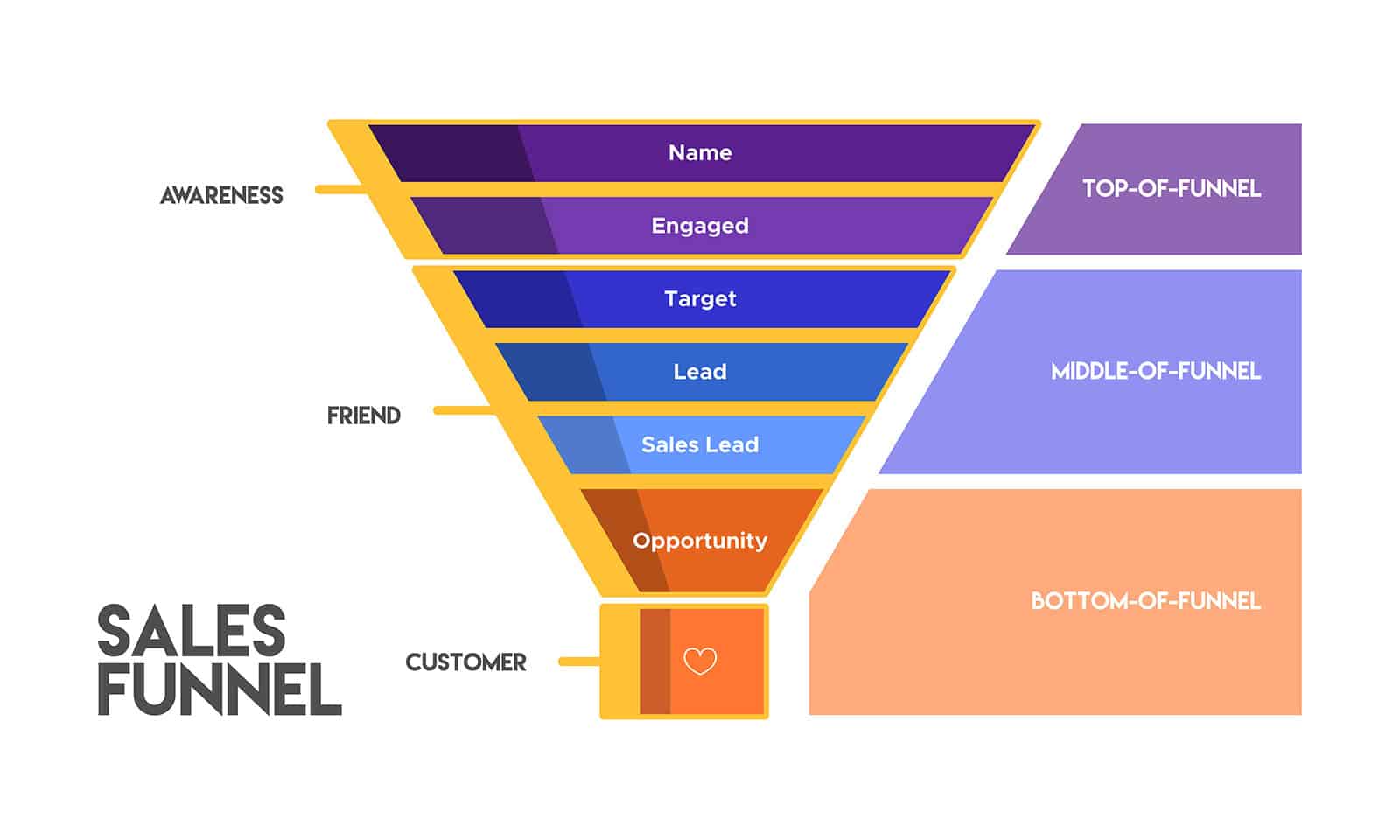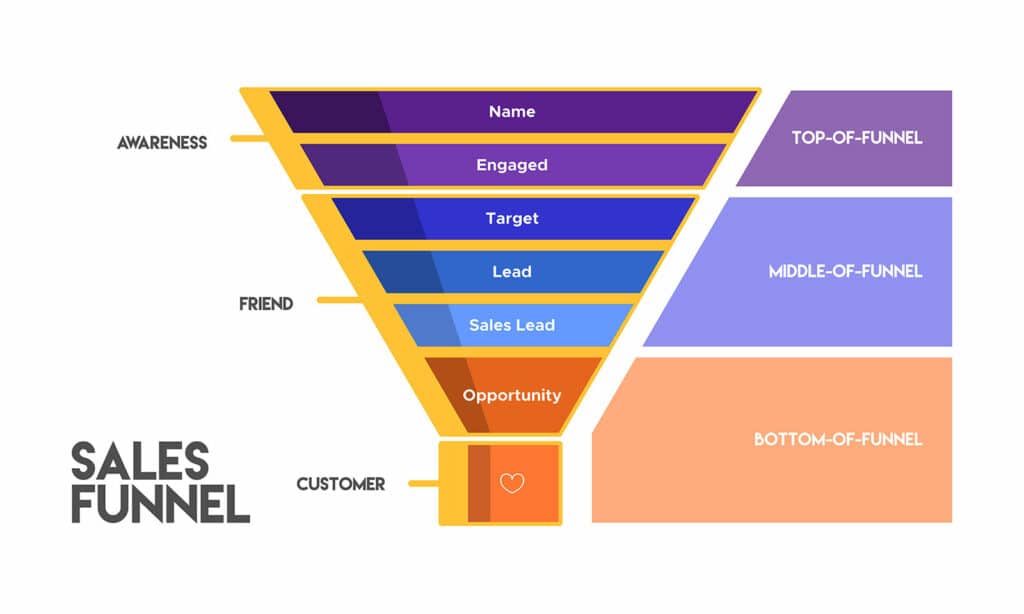 In modern marketing, there are many types of sales funnels out there that you can use as a template depending on your specific needs. The traditional idea of a sales funnel should be updated because the process no longer occurs in a funnel shape. Instead, there are a variety of ways for buyers to enter the awareness and interest stages of the buying process. Learn how to better optimize your website/funnel and get higher conversions To learn more about the different types of sales funnels, read on.
1. The Invisible Funnel
If you are offering an event, you may want to try out this kind of funnel. Basically, you let potential customers access your event. Instead of charging them before the event, you ask for them to pay afterward if they enjoyed it. To make the ticket purchase easier, you should always collect their credit card information when they initially register for the event. By doing this, you can reduce the barriers the customer must overcome in order to pay for the event later on.
2. The Daily Deal Funnel
People love getting special offers. Groupon and similar organizations have already made this kind of funnel famous by offering special deals to potential clients. To maximize the effectiveness of this funnel, you should guide visitors to a sales page and then to a payment stage to buy. Landing page>Tripwire (a product you're offering at a one-time low price)>Upsell #1>Upsell #2. On this page, you can ask them to share your special deals with their friends.
3. The Sales Letter Funnel
This is one of the most traditional types of sales funnels. You have encountered this funnel each time you have received a sales letter from a company. The main offer is included in the initial sales letter. Afterward, the company will try to increase the value of your sale by upselling another product or service.
4. The Video Sales Letter (VSL) Funnel
The VSL funnel is a modification of a typical sales letter. With this funnel, you sell your products by making a video of a product. During the video, you can add a button that customers can click to make a purchase.
5. The Auto Webinar Funnel
Often, this funnel is chosen for anything that involves an educational video or class. For example, you may want to use this funnel to get customers to watch a webinar about how to make a treehouse. After the webinar, you can pull them along your sales funnel by selling them the supplies they need to make the treehouse.
Basically, you offer your users a free webinar on a specific page of your site. The Webinar Sales Funnel gets visitors to sign-up and attend a live webinar or you can upload the webinar through YouTube or a similar video site. When they register for the webinar, you can immediately send them to a confirmation page where they can see when the event will happen. Afterward, you can email them the link to your webinar page. If they miss their webinar, you can always send them a reminder email.
6. The Summit Funnel
This is one of the best types of sales funnels if you want to give your clients added value. It also allows you to look like a thought leader. Basically, you start by creating an online summit with speakers who are connected to your industry. Then, you let potential customers register for the summit for free. Afterward, you can use the summit to build your brand authority, generate leads and increase your revenue.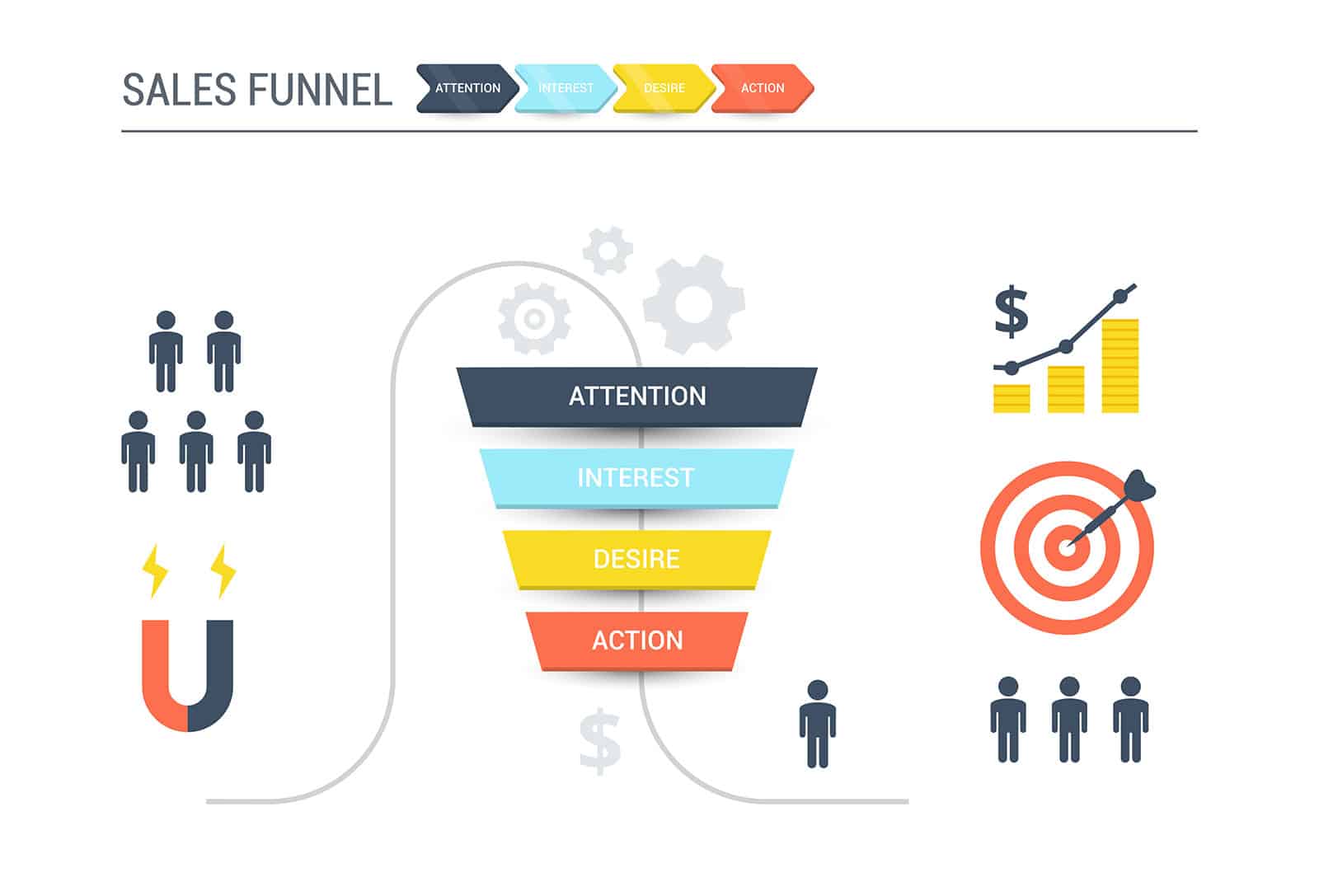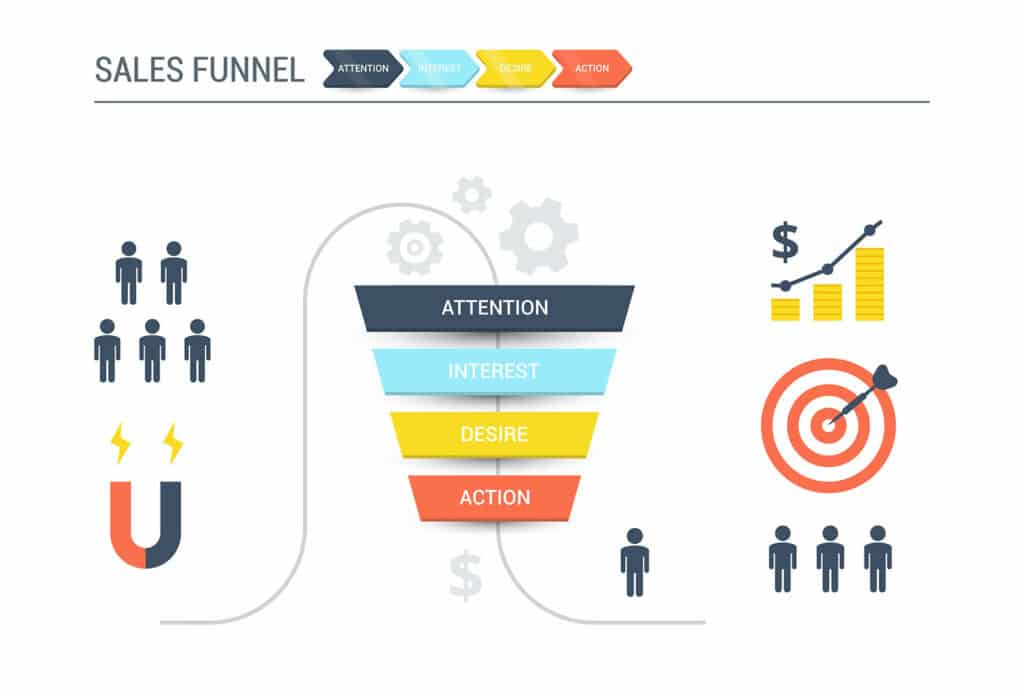 7. The Lead Generation Funnel
With this kind of funnel, you can get more leads for your email list. You can generally increase your leads through paid and organic techniques. For example, word-of-mouth referrals, social media, and website traffic are organic ways to find leads. Advertisements are a major example of paid channels. Using Facebook ads and other promotional tactics. Google SEO and social media are great ways to generate traffic to the top of your funnel, you're trying to reach as many potential clients as possible.
The best way to carry out this kind of funnel is through an offer that is too irresistible to pass up. You could give prospective clients a free trial or a time-restricted discount. Depending on your industry, you could also try product quizzes or helpful calculators.
Once you have a great way to generate leads, you need to show your offer to your customers. Often, companies will use a blog article or social media post. From the blog article, customers can be redirected to a landing page (pop-up with an opt-in form) that includes the offer and a registration form. After prospective clients have given you their information, you can easily reach out to them with additional offers and discounts.
8. The Squeeze Page Funnel
With this sales funnel, you just need two simple pages. Basically, you want the user to provide you with an email address, so these pages should not have anything distracting on them at all. The first page should have a headline that makes the viewer curious. In order to find out the answer, they must enter their email address in a box. Afterward, they can be sent to a second page that has the answer. If you are still working on building up your brand, this funnel is an excellent option.
9. The Reverse Squeeze Page Funnel
Like the previous sales funnel, this option relies on giving information away for free. Instead of requiring people to provide their emails before they discover new information, you start by giving your audience useful information in a blog or video. After they have watched the video, you ask them to sign up for more information. Because you have already demonstrated the value of your products and services, customers are more willing to give you their email addresses. No matter which funnel you choose, you'll always collect email addresses. That's because email marketing is one of the most important marketing platforms for businesses all over the world.
10. The Application Funnel
For this sales funnel, you use an application page to turn viewers into clients. It is designed for companies that engage in high-end consulting work. Once the client sends in their short application, you can reach out to them for your first coaching or consulting appointment.
11. The Storefront Funnel
To create this funnel, you need a standard e-commerce site. This e-commerce site essentially allows people to window shop. Instead of accessing a large array of products, viewers see a curated selection. When they click on individual products, they are brought into a specific sales funnel that is connected to that product.
12. The Cancellation Funnel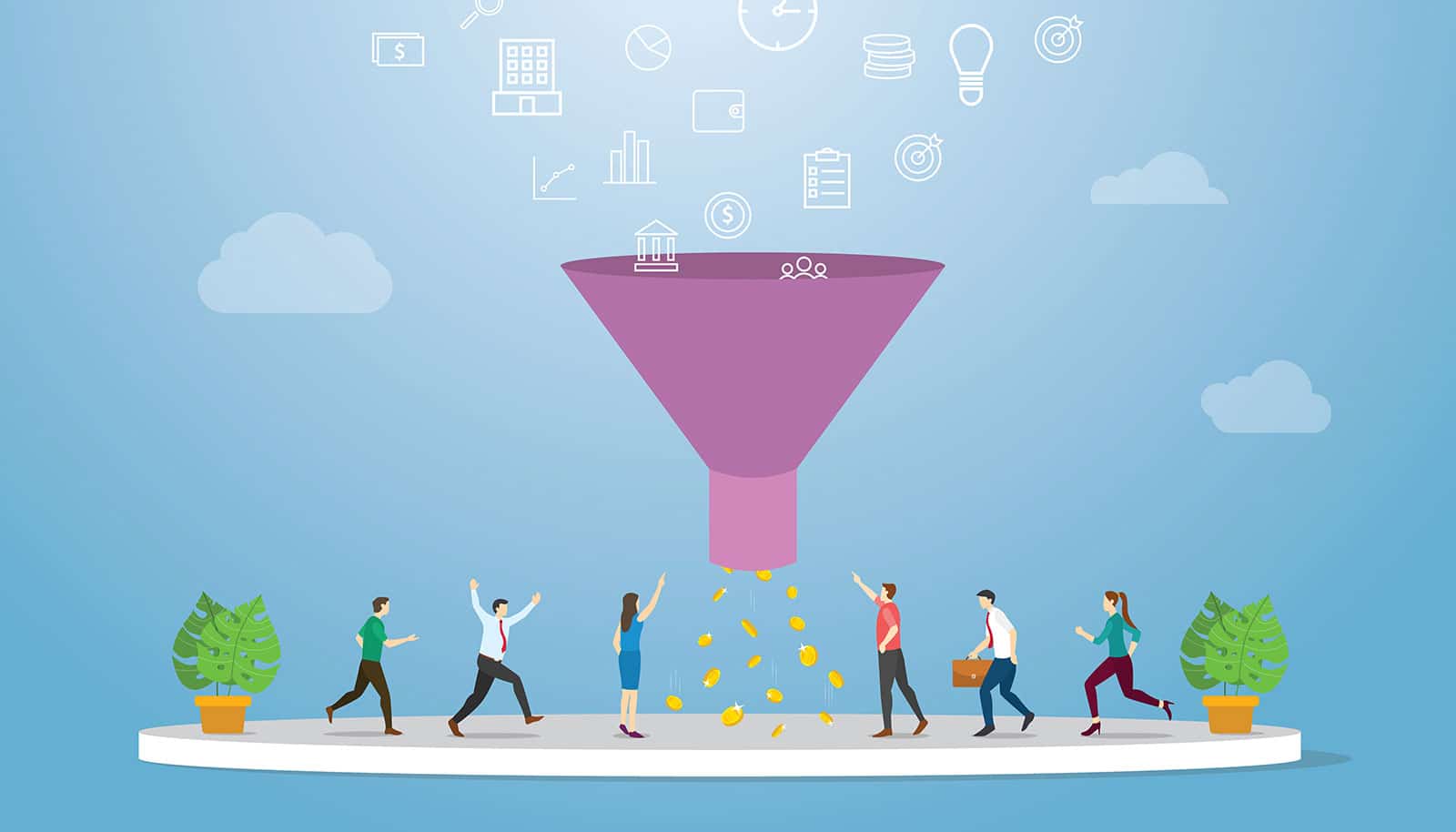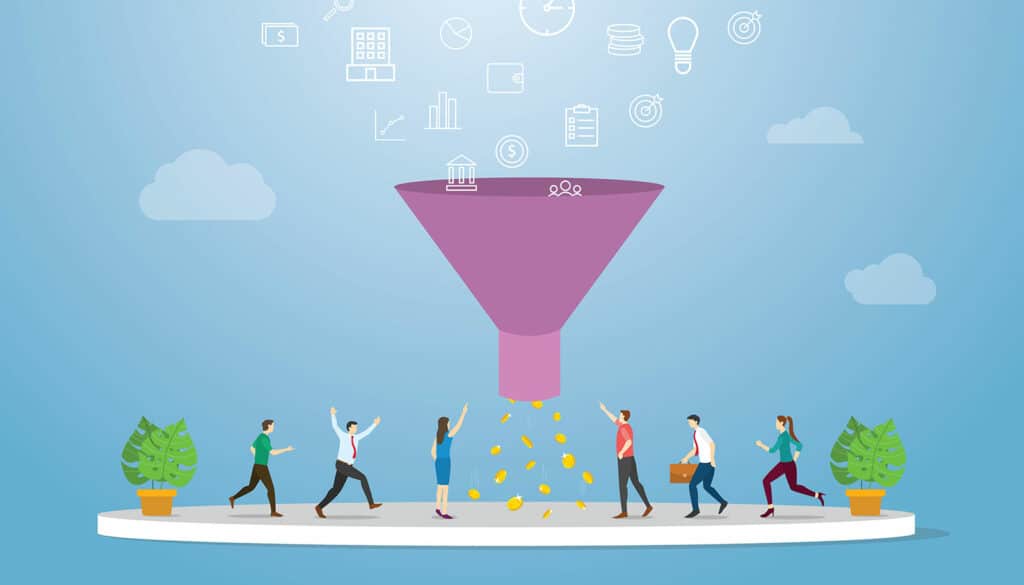 Initially, this sales funnel may seem counterintuitive because it involves clients who want to leave your company. Your goal is to rescue the sale by giving your customers a survey that asks them why they are leaving your site. Often, people leave a business because they do not understand an offering, so this survey is an opportunity for you to fix the underlying problem. You can use this technique when someone wants to cancel your services, get a refund or return one of your products.
13. The Homepage Funnel
With this technique, you create a website that looks like a traditional homepage. In reality, customers will be entering one of your main sales funnels. The initial page should talk about your company and give viewers a chance to sign up for more information. You can also advertise some of your most popular products on this page.
14. The Free Consultation Funnel
This is one of the most popular types of sales funnels. You often see it used by lawyers, accountants, and home builders. The premise is quite simple. Initially, you provide customers with a free consultation. This consultation walks them through your services and helps them understand how you can help them. In addition to generating leads, this technique allows you to create value for your customers. People also feel obligated to make a purchase after someone has done them a favor, so a free consultation can increase the odds that they will choose to work with you.
15. The Survey Funnel
A survey is an effective way to generate leads for your company, and customers generally enjoy taking surveys. This survey allows you to find out exactly what customers are looking for, so you can give them the right sales message. Additionally, taking a survey encourages prospective customers to engage with your company. After they have already engaged with your company once, they will be more likely to reach out to you again.
16. The Lead Magnet Funnel
In essence, this funnel is a bribe. To get a free report or video, the customer must give you their email address. This technique allows you to create value for your customer. In return, you get a new lead for your business.
I hope these explanations of the types of sales funnels have helped you to increase leads and conversions, if not, please let me know in the feedback form below.