If you own a small business in Canada and haven't heard of ShopHere yet, your life is about to change. First started in 2020, ShopHere is a program that will get your company online for free! Currently available in Ontario, Alberta, and New Brunswick, this Google-supported initiative began in Toronto but has since widened its scope considerably. Small business owners and artists are invited to learn more about the program to see if they qualify.
ShopHere Basics
Do you have a business with fewer than 10 full-time employees or a restaurant with fewer than 25? If so, you're already well on your way to receiving a free website. Even better, ShopHere will help you create your online store! Additionally, you'll receive training so that you can keep your shop running. Other perks include marketing help and the support you need to make your store go live.
Required Qualifications
You must be a small business owner or artist working in Ontario, Alberta, or New Brunswick. You're welcome to have a home-based or commercial business. Of course, you also must have under 10 or 25 full-time employees, as outlined above. As long as you meet all the requirements, the cost of creating your new website will be covered for you.
How Does ShopHere Work?
Each owner who applies and is accepted into the program will receive a lot of assistance. This includes:
Your choice of customization, including branding, information and logo.
Hands-on assistance to ensure your setup and launch go smoothly.
Free training on topics such as inventory management, shipping and digital marketing.
Free tools to make it even easier to launch your online store.
Add to all of this the fact that you'll get a free .CA registered domain, and it's clear to see how much of a benefit ShopHere offers. The entire purpose of the program is to help level the playing field by getting small businesses online. What you do from there is only limited by your own imagination.
ShopHere's Top Benefits
Aside from the previously listed benefits, you'll also be eligible for $50 in free Facebook ad credits. Other companies that offer perks to ShopHere program members include Shopify, Bookmark, Google, Intuit Quickbooks, eBay, Neo Financial, General Assembly, Cira, TruFan, and Ritual.
Another nice touch is that Digital Main Street offers four free courses for business owners.
Main Street Relaunch Program.
Leveraging Digital to Grow Your Business.
Marketing Your Business in the New Economy.
You can take each of these when you have the time. The classes have no specific start or end date, and you can take them in whatever order you prefer.
How Did ShopHere Get Started?
The Canadian government was aware that the Covid-19 pandemic made a difficult problem even worse. Therefore, they wanted to find a way to make life easier for small businesses and artists. Partnering with Google simply made sense, as did offering to pick back up businesses that were in a tight spot.
By offering to get smaller businesses online, they knew that they could offset some of the expenses of enduring the pandemic. After all, if a small company was suddenly able to sell their products online, they'd gain the potential of a much bigger audience. Even restaurants got into the act as they used a mixture of online ordering and selling merchandise to make ends meet.
Now that ShopHere has proven itself to be a success, Canada has no plans to let the program die. Instead, their goal was to get almost 50,000 business online by the end of 2021, and they've continued along the same path for 2022. Applying for your free website has the potential to save you a lot of money, and you'll be able to keep your .CA website going forward.
The ShopHERE process


Participant Sign up & Approval
Online Store Development
Online Store Review & Launch
Marketing Training & Support
How Do I Apply for ShopHere?
Go to the Digital Main Street website, select your location and create a free account. Next, enter your business information and complete the digital assessment. This entire process will take no more than 10 minutes, and it'll get you well on your way to launching your free website.
As long as you have a registered business that fits all the requirements, you're good to go! ShopHere will reach out to help you with every aspect of building and launching your site. Their intention is to make certain you have a high-quality website that will help you sell items online.
Even if you haven't needed a website yet, it can only help your business to obtain one now. Keep in mind that out of 38 million Canadian residents, 28.1 million were shopping online as of 2019. Plus, this number has almost certainly gone up since the pandemic began.
Things to Know About the Program
ShopHere sounds like a fantastic deal, and it truly is. However, there are a few things you'll need to know. Your website will be created and launched for free, and you'll receive a lot of support to make sure it goes well. After the free support period ends, you will need to pay for your website's needs. For example, if you wish to stay with Shopify after your free 90-day trial period, you'll become responsible for paying for it.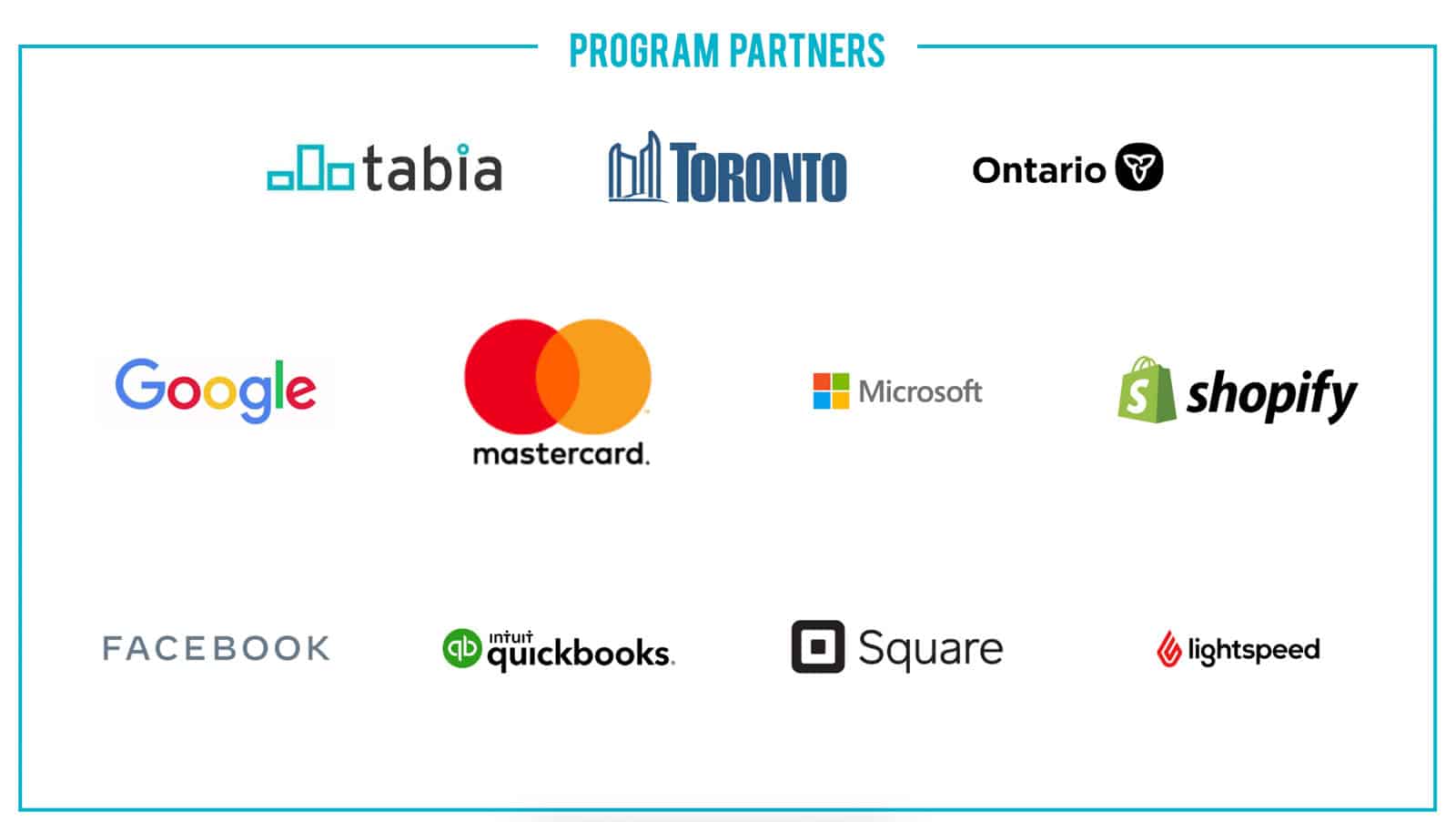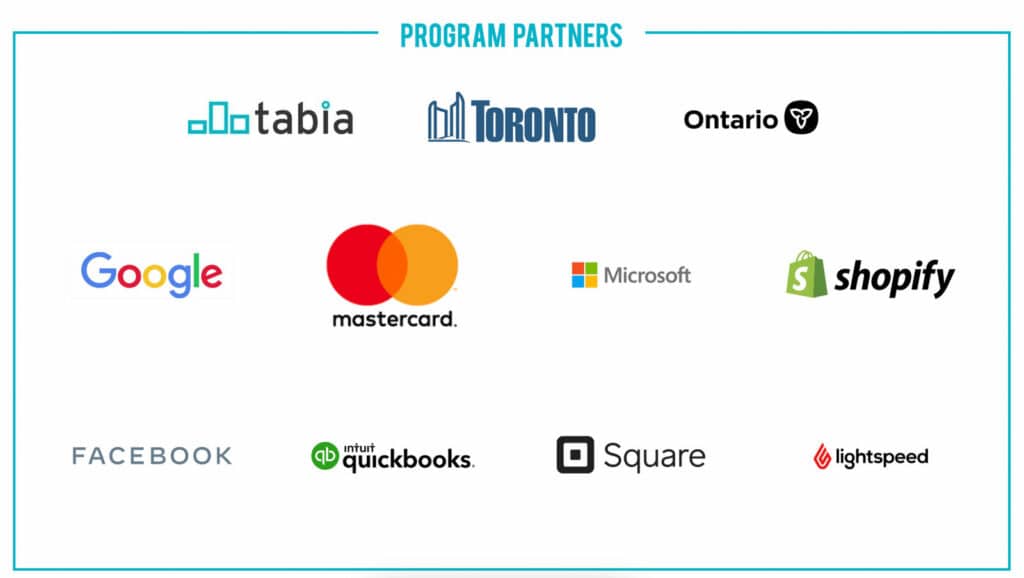 Another thing to note is that you'll be given a free .CA domain registration, but this doesn't include renewals. Again, this is an expense that will be transferred to you after the first year. The hardest part for most small businesses is getting their website up and running, however, and that's something you won't have to pay for. This is a great gain for your business because the average cost of getting a website built in Canada will run you between $800 and $3,000 for the design and construction alone.
How Do I Get Visitors to My Website?
Having a website won't do you much good if you don't get any traffic. Again, this is something that the ShopHere program is well aware of, and they've taken steps to ensure that your website will become successful. After your trial periods and free marketing credits are all used up, though, you'll need to come up with an action plan.
The most important thing of all will be to keep your site in front of potential customers. The reality is that there are always new people to tap into, and your current customers can forget about you if they're not reminded from time to time. This means you'll need to take advantage of SEO.
We're aware that most business owners aren't updated on the latest SEO practices. Nor should they have to be because running a business is hard enough. When the time comes, SEO North will be here to assist you. Our experienced and professional team of SEO experts will look at what you've already got in place before they design a plan to make your site even more noticeable.
Our services include:
High-Quality Content Writing.
Content Distribution and Syndication.
Premium Blogger Outreach.
On-Page Optimization.
Local SEO Business Listings.
Press Releases.
Page Speed.
Technical SEO Audits.
We do all the items listed above to help increase your website's traffic, which should make you busier than ever! Contact us today to learn more about taking your free ShopHere website to the next level. We'd love to help ensure your site reaches its full potential.