ADA Fraud is a growing problem for businesses, and it's essential to make sure you are taking steps to investigate this type of fraud. This blog post will go over the basics of ADA Fraud Prevention, including tips on studying and preventing ADA Fraud from happening in your business. We'll also cover some examples of what ADA Fraud looks like – so that you can be proactive about preventing it!
A new trend has emerged in which unethical attorneys exploit legal gray areas to extract money from unsuspecting firms and other organizations—and it was perfectly acceptable for them to do so!
When the Americans with Disabilities Act was passed in 1990, the internet had not yet become a significant component of many people's lives. As a result, it wasn't addressed in legislation such as the ADA, which was meant to eliminate hurdles that prevent disabled individuals from enjoying "public accommodation"—sites like sports stadiums or shopping malls.
Although the ADA contains 54 specific examples of "public accommodation" where the law would apply, it does not mention the internet or websites in any portion of the legislation.
Many law firms are respectable businesses that deal with real cases, but some practices have made it their mission to exploit loopholes in the law. These unethical attorneys take advantage of the "gray area" that websites and apps occupy regarding the ADA.
Several businesses, in particular, have gained a bad reputation for flooding the internet with hundreds—if not thousands—of form letters demanding that web retailers, hotels, banks, restaurants, and other businesses cease doing business.
According to the ADA Title III blog, one law firm was responsible for over half of all ADA website lawsuits between January 2015 and September 2016.
Attorneys leading website ADA compliance lawsuits frame their activities to pursue equal rights. Still, attorneys defending businesses claim it's a money-grabbing game on legal loopholes. Many organizations are terrified when they receive court documents, and some companies take advantage of that fear by stating in their letters that they are prepared to negotiate settlements outside of court for a large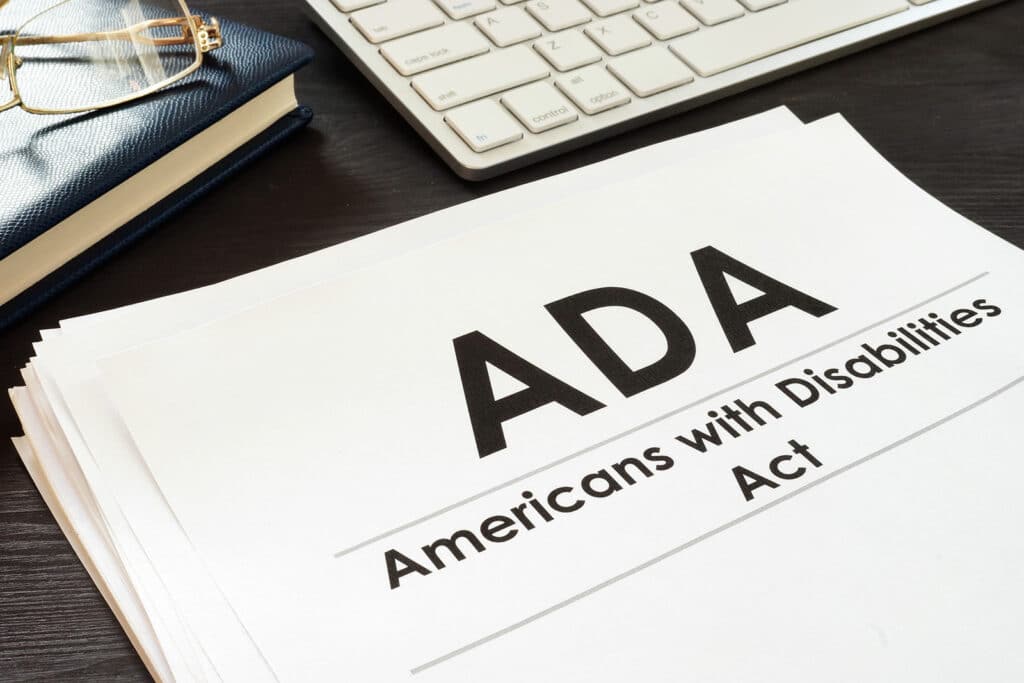 Some businesses ignore the legal threat to avoid responding, making the problem worse. According to an article by Randazzo, most ADA lawsuits are resolved peacefully out of court for $10,000 to $75,000.
Companies that are not accessible to users with screen reading software must pay for their websites to be updated, which is costly. Sometimes the expenses of making a website accessible depend on the complexity of a website. It is often less expensive to add accessibility features to a new website than retrofit existing ones.
Although they aren't legally binding, the DOJ has used the AA version of WCAG 2.0 in settlement agreements. It has even asked the public whether it should adopt these standards as law, which is why companies that want to be safe may look to WCAG 2.0 AA for pointers on keeping their websites secure against legal action.
What should you do if your firm receives a letter claiming that your website breaches the Americans with Disabilities Act?
Please don't ignore it, first and foremost! For help, contact an ADA lawyer with expertise and experience in the online world right away. Such attorneys are usually found in well-known firms. If you don't already have a lawyer you can trust, check with your state's bar association for suggestions.
Your legal counsel can assist you in responding and fighting the lawsuit. We propose learning about the issue by Googling the phrase "ADA Website Trolls" to grasp how the fraud works and which law firms are frequently involved. Of course, if you talk to a lawyer, you'll want to get the help of a qualified web firm with expertise in the ADA to prevent similar problems from happening again.
Take the initiative to fix things before they become a Problem
If you haven't received a letter, it's better to be proactive. If you're thinking about establishing a new web presence for your business or upgrading your current website, check with your web company about their approach to WCAG 2.0 AA compliance to be safe.
Hire Competent Web Companies
Qualified web designers should also be able to assess your current website and advise you on what may be improved before you get a letter from a lawyer demanding that it be changed! The extra money will be inconvenient, but the process might save you money, time, and mental energy in the long run by avoiding a lawsuit.
The Takeaway
On the other hand, the internet may provide various benefits, but it can also expose businesses and other organizations to legal risks through ADA compliance lawsuits! Take any steps you can now to avoid litigation, and you'll be glad you did later! As time progresses and technology advances, new ground is explored.
FAQ