If you run a business, you probably have a website. More than 70% of small businesses have a website, and incorporating a blog into your online presence is advantageous. But you shouldn't restrict your blogging efforts to your own website. Guest blogging is an excellent way to expand your reach and secure new customers. Using reputable guest posting services is one of the best ways to implement this strategy without getting overwhelmed.
What Are Guest Posting Services?
Guest posting services publish content that positions your company as an authority in the field while including links that drive traffic to your site. This marketing strategy engages the audience that views the guest post and boosts your Google ranking so that potential clients are more likely to find your website via organic search.
The Best Guest Posting Services
You don't want to create guest posts on any random website. In fact, bad or toxic backlinks can hurt your Google ranking. Therefore, you should avoid paid links, directories, press releases, and guest posting on sites with low rankings.
If you want to avoid guessing and build reputable links immediately, work with guest posting services that use proven strategies to secure high-quality links. Some of the characteristics to look for in the best guest posting services include the following:
Well-written, valuable, captivating and error-free
Straightforward ordering process
Clear pricing
Top-notch support
Predictable turnaround time
Comprehensive reports with applicable statistics
LinksThatRank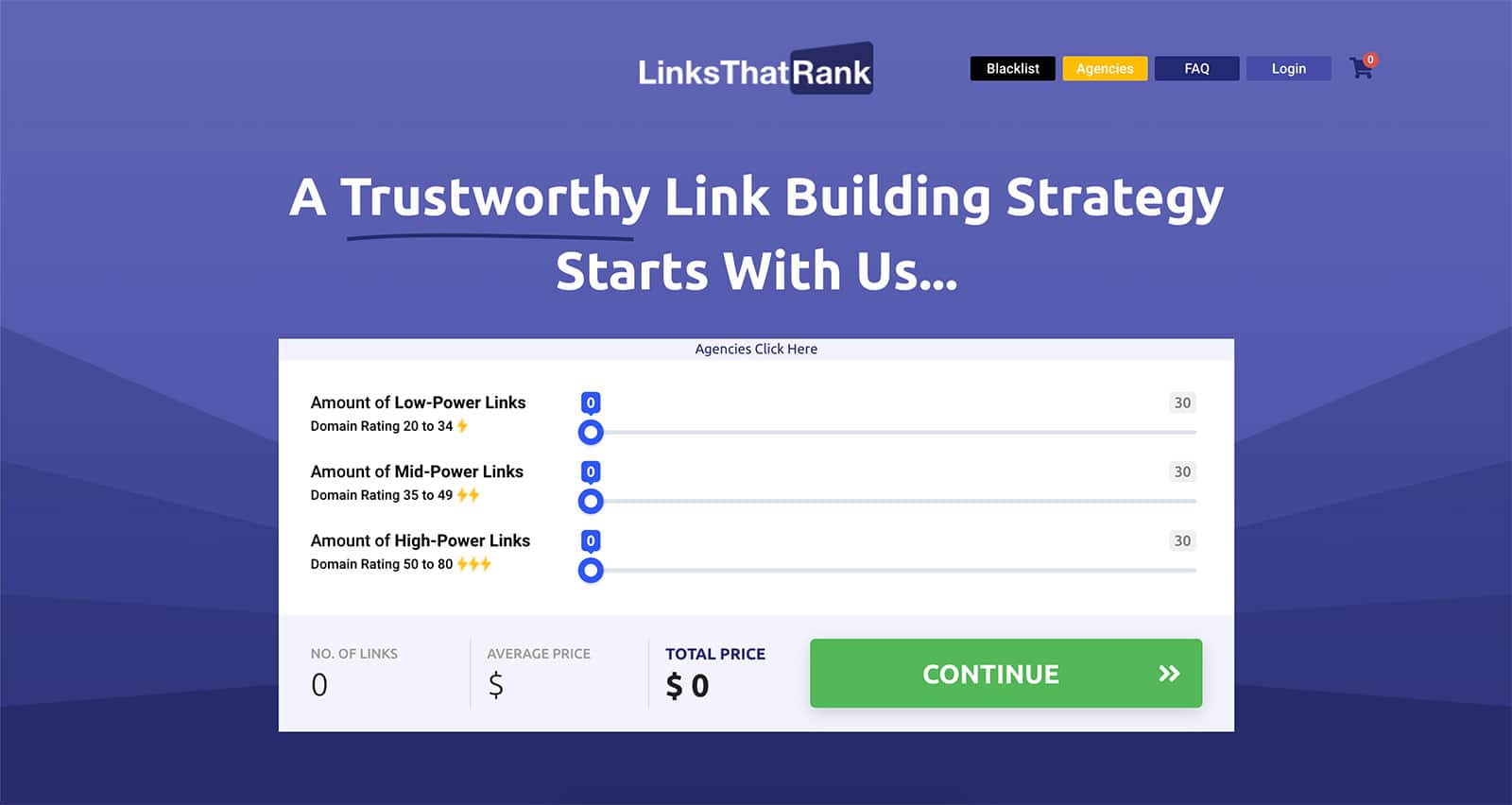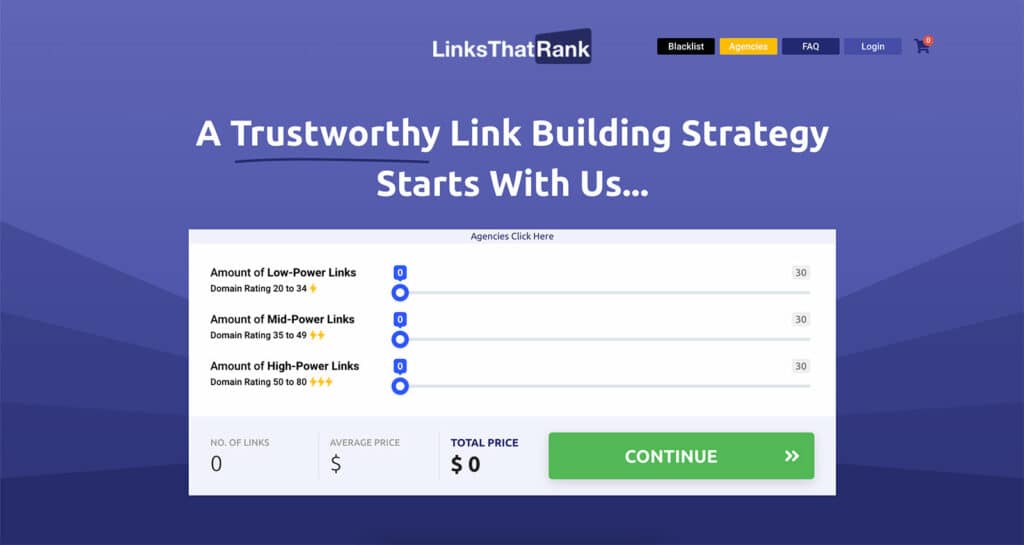 | LinksThatRank | Pricing |
| --- | --- |
| DR 20-34 | $177 |
| DR 35-49 | $247 |
| DR 50-80 | $327 |
LinksThatRank uses an effective link-building strategy to create high-quality content with backlinks on sites with verified rankings. LinksThatRank maintains a blacklist of sites that use disreputable practices. Some of the elements that LinksThatRank includes in its 23-point quality-control assessment of each post include:
Manual reviews
External links
Images
Technical checks
LinksThatRank takes care of the entire process from start to finish. The client's only responsibility is to provide target URLs and keywords. Then, the client selects the number of links they want and the types of sites they want to target. LinksThatRank negotiates the placements, creates and publishes the content, and delivers reports.
Most orders are completed within 21 days, and the company guarantees that each link will be placed on a trusted site with a minimum of 500 monthly organic visitors. Discounts are available based on the number of links that you order.
Ecommerce Link Builders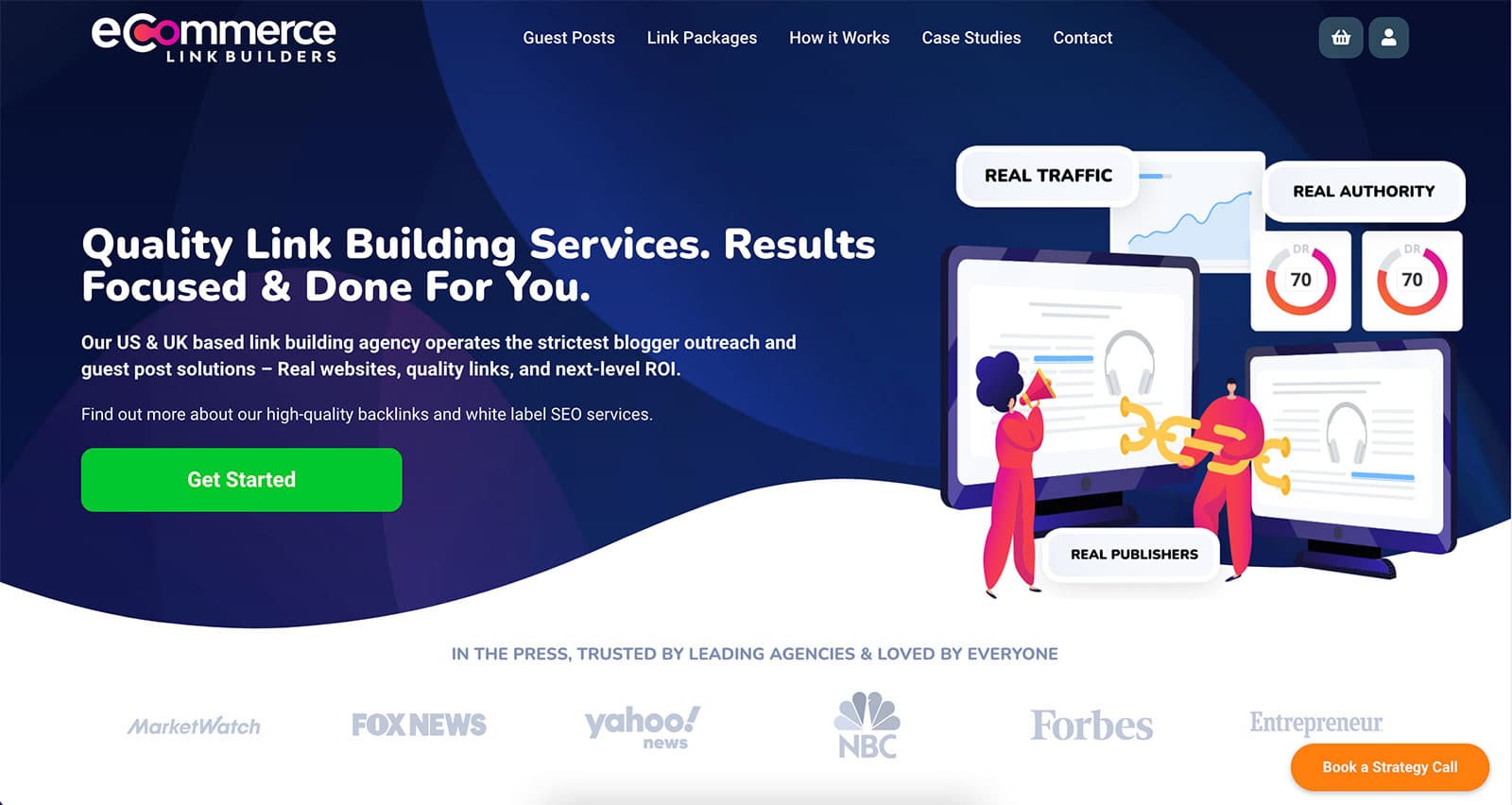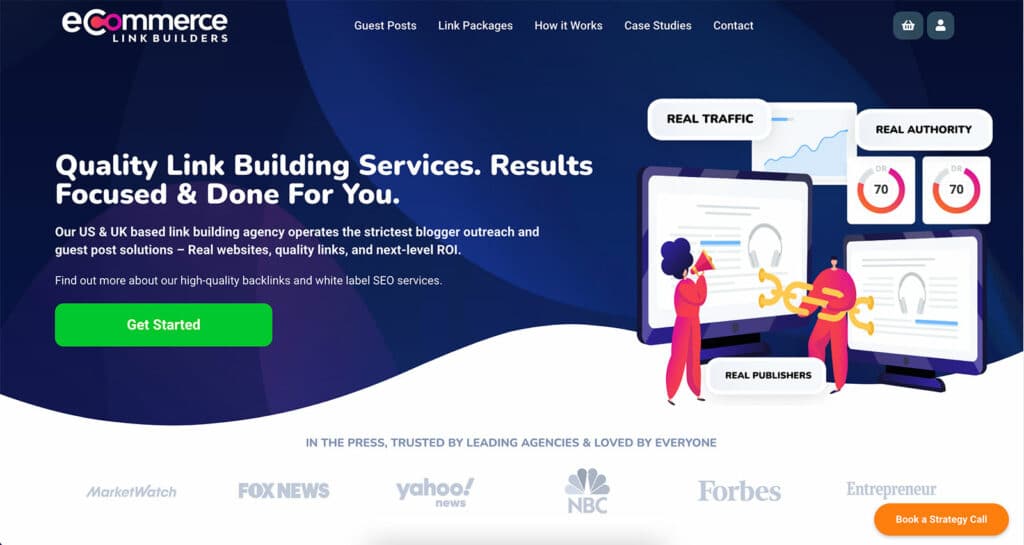 Ecommerce Link Builders is a white-label SEO service based in the U.S. and UK. The company offers a broad range of packages, which include single orders, custom orders, and bulk orders. Bulk and custom orders are drip-fed to avoid bombarding the search engines and space out your placements.
With this company's one-year guarantee, you can rest assured that your links will remain on the websites for at least 12 months. If they are removed during this time frame, Ecommerce Link Builder will have it reinstated or replaced. Ecommerce Link Builders also uses a 35-point process to verify the quality of the publishing sites.
This guest posting service is dedicated to simplifying the process for you. If you have questions, you can contact the company for more information about getting started, developing your strategy and building appropriate backlinks.
In addition to providing clients with detailed reports, Ecommerce Link Builders regularly publishes case studies on its websites to demonstrate the campaign results for various types of companies. This provides real-world examples of what the company can do for you.
Authority Builders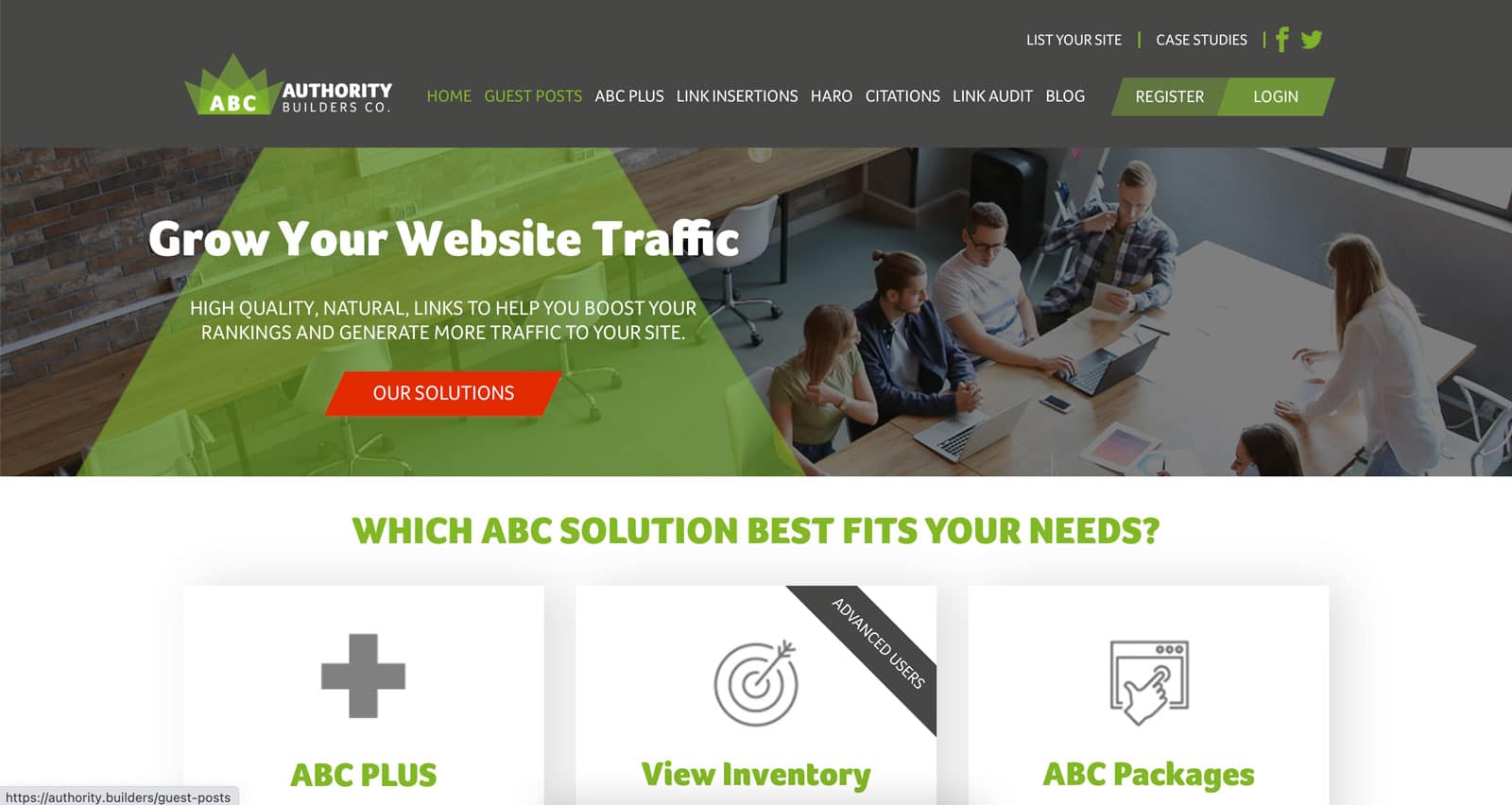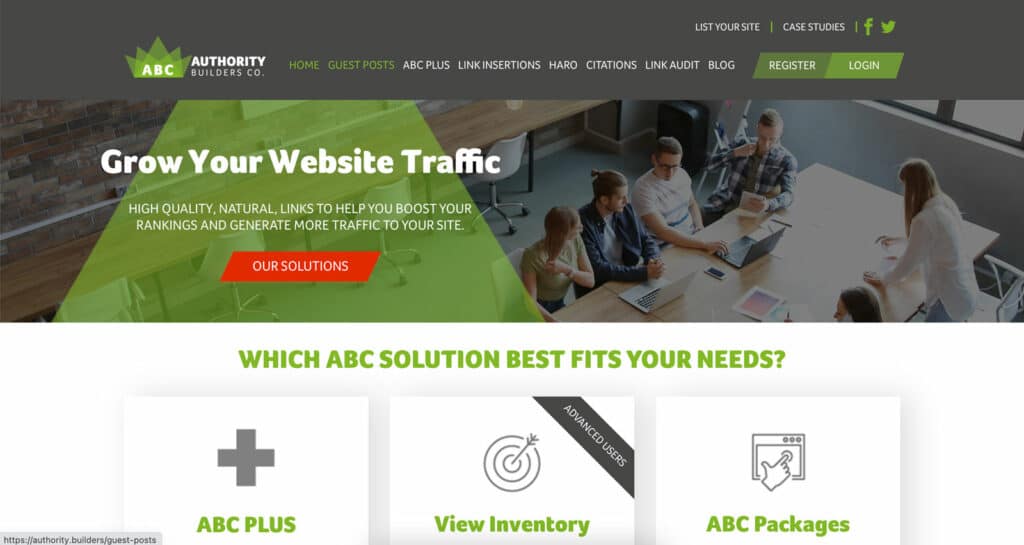 Authority Builders is one of the most reputable guest posting services. It offers a straightforward, customizable order submission process with backlinks that are published to vetted websites. The company maintains a database of high-quality partner websites to which guest posts can be published.
Whereas many guest posting services publish to sites with 500 or more organic monthly visitors, Authority Builders uses a network of sites with at least 1,000 monthly visitors.
Clients can control the process entirely or let Authority Builders do the work. For example, you can choose your own domain metrics, target URLs, anchor text, and sites to publish on. You can also choose the metrics and have the Authority Builders team take care of the rest. This allows you to take advantage of the guest posting service whether you're a novice or an advanced user.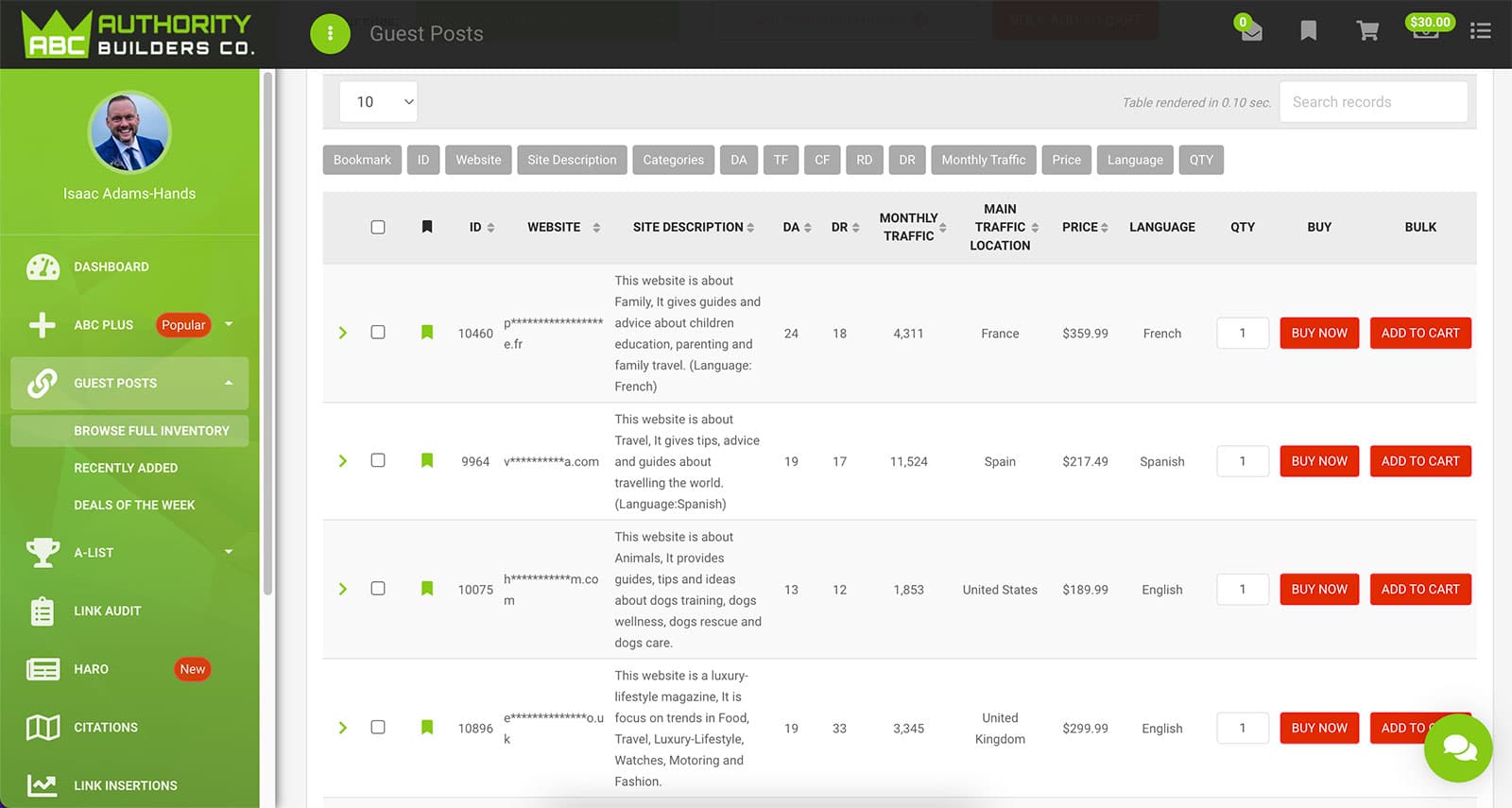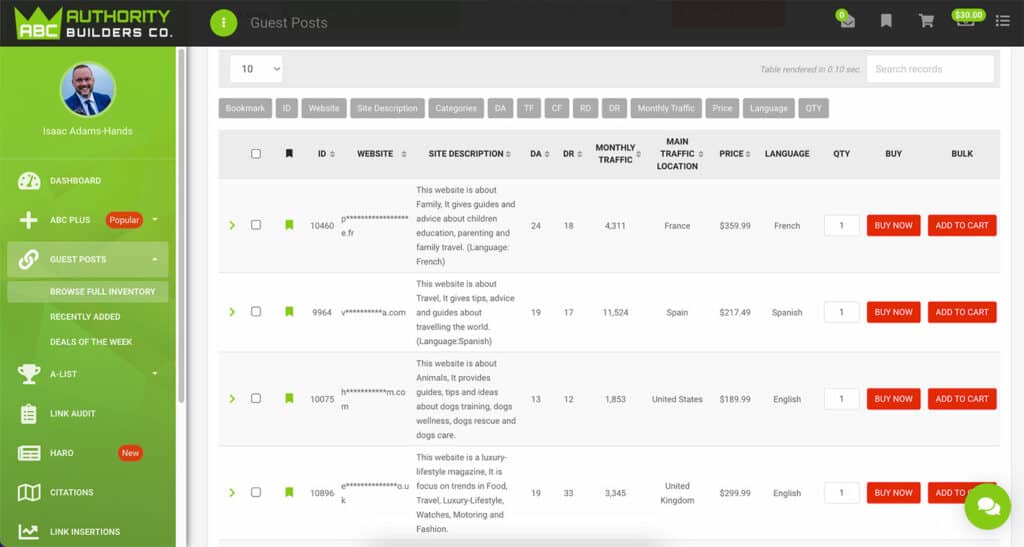 Finally, clients can also choose the objective for their link-building efforts. Choosing to build trust puts your links on sites with plenty of organic traffic. If you elect to create authority links, you'll focus on sites with high authority.
The average turnaround time for a basic order is 7 to 10 business days. However, some premium orders can take 4 to 6 weeks to complete. Most links stay on the websites permanently. Authority Builders guarantees that the link will remain on the published site for at least one year.
Get Me Links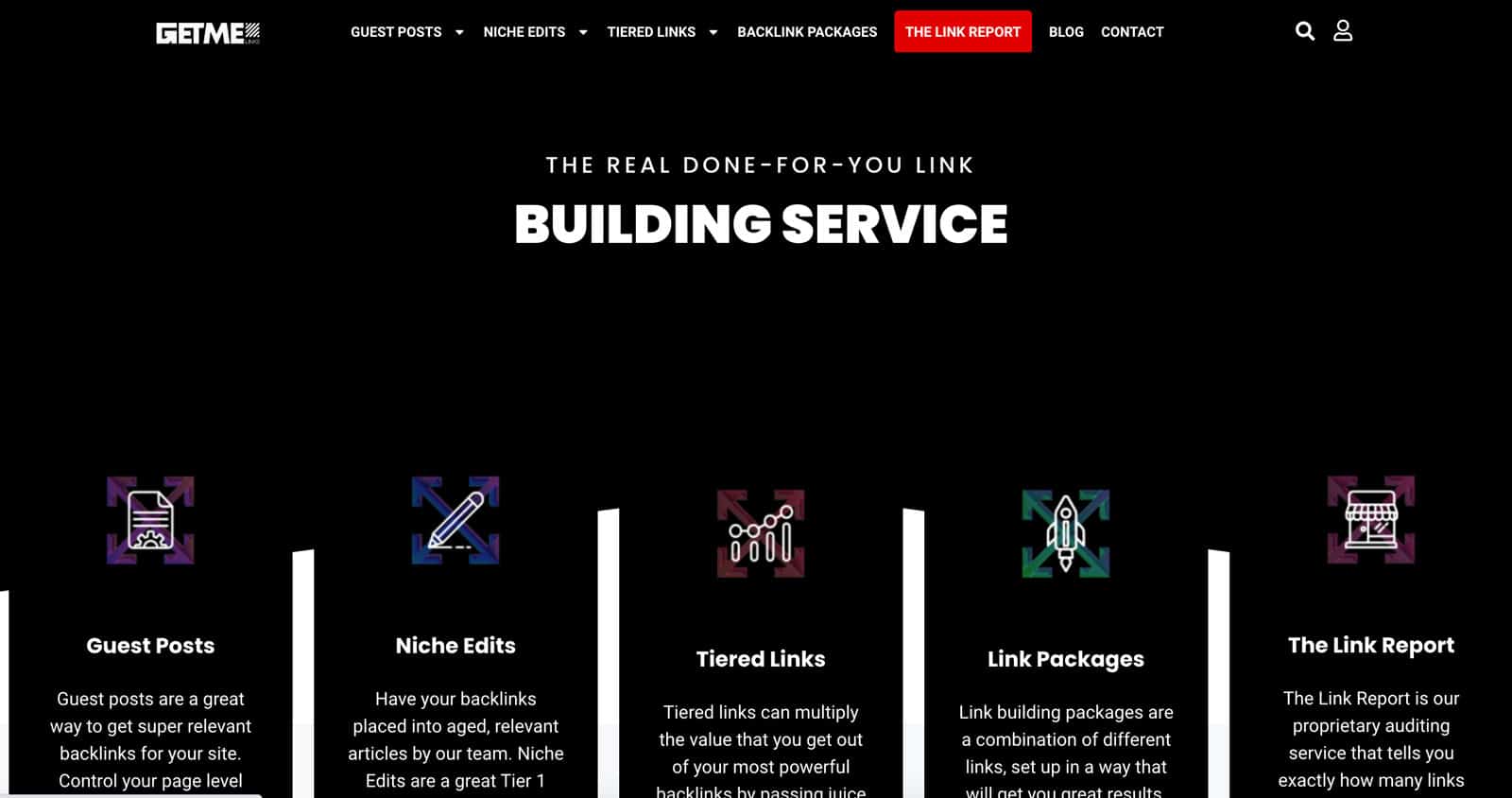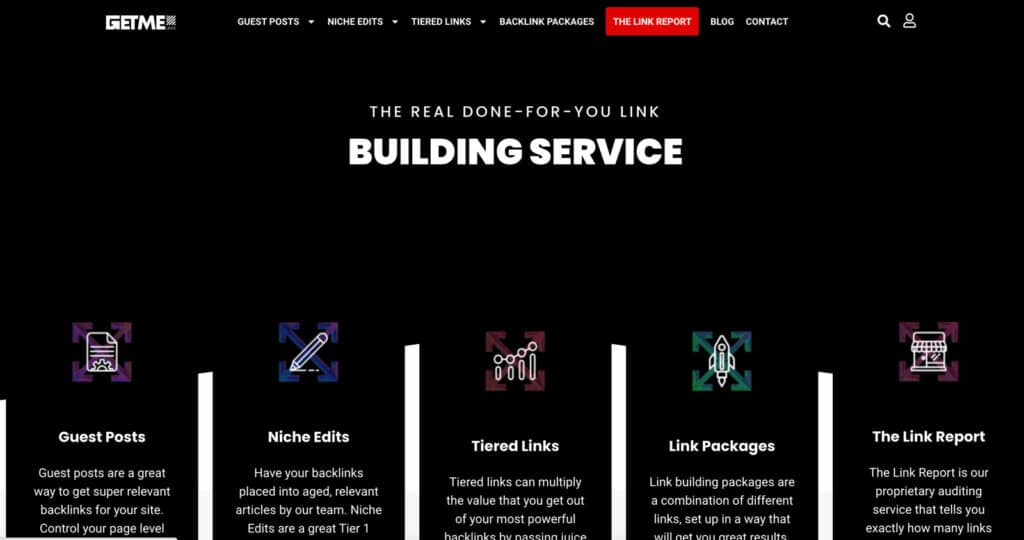 | GETMELINKS | | |
| --- | --- | --- |
| Guest Posts | 500 words | 1000 words |
| DR 30+ | $160 | $180 |
| DR 45+ | $260 | $280 |
| DR 60+ | $340 | $360 |
| | | |
| Niche Edits | | |
| DR 30+ | $120 | |
| DR 45+ | $200 | |
| DR 60+ | $280 | |
One of the standout features of Get Me Links is its customized outreach. Instead of maintaining a database of regularly used websites, the company researches reputable sites that are applicable to your niche when you place an order. Get Me Links also offers guest posts for gambling sites, which many other guest posting services don't offer.
For orders under $1,500, the client is responsible for providing target URLs and anchor text. However, Get Me Links will help you fine-tune these essential elements at no extra charge if you spend more than $1,500 on one purchase. A free consultation is included with every order.
Like most other guest posting services, this allows you to select sites with different domain ratings. You can also choose the word count of your placement articles, the number of organic visitors to the site, and the number of URLs you want to include in one guest post. Detailed reports and metrics are provided after the link goes live.
Loganix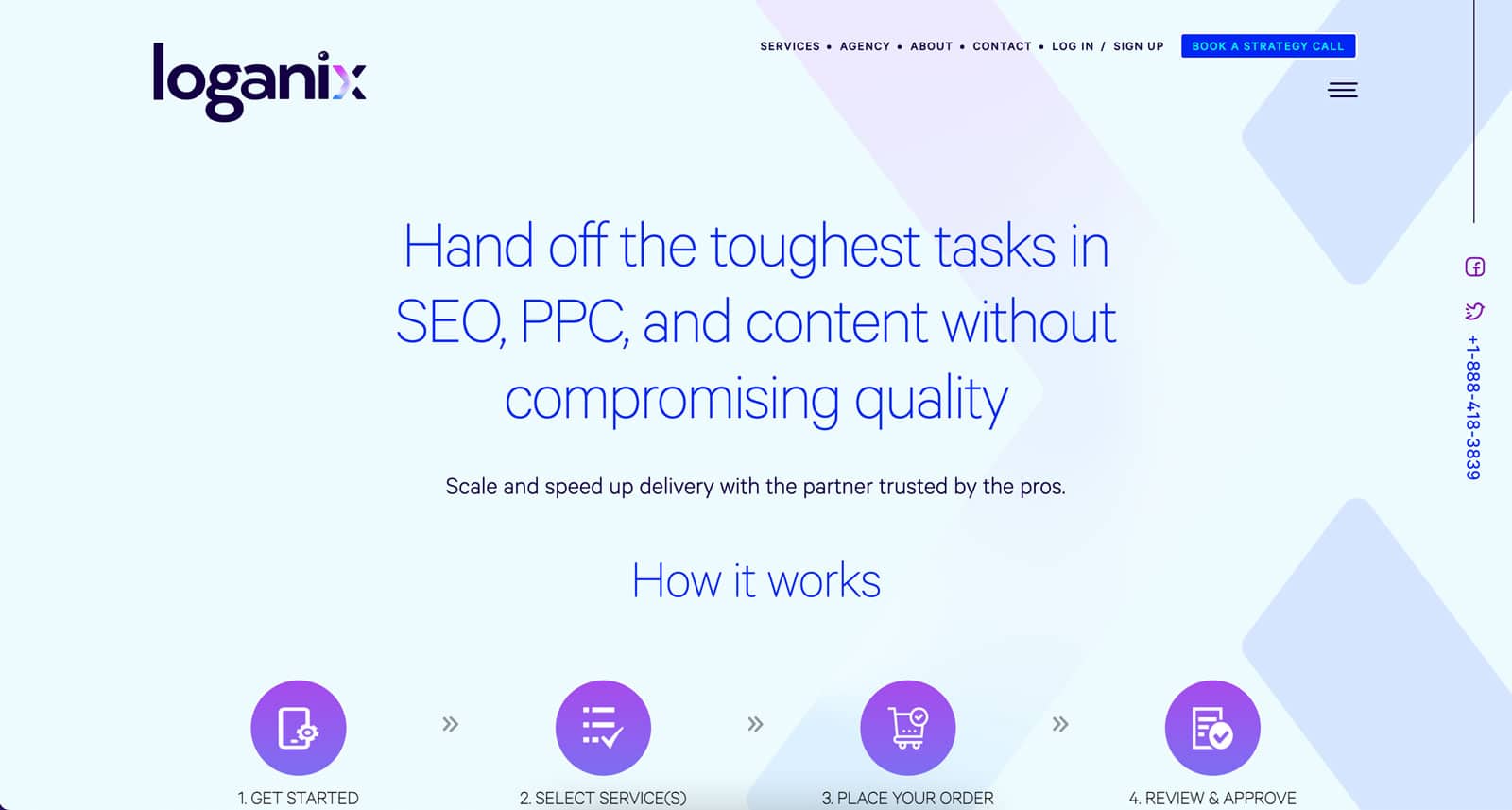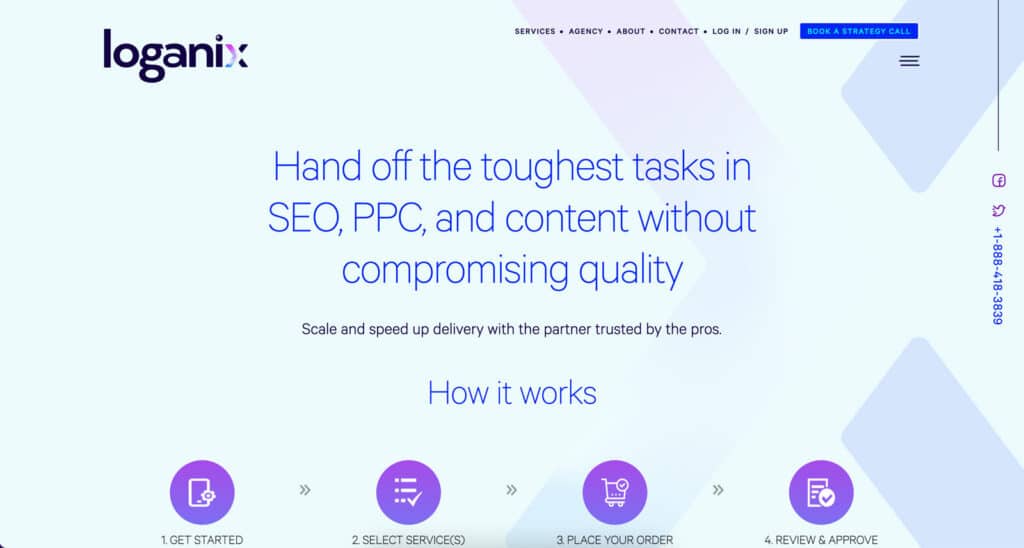 | Loganix | | | |
| --- | --- | --- | --- |
| DA/DR 30 Average | $200 / 100+ Traffic | $300 / 500+ Traffic | |
| DA/DR 40 Average | $400 / 1,000-5,000 Traffic | $500 / 5,000-10,000 Traffic | $600 10,000-50,000 Traffic |
| DR 70+ | $1,000 / 10k+ Traffic | | |
| HARO | $4,250/M for 5 links | $8,500/M for 10 links | $25,500/M for 30 links |
| PR | $299 | | |
Loganix allows clients to set up a free account immediately, which provides access to all of the company's self-serve features. The company offers more than 15 services, with prices starting at $7.00. You can purchase services individually or pay for a subscription.
When you log into Loganix, you can browse the service's inventory of niche-specific websites before making a purchase. Exploring the dashboard gives you an idea of how the service works, and you can complete a purchase at any time.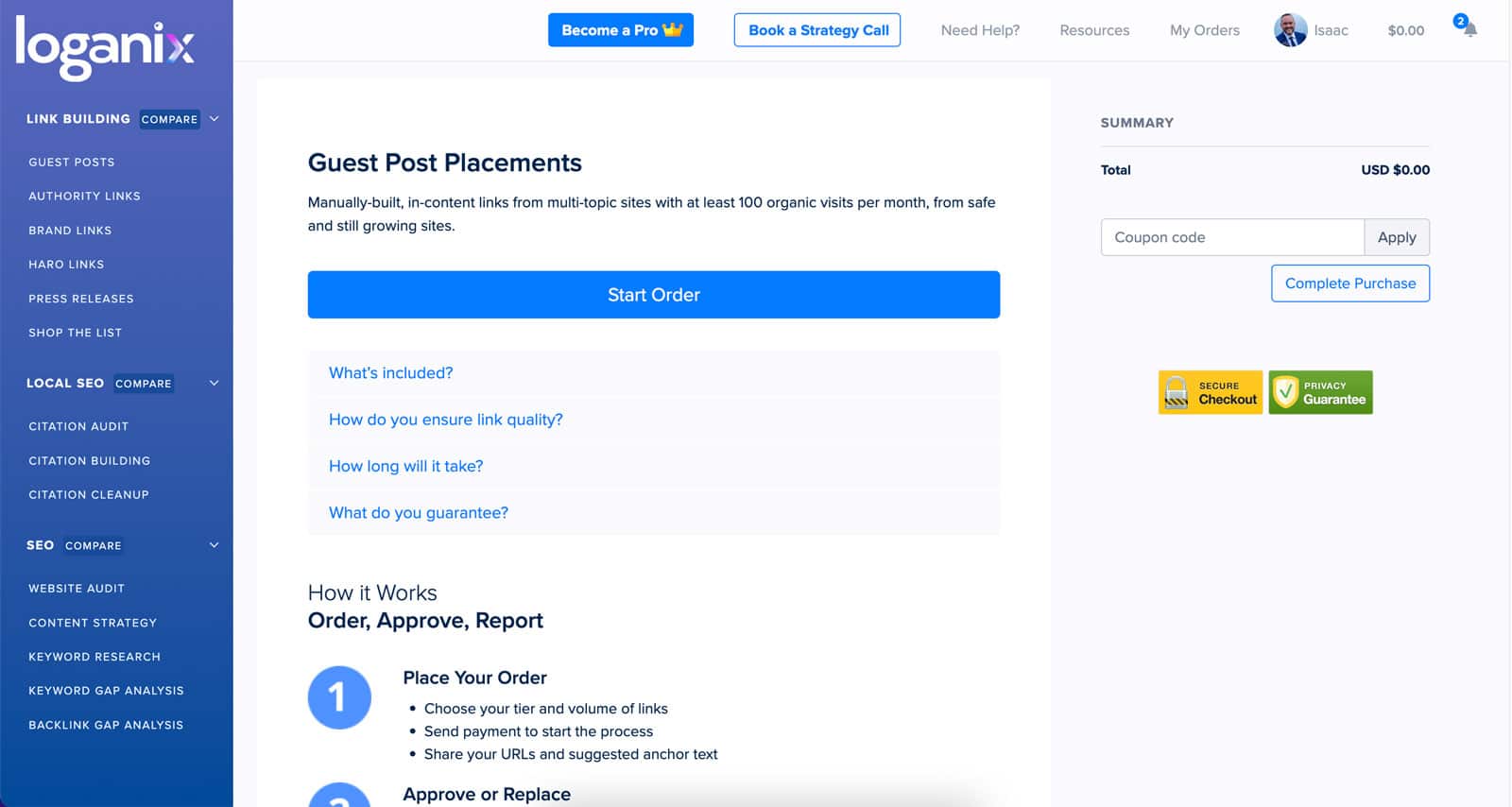 Loganix uses a quality-control process to vet the websites in its inventory. The company also uses verified writers to create high-quality content and valuable links. Testimonials and case studies on the website give you the opportunity to do some research and determine whether this guest posting service is right for you.
If you have an in-house editorial team, you can also provide guest posts to Loganix for inclusion in their database of highly-ranked websites. The company offers the opportunity to schedule a strategy call to learn more about refining your SEO game plan.
Outreach Pete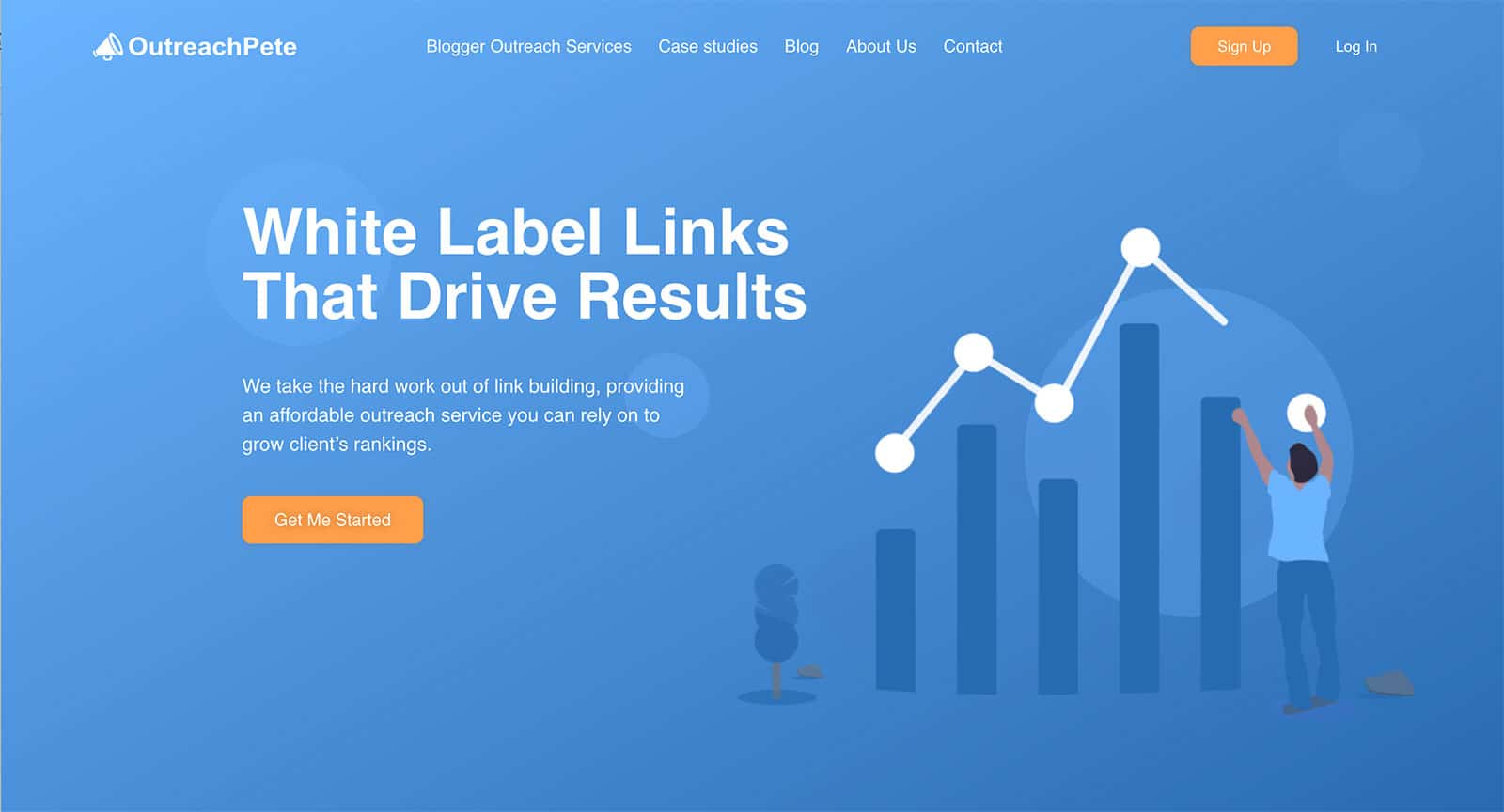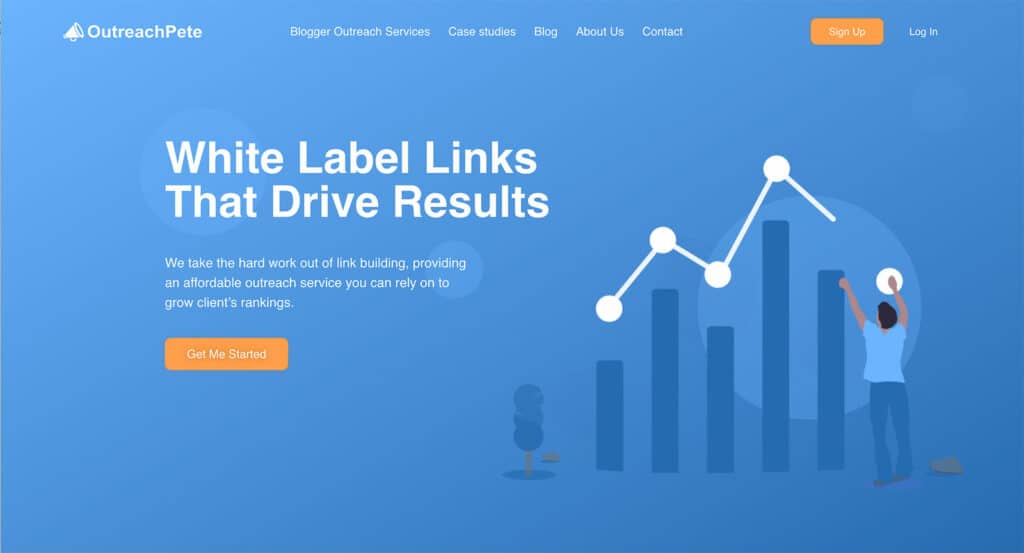 | Outreach Pete | 500 words | 750 words | 1,000 words |
| --- | --- | --- | --- |
| DA 20-34 | $140 | $160 | $180 |
| DA 35-44 | $200 | $220 | $240 |
| DA 45+ | $270 | $290 | $310 |
OutreachPete is a white-label link outreach agency for SEOs that was established in 2018. They provide a reliable, stress-free solution to build links that move the needle for clients. There headquartered in the UK but have team members throughout the USA and Europe. In addition, they are the first and only link-building agency to plant a tree for every order placed. This helps you save the planet while getting the necessary high-quality link-building services. Contact them today to learn more about how we can help you achieve your SEO goals.
TheHOTH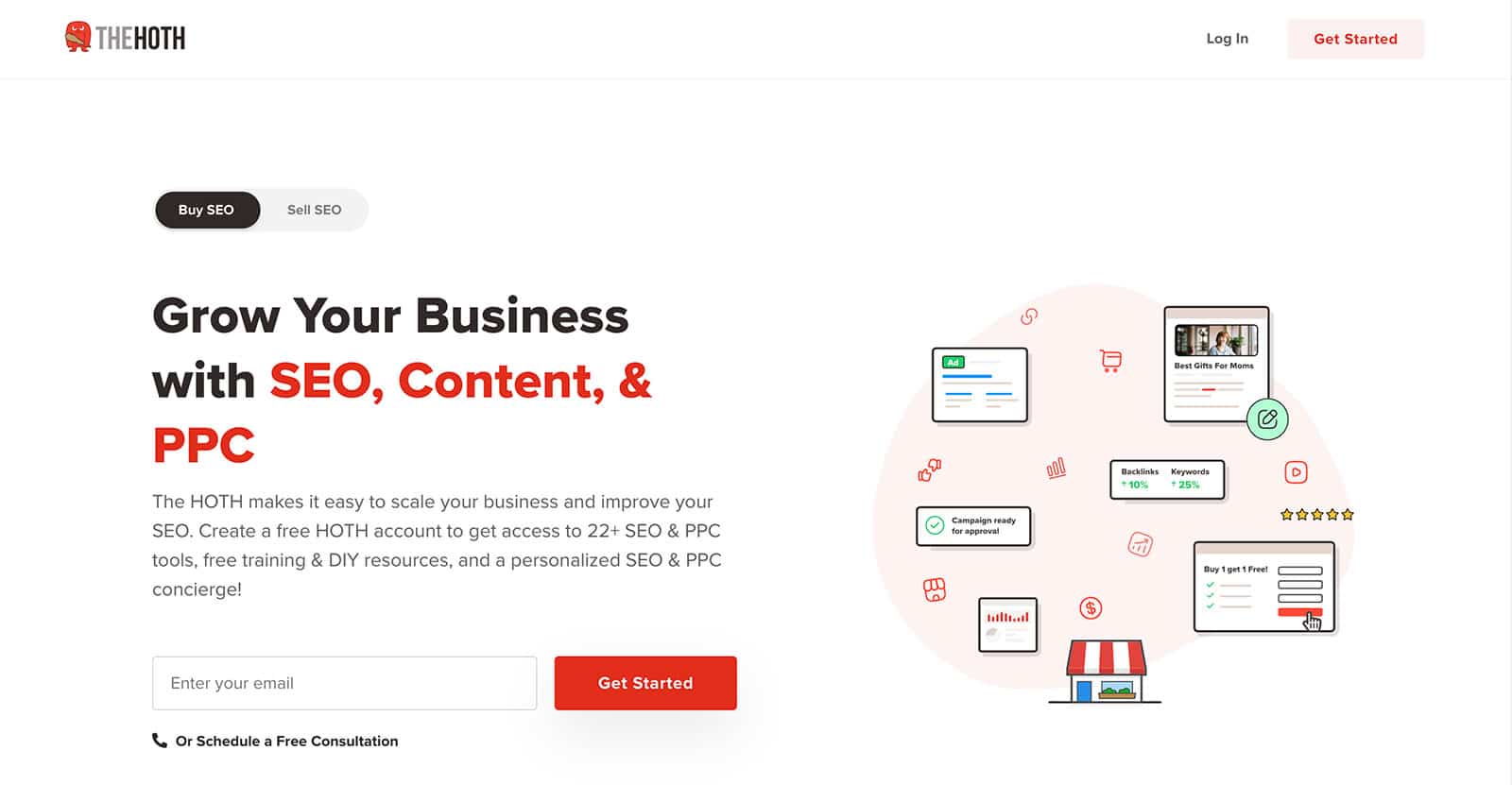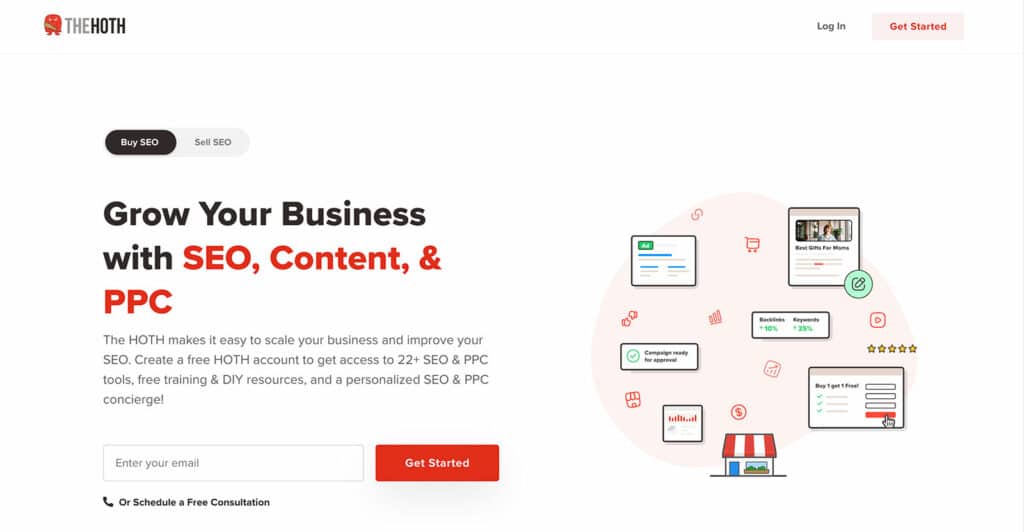 | TheHOTH | 500 words | 1,000 words |
| --- | --- | --- |
| DA 20 | $120 | $140 |
| DA 30 | $160 | $180 |
| DA 40 | $320 | $340 |
| DA 50 | $400 | $420 |
HOTH Guest Post is a service that provides high-quality guest posts for clients. They work with some of the world's largest and most popular blogs, enabling them to get your brand or message in front of a larger audience. Their process is simple: find the right blog for your niche, write a great article that promotes your brand or product, and then post it on the blog. This gives you instant exposure to a large audience and helps build trust and credibility for your brand. Guest posting is essential to any effective digital marketing strategy, and HOTH Guest Post can help you get the most out of this powerful tool.
Adsy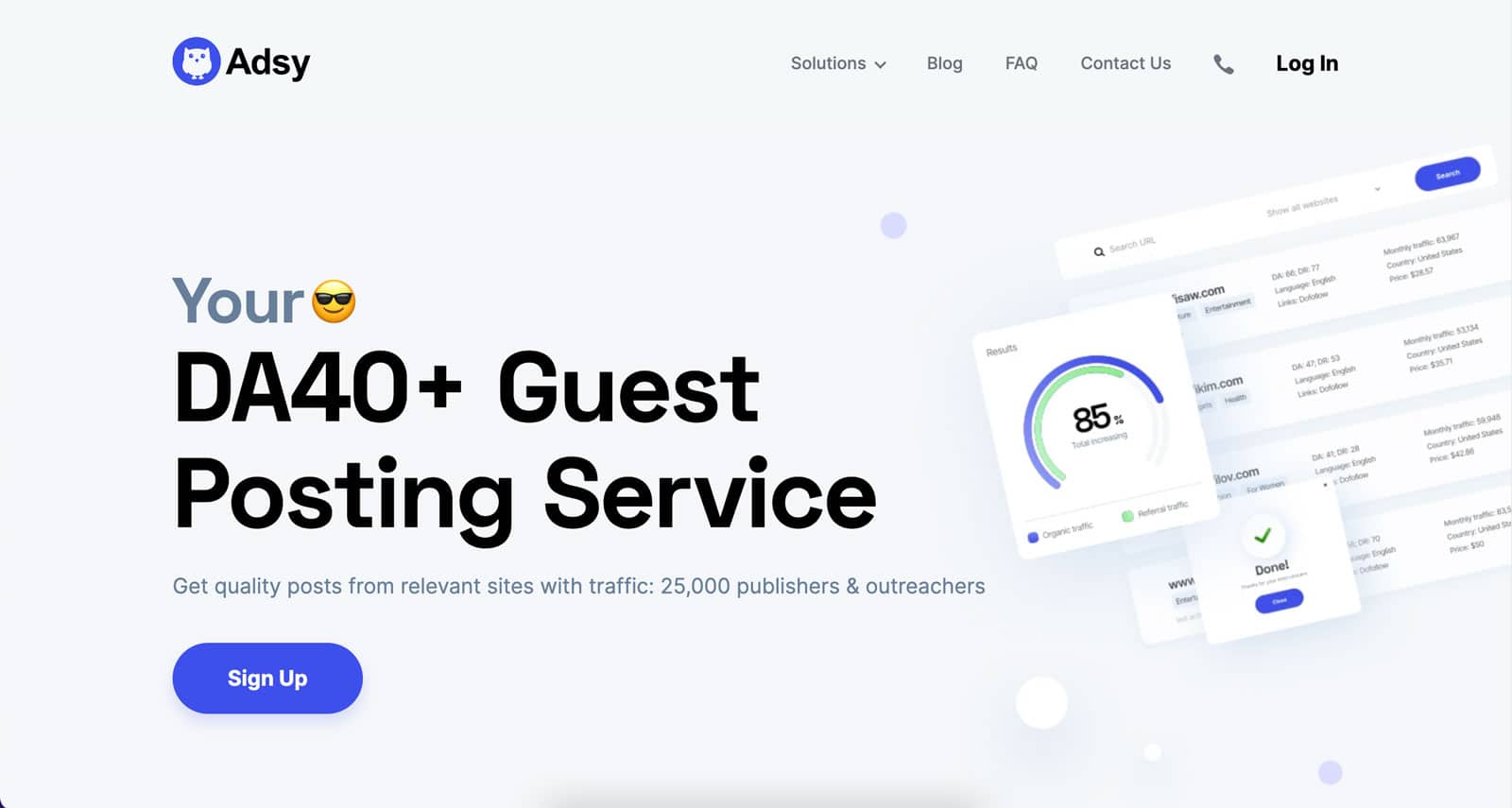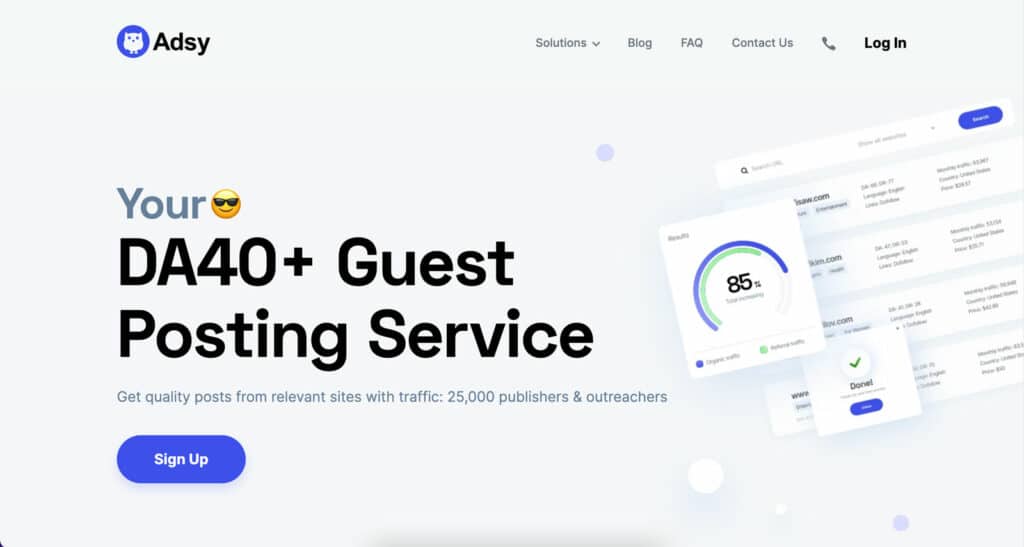 Adsy is one of the most straightforward services. Although it doesn't offer customizable options, it features a streamlined experience.
Adsy is a bit different from the other guest posting services. It's more of a backlink manager and connects publishers and buyers. Buyers can submit guest posts to relevant sites or purchase guest posts from niche Adsy publishers. You can create an open order without selecting a publisher as a buyer. This makes the order available to any publisher that wants to promote your content.
Buyers can choose publishers to post content that the client has written. However, they can also choose whether they need the guest post to be written and placed. Other filters buyers can use to select publishers to include the price range, niche, and sponsored status.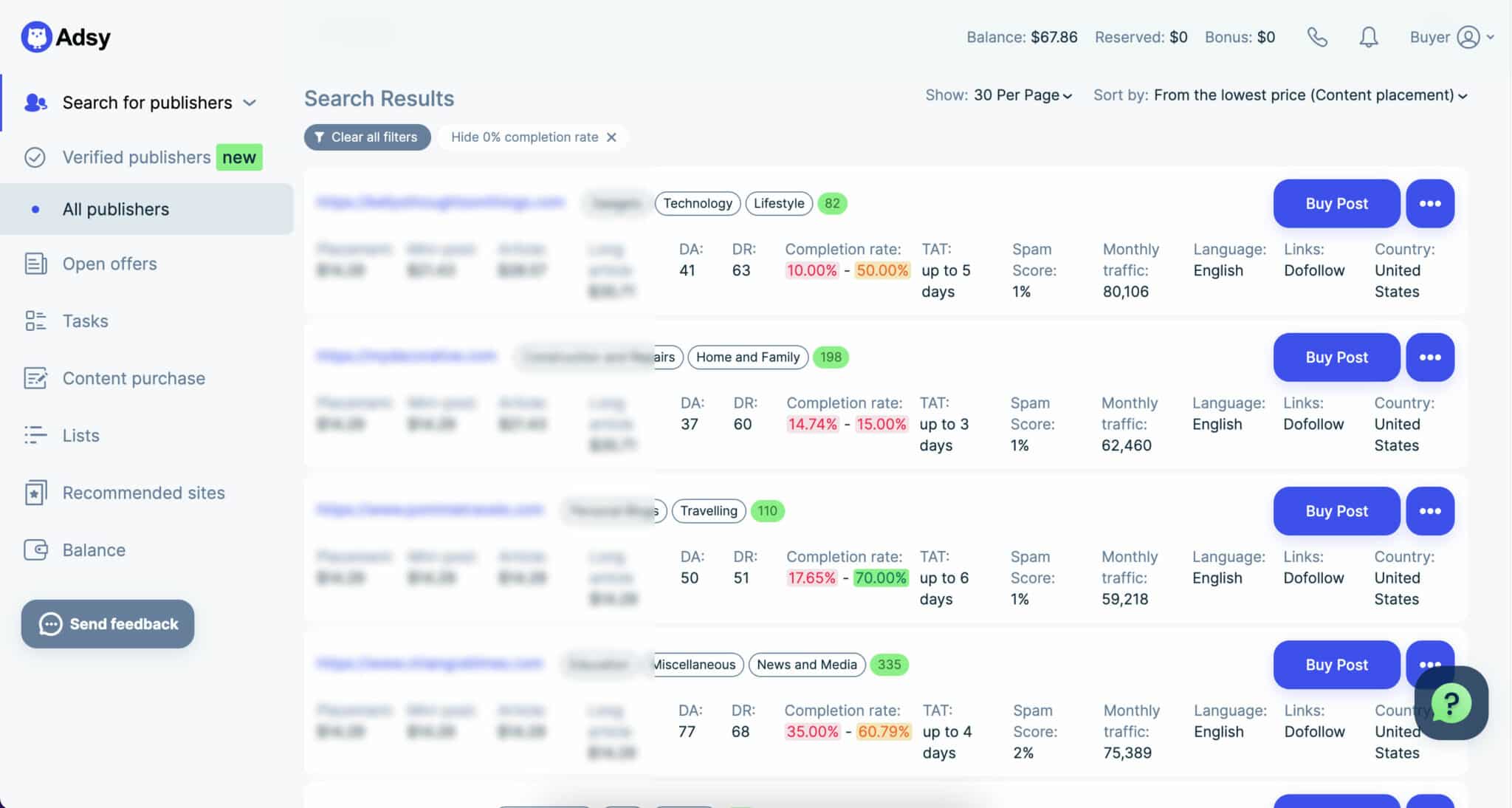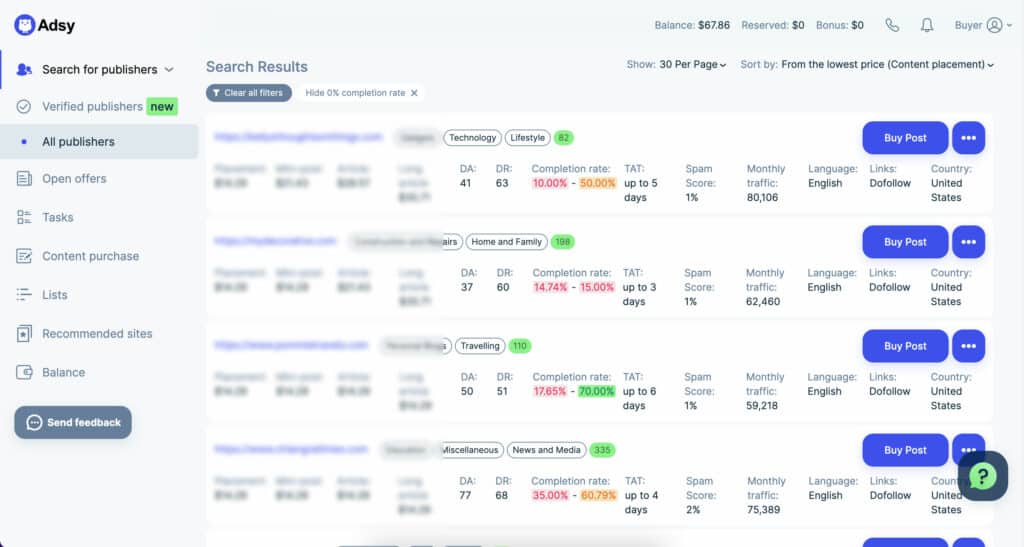 Publishers can submit their sites to the Adsy database, which allows them to be chosen by buyers. This is an excellent way to monetize a website using guest posting services. All publishers must have a domain authority of at least 40.
Whereas many guest posting services don't allow clients to interact with publishers, Adsy allows communication once the order is in progress. With Adsy, buyers have the ability to approve the content that will be published. You can submit the content for revision three times before accepting or rejecting it.
The prices for using the service depend on the publishers. Publishers typically set their prices based on domain authority, monthly visitors, and Alexa ranking.
Should You Invest in Guest Posting Services?
Guest posts are an excellent way to create backlinks. However, it's only one strategy for expanding your SEO strategy. A full-service SEO company, such as SEO North, provides content writing, blogger outreach services, and other strategies for outperforming your competitors. We personalize our process to meet your unique needs, offering content distribution and syndication, press releases, local SEO, and technical audits. Contact us to learn how we can help customers find your website and support you every step of the way.
FAQ
What is a guest posting service?

Is guest posting still effective?

How much should I charge for a guest post?

How to do guest blogging?

which is the best company for affordable seo services in usa?