Do you know how many leads your website generates each month? And of those leads, how many turn into customers? If you're not sure, you're not alone. Many businesses and SEOs (search engine optimization professionals) don't track lead generation all that well. But it's a vitally important metric, and fortunately for us, Google Analytics can help. In this post, we'll show you how to use GA to track your website's lead-generation efforts, so you can improve upon them and get more sales!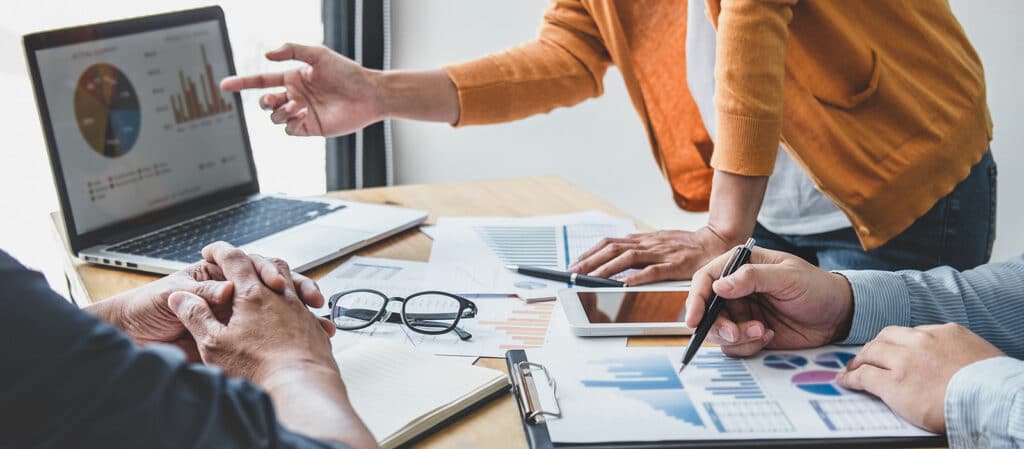 How to track your website leads
Here is how small businesses can track the number of leads their website traffic brings in and quantify if the marketing efforts are generating revenue.
1. Destination goals – Create Thank you Pages
One of the easiest ways to implement goal conversion tracking on your website is by setting up Thank You Pages; when a person fills out a contact form, newsletter subscribers, event signup, e-commerce purchase, etc., the user is redirected to this page. Then, you can attribute how many people go to this web page every month.
One thing to remember is to set the pages to no-index; this ensures people do not find the page from Search Engine Result Pages (SERPs). If you use WordPress, you can set the page to no-index by installing the Yoast Plugin, which lets Search Engines not show that page in search results. With Yoast installed, navigate to the bottom of the page, click on the "Advanced" tab, and set "Allow search engines to show this Page in search results?" to "No."
2. Set up Google Analytics Goals – Form submissions, Pageviews
Google Analytics allows you to set what goals you want to group, so it's easier to report on every month.
You can set up the following goals in your Google Analytics account to help in tracking leads; this helps measure how often a user completes a specific action on your website.
Goals can fall into four categories:
Destination (URL): track specific pages that fall under your KPIs (Key performance indicators), such as pricing and thank-you pages.
Event: This can include video views, button clicks, lead generation form completions, or even viewing a specific URL on your website.
Duration (or time on site): With a duration goal, you can create a measurable lead count with duration information.
Pages per session: If a person views more than five pages on your site, you can count that as a goal; you track page views by setting a "Pages per session" goal.
To set up new goals in Google Analytics, navigate to Admin > View > Goals.

3. GA + GTM Event Tracking – Phone calls, Scroll depth
Using Google Analytics together with Google Tag Manager, you can receive better reporting. Two KPIs I use are Scroll depth and phone call tracking.
Bounce rates are difficult to distinguish if it was a good or bad visit. A better alternative is to track the Scroll Depth of the page using Google Analytics and Google Tag Manager. Using Google Analytics and Google Tag Manager, you can track scroll depth metrics by following this step-by-step guide.
Phone calls generated on your website are one of the most crucial conversion rates to track. You can set up this tracking by integrating Google Analytics with Google Tag Manager, using this how-to tutorial to track phone call clicks.
4. Add UTM tracking
UTM codes are among the essential tools when tracking your Google Business Profile (Google My Business), email marketing, and PPC landing pages; it tells you how many people clicked on your marketing campaigns and referral lead source. But it can also be used for Goal Tracking on your website. UTM tracking codes can easily be added to signups or anything you want to track (e.g., ebook downloads).
5. Use GA with a CRM
Google Analytics is a great way to see what's going on with your business. But it can be even better if you link up CRM so that data from both sources sync together in an easy-to-show format to track all of your marketing channels (e.g., Social Media). Most CRMs make the integration seamless.
Bonus: Surveys
Did this article answer your question? Yes, No. How helpful was this article? Thumbs up, Thumbs down. These surveys on your website do not directly correlate to leads, but they can be beneficial in your optimization process. Better functionality (content, user experience, engagement) from user feedback will ultimately lead to happier customers that will convert better and have higher retention rates.
I hope this guide helps you increase the conversions on your website; if you need any help, please let me know.
FAQ
How to track phone call leads in Google Analytics?
---
Published on: 2021-12-14
Updated on: 2023-11-03