What Is On-Page SEO?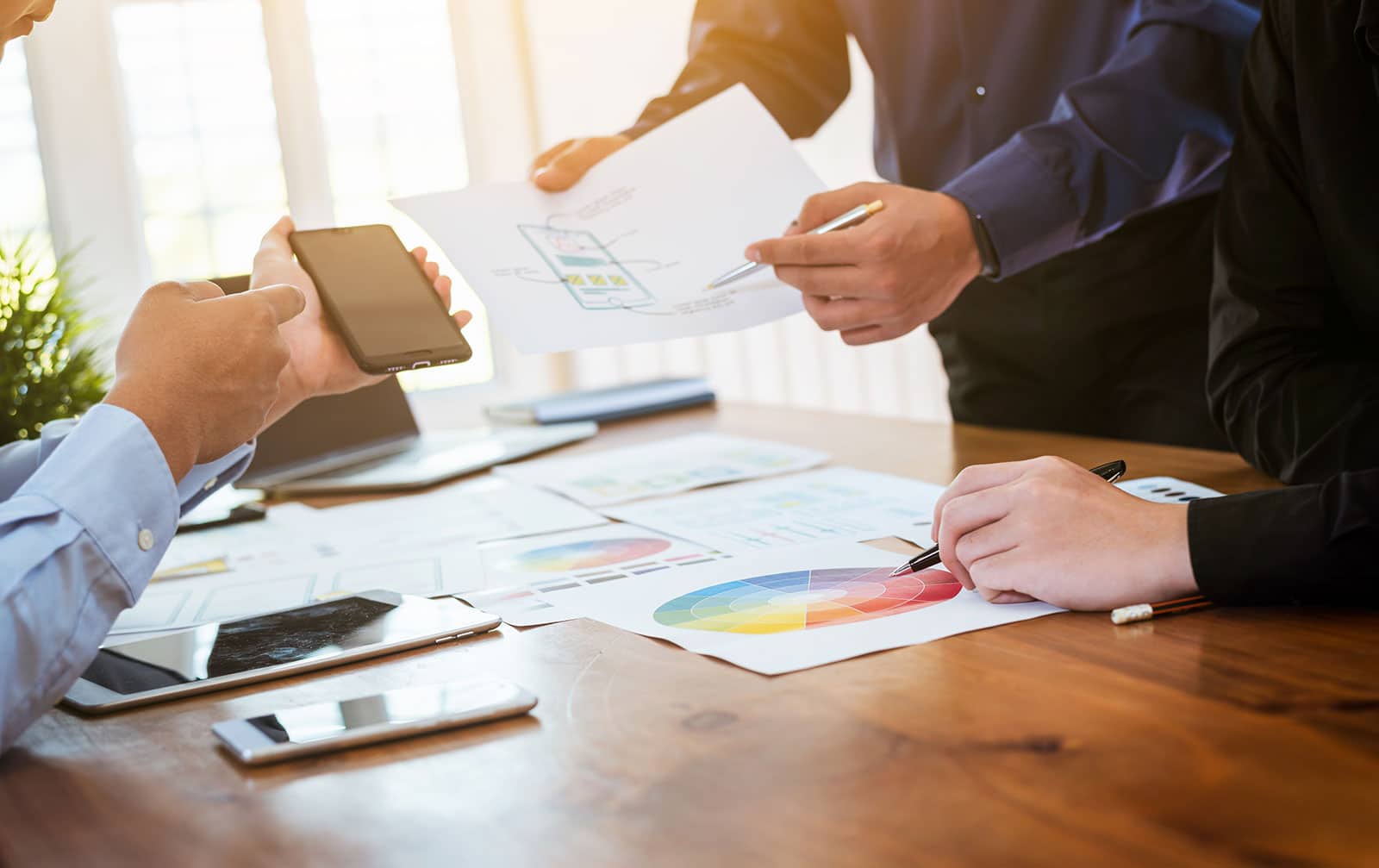 Today, a solid SEO strategy has the goal of getting the entire website to rank higher. However, this requires careful, page-by-page planning of the website's SEO (search engine optimization) featured snippets (markup/structured data/schema), and high-quality content. An on-page strategy looks at each page individually to optimize it and tailor keywords for improved SERP performance. To succeed with on-page SEO, it is important to understand what it is, its importance, and its key elements.
On-page SEO is not quite the same as technical SEO. It focuses on optimizing the content on the page or specific URL. However, technical SEO focuses on optimizing the entire website and all its specific URLs or web pages. For example, an on-page strategy may address the FAQ page if it needs improvement, and a technical approach would look at all the pages on the site, including the FAQ, About Us, and others. While technical SEO looks at site speed (page speed insights/page load time), structure, indexing, and similar aspects, an on-page approach focuses heavily on keywords and optimizing the content to rank higher on search engine results pages (SERPs).
Why Is SEO Important for Individual Pages?
If you want to take your small business to the first page of SERPs, whether you are aiming for local SEO or not, having a strategy for each page of your site is essential. If you use the same keyword or keywords across all your site's pages, you are less likely to rank higher. For example, if you have a small pest control business, you can use targeted keywords for each service or type of pest instead of using "pest control" and the name of your city as the keyword across all pages.
Google's crawlers still look for keywords, but stuffing keywords (based on keyword density) into your content will not bring you a higher ranking today. User experience is key today, and developing pages that create value and a positive user experience is critical if you want to be on the top of SERPs. In addition to increasing your visibility and organic traffic, having a strong on-page strategy for SEO can help boost your reputation and position you as an authoritative source for relevant queries.
Key Elements of On-Page SEO
As you plan your strategy for optimizing individual pages, it is important to consider what Google's crawlers want to see today. When you understand the search engine's goals, it is easier to align your own goals for a favorable outcome. First, the algorithm seeks to understand what users are truly searching for when they enter a query. Second, it seeks to deliver results that meet the specific user search intent.
Keep in mind that Google also tries to deliver results based on the part of the buying cycle the searcher is in. A person may search for "men's dress shoe reviews" if he is looking to learn more about different types of shoes. Google may deliver information-rich reviews to such a person. However, if a person is ready to buy a certain style of shoe, a term such as "buy men's dress shoes" may be used, and the SERPs will show relevant shopping pages. Optimizing each page to give Google's crawlers vital information about the page's purpose is important. As you keep that in mind, these are some valuable elements to know for effective on-page SEO.
Use Meta Descriptions and Title Tags
It is important to use these together. Meta tags are critical for page titles (H1 tag) and descriptions. Now that you know algorithms look to deliver useful content based on user intent, you can appreciate how important these aspects are for appearing higher in SERPs. When you craft your title and meta description to show why a specific page meets a user's need or intent, you are much more likely to rank higher. It helps Google understand the purpose of a page. Although the meta description is not a direct on-page ranking factor, the title tag is. However, they work together to create a greater benefit when it comes to convincing searchers to click on your page's link on a SERP.
Develop Quality Copywriting
The written content of your page must be high in quality to meet today's algorithm requirements. In the past, crawlers rewarded keyword-stuffed pages that barely made sense with higher search engine rankings. Today, they are more sophisticated and understand sentence structure, quality information, and more. Professional copywriters who have a good understanding of site SEO know-how to create new content that meets your on-page strategy's needs. These are some basic elements that content marketing should have on each page:
Compelling introductions
Short and concise sentences
Sections under 300 words
Strategic keyword placement
Written for searcher intent
Scannable content structure
Paragraphs that flow well
Interesting content
If you plan to write your content on your own, there are on-page tools that are free or paid. They can show areas for improvement, such as content that may be too difficult to understand or sentences that are too long.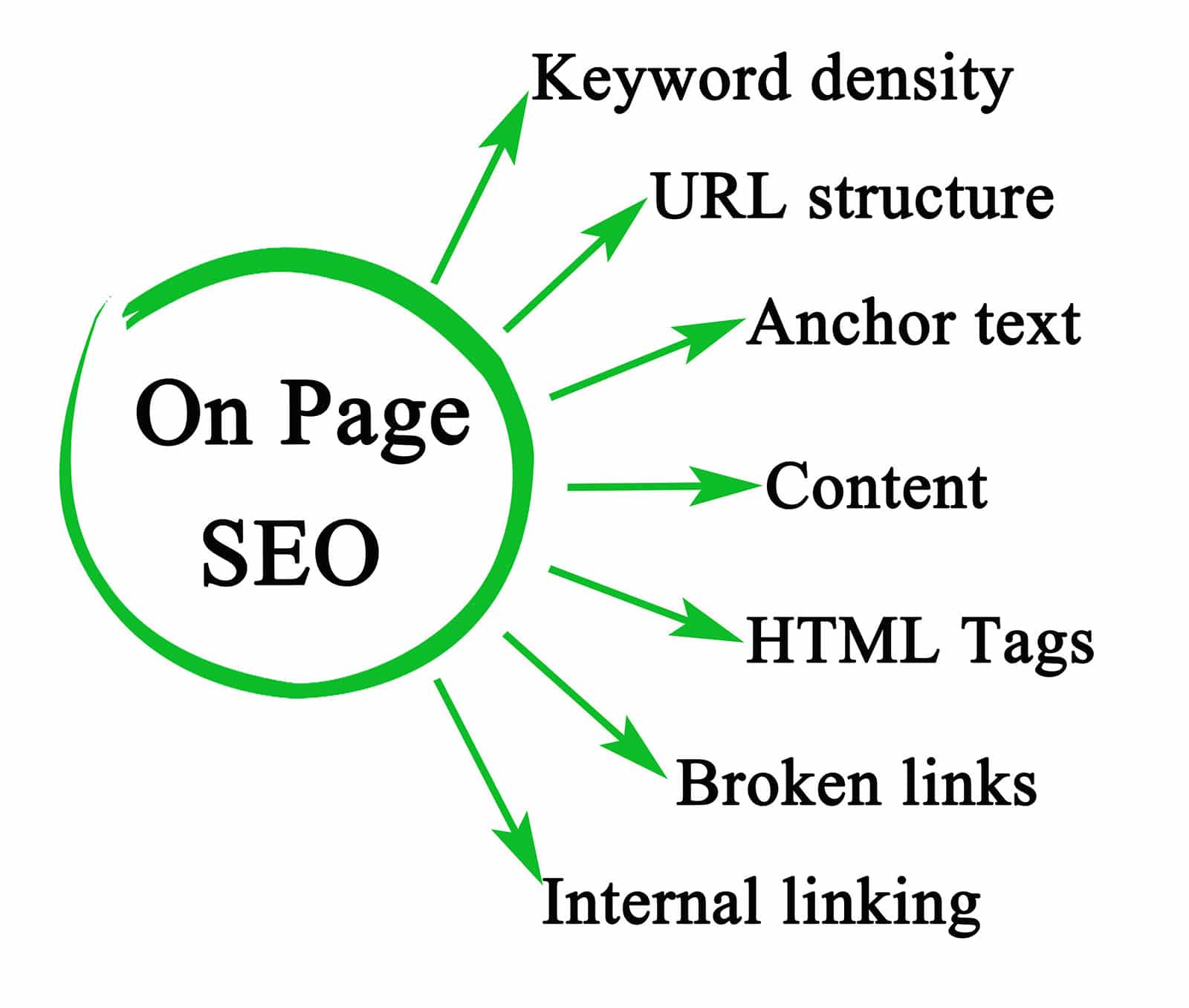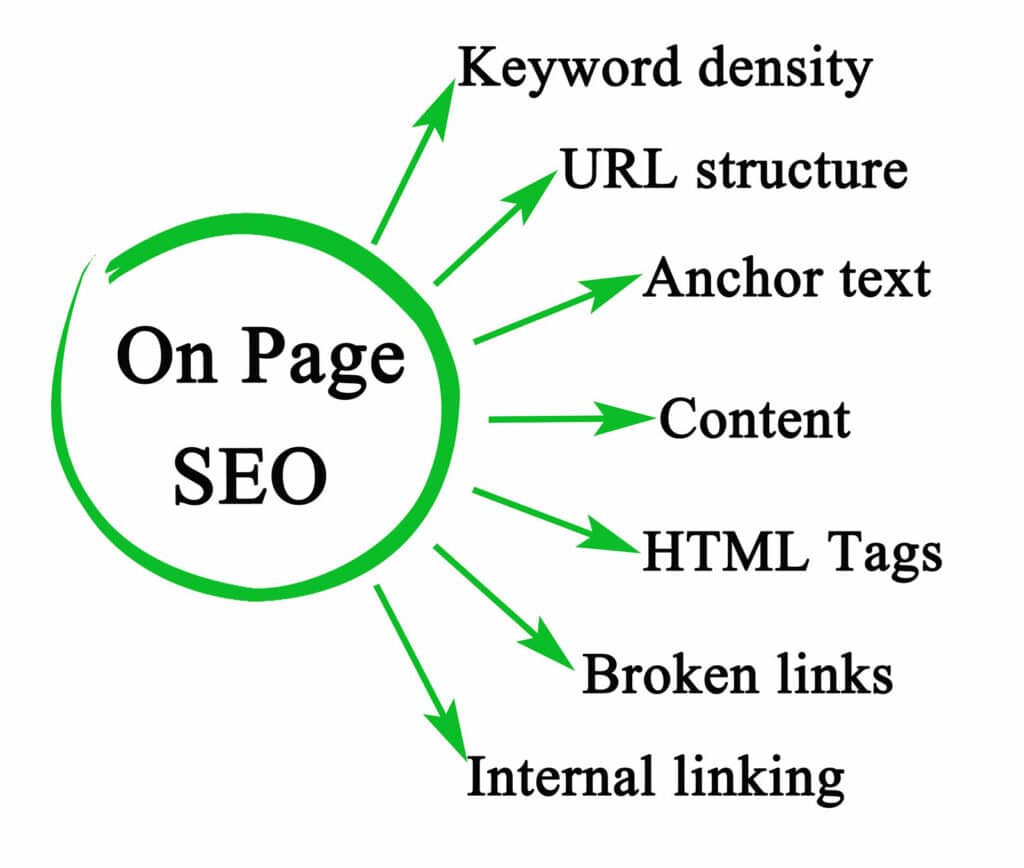 Align Content-Type and Intent
Although we touched on user intent before, it is important to understand the four main categories of it. Each page's purpose should match the desired user intent. As you develop your content, it helps to have a clear understanding of these categories:
Informational content satisfies queries that seek education on a topic.
Commercial content satisfies queries for people doing the research before buying something.
Navigational content satisfies queries when people look for a specific page.
Transactional content satisfies queries for buyers who are ready to purchase a specific product or type of product.
Write Compelling Headlines and Useful Headers
This is a key part of writing quality on-page content. However, it is important enough that it deserves its own section instead of a spot on a bulleted list. The headline of content should show users what they can expect to learn and compel them to click (to improve your click-through rate [ctr]). For instance, if you want to write educational information about coffee to sell a special filter, you may create a headline for a blog that says "5 Things You Didn't Know About Brewing the Perfect Cup of Coffee." The header for each relevant topic within the post should compel the reader to continue reading. Also, each section should provide related, valuable information that highlights your product's importance. Combine these on-page SEO factors, and you can greatly improve your chance of a higher spot on a SERP.
Optimize All Images
Every page should have at least one image. Many readers lose interest when they see a block of text for products or services. Breaking up the text with related images can help. If you have videos or interactive content, that can be even better. However, all images, whether they are in blogs or site pages, should have SEO elements. Before you add an image to a page, assign a keyword-rich name to the file. You can write your company's name, the nature of your business, and the location. For instance, "Business Name lawn mowing Ottawa" is a good image file name on the main page. Also, use the same strategy for alt text (alt tags) on photos. Alt text helps search engines understand what is in an image. Since images are common culprits of slowing down pages, be sure to compress large photos as a part of your image optimization process.
Use External and Internal Links
Internal links are links to other pages within your site. Outbound links are backlinks to other sites that are relevant. For example, a good external link for a job service site may be to the Bureau of Labor Statistics. Aim for authoritative sites, such as those with .edu or .gov URLs. Adding authoritative sources to educational or informational content strengthens it and can improve your authority. When you link to internal pages within your site, it helps Google's algorithm understand how the content of your pages is related. For link building, use hyperlinks with anchor text and use a related keyword for the anchor text.
Consider Audience Location
Another key part of on-page optimization is directing your content toward where users live. Do they live in your city? Do you want to target people in individual cities within a metro area? Are you selling completely online and want to target US buyers or international buyers? In some smaller states, you may want to target the entire state as well. Including names of cities can help for local SEO. If you sell online and in-store, you can target both. However, if you sell only online, you can eliminate local modifiers and focus on national or international selling.
Avoid Cloaking
In page HTML, avoid hiding text. What Google's crawlers will see should be what site visitors see as well. When the two do not align, it is called cloaking. Google purposely ranks pages lower if it detects cloaking. However, there may be an exception if the cloaking leads to a more positive user experience. It is a risky practice, so it is better to avoid it.
Make Each Page Unique
This is especially important if your business uses local SEO to target multiple areas. Duplicate content on pages can push your rank lower, so it is important that every page be unique and have valuable content. For instance, if you have service pages for several cities within a metro area, do not copy a service page and simply replace the city name in each one. You can rewrite it to be unique and still have the same type of information, or you can hire a professional copywriter. It helps to run the content through Copyscape or a similar plagiarism tool to ensure that your content is unique on every page.
Compare Your Competitors' Content
This is a key part of any on-page SEO strategy. Search for your product or service as if you were a person with the targeted intent. Who are your top competitors? Look at their sites to see what kind of content they have. You can take it a step further and perform keyword research or by using other informative SEO tools.
Although you should not copy competitor content, you can use it as improvement inspiration. For instance, maybe your top local residential exterior painting competitor does not have a section answering how often people should repaint their homes. You can benefit from adding that section to your service page for the targeted area. By adding valuable information and quality content, you have a better chance of ranking higher. Remember that Google looks to deliver valuable, useful content to searchers.
Additional SEO Tips for Individual Pages
Here is a quick checklist of additional tips that can help boost your ranking:
Use a short and concise URL structure
Include keywords in URLs
Embed title tag modifiers
Front-load keywords in title tags
Use keywords in headers
Use long-tail keywords and synonyms (don't believe in LSI keywords)
Improving Your On-Page SEO
Now that you have a better understanding of why page-by-page SEO development helps boost each page individually, you can start developing your own strategy. Consider all the sections in this guide as you start planning. While on-page SEO is vital to give every page a better chance at standing out, be sure to also consider your broader overall SEO strategy. Ultimately, aligning the two with your target audience, area, and searcher intent can help you move higher on SERPs.
Learn about Off-Page SEO.
FAQ
---
Published on: 2022-01-12
Updated on: 2022-09-21