A meta description is an attribute of HTML that summarizes the contents of your website page or blog post and tells users what the web page is all about. It plays a vital role in SEO as it helps users gain click-through from the search engine results pages (SERPs). It is critical in search engine marketing as it serves as an advertising copy that draws readers from the SERPs to your website.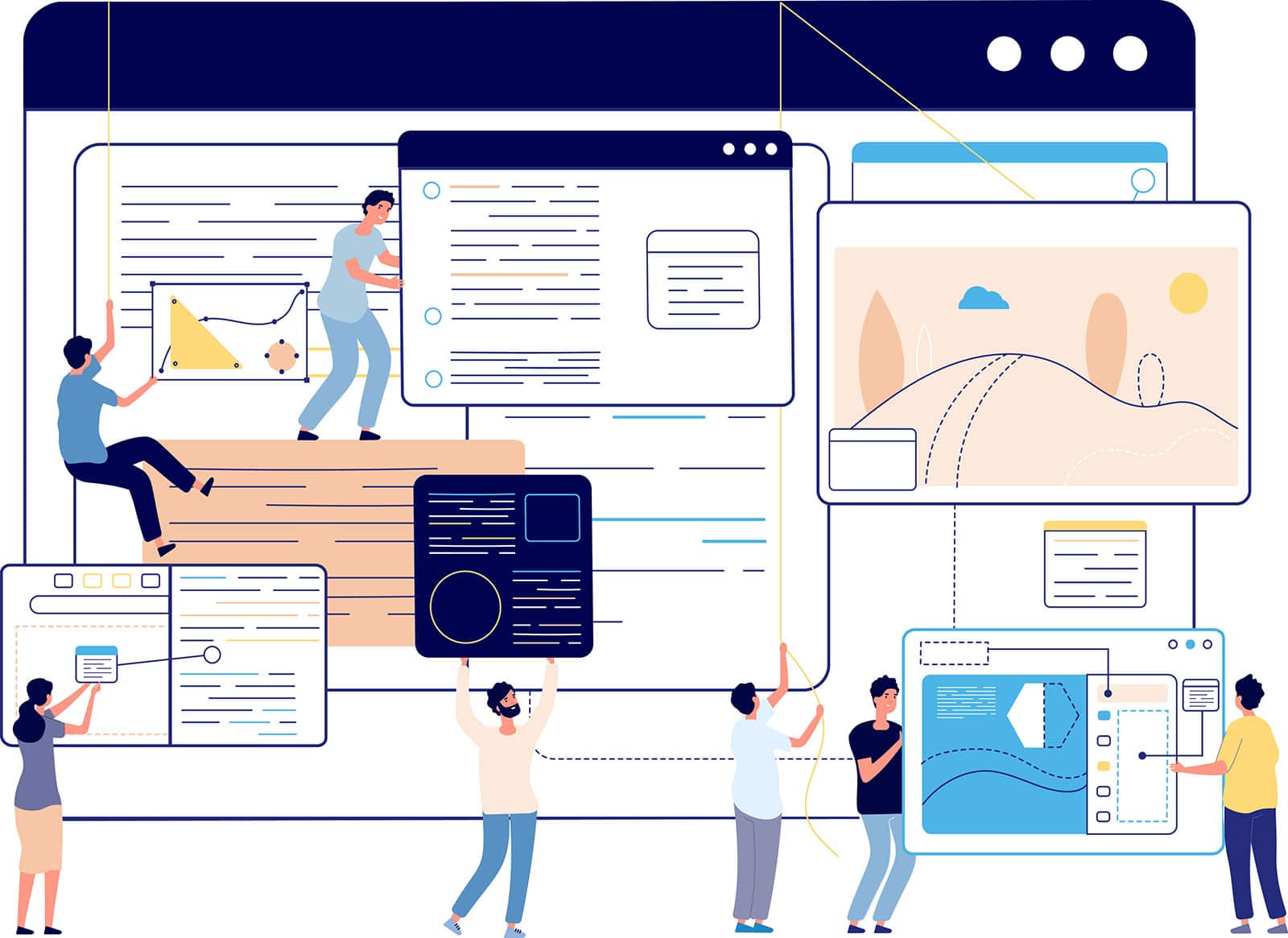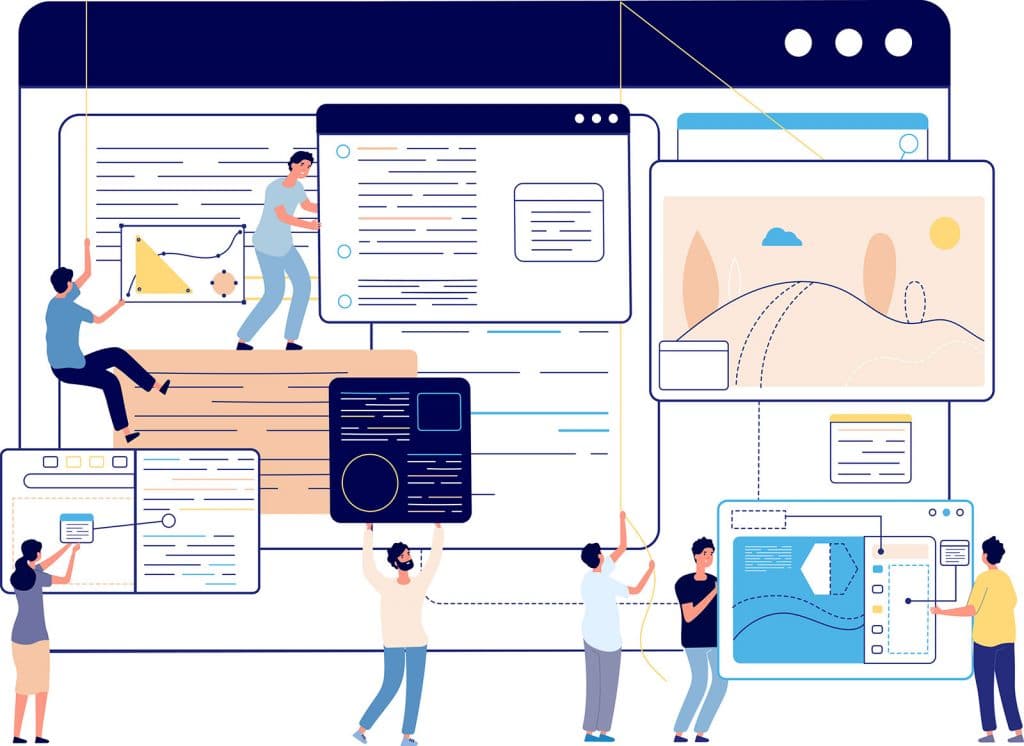 The best outcomes need to craft a compelling and readable description with vital keywords to improve your web page's click-through rate. Be sure to create a description and post it on every page, starting with your home page and every other popular page to effortlessly invite users to your website.
Importance Of A Meta Description
This webpage snippet comes in handy when letting your site visitors know what to expect from your website before they click on it. As such, meta descriptions are essential since they help to improve your click-through rate (CTR).
The CTR is a critical metric as it helps you understand whether you are meeting your customers' needs. A low CTR indicates that you are either targeting the wrong audience or that your SEO methods are not persuasive enough to encourage the visitors to click.
Meta Description SERP example:


Conversely, a high CTR indicates that a high percentage of site visitors who see your ads click them. Thus with a good meta description, you will not have to worry about rankings as it will compel people to click your ads and shop for your products.
How Long Should A Meta Description Be
Google truncates the summary to 160 characters. Although the optimal length varies depending on your requirements, anything between 100 -160 characters is acceptable since the snippet is long enough to be sufficiently descriptive.
Google and other search engines bold the keywords that you include in your meta description to match what the researchers are looking for, so it's crucial to have all the relevant keywords. While staying within the word count, ensure that you don't miss the important details that would lure each reader into clicking on your page.
How To Add Meta Description In WordPress
The best way to add meta descriptions on WordPress website pages is by using SEO plugins. An excellent plugin is Yoast SEO. Yoast has some of the best SEO features to help optimize all your website pages and posts.
After installing the plugin, click on pages on WordPress's left panel to access your website pages. Click on the page you'd like to add a meta description to.
Once the page editor opens, scroll to the bottom. You'll find Yoast features for adding focus keywords and your page's meta description.
The best part is that Yoast gives you a snippet preview of how your meta description will appear on Google. This way, you'll know when you're exceeding the favorable word count.
Under that, there's a blank box for you to type in your description. Make sure your description only explains that specific page. Don't worry about other pages; you'll go through the same process to add meta for each page of your website.
As for your blog posts, when you click on each post and scroll down, you'll also see the Yoast SEO meta description editor.
Yoast Meta Description example: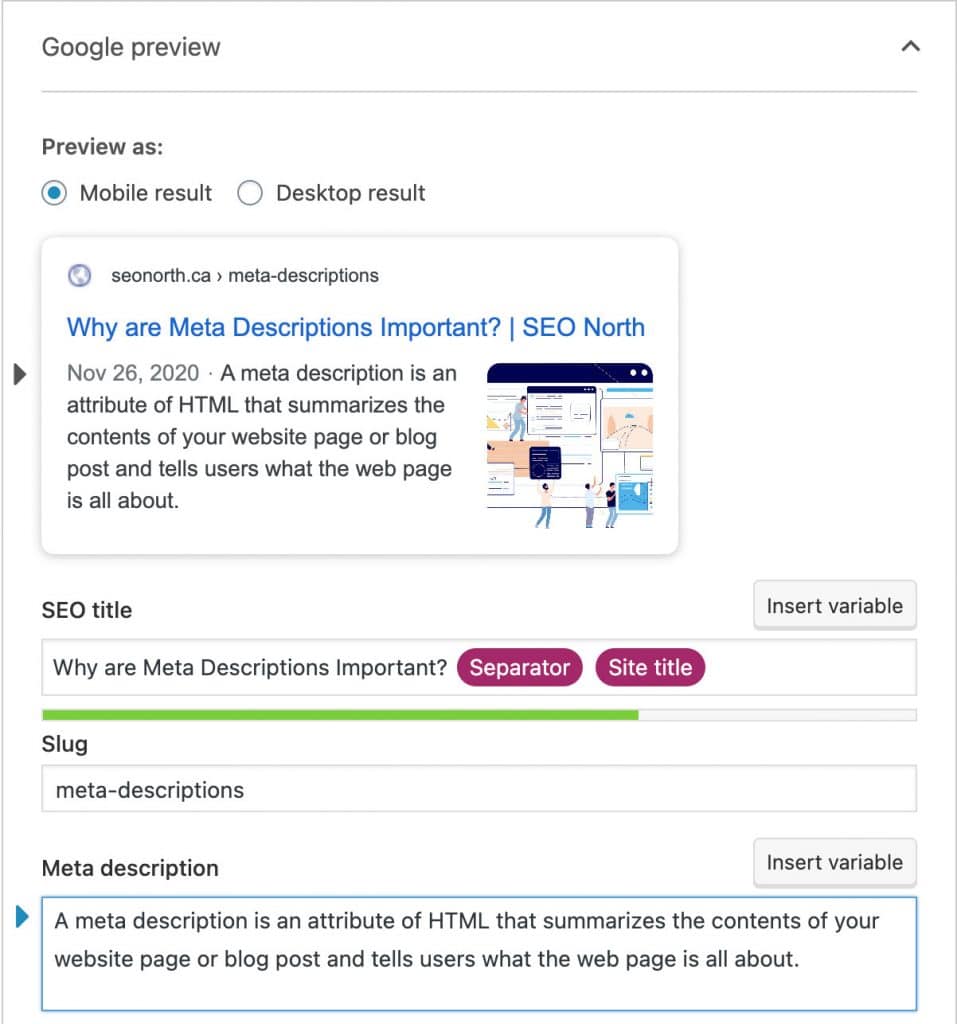 If you don't manually type in your summary, then Google picks at random any paragraph in your page and makes it your meta description. This may not always be favorable for your prospective readers. Therefore, make an effort to create a unique one yourself.
How To Write A Good Meta Description
Although Google will truncate your meta description if it exceeds the threshold, start by capturing your web page's essential details so that you don't leave anything out. Use the following are steps to write a good meta description:
Describe your brand in a conversational tone
Include your primary keyword naturally
Focus on aspects of your brand that give value to the reader
Ensure that the description is a summary of your content (avoid tricks)
Include a call-to-action
Truncate your message to 160 characters to capture the most important aspects
Revise the snippet and check it for uniqueness and grammar
Craft unique snippets for every page on your site
Since similar service providers in your industry might have the same meta description, you must go to the Page Titles and click on 'Duplicate.' Fix the duplicate content in your title and meta description. It will deny the users an opportunity to land on your site.
To make the process simpler, ask yourself, 'what does this page or post-offer my readers'? Writing a good meta description, more or less, requires good copywriting skills to capture your readers.
If a specific page offers advice on a particular issue, then make sure to tell your readers what to expect. Please don't give away all details; give them enough to capture their attention and leave room for suspense and curiosity. The point is to be clear that whatever your prospect is researching will be found in your post or page.
Avoid Common Meta Description Mistakes
Just because a meta description is not a ranking factor does not mean that you should not include it, as it helps to drive people to your website through clicks. When writing a meta description, the trick is to focus on content without agonizing over the word count. After all, you can summarize your snippet once you've captured everything that you need to create a compelling summary.
Mistakes in the meta description lead to a low CTR and a missed opportunity for your website to get visibility since users will struggle to differentiate between similar pages.
Would you like to have well-crafted meta descriptions for your website posts and pages? Contact us today, and our copywriting experts will help you capture online researchers with perfect snippets.
FAQ
What are Meta Descriptions?
---
Published on: 2020-11-26
Updated on: 2022-06-09