Do you want to know how to optimize your internal links? Internal linking is an SEO tactic that can have a significant impact on your site's ranking. It's also one of the easiest things you can do to improve your search engine rankings, but it's rarely done correctly. In this guide, I'll show you how to optimize your internal link structure so that Google loves your site as much as we do!
To understand Internal link optimization, you first need to know why it's essential. Internal page links pass ranking signals using an algorithm called PageRank.
PageRank assigns a value to each page; this value is determined from a ranking factor that uses the number of internal links and external links to a specific page; this helps Google identify which of your website pages are most important.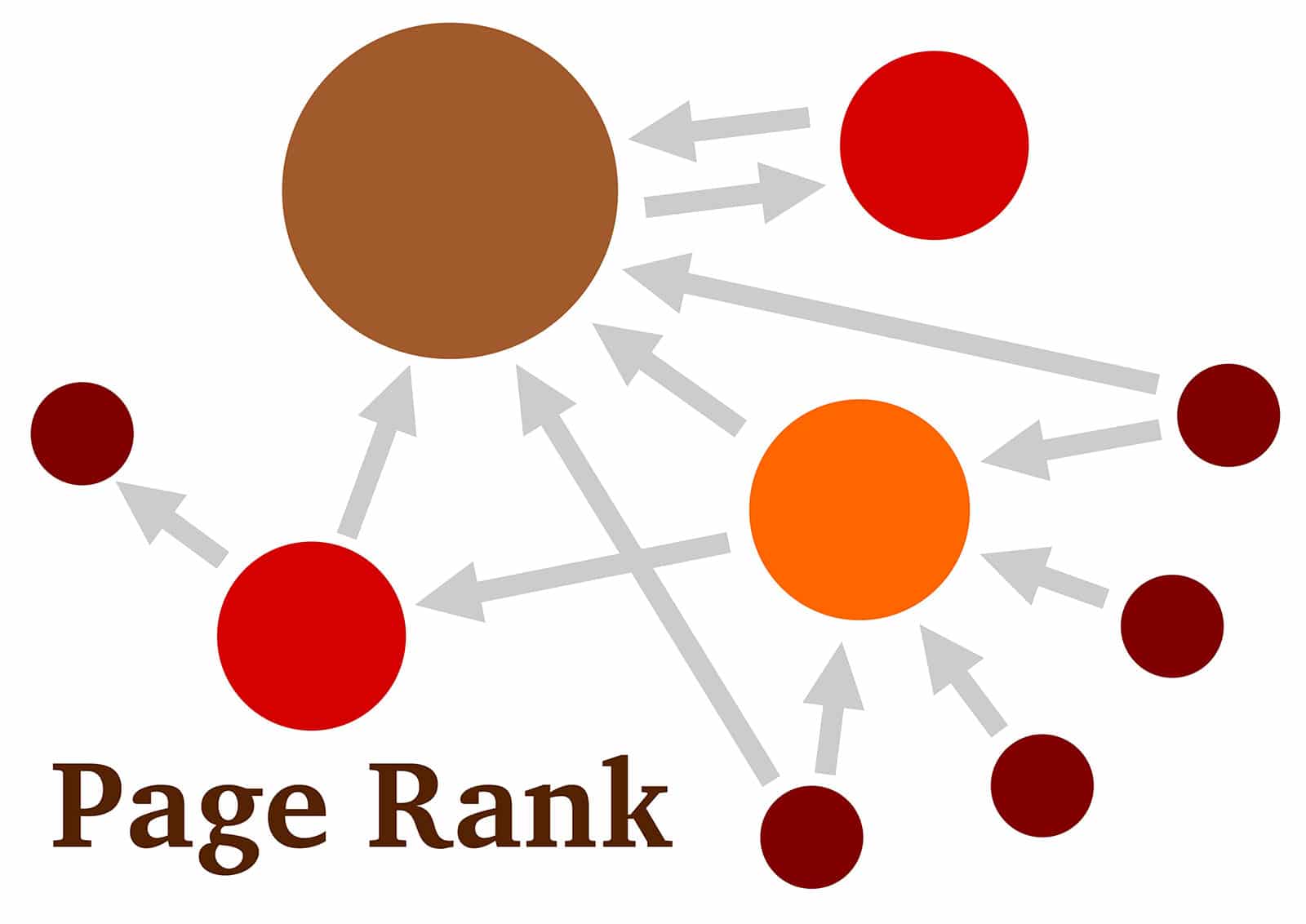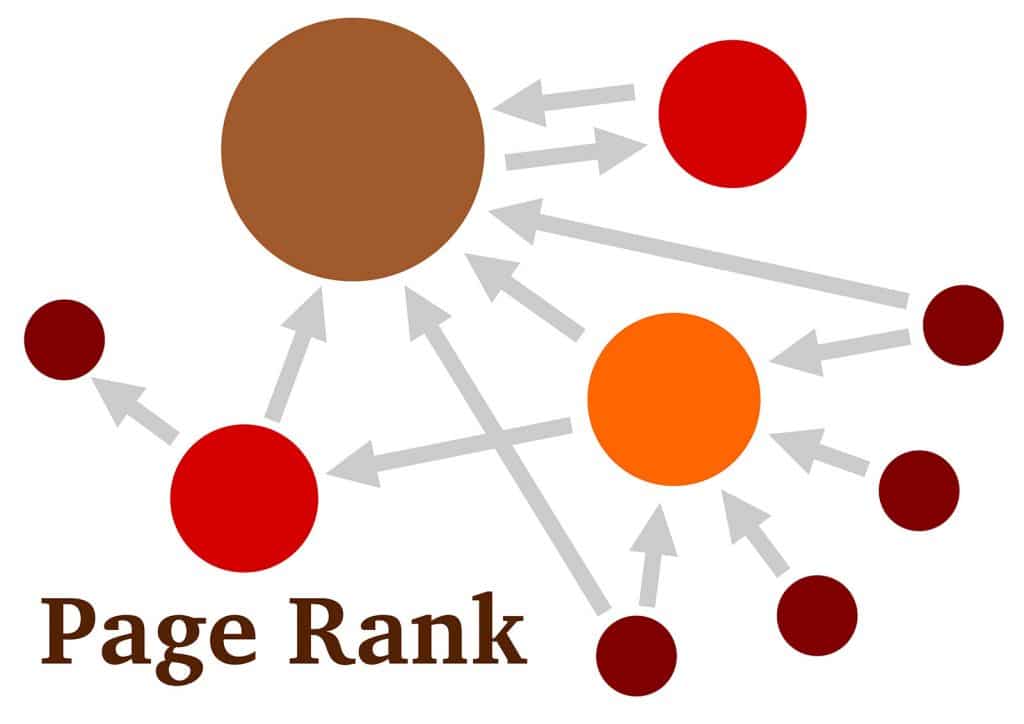 What is PageRank?
Pagerank is an algorithm used by Google Search to rank web pages in search engine results and measure internal page importance.
It is named after both the term "web page" and co-founder Larry Page.
What are internal links?
As simple as it sounds, internal linking (e.g. a href) is linking together your most valuable website content.
An internal link is a hyperlink on a web page to another page or resource, such as an image or document, on the same website or domain. Hyperlinks are considered either "external" or "internal," depending on their target or destination.
Why is internal linking important?
Internal linking helps spread link equity (ranking power) across the website, helps new content rank faster, and provides relevant links to website visitors to read related content. SEOs often refer to this as "Link Juice," which is used to describe link value.
What are some internal linking tips?
Here are some internal linking tips:
Silo your content. A silo structure in SEO is the best approach to organizing relevant content on a specific topic. A silo structure in place will guide users and search engines throughout your website in the precise, understandable site architecture. This will help search engines crawl, index, and rank your website better.
Look for Keywords in your text. Use keywords as internal link anchor text that you want to rank for. Your page has a better chance of ranking if you highlight essential words on the page.
Use Authority Pages. Linking from authority pages to lesser pages will help boost the lower pages quality scores. This is important if you want to help a new page rank.
Differentiate your Anchor text. Anchor text is the visible characters and words that hyperlinks display when linking to another document or location on the web. Using descriptive anchor text will help search engines understand your topic better. There is less risk of over-optimization penalties. It gives your site a better chance to rank for a variety of keywords.
What are common internal linking mistakes?
Linked pages should add value to the reader; too many unnatural, exact match, or deceptive links (links that do not match the anchor text, hidden hyperlinks, etc.) can hurt your website rankings. You should focus on essential pages you want to emphasize; if you optimize for every page, you are not optimizing for any page.
Site-wide nofollow tags
Adding nofollow tags to all of your internal links tells Google not to follow, killing off any PageRank it could be passing. It also makes it harder for crawlers to determine your site structure. Be sure to add dofollow links where possible.
Redirect Chains or too Many Redirects
If you misdirect an old URL, it could get stuck in a redirect loop, causing the page to fail after too many redirects. This error causes the user to have a poor experience and go somewhere else.
The same can be said for having too many redirects; this increases load times and gives a bad user experience. Cleaning up hundreds or thousands of 301 redirects improves your site health and how Google views your pages.
Faceted navigation
Faceted navigation is variations of a similar URL used to sort and organize primarily e-commerce items. These variations make it appear that the website has tons of duplicate content.
Orpahned Content
An orphan page is content that doesn't have any links from other posts or pages on the same website. As a result, this content is hard to find for both Google and site visitors.
Internal Linking Strategy: How to find pages with too many or too few internal links?
To find pages with too many or too few internal links, you will want to:
Open Screaming Frog
Scan a website
Organize using the HTML filter
Choose the internal tab
Sort by number of links/outlinks


How many is too many inlinks/outlinks? That depends on your website's size, and anything over 100 links is classified as too many. I like to look at the page and see what would look natural to a user.
How to discover pages with high crawl depth?
Here is how to find pages with high crawl depth.
Crawl depth is how many clicks it takes to reach the page.
Using the same method, but this time selecting the crawl depth column.


Anything over a crawl depth of 3 is considered high.
How to find links to optimize for you SEO strategy?
This method locates what Google believes to be the best pages for that topic.
Using Google search, type in site:domain.com keyword
This search will bring up the top pages for that related term.
You will want to backlink the results back to the target page.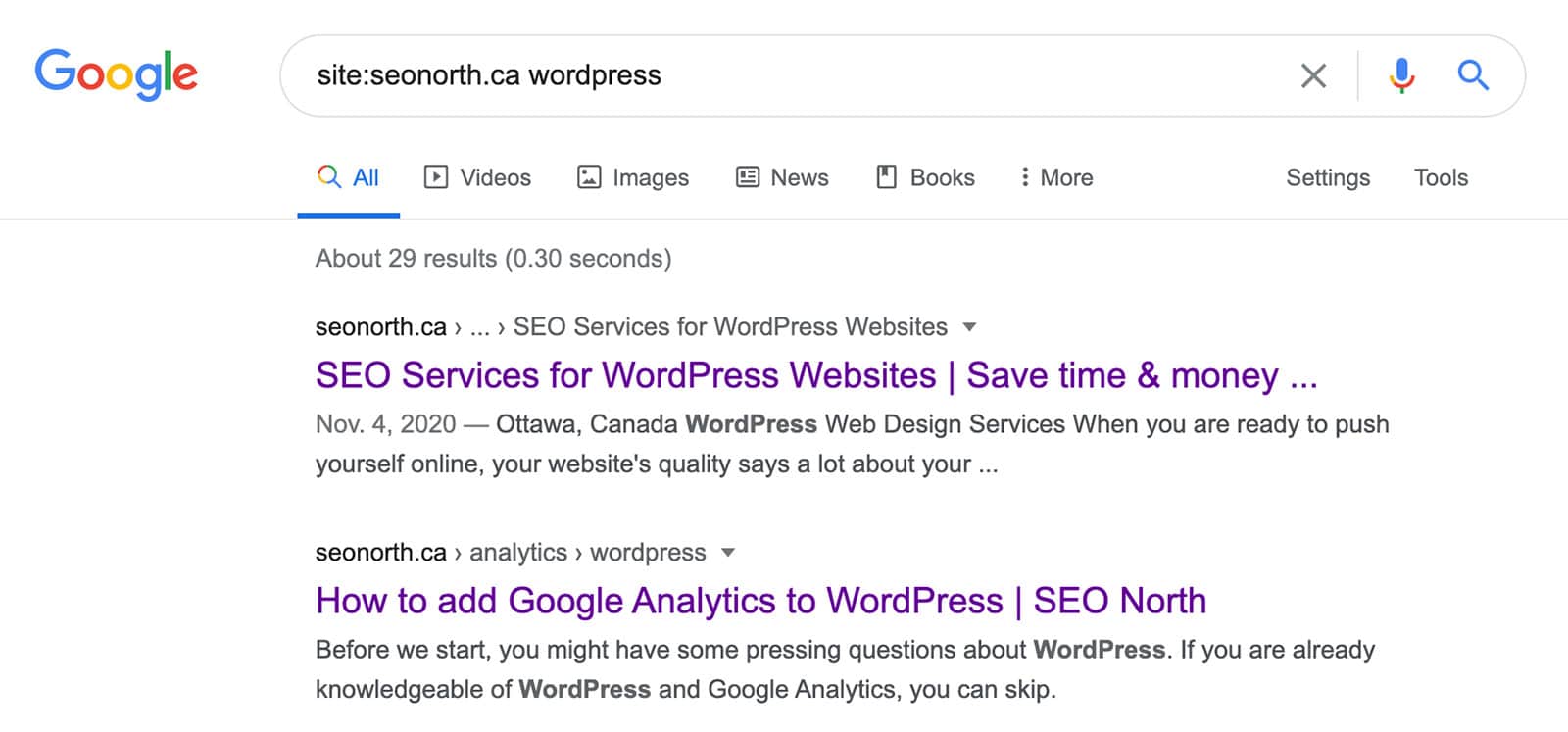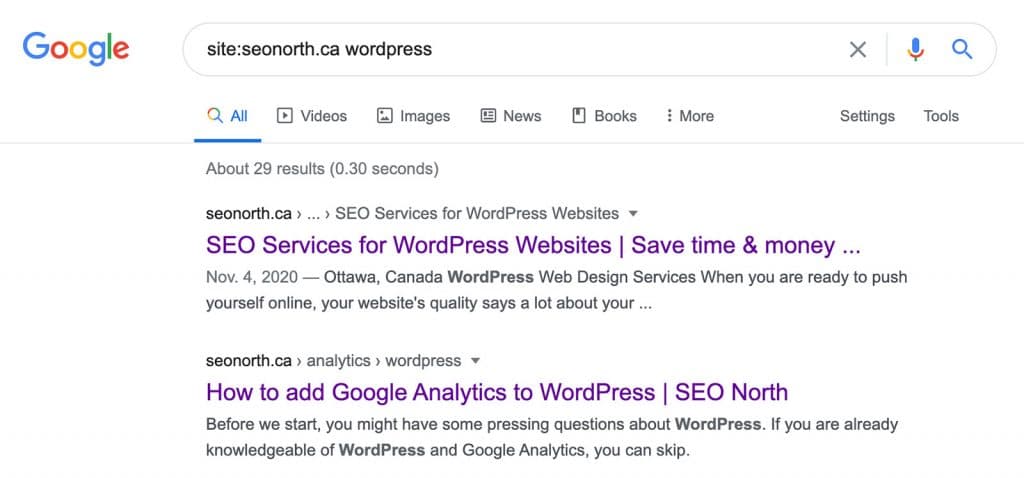 How to find rich Anchor Text on your website?
The best way to find results is by using Screaming Frog.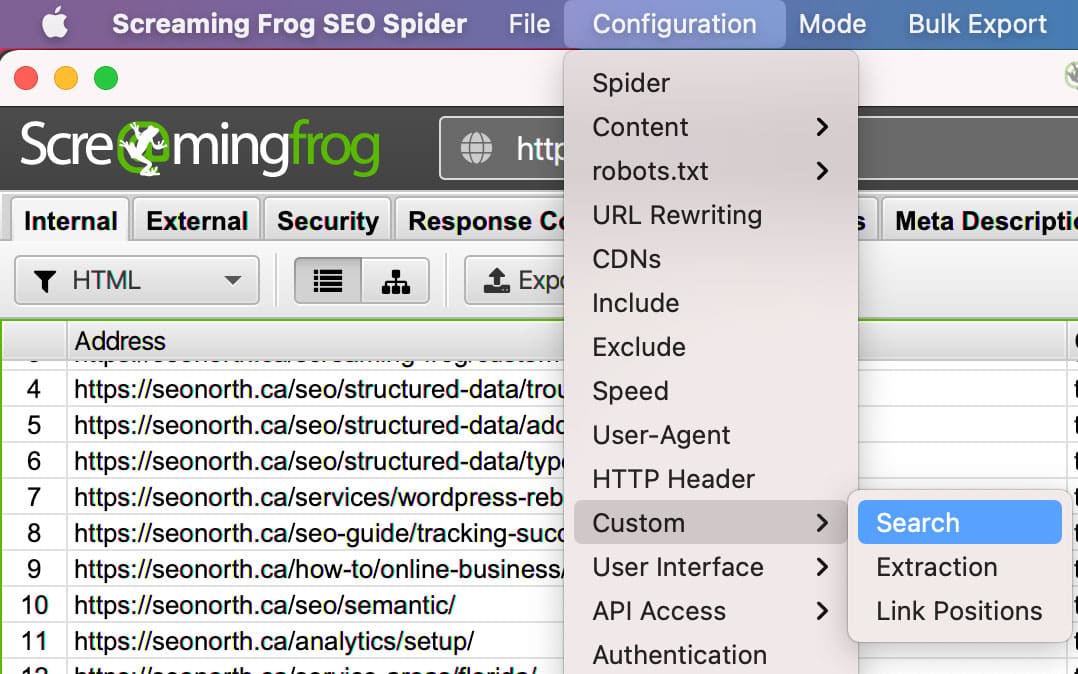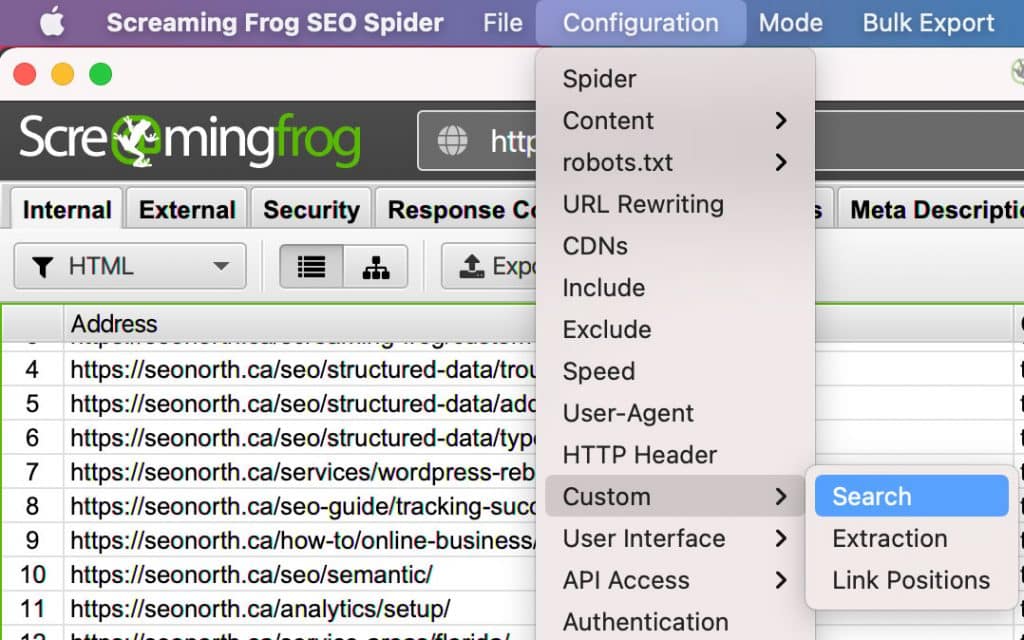 You will need to add your targeted keywords to the custom search setting in Screaming Frog.
In Screaming Frog, click on Configuration in the top menu
Select Custom >> Search
Add your anchor text, as illustrated below

This search will produce results you can use to link back to the target pages.
Google is not fast on picking up these changes, so be sure to take your time and patiently wait for the GoogleBot crawler to notice the updates.
How to determine Link Position in Screaming Frog
In Screaming frog, scan your website
After the scan has completed, select a page you want to check
Click on Inlinks at the bottom of the application, go all the way to the right.
Look for Link Position. You will be able to see different types of links from the main navigation, content, sidebar, or footer.


I hope this helped in the internal linking process; please let me know if you have any questions.
FAQ
---
Published on: 2021-03-10
Updated on: 2022-06-09