When someone dives headfirst into SEO, it can start to feel overwhelming pretty quickly. That is because there is a lot to learn when it comes to SEO. Understanding all the terminology surrounding SEO can feel daunting, but with these helpful guide that goes chapter-by-chapter, it does not have to be a challenge.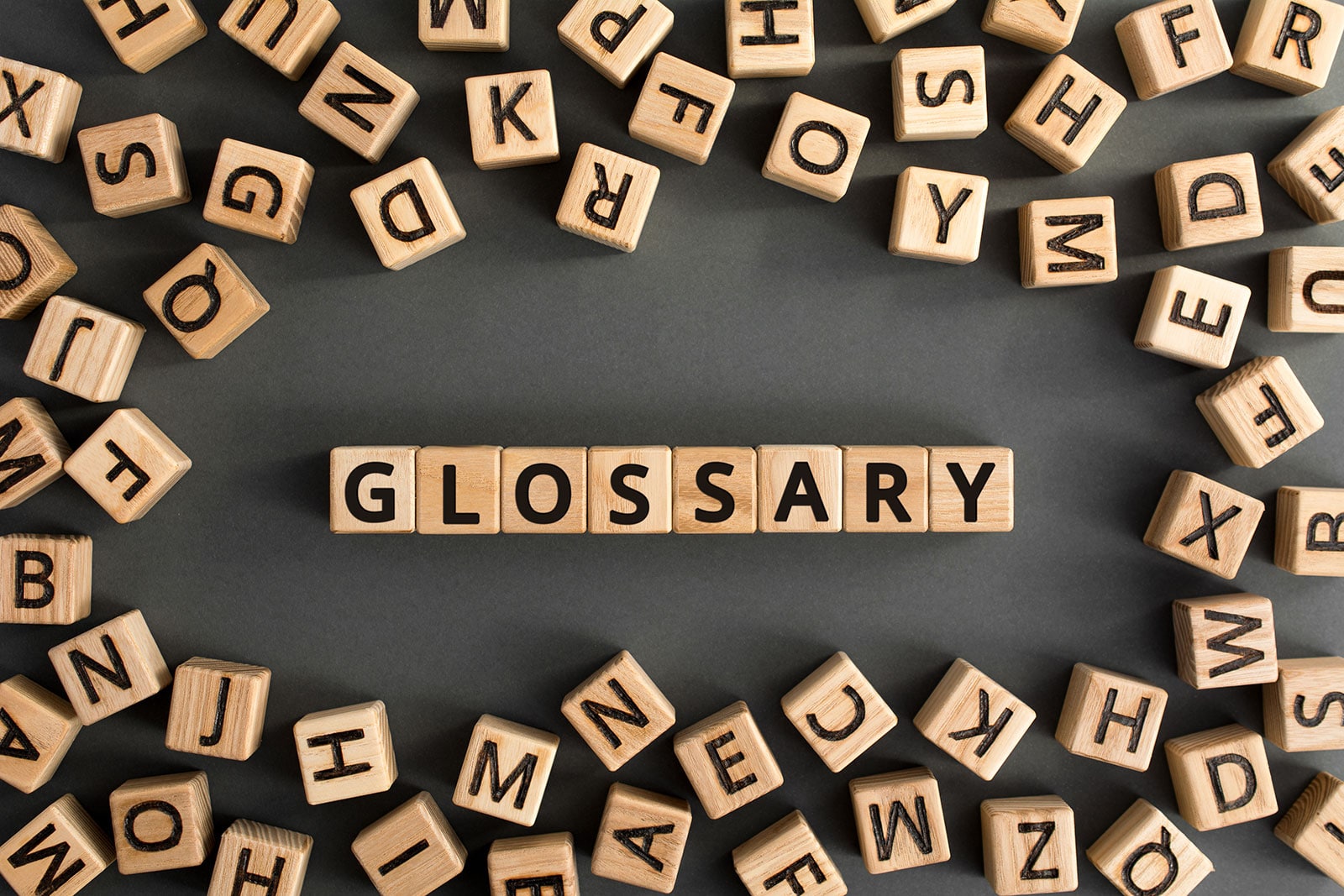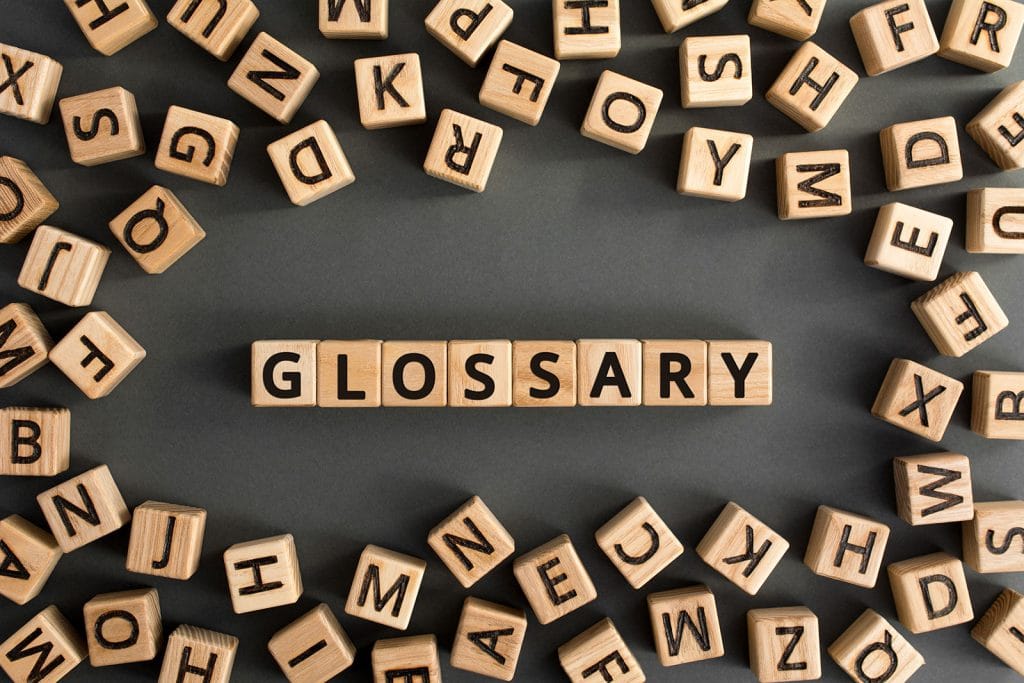 Query: This is what a user types into the search bar and is also referred to as a search query. [1]
Search ranking: The way that search results are ordered on a search results page in relation to the search query.
Search engine: An automated system that generates a list of results that are pulled from an informational database, depending on what a user is entering. [2]
Traffic: The number of visitors that a website or webpage generates.
De-indexed: A page on a website or an entire website that has been removed from the Google index.
Crawling: What a search engine does so that it can index your page or website.
Ten blue links: Search results of the organic variety represented in a group of ten, which is how the search engine displays the results.
Black hat: Practices to enhance your website or web pages that violate the terms and services of Google.
White hat: Practices to enhance your website or web pages that follow the terms and services of Google.
Google My Business: A profile that is available to all businesses, which is free.[3]
Featured snippets: Depending on the search query, these may appear at the top of a search results page.[4]
Image Carousels: For some search queries, these may appear with the ability to scroll side to side for different images.
Page indexing: After a web page or website has been crawled, it will then be indexed to be able to show up in search results.
User intent: This is referring to what a user wants to gain from entering in their search query.[5]
KPI: This stands for a key performance indicator, which is a way that a website owner can gauge reaching certain goals.
Local pack: Searches that are intended for local search results may show three different local businesses at the top of search results.
Organic rank: When a page has ranked a certain level without paid ads
People also ask boxes: When a user enters a search query, they may get shown a list of other similar questions that other users have asked.
SERP features: Search results that are not displayed in the typical formatting.
SERP: This acronym stands for Search Engine Results Page and is generated after a user enters a search query.[6]
URL: These are used to locate specific websites or webpages to find information on the internet and stand for uniform resource locators.
Webmaster guidelines: Rules and tips that search engines have published to help those with websites better create information that will be helpful, relevant, and rank well.[7]
2xx status codes: These codes say that a request to view a certain page has worked.[8]
4xx status code: These codes say that a request to view a certain page has been met with an error.
5xx status code: These codes say that a request to view a certain page has resulted in the server having the inability to complete the action.
Advanced search operators: These allow users to get more specific results by allowing them to enter special characters or commands into the query box.
Algorithms: An automated process that organizes information according to specifications and then orders this information.[9]
Backlinks: Links that are placed on other websites or web pages that direct users back to your website.[10]
Bots: These are used to find information on the internet and are automated.
Caching: A version of a page that has been saved.
Caffeine: This is the name of the indexing system used by Google.
Citations: Whenever a local business is referenced, this could be by their name, phone number, or even their address.
Cloaking: A search engine will read a page differently than a user reads your page.
Crawl Budget: When a search engine bot is going to crawl your website but has a limited amount of crawls, it can run.
Crawler directives: These are directions you give to a crawler on how you want it to index your website.
Distance: How close a user is to the place they are searching for.
Engagement: Information that provides a website owner with how users interact with your website.
Google Quality Guidelines: Information provided by Google that outlines the terms and services of creating content, as well as interacting with search results.
Google Search Console: Tells users how their websites are performing in search results.[11]
HTML: Coding language that is utilized to create pages and websites.
Index Coverage report: Information generated by the Google Search Console that lets website owners view indexing status.
Index: An informational database that stores all pages that have been successfully crawled.
Internal links: Links that have been incorporated onto different website pages that lead to other pages that are part of the same website.
JavaScript: A specific programming language that adds elements to a website.
Login forms: A form presented to a user that needs to be filled out correctly in order to access information on a page.
Manual penalty: A real human who has evaluated a website page has concluded that the page violates quality guidelines put forth by Google.
Meta robots tag: Code that contains instructions for bots to crawl or index a page.
Navigation: These are helpful areas that guide users to utilize other areas of a website. These links are generally lumped together, either at the top or bottom of a website.
No-index tag: This tells a crawler not to index that certain page.[12]
PageRank: How Google determines the quality and relevance of a web page. [13]
Personalization: The modification of search results, depending on that user's previous search history.
Prominence: Businesses that are well known in the community that is being searched.
RankBrain: Part of Google's algorithm that helps with rankings by accessing helpfulness.
Relevance: This is how much a search result relates to a user's search query.
Robots.txt: Specific files that tell search engines which web pages need to be crawled or which ones do not.
Search forms: Search boxes that are incorporated as part of websites for users to search that website.
Search Quality Rater Guidelines: Information for raters to access web pages that are of quality.
Sitemap: URLs that are present on your website that is available information for crawlers.
Local queries: When a user wants to find something near to them or in a certain location.
Long-tail keywords: These are search queries that are longer and can provide a user with more specific search results.
Navigational queries: When a user wants to get to a certain web page, so they enter a location-specific search query
Regional keywords: Keywords that are more popular in a certain location.
Search volume: How often a certain keyword or search query was searched.
Seasonal trends: Keywords and search queries that are more popular in certain seasons.
Transactional queries: The search intent is that a user is looking to take action when they make this search query.
Alt-text: This gives the text to images on a website.
Anchor text: Text that is used to link to pages.
Auto-generated content (AGC): Content that is automated. [14]
Duplicate content: Content that is linked between different pages or between different websites. [15]
Geographic modifiers: Search terms that are used for a certain location.
Header tags: Coding element for headings on a website
Image compression: How a user can make a page faster by changing the size of images.
Image sitemap: Sitemap on a website that is specifically for all of the images present.
Keyword stuffing: When there are too many keywords used per overall word count.
Link accessibility: How easily a link can be accessed by users, as well as bots.
Link equity: The authority that a link holds.
Link volume: The number of links that are on a web page or website.
Link business schema: Data that allows search engines to read info about a business.
Meta descriptions: Elements of code that textually describe what is on a web page. These descriptors are sometimes included as part of a blurb on a search engine results page for a website.
Panda: An automated informational database powered by Google, aimed at content that is not top-tier.
Protocol: This is the beginning part of a domain name and often includes either "http" or "https". This allows the browser to translate information with the server.
Redirection: This is when a URL is now in a different spot and a user will often get a message in the form of an error code.
Rel=canonical: A way for website owners to communicate with a Google bot on which pages are and are not duplicates.
SSL certificate: A data encryption method that protects data passed from a server and browser.
Thin content: Content that is of little value to a user.
Thumbnails: These are smaller-sized images than the original image.
Title tag: This coding structure says what the title of a website is or page is.
AMP (Accelerated Mobile Pages): Directed at mobile web pages and structured to help mobile users view web pages easier and quicker.
Async: A browser's ability to start another task before it has yet completed the previous task.
Browser: Refers to software that allows users to enter in information to be provided with information in return by making a request.
ccTLD: Certain parts of a domain that are specific to a certain country.
Critical rendering path: How a browser translates a coded page into a viewable page.
CSS (Cascading Style Sheets): This code is what shows a user what a website looks like and contains several different elements.
DNS (Domain Name System): This allows the linkage of domain names and IP addresses.[16]
Bundling: This is the process of putting different resources into one resource for users.
DOM (Document Object Model): This states how a specific document can be changed.
Domain name registrar: Refers to a company that has control over certain domain names that are up for companies or individuals to purchase from.
Faceted navigation: This is when a website allows users the option to sort and filter the results that they are shown to provide them with more specific results.
Fetch and Render tool: Tool provided by Google to help users view websites how the search engine sees those pages.
File compression: Making a file smaller.
IP address: This stands for internet protocol address and is varying numbers that are given uniquely to each site.
Minification: Avoiding hurting functionality and limiting characters in coding.
Programming language: Using specific code and terms that allow the computer to understand what is on a page.
Render-blocking scripts: This refers to a certain script that makes the browser wait before a page is shown to a user.
Responsive design: This type of design strategy put forth by Google lets a website become more adaptive, depending on the device it is being viewed on. This includes a mobile website viewing or a desktop website viewing.
Rich snippet: When the results page generates results, it will provide a short blurb on what is located on a website. [17]
Structured data: This is a type of organized information that can be useful for helping search engines understand certain data.
Amplification: When a user spreads awareness of their brand through different means, including utilizing social media.
DA: This stands for domain authority and helps to determine how well a website will rank.
Deindexed: When a website or web page has been removed from the Google index.
Directory Links: These links are composed of information regarding local businesses, such as their name and phone number.
Editorial links: Links that are put in content back to a user's website or business that are not paid for.
Google Analytics: This free tool provides users with information on their website that can be useful for marketing strategies.
Google search operators: This is when information is added to a query to give a user more specific results.
Guest blogging: A strategy used by website owners and business owners to get links to their website on different blogs. This is because a website or publication will publish something that a user has written and link back to that user's blog.
Link building: When a user gets links in other places back to their website, which helps with ranking results in search engines.
Link exchange: This is a type of link trading that can occur between website owners. This form of link trading is considered to be a violation of Google's terms and services if it is done excessively.
Link profile: This refers to all the links that link to a certain website.
Linked unstructured citations: This refers to information found on a business, but it is not complete business information and only a snippet.
NoFollow: A form of code that does not allow users to follow a link.
Purchased links: When a link has been traded for with something else, typically with money, and is considered an ad.
Referral Traffic: Traffic that is sent to a user's website from a referral, including links.
Resource pages: These pages are primarily used for link-building purposes. These pages have links to other websites or web pages, similar to a directory.
Sentiment: This is the feeling that users get when thinking about your website.
Unnatural links: These are links that are placed without the permission of the site owner. These types of links are in violation of Google's terms and services.
Bounce rate: The rate that a user lands on a website and then does not take another action, besides leaving the website.
Channel: The different means of generating traffic.
Conversion rate: The rate at which users are visiting a website and then taking an action.
Qualified lead: When users become potential customers because they have taken a secondary action.
Google Analytics goals: What goals users have when it comes to what they are tracking in Google Analytics. [18]
Pages per session: This refers to how many pages a user views on a website before they exit that website.
Page speed: How fast a web page and website is running.
Pruning: The removal of content or elements that are doing more harm than good to a website, such as slowing down the web page.
Scroll depth: A way for website owners to see how far down a user is scrolling on a page.
Scrum board: Track documenting to reach a certain goal.
Search traffic: Traffic that has been sent via search engines.
Time on page: How much time a user has spent on a specific web page before they then went onto another page on a website.
UTM code: A module that is used for tracking, so that website owners can track specific information about the click an individual is making.
Footnotes
1. https://en.wikipedia.org/wiki/Web_search_query
2. https://en.wikipedia.org/wiki/Web_search_engine
3. https://en.wikipedia.org/wiki/Google_Maps#Business_listings
4. https://en.wikipedia.org/wiki/Knowledge_Graph
5. https://en.wikipedia.org/wiki/User_intent
6. https://en.wikipedia.org/wiki/Search_engine_results_page
7. https://support.google.com/webmasters/answer/35769?hl=en
8. https://en.wikipedia.org/wiki/List_of_HTTP_status_codes
9. https://www.google.com/search/howsearchworks/algorithms/
10. https://support.google.com/webmasters/answer/9049606?hl=en
11. https://search.google.com/search-console/about
12. https://support.google.com/webmasters/answer/93710?hl=en
13. https://en.wikipedia.org/wiki/PageRank
14. https://support.google.com/webmasters/answer/2721306?hl=en
15. https://support.google.com/webmasters/answer/139066?hl=en
16. https://en.wikipedia.org/wiki/Domain_Name_System
17. https://search.google.com/test/rich-results
18. https://support.google.com/analytics/answer/1012040?hl=en
---
Published on: 2020-09-11
Updated on: 2022-05-22