Beginner's Guide to SEO
SEO is a major part of any successful online marketing strategy, so business owners should have a foundational knowledge of what SEO is and how to apply it. An effective SEO campaign can expand your online presence and bring more traffic to your website, so the results are worth the effort. This SEO 101 guide will give you an overview of what SEO is as well as some basic tips to get started.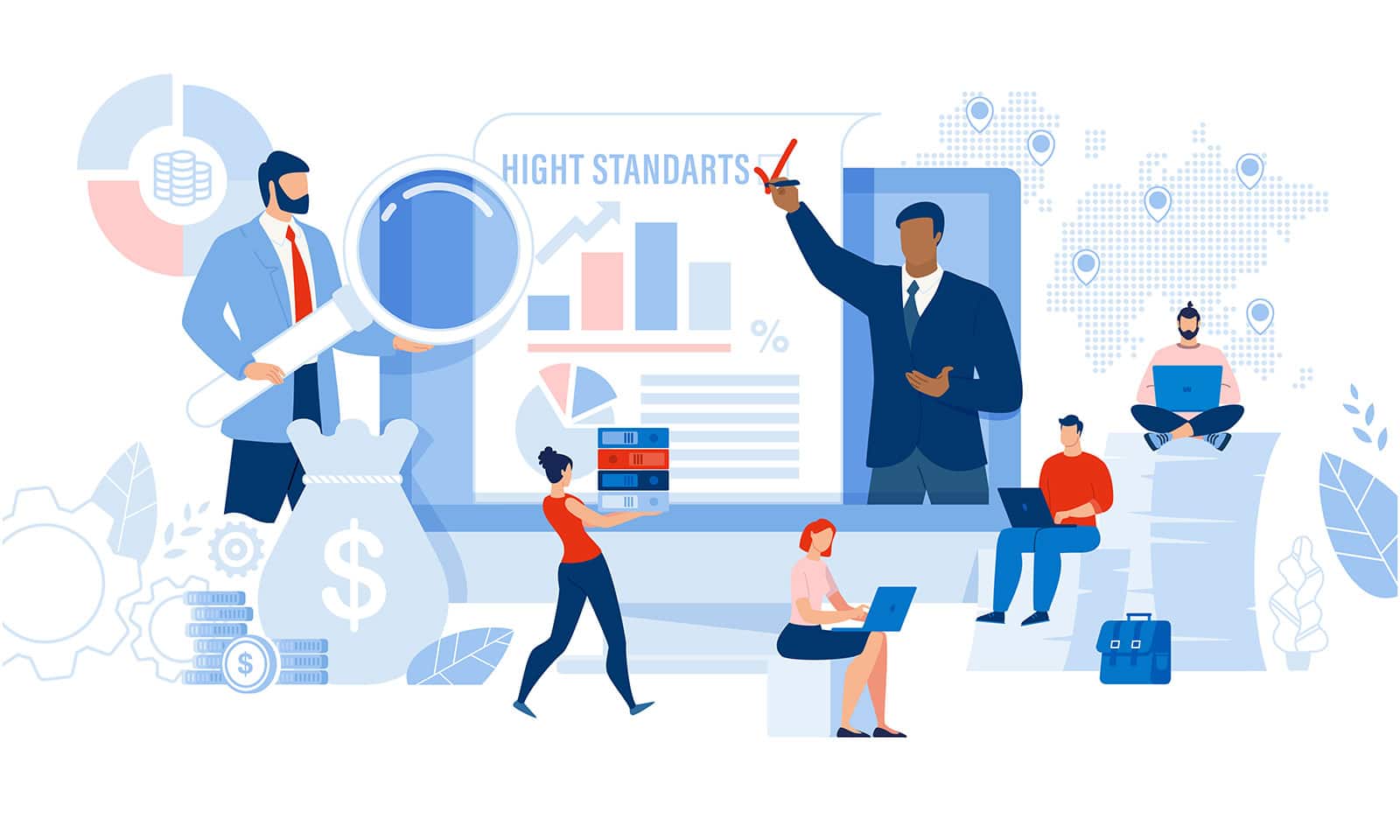 What Is SEO?
SEO, or search engine optimization, is a digital marketing strategy that aims to increase traffic to your website through search engine results. SEO encompasses a wide variety of web design and content creation techniques, so a strong SEO campaign involves many factors.
The goal is to make your website as appealing as possible both to search engines and to people. Search engines will rank your site highly if they recognize that your content is helpful and relevant to the search query. Users will click on your result and remain on your site if the page is engaging.
Understanding user behavior is the key to SEO success. When you know what your target audience is searching for and how they're interacting with online content, you can design your site in a way that makes you more visible to them.
How Search Engines Work
Search engines try to discover, analyze, and evaluate every page of content on the web. They discover web pages through a process known as crawling. Bots start on one page and follow all of that page's links. Then, they follow the links on each of those pages. Eventually, the bots will discover a massive number of web pages.
Search engines organize the pages they discover in the index, a running list of existing web pages. All of the pages in the index are candidates to appear in search engine results pages.


Lastly, search engines select and rank the pages that best answer the searcher's query. They use complex algorithms to determine the ranking of each page. Some of the most important ranking factors include keyword usage, user experience, and site security.
Traditional SEO focuses on ranking in the organic search results. Some results pages contain ads or special features like local business listings or a question-and-answer box. The organic results are the ten regular, blue links that always appear on every results page.
Why SEO Matters
A large percentage of web traffic comes from search engines, and the vast majority of searchers never look past the first page of results. Improving your search ranking makes your site and your brand more visible to potential customers.
Because there is so much content on the web, ranking on the first page without an SEO strategy is virtually impossible. Many of your competitors probably use SEO, so implementing your own SEO campaign is the best way to keep up.
SEO is a highly effective marketing tool because it's entirely centered around people who are already searching for your product or service. When someone searches for something, they're most likely already planning on buying it, so you don't have to spend time, money, or energy convincing people to become customers. All you have to do is make your presence known, which you can do by ranking highly for relevant search terms.
SEO is also a great way to establish authority in your industry. Most people know that it's difficult to get to the top of the results page, so they have more trust in businesses that rank highly. Even if a searcher doesn't become a customer right away, they may be more likely to make a purchase from your business later if they've seen you on the first page of Google results.
Compared to other methods of digital marketing, SEO offers an excellent return on investment. A strong SEO campaign can have long-lasting results and can cause site traffic to grow exponentially.
Should I Hire an Expert?
SEO is a large and complex industry, but you can implement the basics on your own if you're willing to put some time and effort into learning the techniques. Some SEO tricks are fairly straightforward, and others require more knowledge and skill.
Hiring a marketing agency to run an SEO campaign can save you a significant amount of time. The results will probably be better when working with a professional, too. Consider the benefits a professional SEO campaign would bring to your business to decide whether it's worth the cost of hiring an expert.
If you decide to work with a professional, make sure you choose wisely. Many agencies offer SEO services, but not all of them offer high-quality services. Some marketers use outdated or ineffective tactics that won't deliver good results.
Your SEO expert should be able to clearly articulate their process and the specific goals they can help you achieve. Always ask for references or case studies, and read reviews of an agency before hiring them.
SEO is a long-term process. The initial campaign is the biggest part of the project, but because search engine algorithms constantly change, your website will need regular updates to maintain its ranking. When you hire an SEO firm, be prepared to have a long-lasting relationship with them.
Beware of Black Hat Practices
Bad SEO can actively harm your business. Before creating an SEO campaign, it's critical that you understand the difference between white hat and black hat SEO so you can avoid being penalized for questionable practices.
White hat SEO includes all of the techniques and strategies that abide by the rules. These tactics make your website more useful for searchers while also appealing to the search engine algorithm.
Black hat practices are manipulative SEO strategies that attempt to trick the search engine into ranking your site highly. One example of black hat SEO is hidden text, which is the use of invisible text to spam the page with keywords. Site visitors won't see the text, but the search engine bots will.
However, search engine algorithms are advanced enough to recognize these types of practices, and search engines penalize sites that attempt them. If you try to manipulate the search engine, you may lose your ranking or be entirely removed from the index.
To ensure that you're using acceptable SEO practices, keep the site visitors in mind at all times. Everything you do to improve your search ranking should also benefit the people who go to your site. For example, keyword-rich blog posts offer valuable information to potential customers, and fast-loading sites are more convenient.
Google Webmaster
Google offers several tools to help site creators strengthen their SEO practices. One is the Google Webmaster Guidelines, which outline both good and bad SEO strategies. The guidelines encourage site developers to build pages with the users in mind and to focus on creating unique, valuable, and engaging content.
The guidelines also give a list of specific practices to avoid. For example, automatically generated content, link schemes, keyword stuffing, and hidden text are all against Google's guidelines.
Bing Webmaster
Like Google, Bing offers a set of guidelines that clarify what is and isn't acceptable for SEO. Bing's guidelines highlight the importance of clear, engaging, and easily accessible site content. They list page speed, social media shares, and links as three important ranking factors, and they ask that page titles are descriptive and relevant.
The Bing Webmaster Guidelines include a long list of practices to avoid. This includes overusing ads on the page, keyword stuffing, long or unclear URLs, and manipulative link-building strategies.
Local SEO
Local SEO is a subcategory of search engine optimization for businesses that operate a brick-and-mortar store or offer services in person. If you own a local business, your SEO strategy should target potential customers in your area. The priority is to rank for search queries that include your city, county, or neighborhood so that the resulting traffic to your site is relevant.
When you conduct a location-specific Google search for a business, the Local Pack usually appears at the top of the results page. The Local Pack is a set of three business listings that include extra information, like their map location, star rating, phone number, and hours of operation. Many users never look beyond the Local Pack when searching for a local business, so appearing in the pack is one of the best ways to gain customers.
The first step to improving your local SEO performance is to optimize your Google My Business listing. This listing includes all of the information potential customers may want to know, such as your phone number, address, hours, and business description. You can also add photos, respond to customer reviews, and post updates about current promotions or sales on your Google My Business profile.
Google has guidelines for local SEO, just like they do for organic SEO. They state that honest and accurate business information should be your priority and that misrepresenting your business could lead to penalties. Only businesses with a physical address can create Google My Business profiles, and making a listing when you're not eligible can get you in trouble with Google.
Focus on User Intent
To stay within search engine guidelines, your goal should be to fulfill user intent. There's an intention behind every search, and identifying that intention can help you shape your content to appeal to potential customers.
For example, if someone submits the search query, "How to fix a leaky faucet," their intention is to find information. If someone searches, "Plumber near me," their intention is to hire a service. To rank well for these search queries, your site has to provide the user with what they're looking for.
It's better to focus on a few specific search queries than to try to rank for broad, general terms. Specific phrases are less competitive, and the intention behind them is easier to identify. Once you've chosen a key phrase to target, think about all the possible reasons someone might search for that phrase. Determine how your site could be of value to that user and create your page content accordingly.
Identify Your Goals
Not only should you know the prospective customer's goals, but you should also know your own goals for your SEO campaign. The purpose of SEO is to gain more site traffic and increase sales, but you should have specific metrics in mind as well. Specific, numerical goals will help you shape your SEO strategy and measure the success of the campaign.
During the planning stages, you should identify your KPIs or key performance indicators. These are the numbers you hope to reach for a successful campaign. Common KPIs for SEO include sales, phone calls, email signups, or downloads.
Although boosting your search ranking is the overall goal of SEO, your ranking should not be your KPI. Increasing your ranking can be a stepping stone to success, but a high ranking doesn't benefit your business in and of itself. Appearing on the first page of results makes you more visible to searchers, but that only matters if they actually take an interest in your brand. Instead of focusing only on your ranking, measure the way that people interact with your site to determine whether or not your SEO investment is paying off.
Final Thoughts
Search engine optimization is a complex and constantly changing field. It takes some time and research to become familiar with the most effective SEO practices, but a carefully prepared campaign has a number of benefits. SEO is one of the most reliable and cost-effective ways to increase your online visibility and reach people who are interested in what you have to offer.
Whether you want to hire an SEO consultant or take on the project yourself, you should understand how SEO works. This SEO 101 guide can help you lay the groundwork for your campaign. Most importantly, remember that an effective SEO plan is designed with the user in mind. Search engines favor sites that are informative and user-friendly, so the best SEO techniques involve making your site better for visitors.
Next: How Search Engines Work
Previous: Introduction
---
Published on: 2020-09-07
Updated on: 2022-08-11