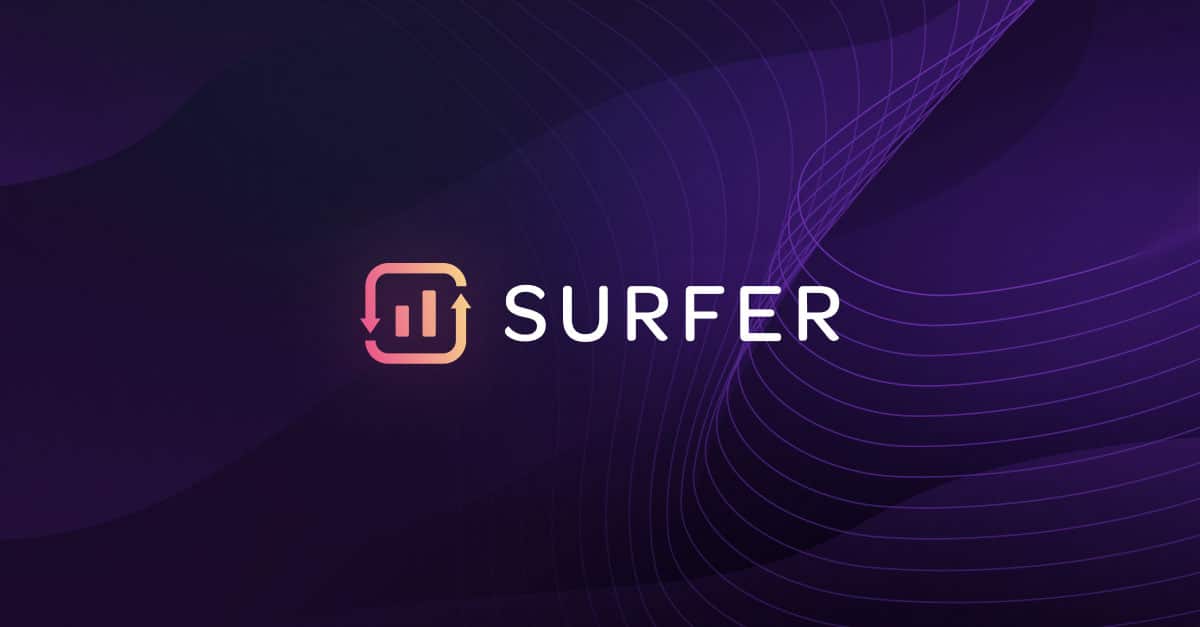 In today's digital marketing landscape, search engine optimization (SEO) is often the key to attracting people's attention. The internet is full of content, and your pages won't cut through the clutter if you don't make a special effort. Luckily, tools like Surfer SEO and services like SEO North can help you optimize your content and improve your overall marketing efforts.
For anyone intent on producing and optimizing their own content, Surfer SEO is an extremely valuable asset. The wide variety of useful features can help you get the most from your posts. Despite the few modest drawbacks, the program is excellent value and a fantastic addition to any SEO toolkit. In this detailed Surfer SEO review, you'll learn just what this exciting program can offer.
What Is Surfer SEO?
Surfer SEO is a tool that makes it easier for marketers, writers, and content creators to optimize pages for Google. If you produce blog posts, articles, or any written content to be published online, Surfer SEO can help you employ the right keywords and strategies to increase your pages' visibility.


Search engine optimization requires investigating keywords, assessing the quality of backlinks, and conducting a competitor analysis. Completing all of these tasks manually is taxing and time-consuming. With Surfer SEO's content audits, you can do all this and more in just a few minutes.
Surfer SEO's Principal Features
Surfer SEO is a well-rounded tool with a wide range of user-friendly features. In theory, you could use the platform during every step of the content creation process. Even if you only use a few of the features for specific optimization tasks, you could still gain enough value from the program to make it well worth the price of purchase. Ultimately, Surfer SEO makes it easier to produce content that appears on the first page of Google, and that should be every content creator's dream.
SERP Analyzer: Fully Understand the First Page of Google Results
Surfer SEO's most important feature is the in-depth SERP analyzer. This tool gives you a detailed breakdown of the search engine results page (SERP) for a given search term. If you want to rank for a term, you need to understand exactly what Google is already presenting to users. Surfer's SERP analyzer gives you this vital information.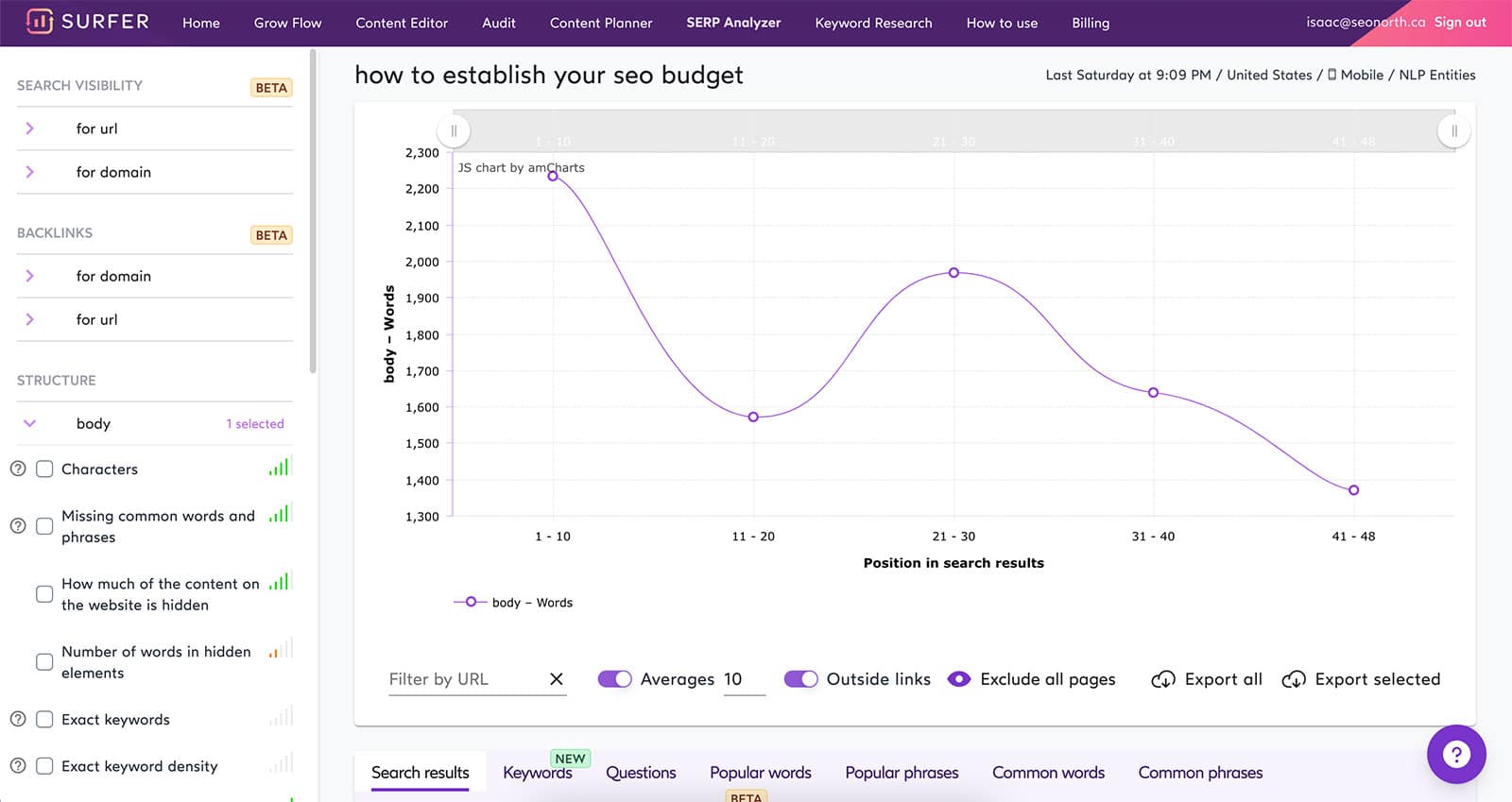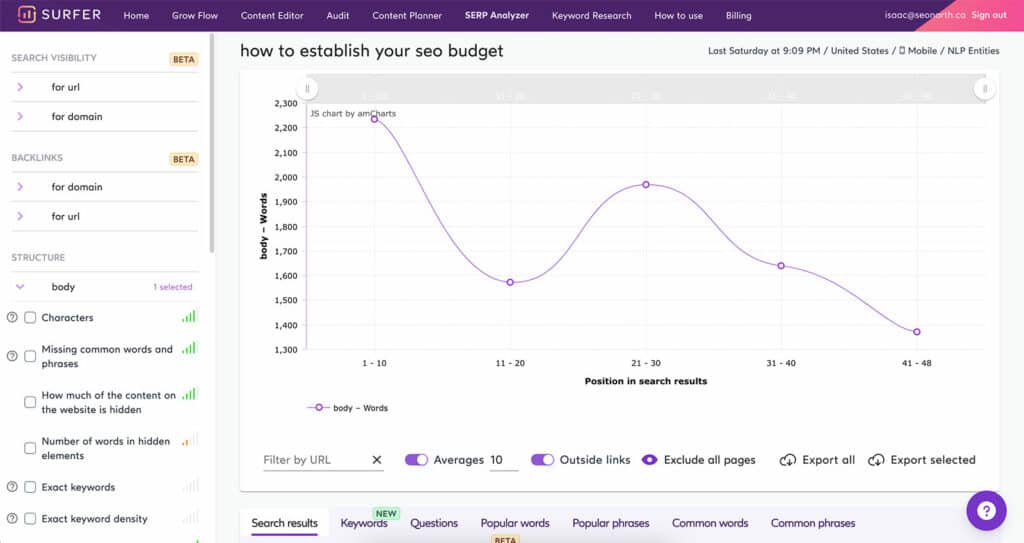 While Surfer SEO isn't the only program offering this service, it provides much more detail than most similar tools. You'll learn everything you need to know about the pages appearing on the first page of Google results, including their:
Average length (word count)
Keyword density
Keyword frequency
Partial-match keyword use
Alt text
Hidden content
Once you know exactly what Google is valuing, you can base your content on the algorithm's demonstrated preferences. Search engine optimization requires mimicking the pages that are already succeeding, a process that Surfer SEO makes a whole lot easier.
Content Editor to Find and Optimize Keywords
After Surfer SEO has analyzed the SERP for a given search term, it can go even farther by helping you outline and write content based on the information. Much of this process comes down to the intelligent use of term frequency-inverse document frequency keywords (TF-IDF), or the words and phrases that are closely linked to your primary keyword. Surfer SEO can detect these TF-IDF keywords throughout the SERP results, letting you know how you should also use them in your content.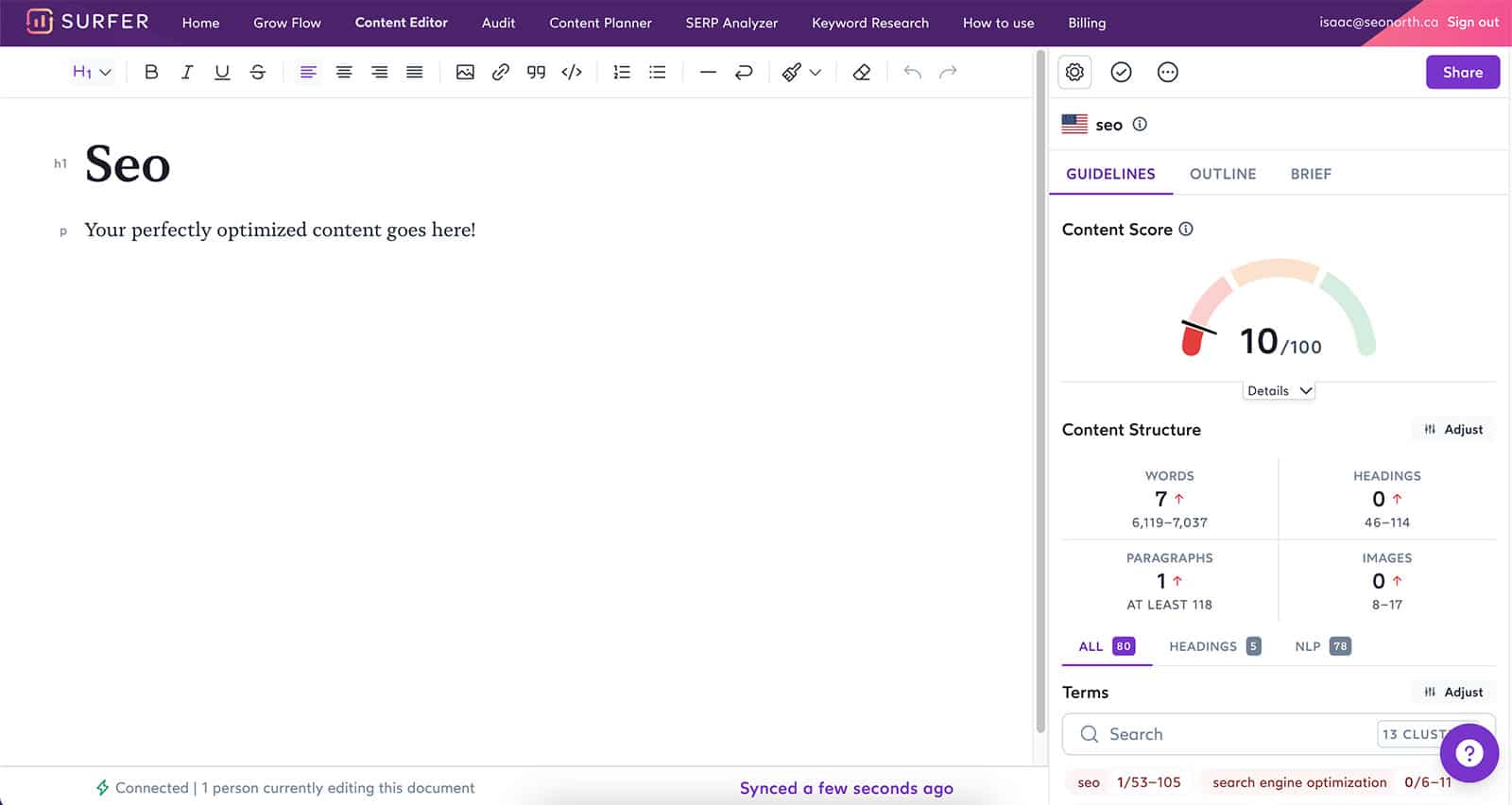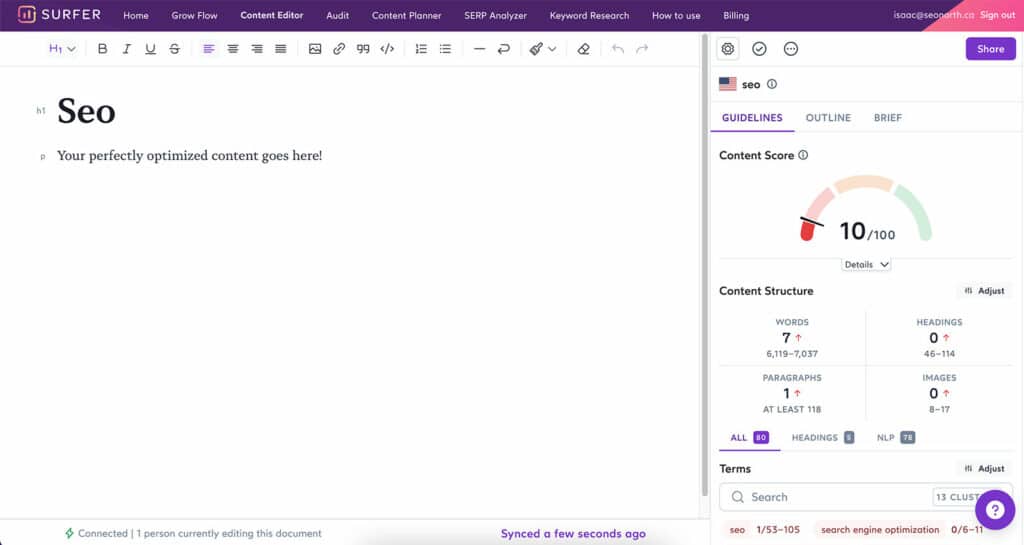 The platform provides additional suggestions related to topics worth discussing or questions worth answering, all drawn from Google's results pages. This information allows you to produce content that falls within the parameters of what Google really wants to show its users.
Keyword Research: Decide Which Words and Phrases to Target
Keywords research is at the very heart of SEO. Before you can start creating content, you need to understand which words and phrases users are searching for. Surfer SEO's keyword tool is similar to many of the other platforms available, but it provides an additional metric called "SERP similarity." This statistic shows you exactly how much overlap a suggested secondary keyword has with an initial keyword on a search engine results page. If a secondary keyword has a near-total overlap with your primary keyword, then you know Google essentially considers them synonyms, and you should target them simultaneously on the same page.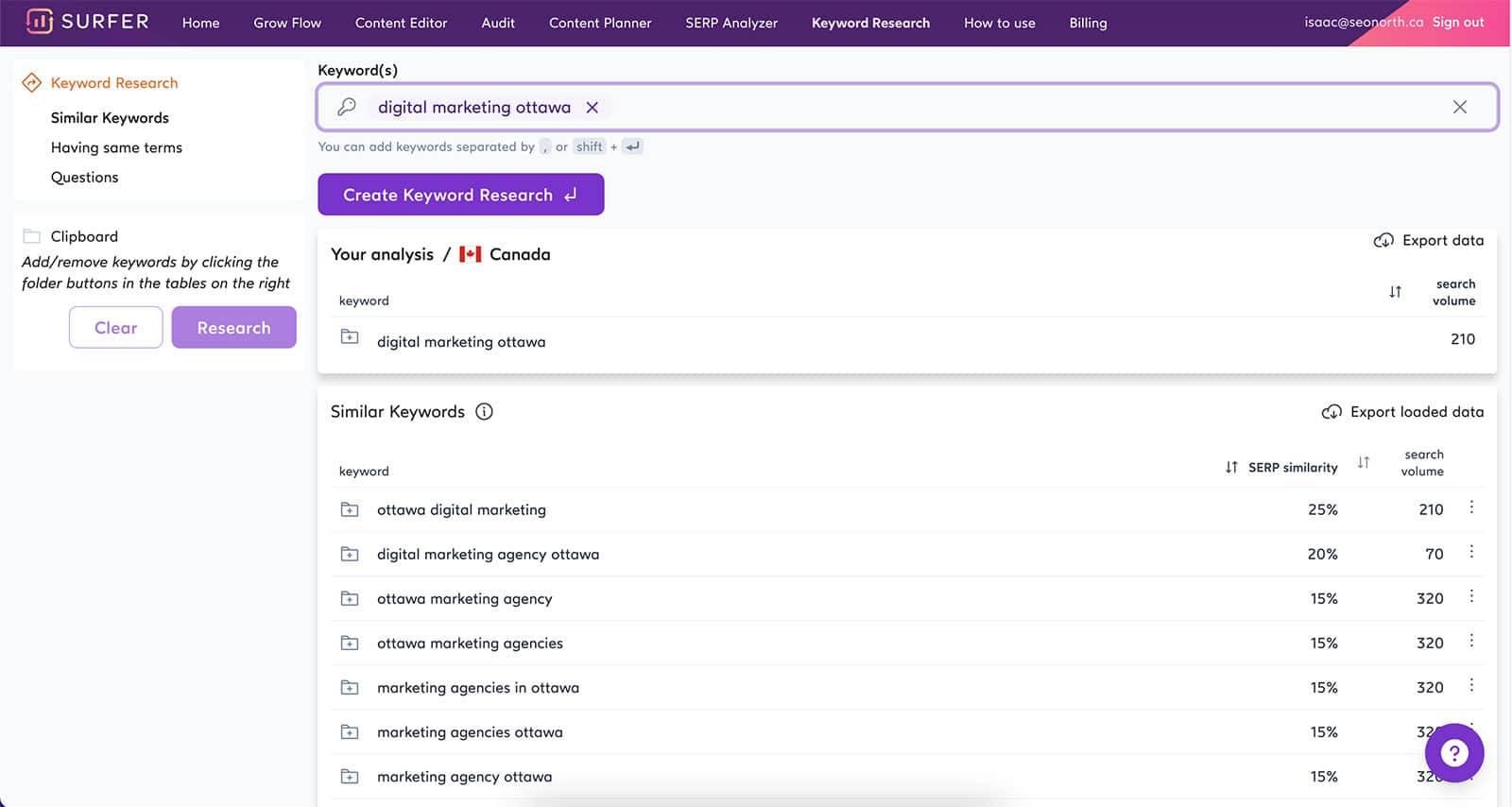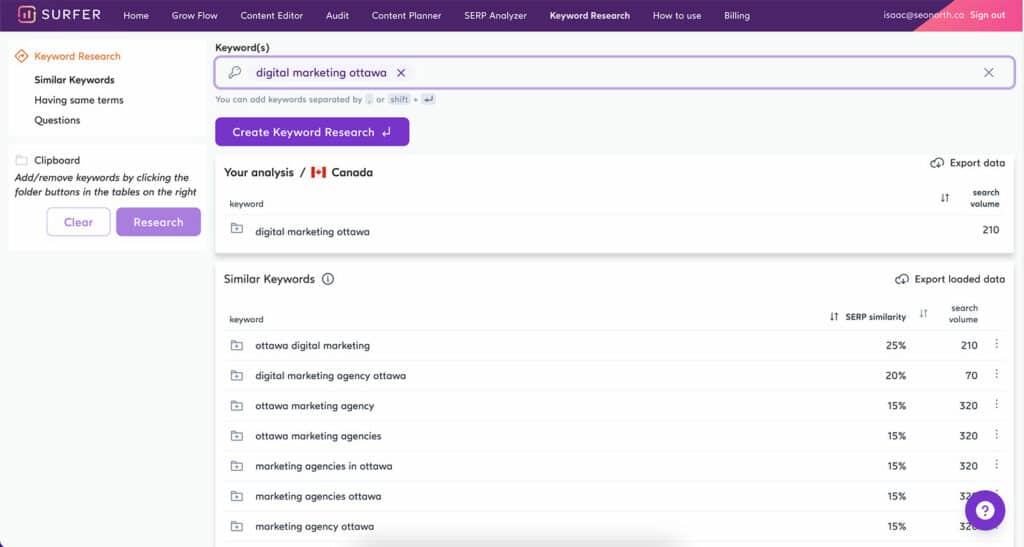 For additional keyword research, consider installing the Keyword Surfer Google Chrome extension. This extra tool makes it quick and easy to choose and use impactful keywords in your online content.
Content Audits: See Where Your Pages Could Improve
No matter how much time and effort you put into optimizing your pages, you're probably missing some potential strategies that could boost your ranking. Surfer SEO helps you identify these weak spots and eliminate them. With the content audit tool, all you have to do is paste a page's URL and type in the keyword you want to optimize for. Then, the tool will analyze your content and find weaknesses like:
Missing TF-IDF keywords
Backlinks your competitors have that you're missing
A relative lack of images
A relative lack of headers
A word count outside the optimal range
Suboptimal lengths for your title and meta description
Once Surfer SEO has flagged these issues, you can go about rectifying them. By the time you're done, your page should rank considerably higher on Google.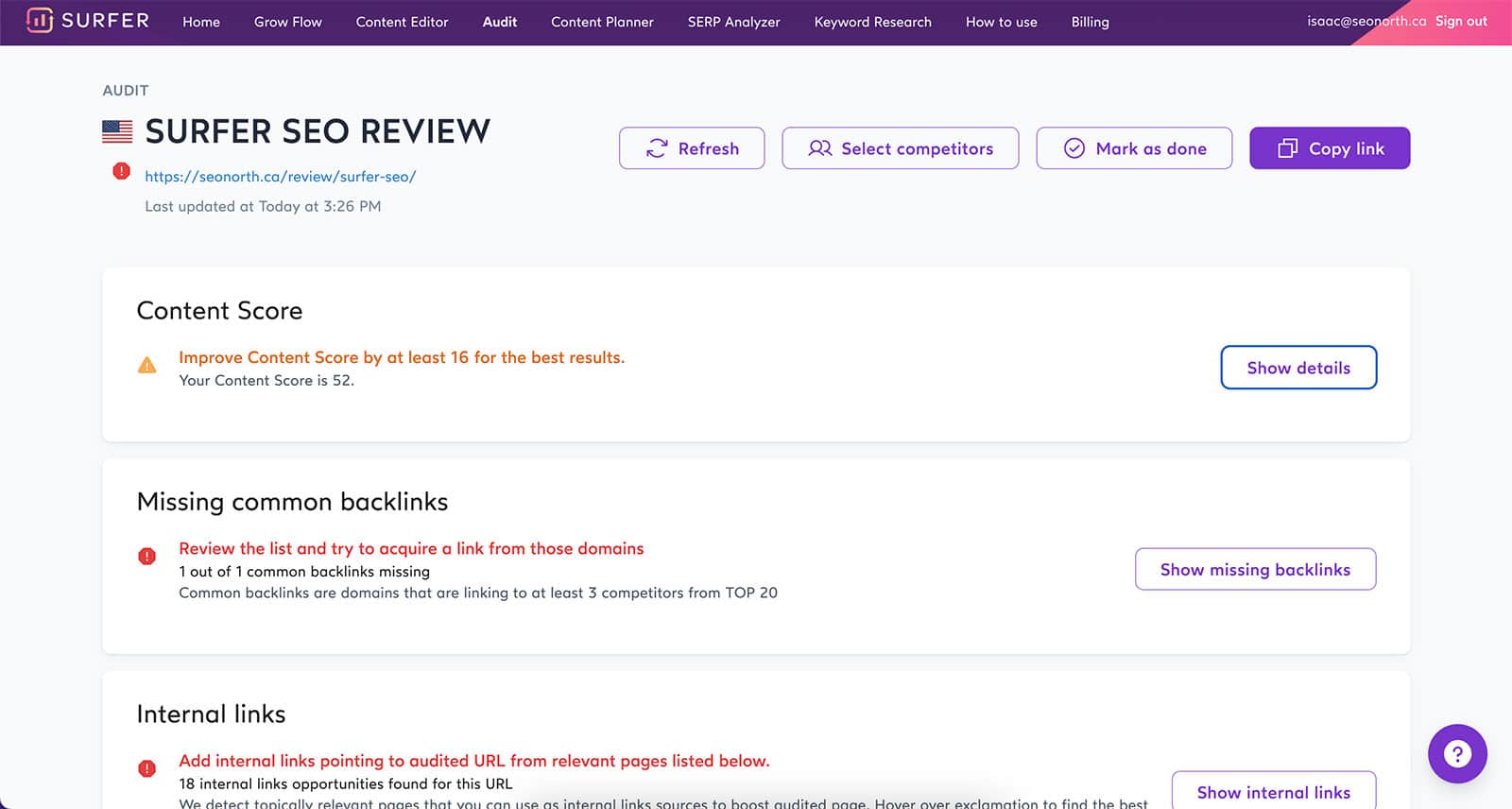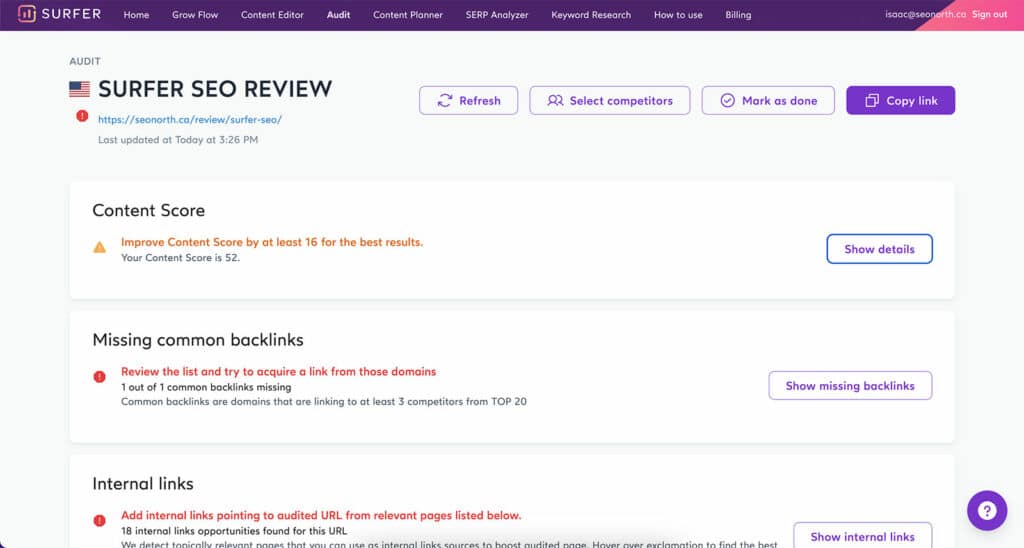 Surfer SEO's Main Strengths
Like any tool or product on the market, Surfer SEO has its strengths and weaknesses. Luckily for users, the platform's benefits far outweigh its disadvantages. With so much in its favor, it's no wonder Surfer has become one of the biggest names in search engine optimization.
User-Friendliness
Some tools provide excellent information but are a nightmare to use. Others are simple to navigate but offer nothing of substance. Surfer SEO avoids both of these pitfalls, combining super-useful data with a clean, user-friendly interface. The platform's tools and features clearly highlight the most important information, allowing relative SEO novices to understand what's truly vital for optimizing their pages.
Assistance With Structuring Content
Optimizing content is about a lot more than keyword frequency. To fully optimize a page, you need to think carefully about the entire layout of the content, considering details like headers, images, and the meta description. Surfer SEO's in-depth audits address these types of issues directly, making it easier for users to overhaul their content in a comprehensive manner.
In-Depth Analysis
Surfer SEO manages to prove detailed analysis without overwhelming users. The platform accounts for over 500 ranking factors when analyzing content for a target keyword. Google's algorithms are obscure and intricate, and creators need a tool that matches this inherent complexity. Most users find that surfer SEO meets the bill.
Where Surfer SEO Falls Short
Surfer SEO is a highly touted platform, and rightly so. The features are clearly helpful and the user interface makes understanding them a breeze. All the same, no product is perfect, not even a tool as popular as Surfer SEO. In a few minor areas, users agree that the platform could stand for some improvement.
Potentially Meaningless Data
Surfer offers users a wide variety of information, but some of the data might not actually be particularly helpful. SEO experts question whether suggestions related to the amount of bolded text or number of headers are exactly useful. In some cases, users will have to fall back on their own knowledge before deciding whether to act on a suggestion.
Limited to Google
Surfer SEO only works for analyzing how content ranks on Google. While Google is unquestionably the main focus in most search engine optimization, you might want to rank on other sites like Youtube and Bing. To analyze your content's performance on these platforms, you'll need an additional SEO tool.
Pricing for Surfer SEO
Surfer offers three levels of service, and it's cheaper than many of its competitors. The Basic Plan is only $59 per month, but it provides service to a single team member and allows for only 20 content audits each day. The Pro Plan costs $119 per month but offers significantly expanded services. The Business Plan is $239 per month, but it allows for up to 70 team members and 140 audits each month. Ultimately, most users find this pricing scheme fair for the depth and breadth of the service provided.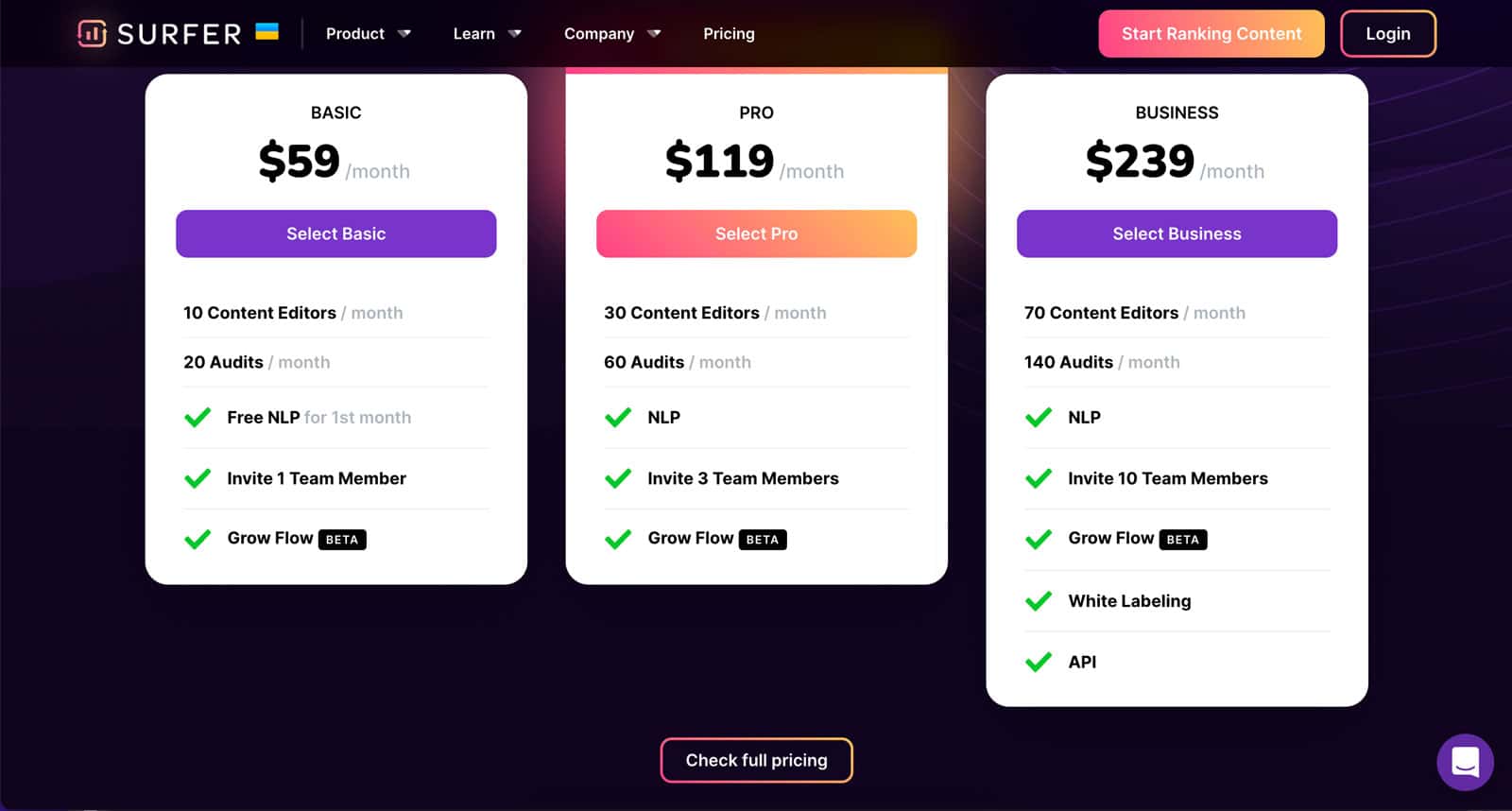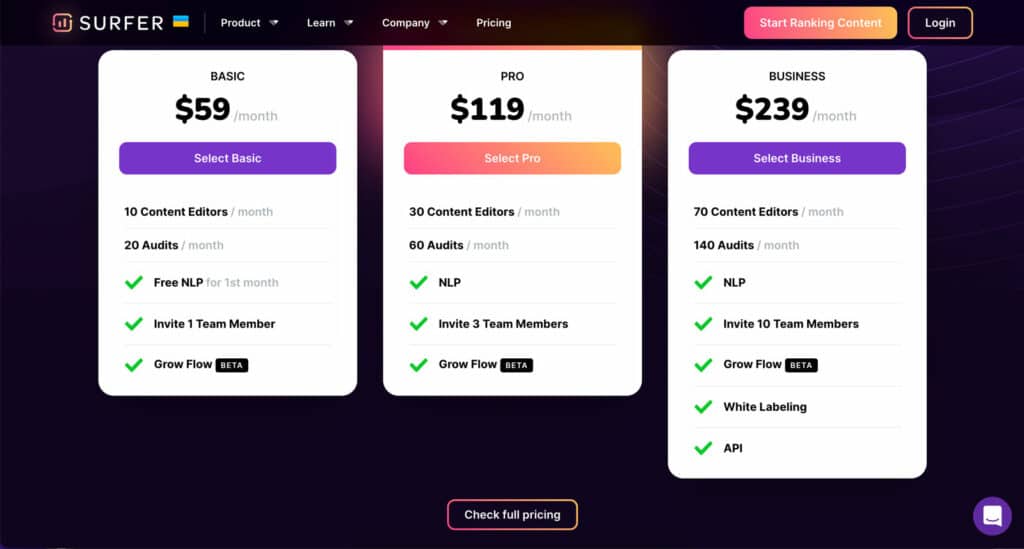 The Verdict: Surfer SEO Can Help Your Pages Rank
Surfer SEO is an excellent tool for improving your content and landing on the first page of Google. The features are easy to use, and they provide a wide variety of actionable insights. If you're attempting to produce your own online content, Surfer SEO might be just the tool you're looking for. Alternatively, you could hire true SEO experts to create and optimize your content for you. To put professionals in charge of increasing your brand's online visibility, consider working with SEO North. The impact on your business could be monumental.
FAQ
---
Published on: 2022-05-10
Updated on: 2022-10-28