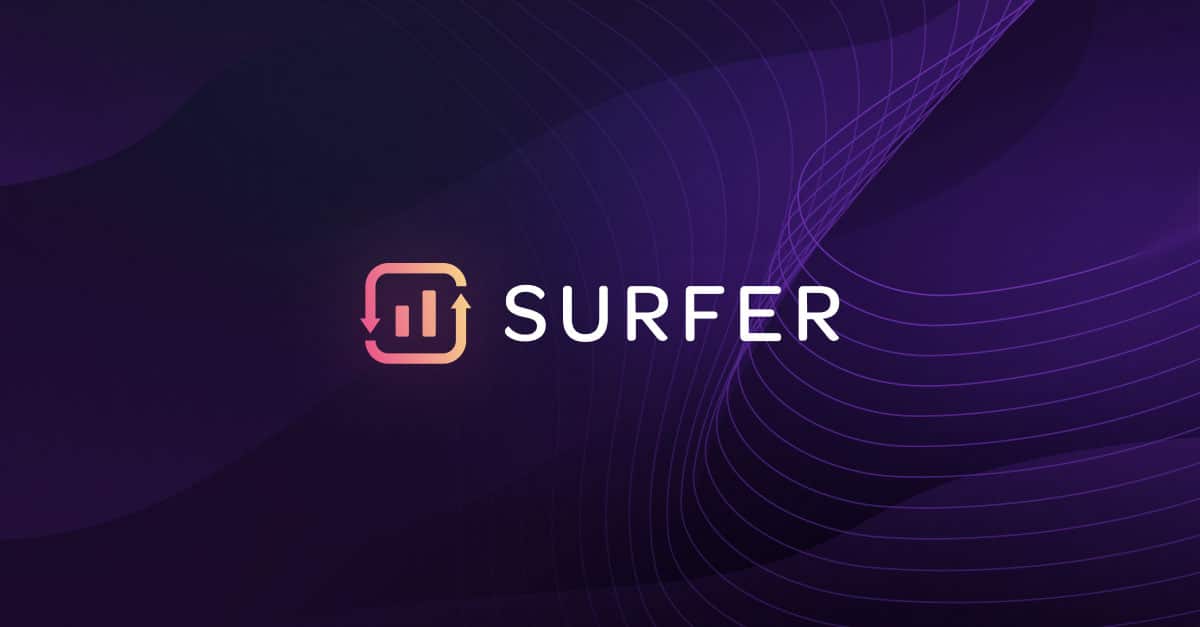 Are you looking for an SEO tool that can comprehensively analyze your website's on-page optimization? If so, Surfer SEO may be the perfect solution!
With its powerful algorithm and intuitive user interface, this cloud-based software is designed to help you get the most out of your search engine optimization efforts.
In this blog post, we'll take a closer look at what makes Surfer SEO stand out from other SEO tools and how services from SEO North can help you optimize your content to maximize your online visibility and improve your overall marketing efforts. We will also discuss the features that come with Surfer's plans, whether or not it is worth investing in, and what benefits this program offers. Keep reading to find out more!
What Is Surfer SEO?


Surfer SEO is a content optimization tool that assists website owners and SEO professionals in enhancing their on-page SEO. It simplifies optimizing pages for Google for marketers, writers, and content creators. Surfer SEO is beneficial to those who produce written content for online publications, such as blog posts, articles, etc., as it helps to integrate the most appropriate keywords and techniques to increase the visibility of their pages.
Surfer SEO's Principal Features
Surfer SEO offers various features designed to make your website visible and optimized for search engines. These features include:
SERP Analyzer
Surfer SEO's most important feature is the in-depth SERP analyzer. This tool gives you a detailed breakdown of the search engine results page (SERP) for a given search term. You must understand what Google is already presenting to users to rank for a term. Surfer's SERP analyzer gives you this vital information.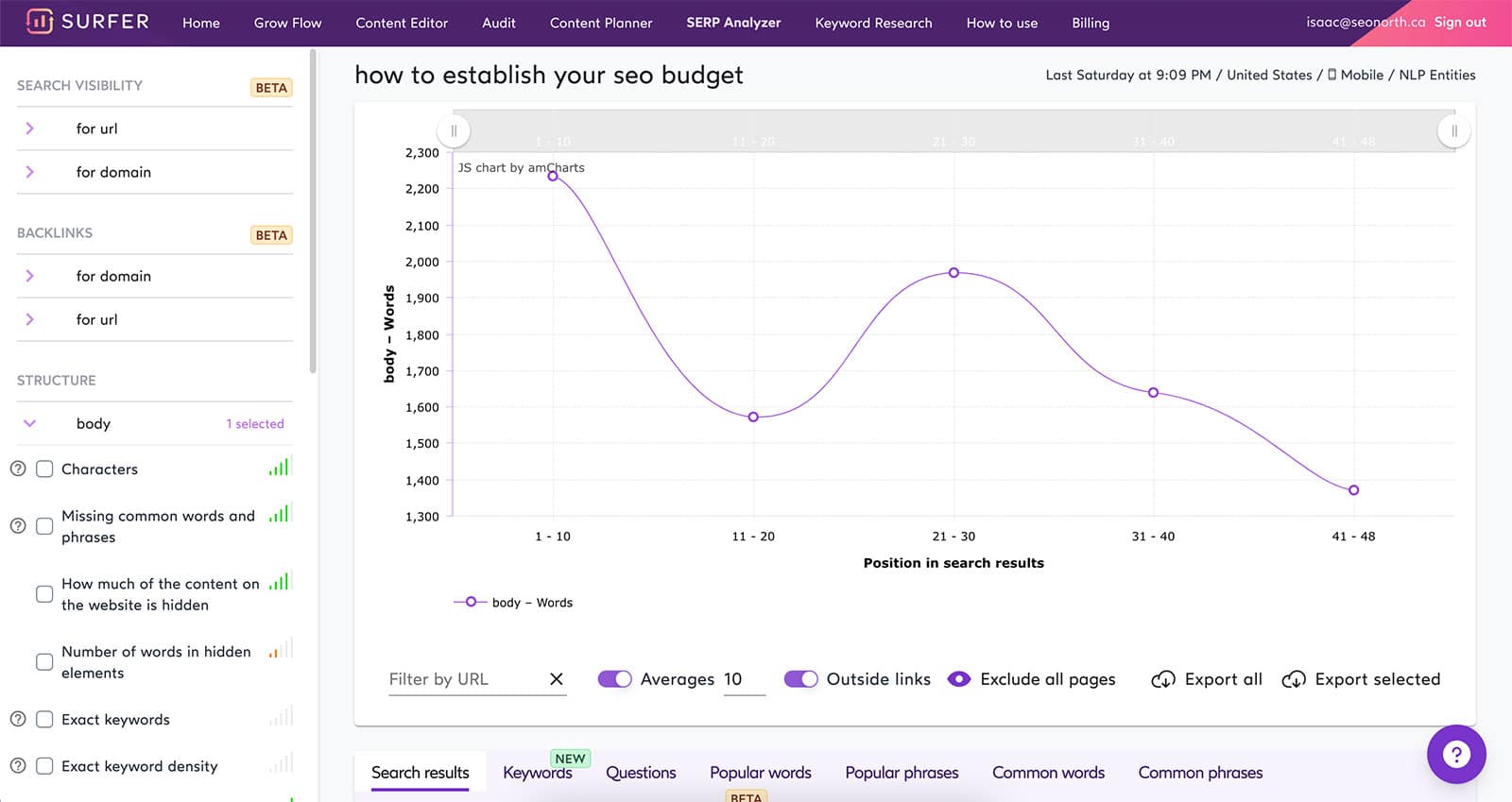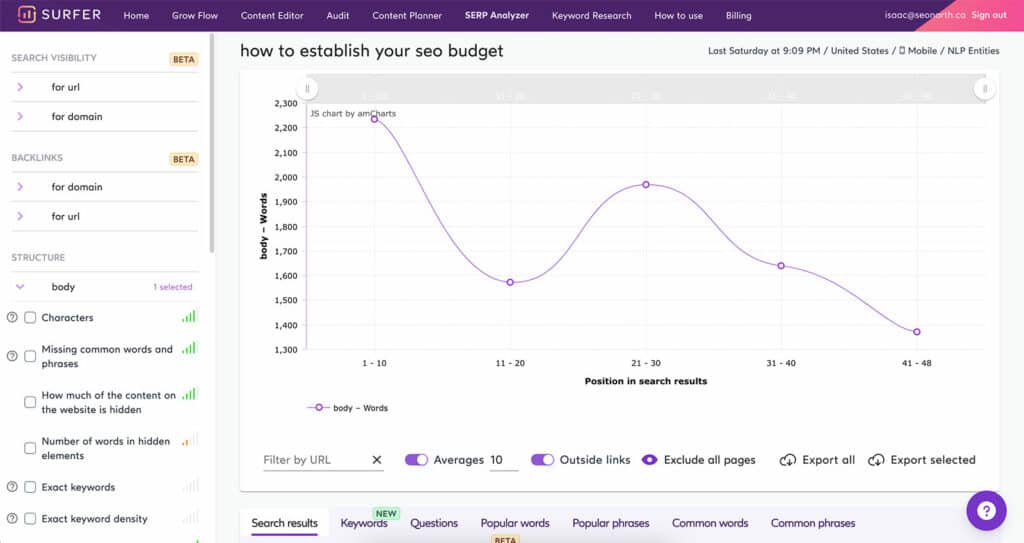 While Surfer SEO isn't the only program offering this service, it provides much more detail than most similar tools. You'll learn everything you need to know about the pages appearing on the first page of Google results, including their:
Average length (word count)
Keyword density
Search volume
Keyword frequency
Partial-match keyword use
Alt text
Hidden Content
Once you know precisely what Google considers important, you can create content that aligns with the algorithm's known preferences. Search engine optimization requires mimicking the top-ranking pages that are already succeeding, a process that Surfer SEO makes much easier.
Keyword Research Tool
Keywords research is at the very heart of SEO. This feature provides a comprehensive list of relevant keywords and phrases related to your topic. You can use this information to identify the best-related keywords to target for your content,
Knowing what words and phrases users seek is essential to create content effectively. Surfer SEO's keyword tool is like other tools but has an additional metric called "SERP similarity."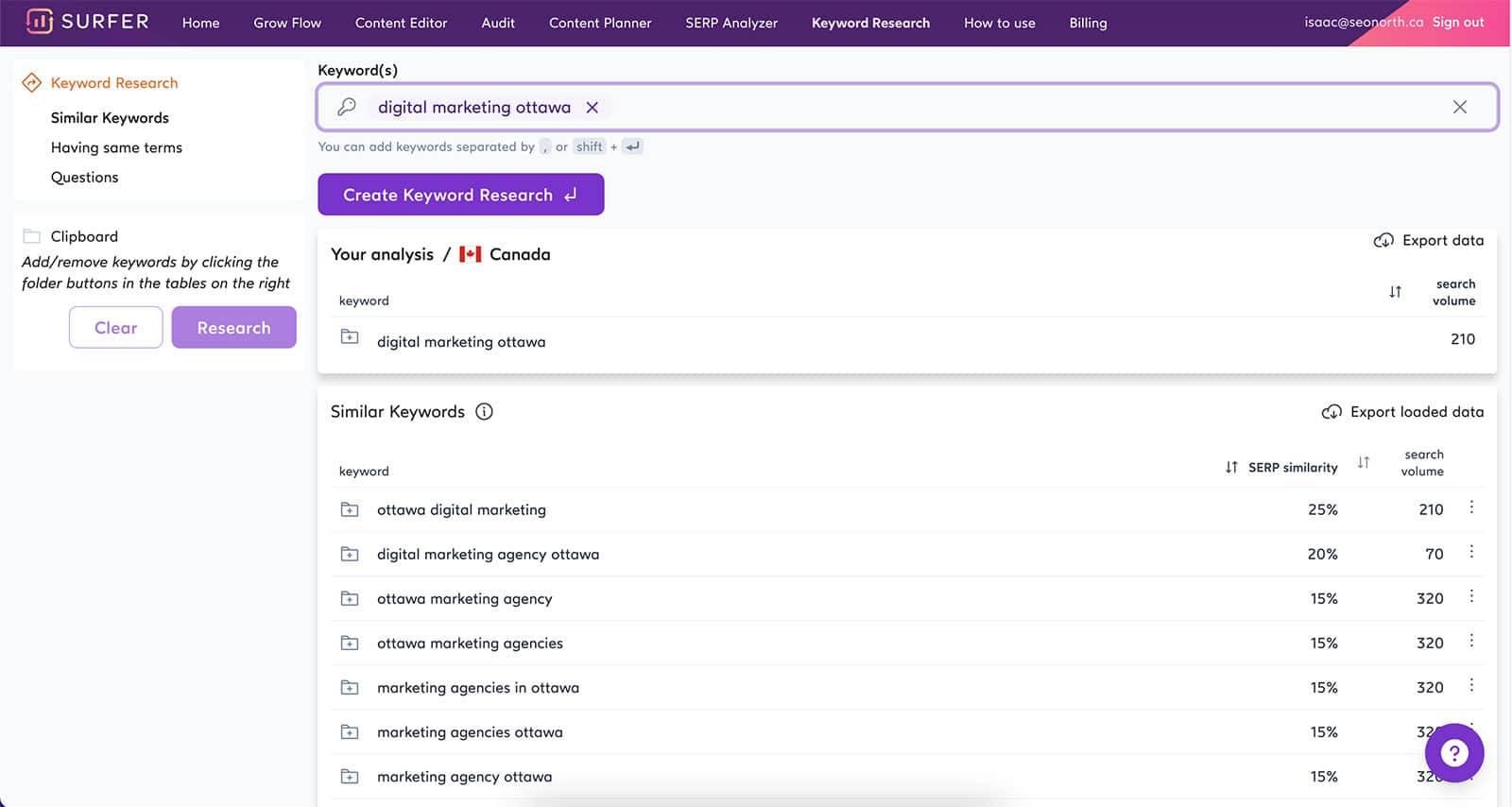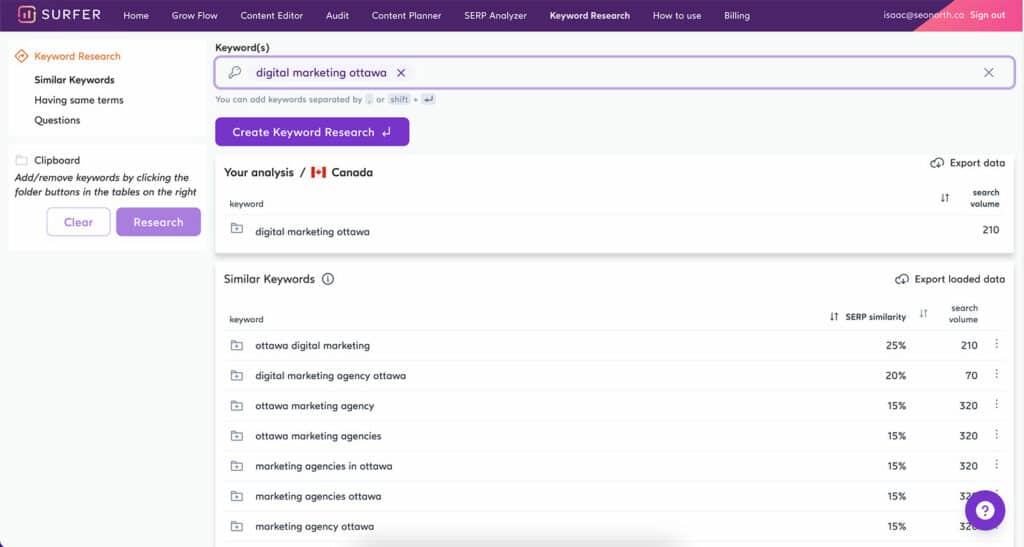 This statistic indicates the extent of overlap between a suggested secondary keyword and an initial keyword on a search engine results page. If the secondary keyword largely overlaps with the primary keyword, it means that Google treats them as synonyms, and you can target them both on the same page.
How To Do a Keyword Research
Surfer SEO also has added its own NLP feature, which generates more precise LSI keywords for the selected seed keyword compared to third-party apps and performs better than Google's API.
To do keyword research, input the seed term (a broad topic related to your niche), choose the geographical area from which you want results, and click Create Keyword Research.
Surfer's Keyword Research tool may assist you in planning your content strategy and generating hundreds of new subject ideas in minutes.
You can install the Keyword Surfer Google Chrome extension to improve your keyword research, which helps you select the best keywords for creating compelling online content.
Content Editor
The Surfer SEO Content Editor is similar to Google Docs or WordPress and helps you write optimized content for search engines.
The Surfer SEO tool also combines with Jasper AI, a robust content creation tool that utilizes artificial intelligence. You can use the integration to produce quality content that is optimized for search engines quickly. The AI-powered service can also alert you if it detects plagiarism. This helps ensure that your content does not contain any copied material, which could negatively affect your rankings.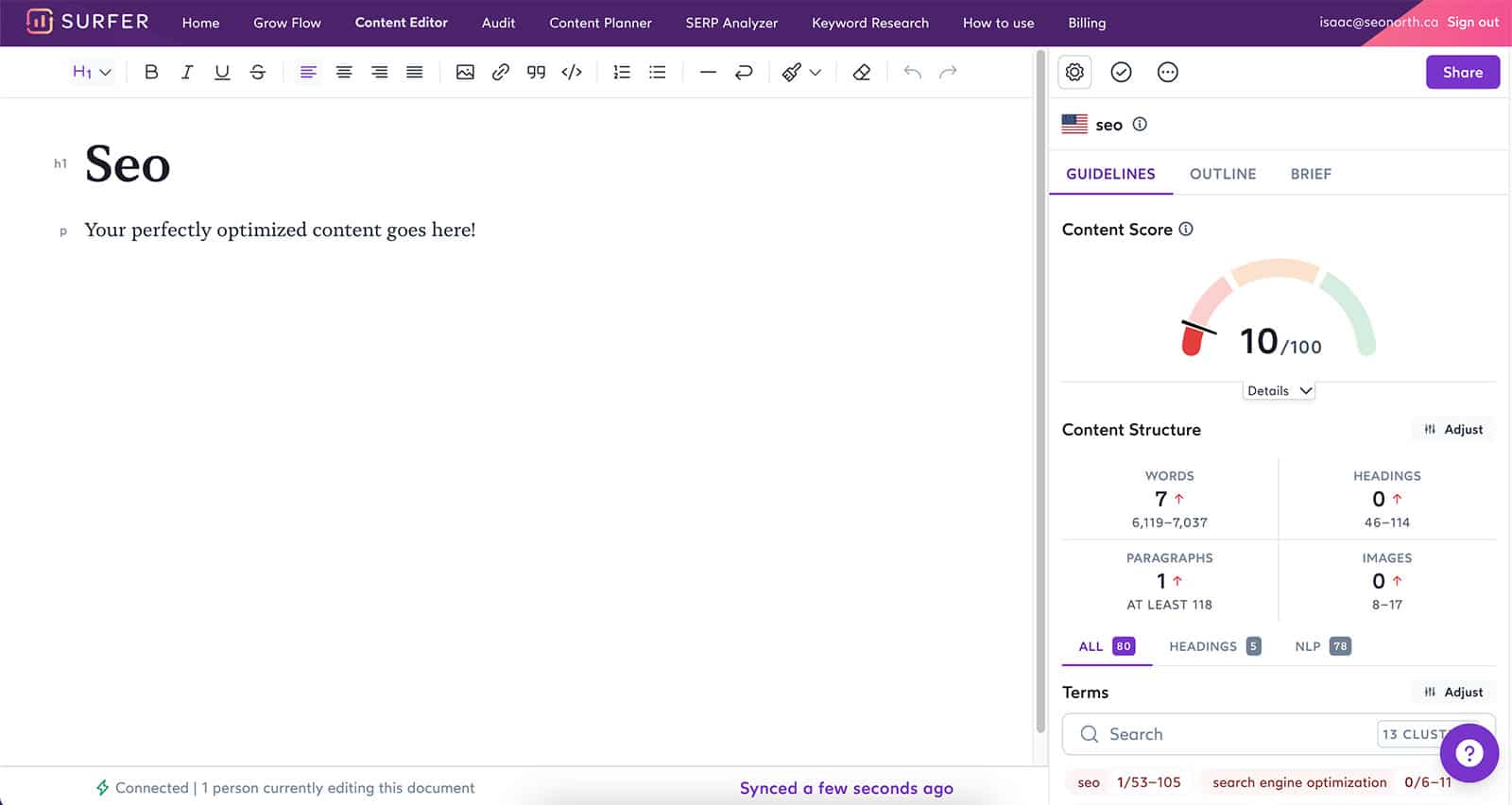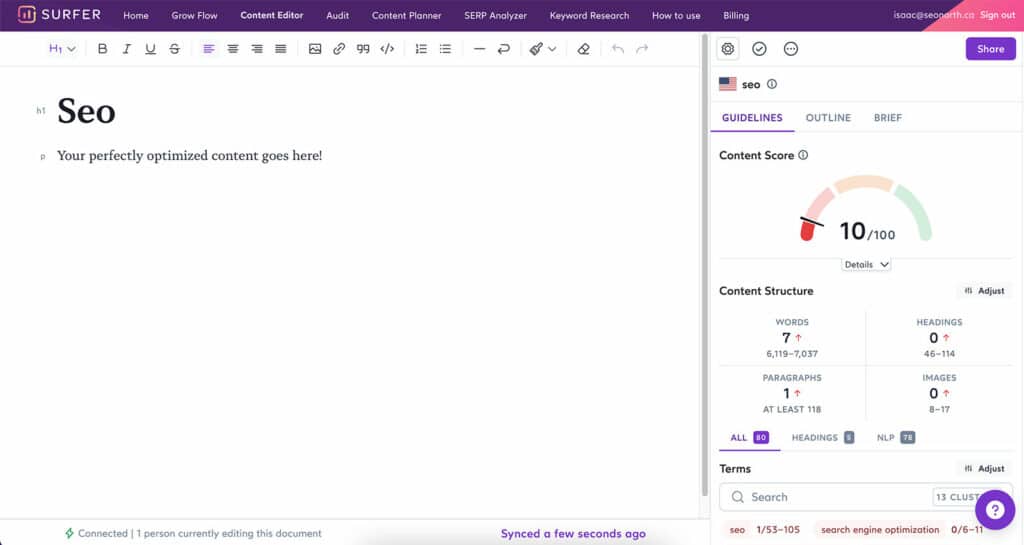 When you start writing content, Surfer SEO adjusts the content score taking into consideration certain factors. The greater your score, the better your chances of ranking.
If you input a target keyword, Surfer SEO will evaluate the highest-ranking pages for that keyword and suggest enhancing your content.
The suggestions are separated into three primary categories and are displayed in a sidebar next to the editor:
Content-Length– This is where you see the word length of a blog article recommended by Surfer SEO.
On-Page SEO Factors– Surfer SEO may advise you to put your keyword in your title and headings and how many times those keywords should appear throughout the blog post.
Content Structure and Format – With Surfer SEO, you use real-time metrics to optimize your writing structure, word count, NLP-ready keywords, and images while you write. This will increase your chances of ranking high anywhere in the world.
The Surfer content editor has a useful feature – keyword term suggestions and natural language processing (NLP). The NLP helps generate relevant ideas by suggesting related topics from Google's results pages and providing example sentences that can be used in each section of your piece. You also have the option to export to Google Docs or share a link with your team.
Surfer SEO Audit: See Where Your Pages Could Improve
No matter how much time and effort you put into optimizing your pages, you're missing potential strategies to boost your ranking.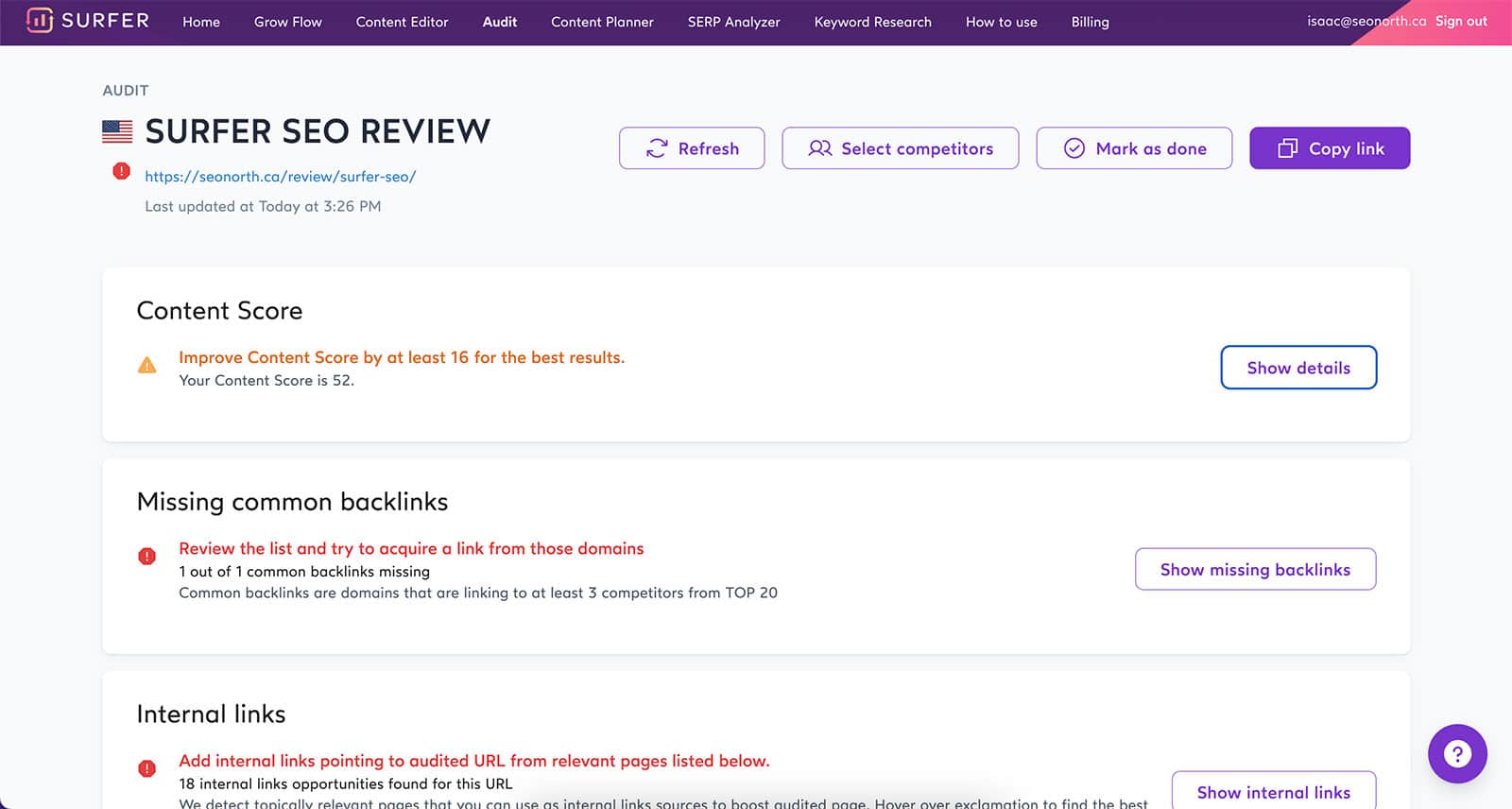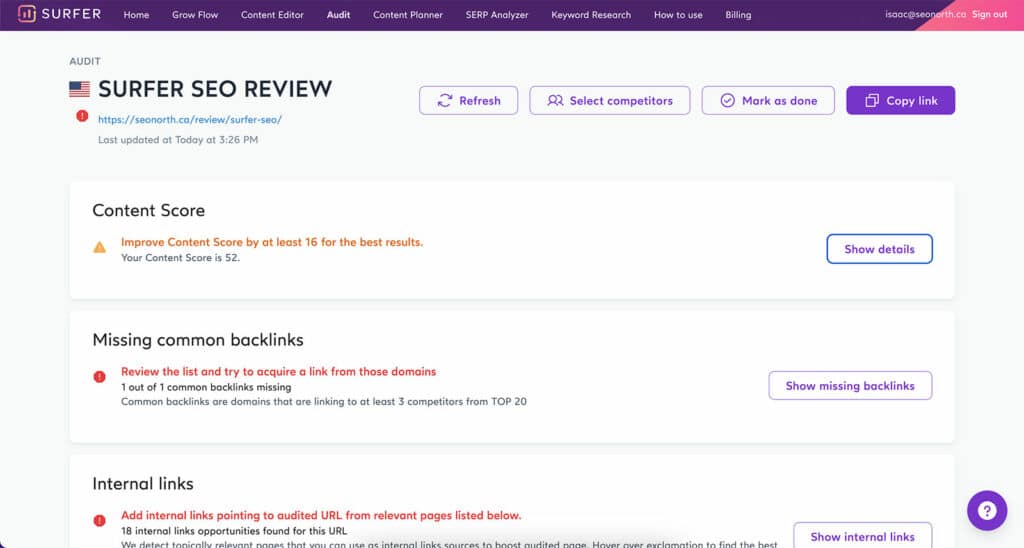 Surfer SEO helps you identify these weak spots and eliminate them. With the content audit tool, you must paste a page's URL and type in the keyword you want to optimize for. Then, the tool will analyze your content and find weaknesses like:
Missing TF-IDF keywords
Backlinks your competitors have that you're missing
A relative lack of images
A relative lack of headers
A word count or content length outside the optimal range
Suboptimal lengths for your title and meta description
After Surfer SEO identifies the issues, you can fix them to improve your page's ranking on Google.
This feature provides an in-depth analysis of your website that highlights areas for improvement, such as broken links, duplicate content, keyword stuffing, and other tasks essential for effective search engine optimization that could hinder your website's visibility.
Grow Flow
Grow Flow is Surfer's AI Growth Management platform providing customized suggestions to help you make the most of your SEO activities by enhancing your content, keywords, and internal links.
It provides easy and automated tasks to help you grow and optimize your domains.
A Grow Flow slot costs $9, and you can purchase multiple slots if you have multiple high-impression domains. If you are on a Max plan, you get one free slot.
To connect your domain to Grow Flow:
Your domain must generate at least 100 impressions per day,
a Google Search Console with the domain connected as a property
The Google Search Console must also be integrated with your Surfer account.
Content Planner
Surfer SEO is a content strategy tool that assists in creating a content plan and predicting potential organic traffic growth within specific topic clusters. You can find out what content resonates with your target audience and use the insights to create a more effective content strategy.
This feature helps you plan and organize your content creation process by providing detailed analytics on topics, keywords, and traffic. The Surfer content planner enables you to effortlessly identify keywords according to search intent. Then, you can produce SEO-friendly content that supports your pages and includes internal links to increase your search engine ranking.
Surfer SEO is a well-rounded tool with a wide range of user-friendly features. You could use the platform during every step of the content creation process. Even if you only use a few of the features for specific optimization tasks, you could still gain enough value from the program to make it well worth the price of purchase. Ultimately, Surfer SEO makes it easier to produce high-quality content that appears on the first page of Google, and that should be every content creator's dream.
Surfer SEO's Main Strengths
Surfer SEO has strengths and weaknesses like any tool or product on the market. Luckily for users, the platform's benefits far outweigh its disadvantages. With so much in its favor, it's no wonder Surfer has become one of the biggest names in search engine optimization.
Ease of Use
Some tools provide excellent information but are a nightmare to use. Others are simple to navigate but offer little substance. Surfer SEO avoids these pitfalls, combining super-useful data with a clean, user-friendly interface. The platform's tools and features highlight the essential information, allowing relative SEO novices to understand what's vital for optimizing their pages.
Assistance With Structuring Content
Optimizing content is about a lot more than keyword frequency. To optimize a page, you must consider the entire content layout carefully, considering details like headers, images, and meta descriptions. Surfer SEO's in-depth audits address these issues directly, making it easier for users to overhaul their content comprehensively.
In-Depth Analysis
Surfer SEO manages to provide detailed analysis without overwhelming users. The platform accounts for over 500 ranking factors when analyzing content for a target keyword. Google's algorithms are obscure and intricate, so creators need a tool matching this inherent complexity. Most users find that surfer SEO meets the bill.
Seamless Integration With Other SEO Tools
One of the best features of Surfer is that it seamlessly integrates with other SEO tools, such as Surfer API, Google Docs, Jasper, SEMRush, and WordPress. This integration makes it easier for you to do keyword research, competitor analysis, SERP analysis, and more. This allows for seamless integration and better optimization.
Where Surfer SEO Falls Short
Surfer SEO is a highly touted platform, and rightly so. The features are helpful, and the user interface makes understanding them a breeze. All the same, no product is perfect, not even a tool as popular as Surfer SEO. In a few minor areas, users agree that the platform could improve.
Potentially Meaningless Data
Surfer offers users a wide variety of information, but some data might not be helpful. SEO experts question whether suggestions related to the amount of bolded text or the number of headers are helpful. Users must sometimes fall back on their knowledge before deciding whether to act on a suggestion.
Keyword Difficulty
Another downside of the Surfer tool is that keyword difficulty score functionality is unavailable. Surfer has a powerful keyword research functionality, but it may not be as reliable as Ahrefs or Semrush because it doesn't provide a keyword difficulty score.
Because of this, you won't decide which keyword to go for and which you should avoid. This could be a problem if you are targeting competitive keywords because it's challenging to know which would be more effective.
Limited to Google
Surfer SEO only works for analyzing how content ranks on Google. While Google is unquestionably the main focus in most search engine optimization, you might want to rank on other sites like Youtube and Bing. You'll need an additional SEO tool to analyze your content's performance on these platforms.
No Free Trial
Surfer used to provide a free trial option; however, it is no longer available.
Pricing for Surfer SEO
Surfer SEO offers six pricing plans: LITE, Essential, Advanced, Max, and Enterprise. Customers who choose an annual plan can get a 20% discount compared to those who pay monthly.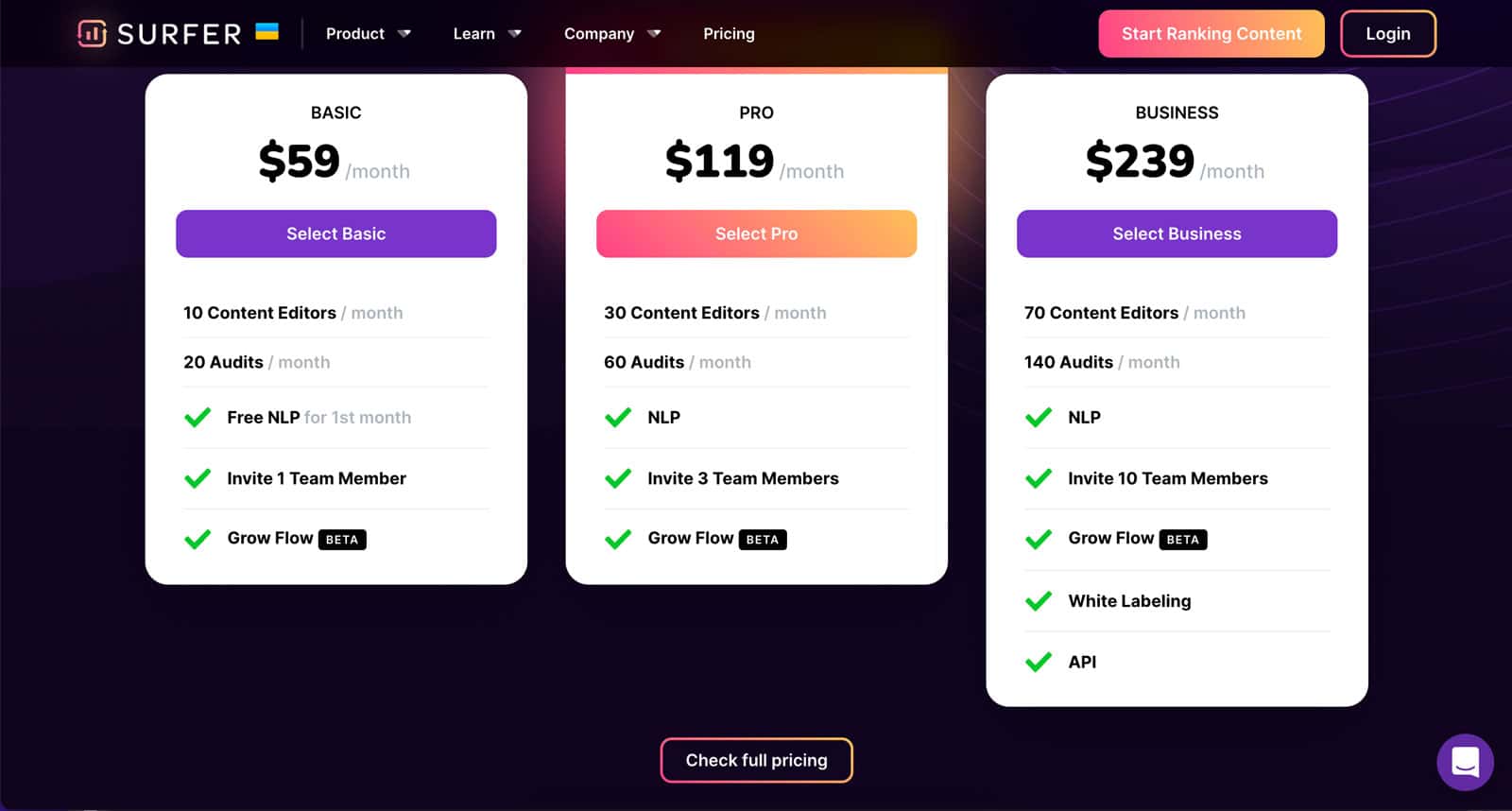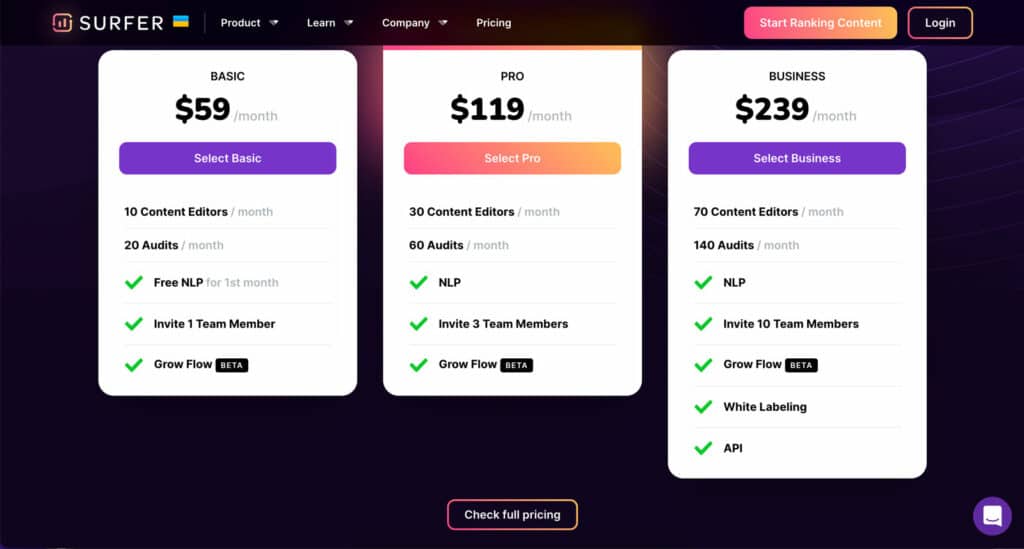 Below are all the costs we have provided:
Surfer SEO Monthly Pricing Plans
LITE: $29/month
Essential: $89/month
Advanced: $179/month
Max: $299/month
Enterprise: Custom/month
Yearly Billing
LITE: $19/month
Essential: $69/month
Advanced: $149/month
Max: $249/month
Enterprise: Custom/month
Ultimately, most users find this pricing scheme fair for the depth and breadth of the service provided. The pricing plans of Surfer are flexible and affordable compared to other on-page SEO tools such as Frase and Clearscope. Surfer SEO is a good investment if you are serious about improving your SEO.
The Verdict: Surfer SEO Can Help Your Pages Rank
Overall, Surfer SEO is the best SEO tool to use when analyzing and optimizing your website. Its keyword research, content editor, competitor analysis, and SERP analysis functions are top-notch and easy to use. Thanks to its workflow-based methodology and copywriting feature, you can easily integrate it into your current SEO strategy.
Plus, the fact that it integrates with other SEO tools makes it even more powerful and efficient. So, if you want to optimize your website for maximum visibility and higher rankings, Surfer SEO is an excellent option. We highly recommend you try it and see what results you can get!
SEO North is the perfect partner to help you get the most out of optimizing your content. As a true SEO expert, we have experience optimizing websites and helping them rank higher in search engine results pages (SERPs), so you can be sure your website is optimized correctly. With our help, you can see improved rankings and greater organic traffic in no time! Contact us today to get started.
FAQ
What is a Surfer SEO?

How much does Surfer SEO cost?

What features does Surfer SEO provide?

Can Surfer SEO help improve my website's rankings?
---
Published on: 2022-05-10
Updated on: 2023-10-31