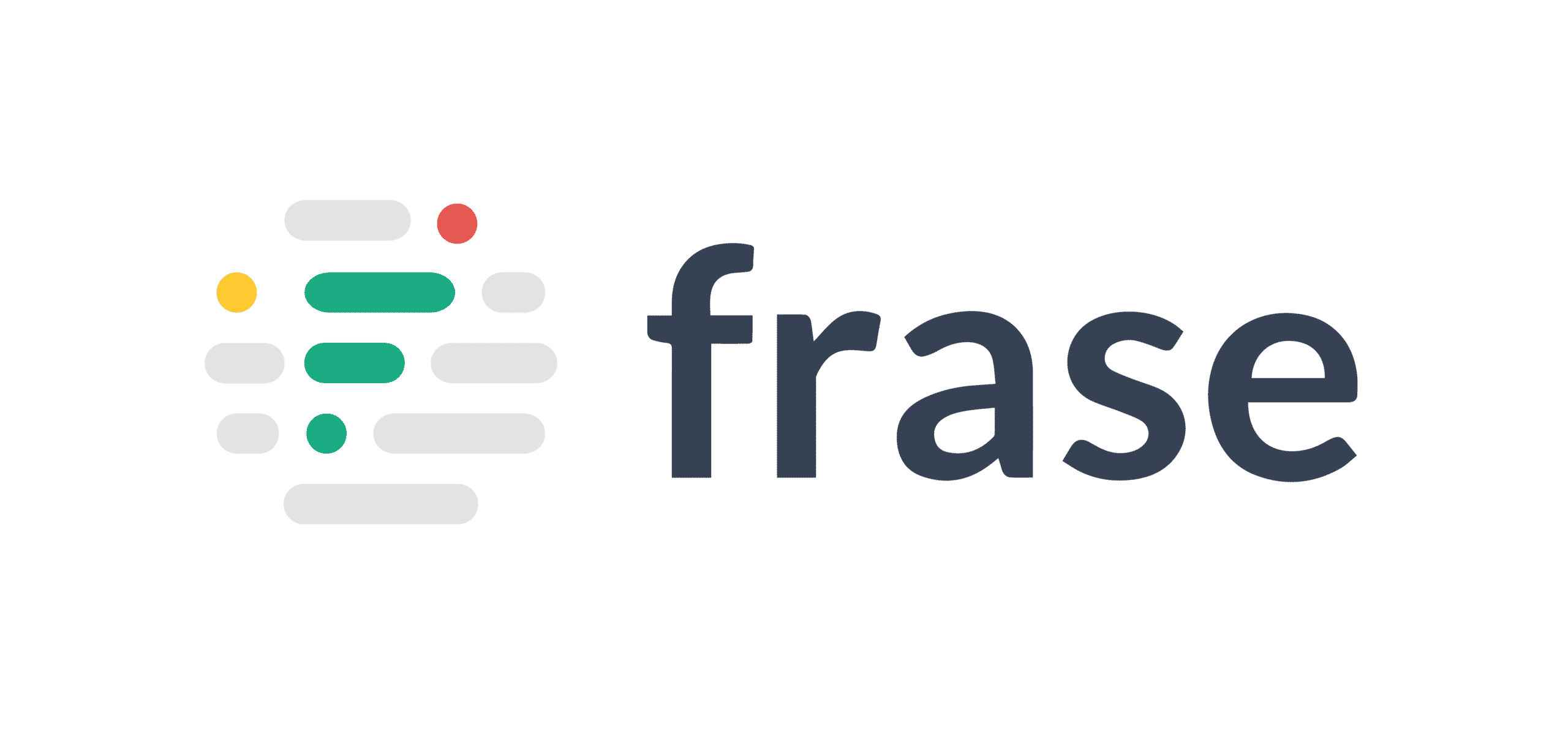 Fraise.io (or Frase) is a marketing tool that uses natural language processing (NLP) and artificial intelligence (AI) to generate content briefs for given keywords.
For example, if you're writing an article, Frase scrapes Google's top 20 search results and almost instantly generates a content brief with the best topics to address.
To identify missing terms or topic gaps, Frase will benchmark your content against these websites. This Frase SEO tool review will dive deep into the platform's core features, pricing, and pros and cons.
Pros and Cons
Let's take a quick glance at Frase's pros and cons.
Pros
Easy to use with excellent user experience and UI
Saves users lots of time researching and generating content briefs
AI chatbot engages potential customers and can convert them
Great SEO optimization features comparable to its competition
Responsive customer service
Plenty of growth potential
New features are regularly added to the tool
Cons
Documentation needs improvement
A basic plan could get expensive for some users
Key Features
Frase has several time-saving resources built right into its dashboard. As a result, the versatile tool can easily overwhelm new users. Here's a breakdown of the platform's three most helpful features for creating content.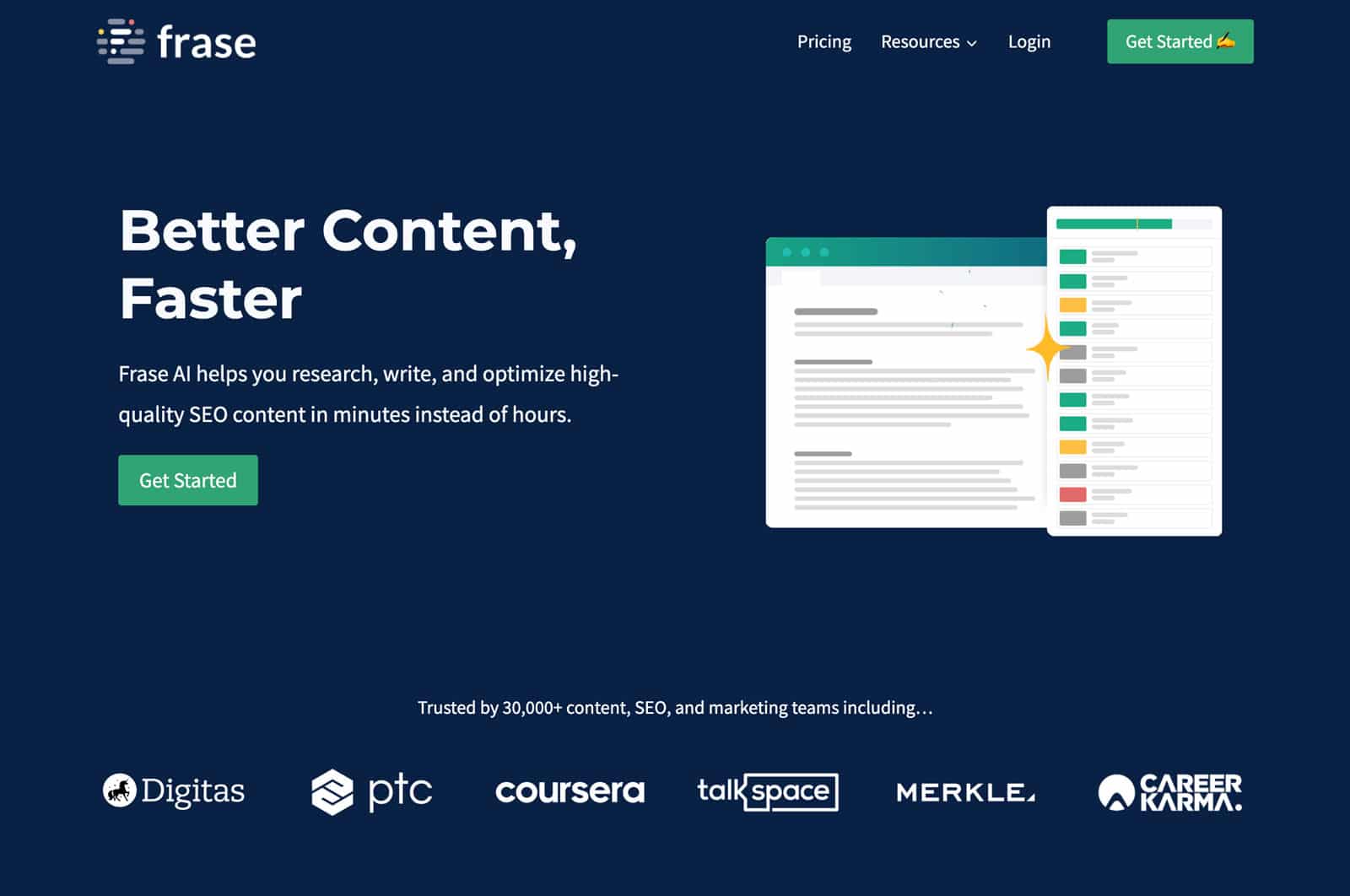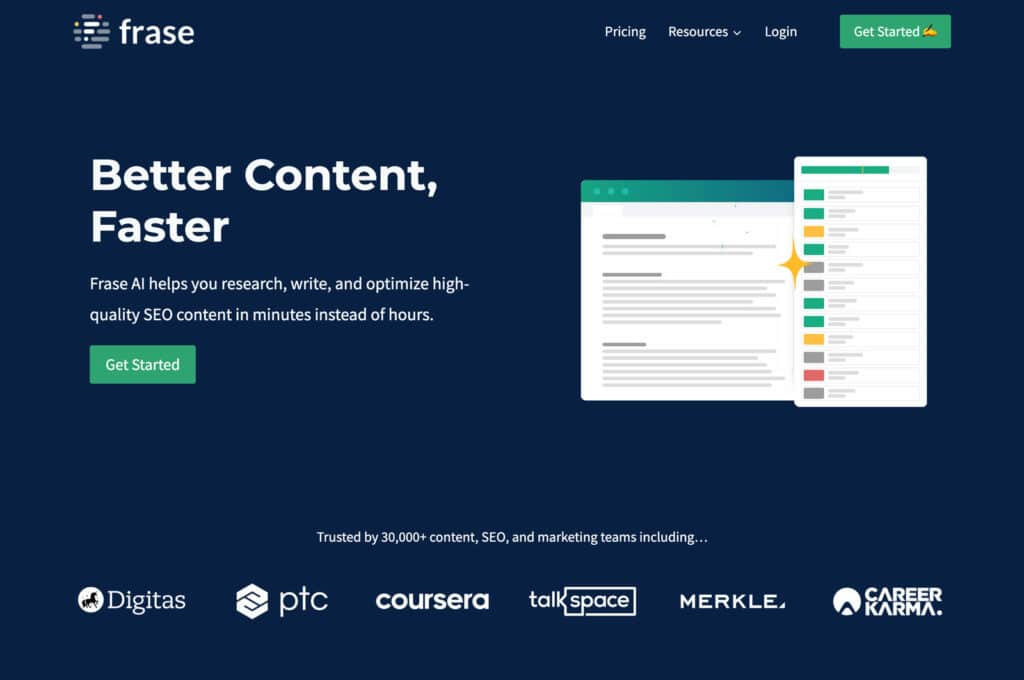 Topic Research
Any content marketer knows how long it takes to research their target audience and puzzle out the most relevant questions.
First, you look up a keyword on a website, analyze the results, and figure out the most popular questions based on your findings. Then you'd have to gather them up in a document for future reference.
Of course, that's just one platform; you have to repeat this repeatedly on other websites. Moreover, this process doesn't even account for analyzing Google search results, which involves an additional wealth of information.
Frase's Question Research allows you to eliminate this tedious task from your responsibilities; it crawls all of the websites your customers ask questions, such as Quora and Reddit, saving you hours of time and energy on content research.
After entering your keyword, Frase will return a list of questions extracted from sites like Search Autocomplete and People Also Ask, putting it together with keyword data and the source. Finally, you can pick the most valuable questions and store them in a new document.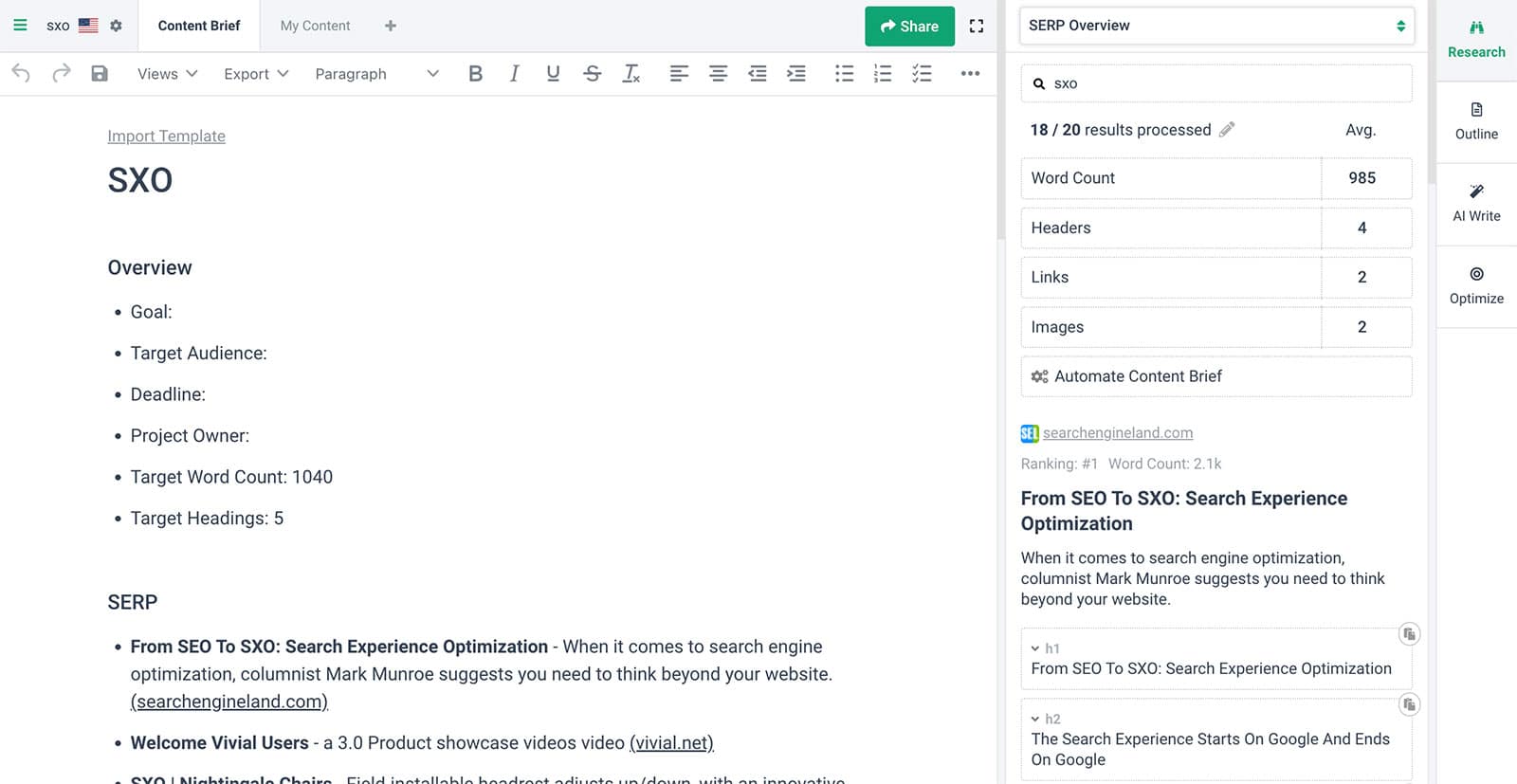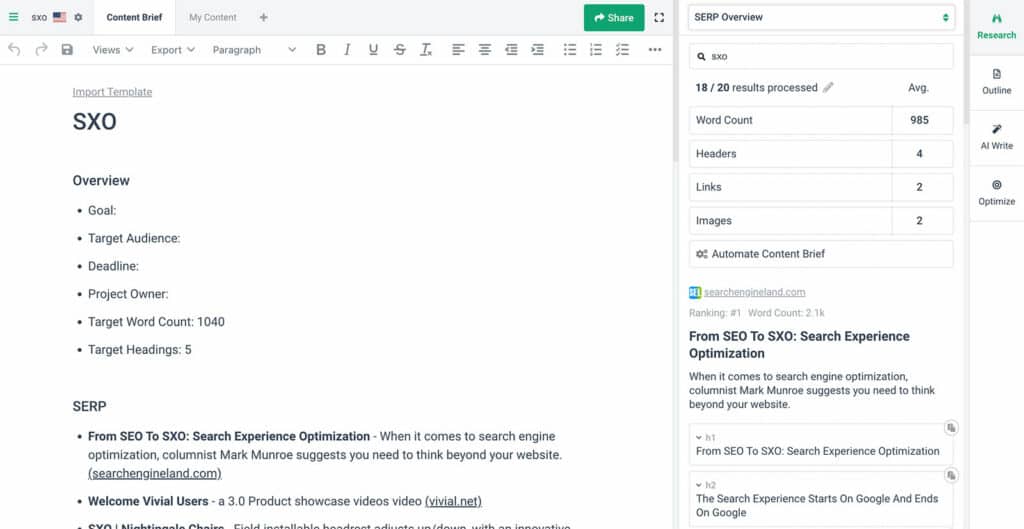 AI-Generated Content Briefs
One of the biggest reasons content marketers don't work with a brief is that they don't know how to make one.
Frase can fill in this knowledge gap by automatically generating content briefs based on search queries. In just 12 seconds, the tool creates a comprehensive content brief with valuable details like keyword count, headings, and relevant subsections.
Having this additional information makes it considerably easier to analyze competitors' posts; after all, you'll have near-instant access to valuable data points without leaving the website.
Answer Engine
If your goals are to lead users through an answer funnel or target users with specific content, Frase's Answer Engine will serve as a powerful tool for your needs.
This feature crawls your website thoroughly, from the landing site to every blog page, building an intelligent knowledge base in a matter of minutes. Whenever a web user asks a question, Frase's AI assistant can deliver answers 24/7.
Frase's custom call-to-actions can help you drive targeted traffic to your blog and follow up with relevant blog posts.
In addition, Frase will also automatically recrawl your site weekly; this feature ensures your answers are never out of date.
Finally, you can analyze user intent data to optimize your knowledge assistant. Every question asked shows essential data, including click-through rates, geolocation, and ratings; this crucial information will help you identify what doesn't work and improve your content.
Frase Pricing
If you're unsure whether Frase is the tool you need for content marketing, you can try it out for free.
The free trial includes:
Keep in mind that optimizing an existing article counts as a document.
Unlimited question research
One crawl through Google Search Console
One 30-day Answer Engine test
Five documents
Frase.io isn't a cheap tool. However, it's one of the most economical choices compared to its competitors.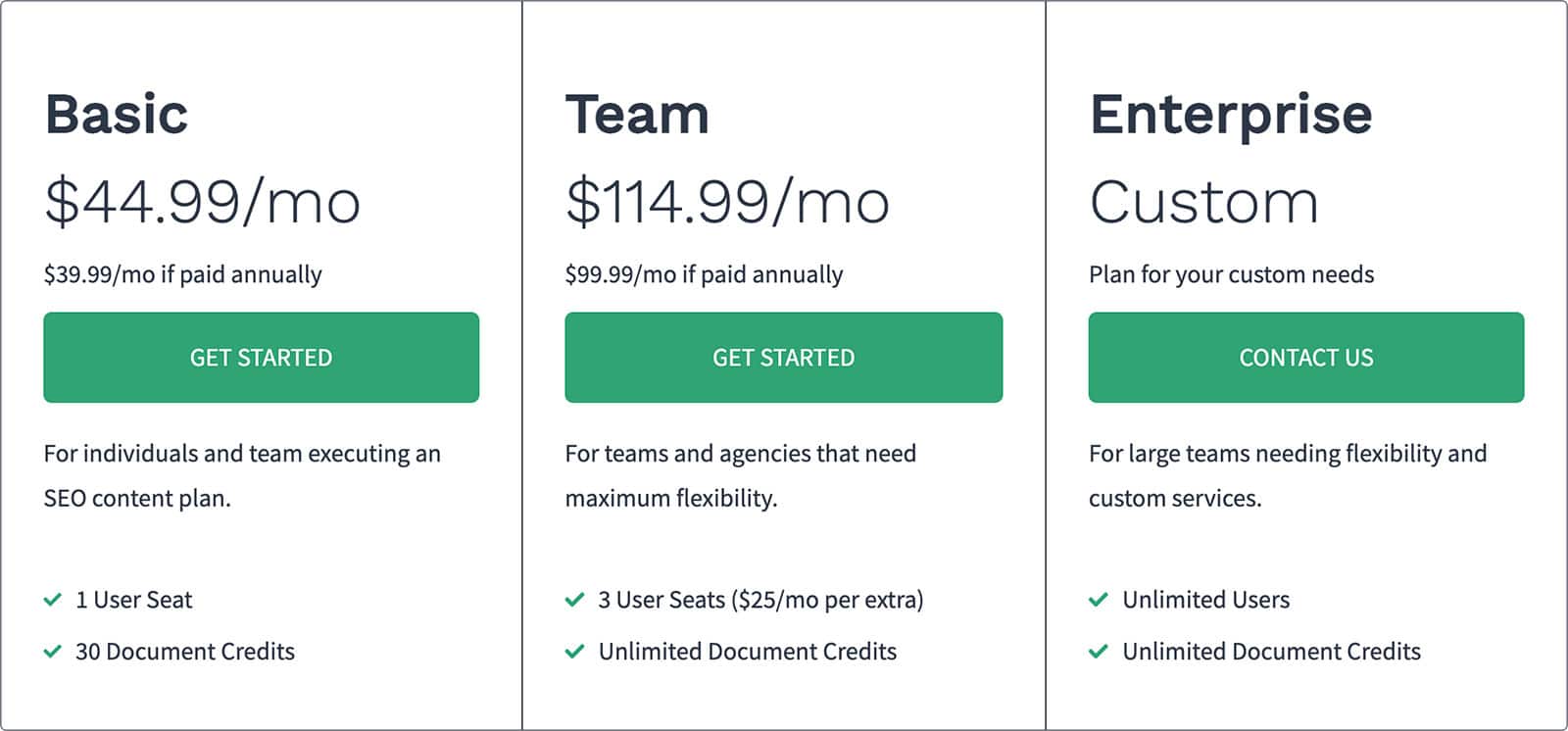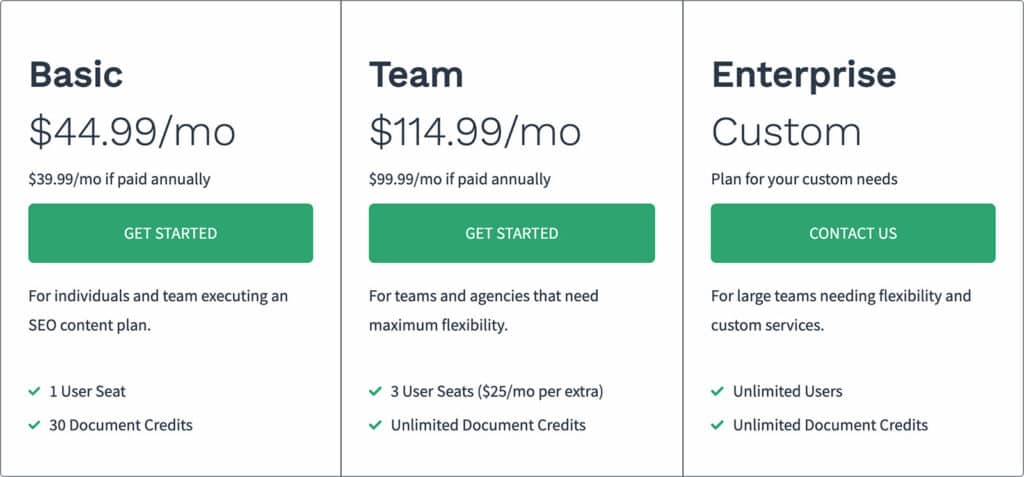 Basic
The basic plan is $44.99 per month, or $39.99 a month paid annually.
This entry-level plan includes 30 document credits and one user seat. A document credit is worth a single document, and you can create detailed content briefs within each document. Then you can use these briefs to write a high-quality article based on the tool's content score. You can share your 30 documents as often as you want.
Finally, you'll also gain limited access to the AI writing assistant.
Team
Teams that require more flexibility in their campaigns can upgrade to the team pricing tier for $114.99 a month, or $99.99 a month paid annually. This plan includes three user seats at the base level, and each user gets unlimited documents; you can purchase more user seats at an additional $25 per month if needed.
The team tier also comes with Frase's Google Drive integration.
Enterprise
The largest businesses that demand maximum flexibility should invest in the enterprise tier; this plan does not have a fixed price, tailored instead to the company's specific needs. However, every enterprise plan includes unlimited user seats, documents, and access to the AI writing assistant.
Likewise, Frase Answer is based on personal needs, but you can register for a free demo.
Reasons to Use Frase
There are several reasons to use a powerful tool like Frase in your content marketing campaigns. These benefits include:
Saving time: You don't need to spend hours looking up information about topics before you can start writing an article. Instead, type a few relevant keywords and let the tool expedite the process for you.
Generate better results: When you're not sure what keywords will optimize your website, use Frase's keyword research tools to glean some useful data for answering that question. All you need to get started is a root topic, and Frase will work hard to determine the best subtopics for you to target with your content.
Make your content better: When it comes to creating engaging content, you need more than someone who can write well; you also need useful data, and Frase will provide both with its AI writing and research tools.
Get more conversions: Since Frase takes care of the heavy lifting, you will have more time to focus on the important jobs, including creating copy and converting relationships.
No matter how you use it, Frase is a valuable set of tools. But is it the best on the market?
How Frase Compares to Other Tools
Although there is no genuine alternative to Frase, other excellent solutions have similar functionality.
Frase vs. Clearscope
These two tools are very similar; if you have an unlimited budget, using both to their respective strengths will serve you the most in the long run. But you can likely get sufficient value within one tool; pick according to the features and data that will help you meet your content marketing goals.
Both tools take a seed topic or keyword and generate practical guidance, using entity processing to suggest relevant keywords to put in your content. However, Clearscope's entity processing results in more relevant output; what you get with Frase when you process the keyword could change in dynamic industries.
In this comparison, Clearscope is the better tool for optimizing on-page SEO and suggesting valuable keywords to rank higher on search engine results pages; it offers more efficient keywords for developing content that your target audience wants. Likewise, Clearscope is more beneficial for information on relevant ranking keywords.
Still, both tools help develop an outline for your content. You can use either tool to analyze the top search results to generate a system and suggest structure and questions to answer.
In this comparison, Frase is the better tool for generating more comprehensive content briefs.
Regardless of your goals, using a tool like Frase or Clearscope is a valuable shortcut for delegating ideation to teammates.
Frase vs. Jarvis.ai
Jasper AI is not specifically an SEO tool; it's one of the most powerful copywriting software. Frase's AI writing assistant is getting better every day, but it still has some catching up to do compared to Jasper. Currently, Frase's AI writer is better used for using the right keywords.
Comparing the metrics makes it clear that Jasper AI is better for writing content. Like with Clearscope, it can benefit you to buy both tools, but if your responsibilities exclusively fall under SEO writing, Frase may be sufficient on its own.
Conclusion
Is Frase worth it?
From content idea generation to AI-powered research and writing, there's no part of SEO writing that this tool can't touch. If your goal is to sell a product or service, having first-page rankings will certainly increase your authority and lead to more sales; Frase is the technology that can help you achieve that goal in the shortest amount of time.
---
Published on: 2022-05-12
Updated on: 2023-03-14