When it comes to enhancing SEO, Clearscope.io is a true standout of SEO tools for content teams, content writers, and digital marketers.


Clearscope, which debuted in 2016, is a division of Mushi Labs, a San Francisco-based SEO (search engine optimization) consulting firm. Mushi Labs was founded in 2014.
Clearscope takes advantage of language comprehension software from IBM's Watson, a portfolio of cutting-edge artificial intelligence programs. These AI tools let Clearscope analyze top-performing online content, make observations, and turn those findings into specific pieces of advice for users.
Before this program existed, people had to analyze internet articles to get new SEO ideas.
Let's look at some features that make Clearscope a clear leader in SEO improvement.
It's Easy to Use
For all of its depth and complexity, Clearscope is simple to navigate. You log in, look at your dashboard, and choose the task you'd like to complete.
For instance, you might want to obtain a report on a keyword that's important to your brand. All you'd have to do is type in that keyword and click "Run Report." The program usually takes only a few minutes to deliver a detailed information package.


These reports are straightforward and full of useful statistics. For example, such a document will tell you how many online searches per month your keyword is averaging and the cost per click for ads featuring it.
Clearscope also has a keyword research tool that helps with keyword ideas and search volume to help with content creation ideas.
Optimize Is Optimal
These days, Clearscope is primarily known for its Optimize feature. Optimize will review your SEO content and look for phrase-based keywords. It'll also evaluate how relevant your content is to the topic you're addressing.
To utilize this feature, you'd go to the Optimize page and paste your text. Alternatively, you could type new content here, and the program will automatically save your work as you write.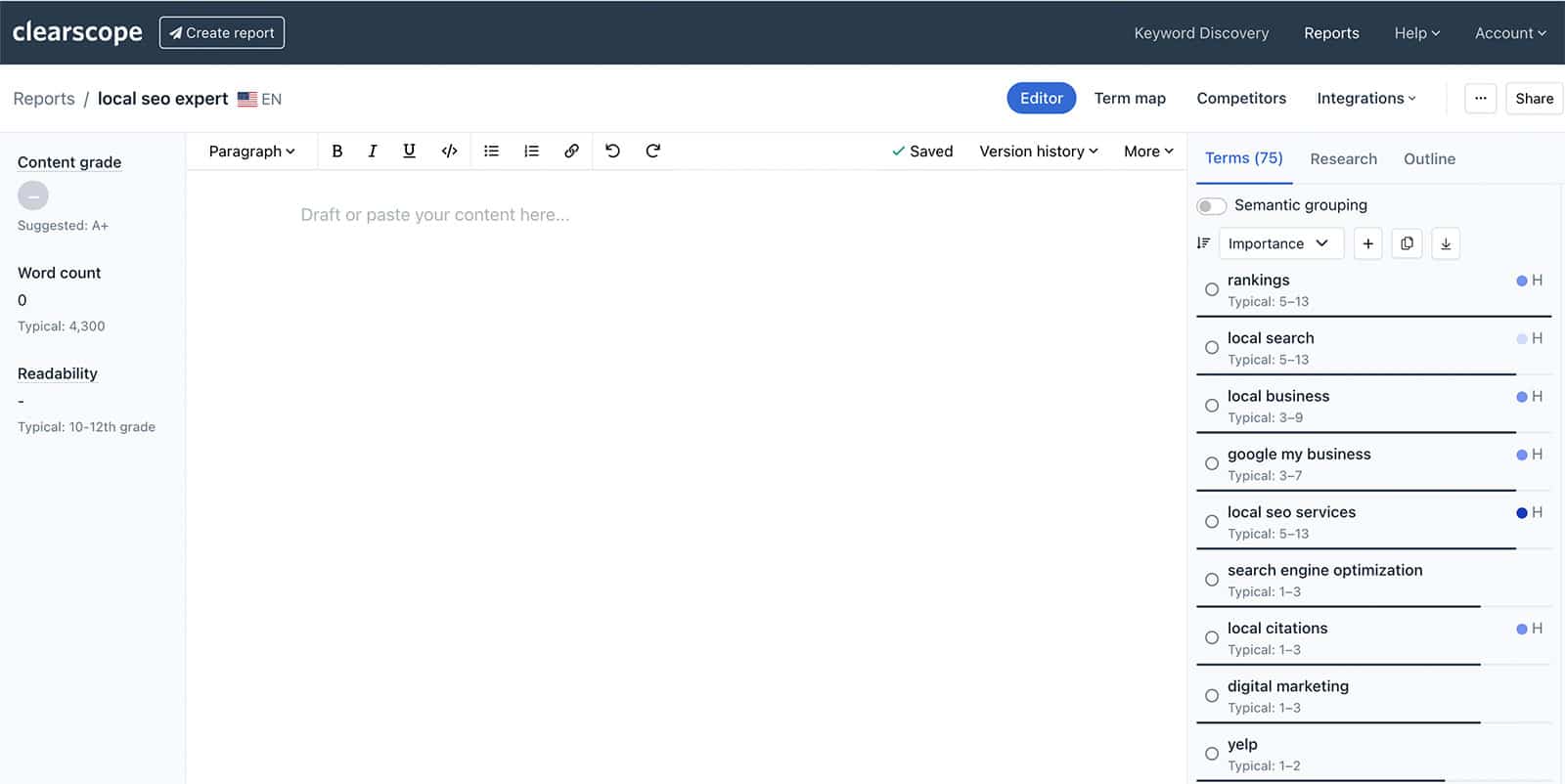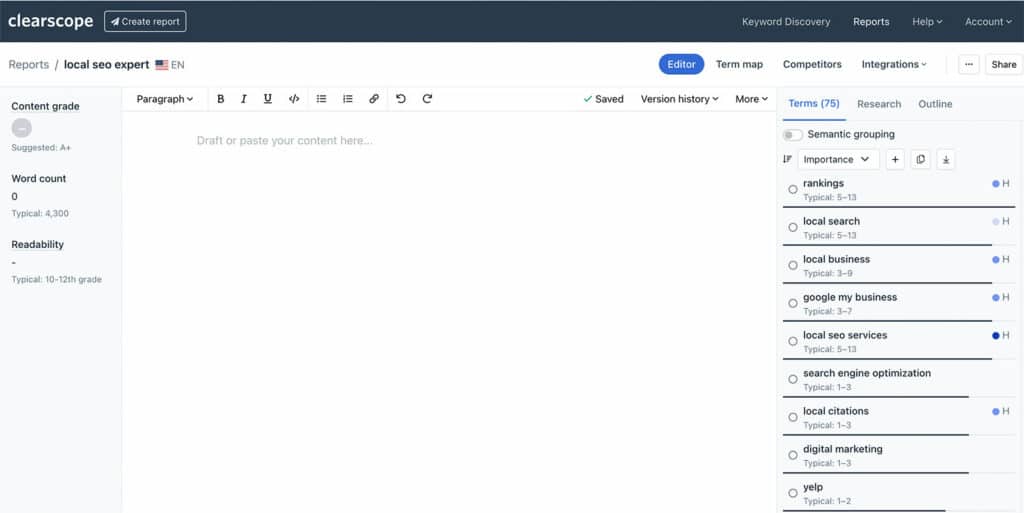 After you submit your content, Clearscope will list the top 30 search engine result pages (SERPs) with your keyword.
Plus, the program will supply you with phrase-based keyword suggestions. You can boost your search engine standing by incorporating some or all of the recommended phrase-based keywords. (Of course, you'll have to add those new keywords smoothly in ways that sound natural.)
On top of that, Clearscope can provide you with a list of relevant terms. Relevant terms are other words and phrases frequently appearing on your keyword's highest-ranking pages. The program can also tell you how many times each relevant term appears on each page.
Once again, by adding relevant terms to your text, your article could appear higher on search engine results pages.
Making the Grade
Once Clearscope's Optimize has reviewed your text, it will grade the quality of your SEO content. The grades range from F- to A+ for your content reports. Yes, this program might make you feel like you're back in school, but those letter grades can be highly effective.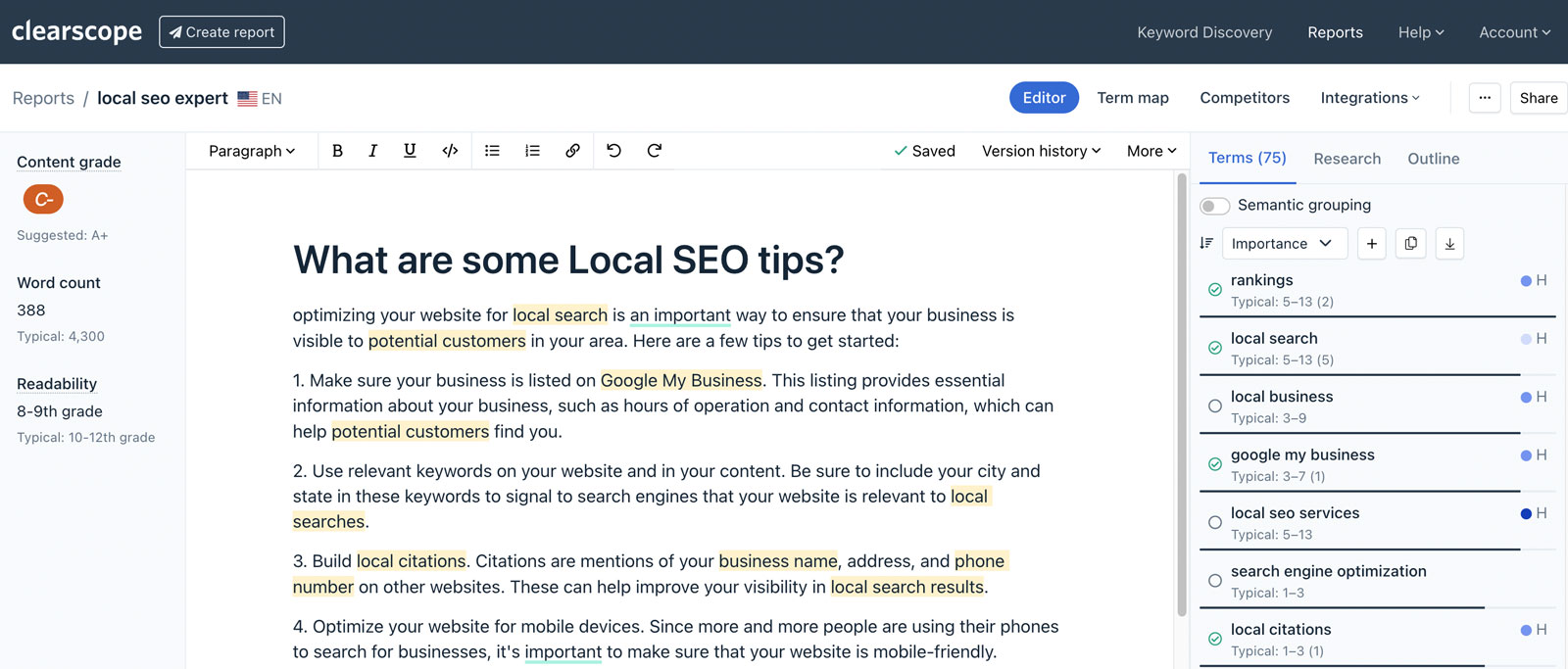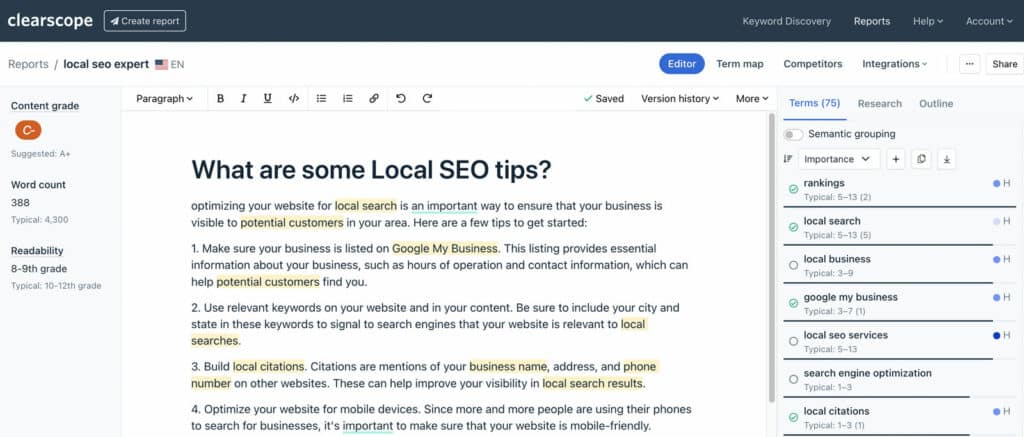 Your content grade indicates how well your content compares to the internet's top content for your keyword. For example, how many words, on average, do those top articles contain? If your word count is similar to that average, it should improve your SEO.
However, if your text has 3,000 words and the top pages have an average of 500 words, that discrepancy will likely lower your score.
The comprehensiveness of your text, about your top competitors' comprehensiveness, can also affect your grade. The same is true of your article's readability level, to which Optimize assigns a Flesch-Kincaid score.
Imagine that your keyword's highest performers have a fifth-grade reading level on average, but your text has a 12th-grade level. In that case, you'd probably want to simplify your writing quite a bit. You could make the vocabulary easier, and you could shorten those sentences.
Clearscope can also let you know how often your keyword appears in the headers of top pages. And placing keywords in headers is a great idea. That's because Google attaches more importance to headers than to paragraphs.
Judging Your Competitors
Not only will Clearscope grade your work but also grade all 30 of the top pages. And you can view those grades in the Competitors section. Once you know how your competition is faring, you can strengthen your work accordingly.


The highest-ranking pages might not employ first-rate SEO practices if your keyword is obscure. Thus, many of your competitors' pages might rate well below A+; some could have D's metrics or worse. You'd have a great chance of outranking them in such a case.
By contrast, if your keywords are popular, your competitors probably earn A's and A+'s. After all, they'd need excellent SEO strategies to outpace so many other pages.
Two Ways to Use Clearscope
There are two effective ways to work with Clearscope.
One way is to turn to this program before posting an article online. Before you go on Clearscope, you'd research and plan your article, write it out, review it with your team, and revise it as necessary.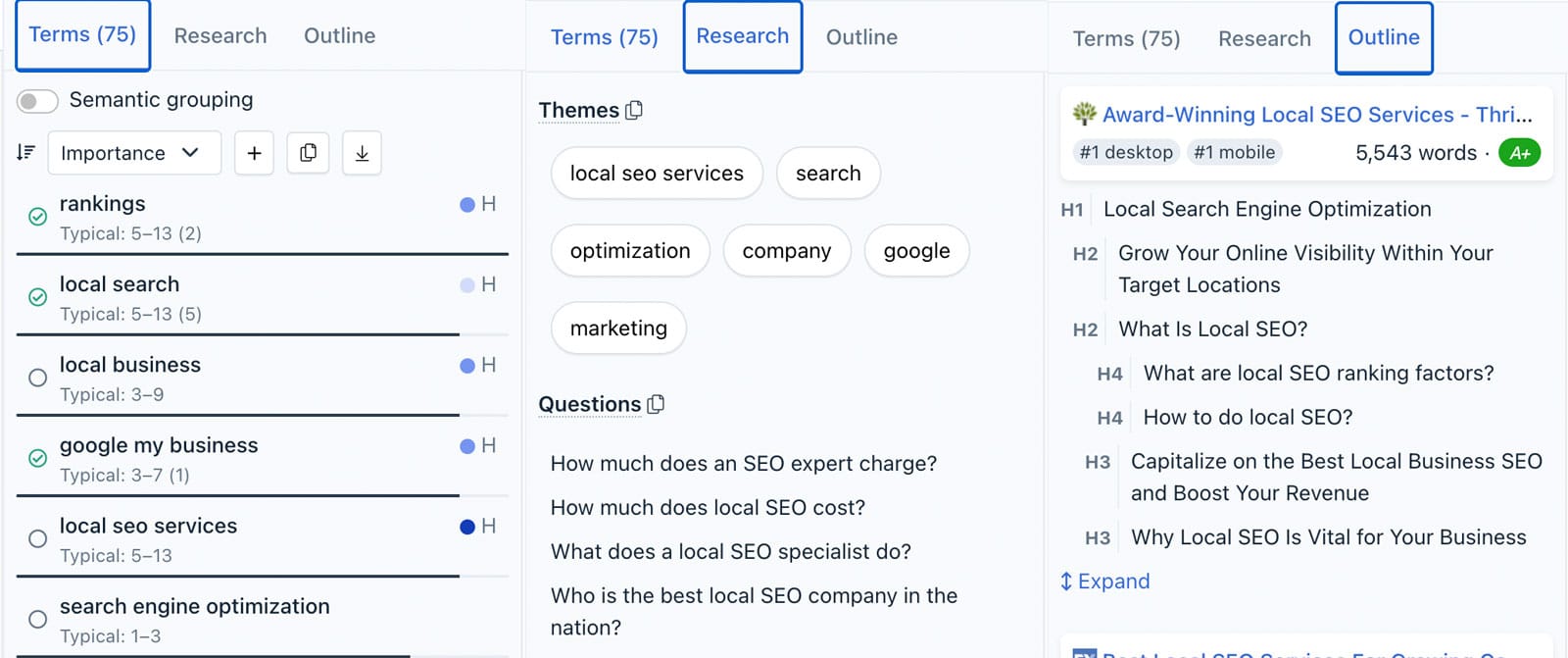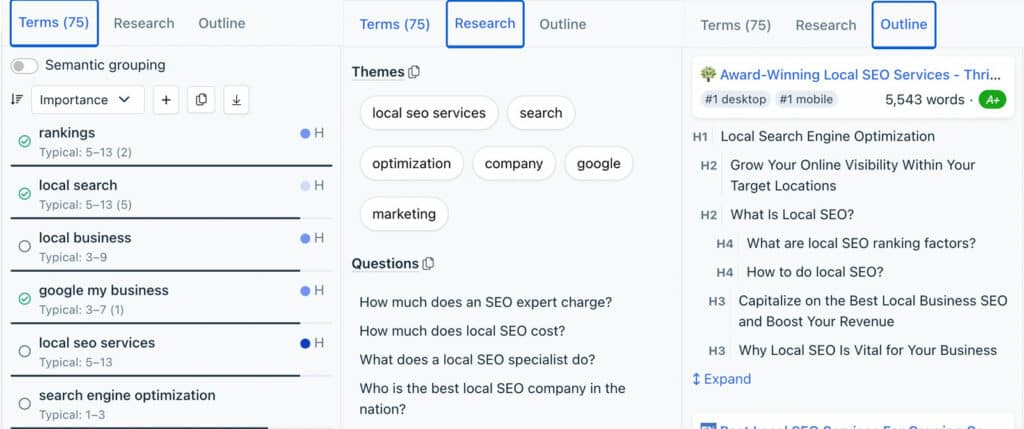 Then, once you're finished with all those steps, you could use Clearscope for final touchups. For example, you might sprinkle in some relevant terms that it suggests. Or maybe you'd rewrite your headers. With those alterations, you could have extra confidence in your SEO prowess.
Clearscope has a WordPress Plugin and Google Docs integration.
The second major Clearscope strategy relies on its advice from the beginning.
When you write an article, you must break it down into sections; each section has its header. But how do you know which sections will be the most helpful to your readers — not to mention the most attractive to search engines?
One technique is to guess. But wrong guesses could sink your search engine results. A more fruitful method would be to use Clearscope's recommended headings as your subtopics. By doing so, you'd be addressing the public's most pressing questions about your topic.
Alternatives
Marketmuse
Frase (great alternative for affordable content briefs)
Ahrefs (keyword search)
SEMrush (content optimization tool)
Surfer SEO (SEO writing & backlink tool)
A Final Verdict
Clearscope can be a valuable tool for many different kinds of businesses. It can boost your search engine results — or, at the very least, boost your odds of improving your search engine results. Moreover, it can increase your organic traffic, your number of conversions, and your revenue.
In addition to everything else, Clearscope offers a handy customer support section. It lets you submit a question via a brief form and receive a personalized answer within hours.
If you're trying to decide whether or not to sign up with this program, keep in mind that Clearscope's monthly cost is comparatively high. Thus, if SEO isn't crucial to your brand or your marketing budget is small, you should probably rely on less advanced, more economical tools.
However, if your business has a large marketing budget or depends on online marketing significantly, Clearscope is almost certainly worth the price.
Indeed, when used efficiently, Clearscope's return on investment tends to be high. This program may pay for itself many times over. Furthermore, you can cancel it whenever you want since you always pay monthly.
In the end, Clearscope is an excellent tool for keyword research, outlining articles, and content marketing. It's one of the best such programs currently available. While its price may be a drawback for some companies, especially smaller ones, this program's simplicity, navigability, precision, accuracy, and overall usefulness turn many casual users into loyal customers.
FAQs
Is Clearscope worth it?

How does Clearscope work?

What is a Clearscope content grade?
---
Published on: 2022-07-29
Updated on: 2023-03-14