Search Engine Optimization (SEO) isn't luck; it's a calculated process to help pages rank higher in search. In building out websites and web pages, you want to hone that skill and repeat the work methods. Below, in order of importance, are the techniques you need to apply to your page builds.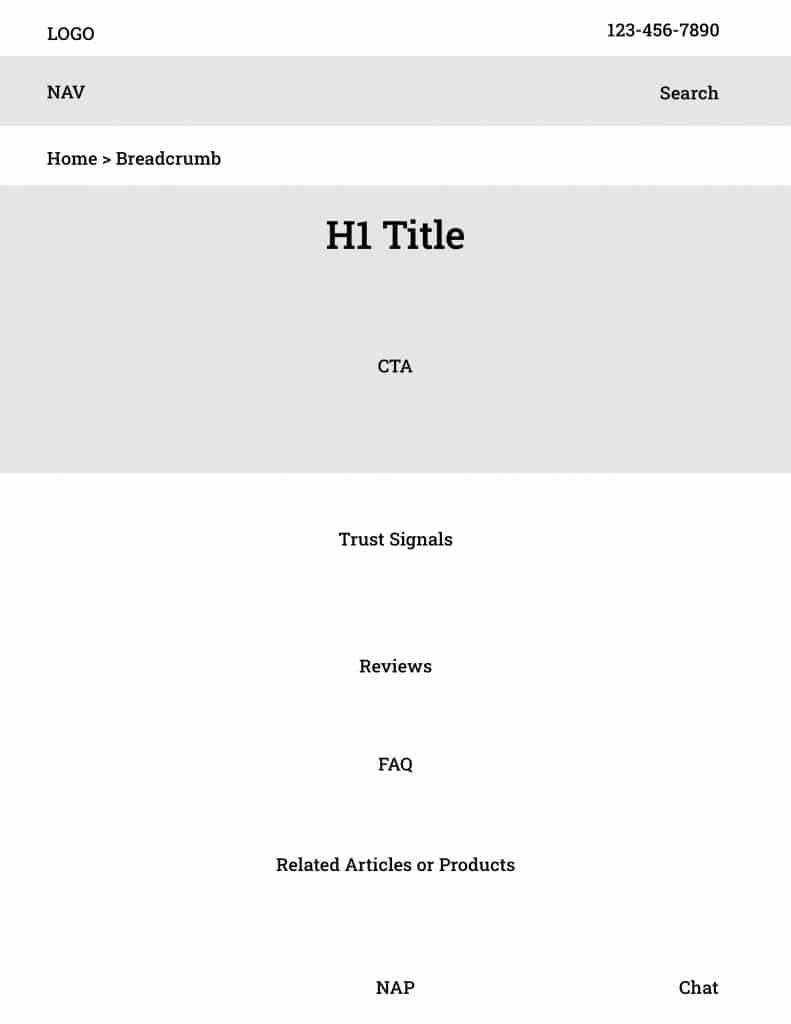 1. Clear Call-To-Action
Why are you writing and publishing a page? What is the purpose of your website? These are vital questions you need to ask yourself and remind yourself as you market a website. Every page should have a clearly defined purpose and a way for people to take action.
2. Trust Signals
All you have done is build a website, something anyone can easily do these days. What makes a user trust you? Are you certified? Do you have an organization to vouch for you (e.g., Visa, Google)? What work have you done in the past? Does it show Expertise? Can a user Trust you won't disappear or do a half-ass job after you get paid?
3. Customer Reviews
Customers are the lifeblood of any business and can help you make or break your company. They give feedback on products, share their thoughts with others in social media channels like Facebook Customer Reviews where they leave positive comments about what makes a product good enough to buy again.
4. Internal links
It is vital you add internal links to your article to distribute PageRank. This will signal to Google that this page is valuable and should be crawled and indexed because it has valuable information.
5. HTTPS/SSL
Another trust signal is that you have an SSL certificate installed and maintained. An SSL shows you are keeping your website maintained and updated, plus that you care about users' data.
6. Breadcrumbs
Ensure your website is easy to navigate. If a user has a difficult time finding pages, the trust signals will lower. Ask someone unfamiliar with the website to locate a web page; you know you have something to fix if they have difficulty.
7. Video Explainers
Primary schools use Show and Tell in class because it works. Videos show how you are going to accomplish your service or how great your product is. When someone sees an explainer video, it transfers Authority to the presenter.
8. Search options
Allow users to search for content on your website. Don't constrict; you want users to show you want people are looking for instead of telling them what is popular. User data is invaluable to businesses looking to grow their market share.
9. Schema for Structured Data
Search engines do not read your page; they interpret the words on the page. Sometimes they get it wrong; sometimes, the page doesn't offer enough information for them to analyze. That is why it is essential to talk a crawler bots language. Schema is what bridges the language barrier.
10. Questions & Answers
Allow users to ask questions; this is known as User-generated Content (UGC). These answers help other web users in picking your product or service. The internet runs off questions and answers, so it's crucial to incorporate that into your website. Websites are not a field of dreams; if you build them, they will not come.
11. Images
Like show and tell for videos, Images allow users to see what you are promoting or explaining. Authentic low-quality images are better than stock photos, but stock photos will be ok in a pinch. Take any startup as an example. Would you rather see pictures of the startup days when they worked out of a garage or highly edited over-produced corporate photos? Both are alright, but authenticity always wins. Remember to add Alt Tags to all images.
12. Name, Address Phone Number (NAP)
Another strong trust signal is having your Business Name, Address, the Phone number listed on the website. I like to check out the business address, so I know how far the products are being shipped and how difficult it would be to return the item.
13. Live chat
More and more people do not like using a phone (myself included). Live chat offers a quick way to connect to customers in real-time to find solutions to their queries.
14. Page title (title tag)
Use your primary keyword in the title to clarify intent, help users understand the page, and possibly rank higher in the SERPs (Search Engine Result Pages).
15. META description
Use meta descriptions as mini advertisements. This description should entice users to click on your search result. Look at Google Ads, top 3 Google search results for ideas if you need them.
16. Product description (eCommerce)
Product descriptions shouldn't be seen as a to-do; they are a must-do to succeed. These descriptions give you a 300-1500 word opportunity to outperform your competition.
17. Page URL
Keep the webpage URL short and sweet. Include the target keyword in the URL. If the page is under a parent/child structure, don't sound like an auctioneer, repeating the same word over and over again.
18. H1, H2s (Header tags)
Use the primary keyword in the H1 tag. Scan your website for repetitive H2 tags. I've seen many web developers wrap a sales bar/CTA in an H2 tag, which repeats across the website.
19. Test Social Media Sharing (Open Graph)
Open Graph Tags helps Facebook and Twitter share the proper image and text in a post. If the OG Tags are malformed, the image and text could be missing. This tag is essential when people share your URLs on social media.
20. Mobile Responsiveness
You need to ensure your website works properly on all devices. If the page doesn't respond as expected, you could push away users and miss vital sales.
21. Related Articles, Products, News
Engagement is vital; you want to keep users engaged and on your website. Sales leads are expensive to acquire, so do your best to keep them.
22. Core Web Vitals (Page speed)
No one likes a slow website, so make sure your website loads quickly and efficiently. You can test your site speed using Pagespeed Insights, Pingdom Tools, and GTmetrix. The Core Web Vitals (CWV) update isn't a huge factor, but it could affect your website in a competitive space.
FAQ
---
Published on: 2021-04-19
Updated on: 2022-05-22