SEO is more important than ever in today's market and can deliver a high ROI when performed appropriately. Here at SEO North, we have helped many addiction treatment facilities optimize their website for search engines. When treatment centers and facilities don't perform comprehensive SEO audits, potential customers won't see their website in relevant search results, causing significant losses in traffic and revenue.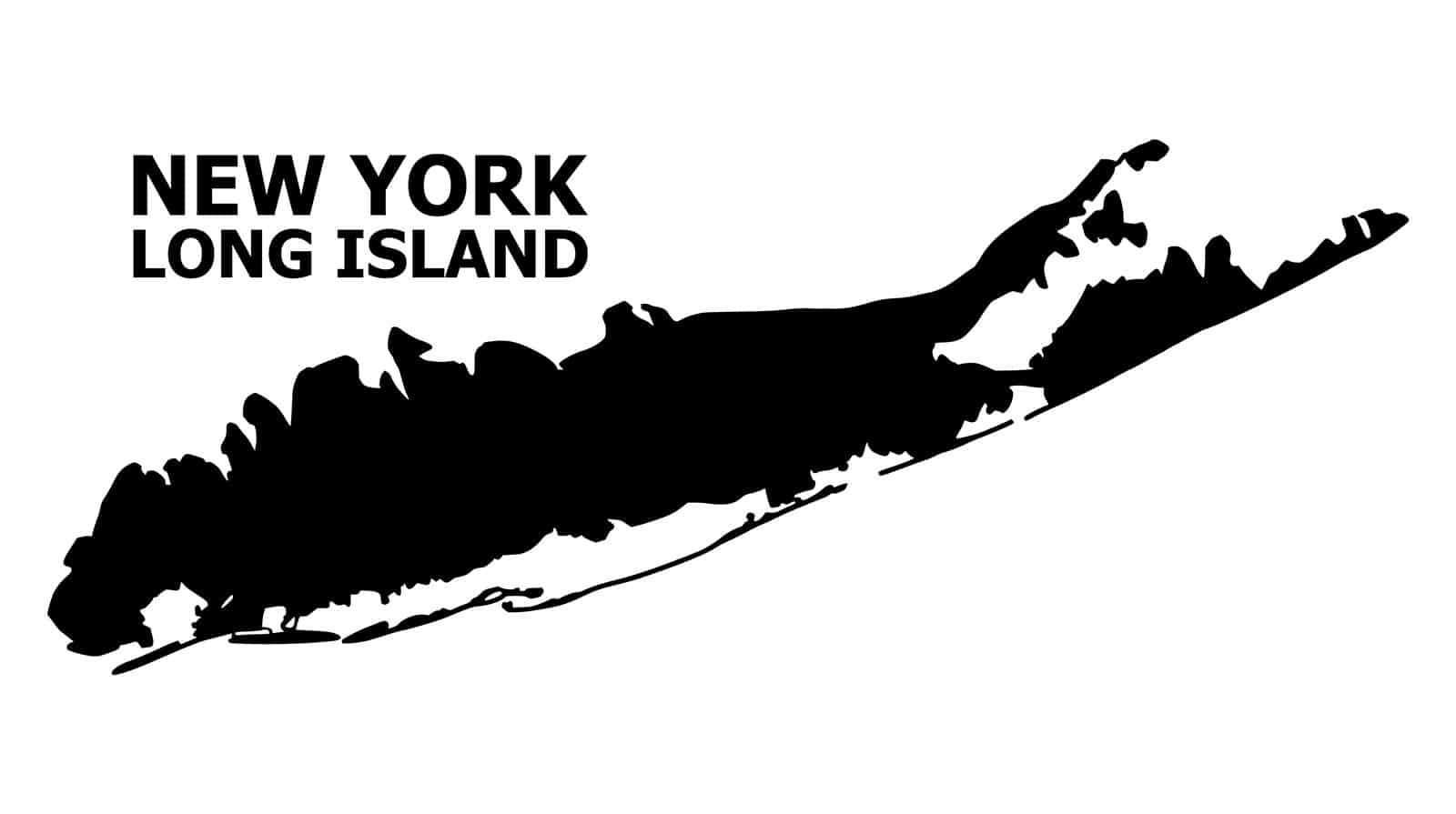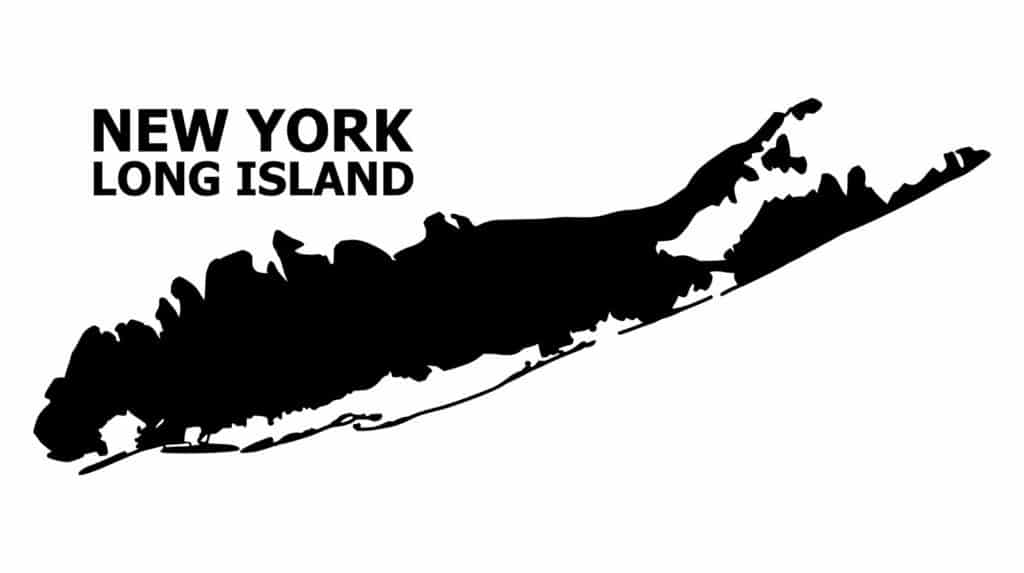 Our most recent campaign involves Drug Rehab on Long Island. Our goal was to implement SEO in a manner that helped the client bring in higher quality visitors and more traffic. The results went even further than our most optimistic estimates. Here is a detailed case study of how we reached success with this project.
Our Method
Start with a Good Foundation
The foundation that we start with involves writing and optimizing the critical program, therapy, and treatment pages, the main pages that site users visit. Getting these pages right is essential for delivering effective addiction treatment SEO. We focused on the main treatment pages, including residential treatment, intensive outpatient program, and partial hospitalization program. Each page was fully optimized with a high word count and extensive imagery related to the written content.
Because these pages are the "money" pages, we know how important it is to place 100% effort into these pages and their optimization. Many agencies waste their time publishing copious amounts of optimized blog posts to obtain better rankings. However, written blog posts should only be one small part of a broader SEO program for any treatment center that wants to gain long-term success.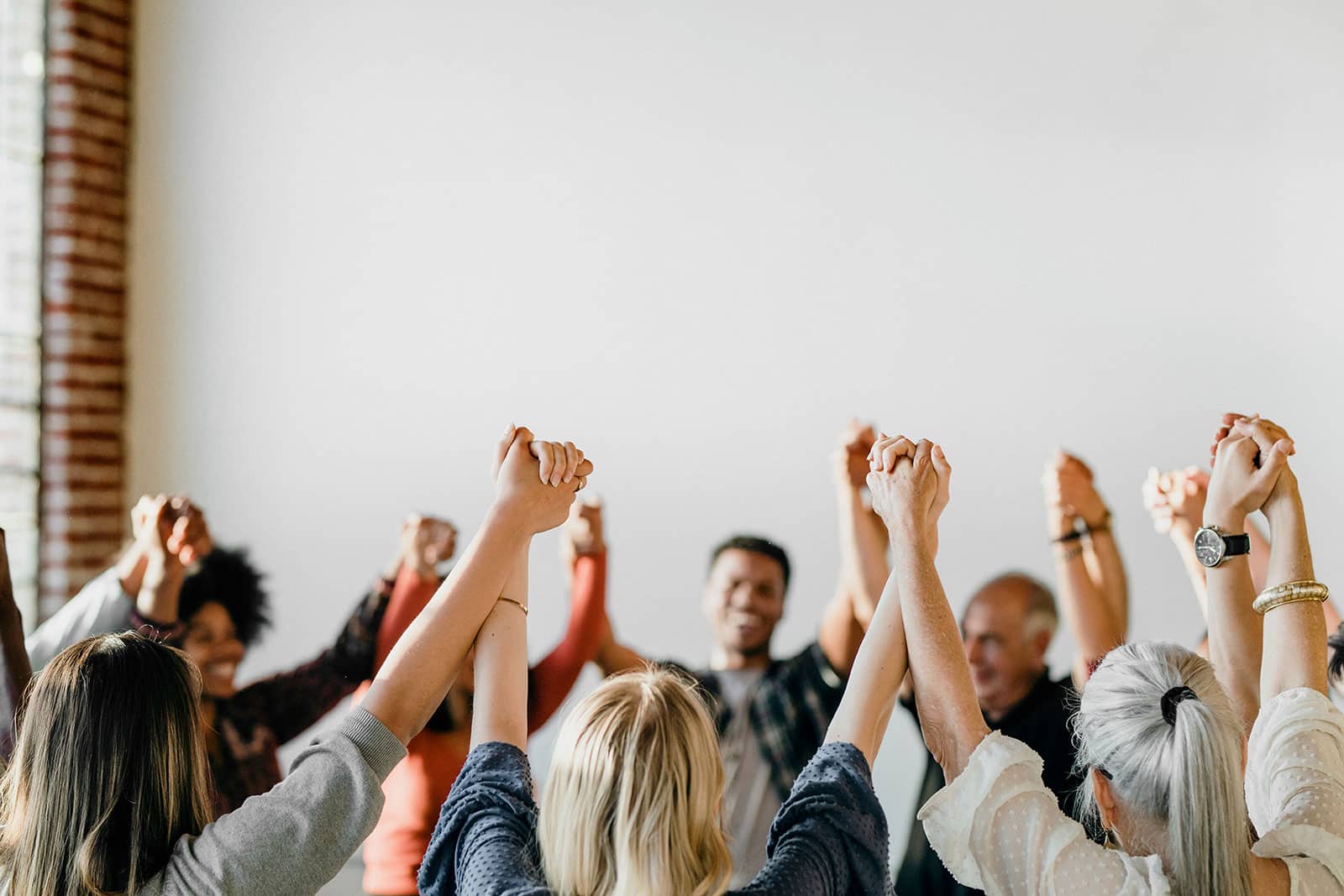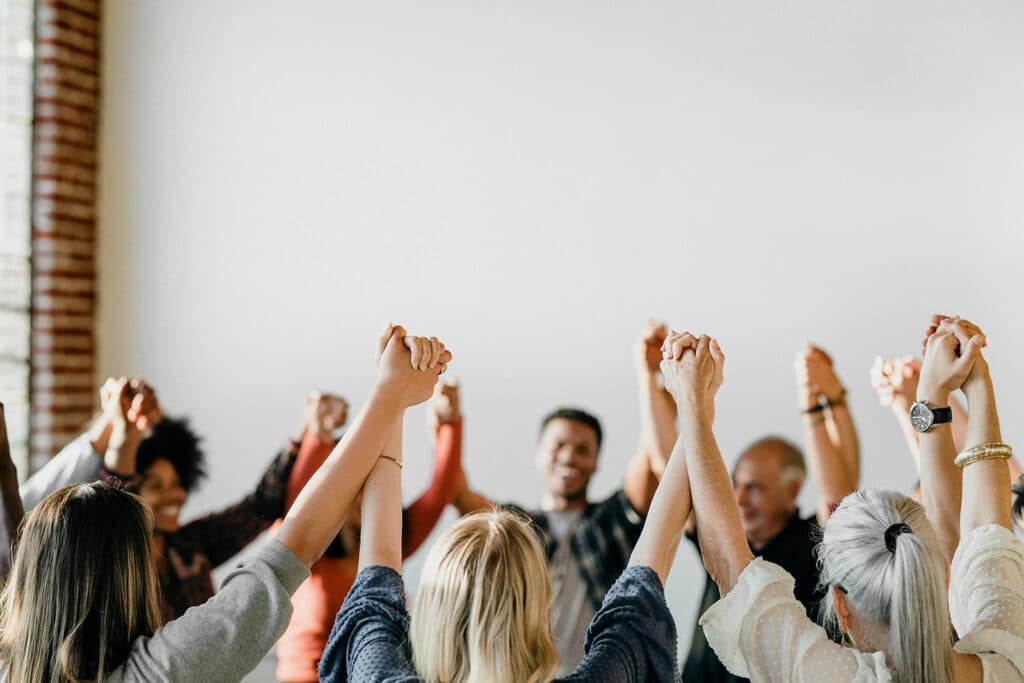 We have also found that many addiction treatment centers forget to list every program they offer on their website. This is a massive missed opportunity that only provides site visitors with incomplete information while also reducing the amount of relevant content that can be delivered to users. We were fortunate to begin this project with a clean foundation since a website didn't exist before the start of the project, which occurred on January 1st.
From here, we built a clean and quick theme that uses an easy-to-understand HTML hierarchy for search engine crawlers. Every page on the drug rehab website includes Schema, which extends to local business, logo, how-to, and FAQ content.
Setup
The next step in our process involved helping our client get certified with LegitScript while also setting up a Google Business Profile. Google Business Profile has proven to be a vital tool for generating phone calls from potential customers. LegitScript is fantastic because it ensures that grey-hat or black-hat tactics aren't used. Once the profile was created, our next goal involved building local citations via backlinks.
Keyword Research
While many methods can be used to perform keyword research, we began by searching for long-tail keywords with weak spots. For instance, it's easy to outrank Quora regarding user-generated content. Any domains with low domain rank don't require much effort to overtake in SERPs. Our goal was to find topics that the website could rank for.


Even though SEO tools can be helpful during keyword research, they may also be inaccurate. When an SEO tool shows low monthly traffic, it's possible that a decent amount of traffic is being generated in Google Search Console. Other tools like SEMrush and Ahrefs only provide users with educated guesses and don't always know the search volume for specific topics and terms. It's essential to look at the final results instead of SEO tools that may be wrong in how they interpret the data.
Focus on Conversions
When performing SEO with our clients, we aren't satisfied by creating content and implementing keywords that gain ample traffic. Articles with titles like "Cheating Drug Test" will bring in high traffic for a drug rehab center. However, this traffic doesn't contain many actual leads.
Even though bottom-of-the-funnel keywords have lower search volume, the conversion rates are nearly triple that of the top-of-the-funnel keywords. In comparison, articles like "is drug rehab tax-deductible?" will gain higher conversions since potential customers are searching for methods they can use to save money on treatment. We strive to implement keywords that are ready to convert.


Getting Reader Feedback
Almost nothing is more important for treatment center SEO than gaining reader feedback throughout every stage of the buyer's journey. We made sure to ask "Did this article answer your questions?" on every page. We would then place a simple Yes/No option following the questions. If the user selects "No," the form reveals a completely anonymous area where this individual can write a response and provide feedback.
For a more specific example, one of the questions we received was, "As an alcoholic, is there a chance I can overdose on Naltrexone?". We took this question, and any feedback received to update the article to provide readers with more relevant content. SEO tools cannot offer the same level of information delivered through honest user feedback. Better engagement equates to higher rankings.
Optimize
Many people see the web page in the SERPs but aren't clicking on it. During optimization, we focus on any content showing up on page two of a Google search. Moving from the first spot on page two to the final location on page one leads to traffic quadrupling. The same is true of high impressions and low click-through rates via Google Search Console.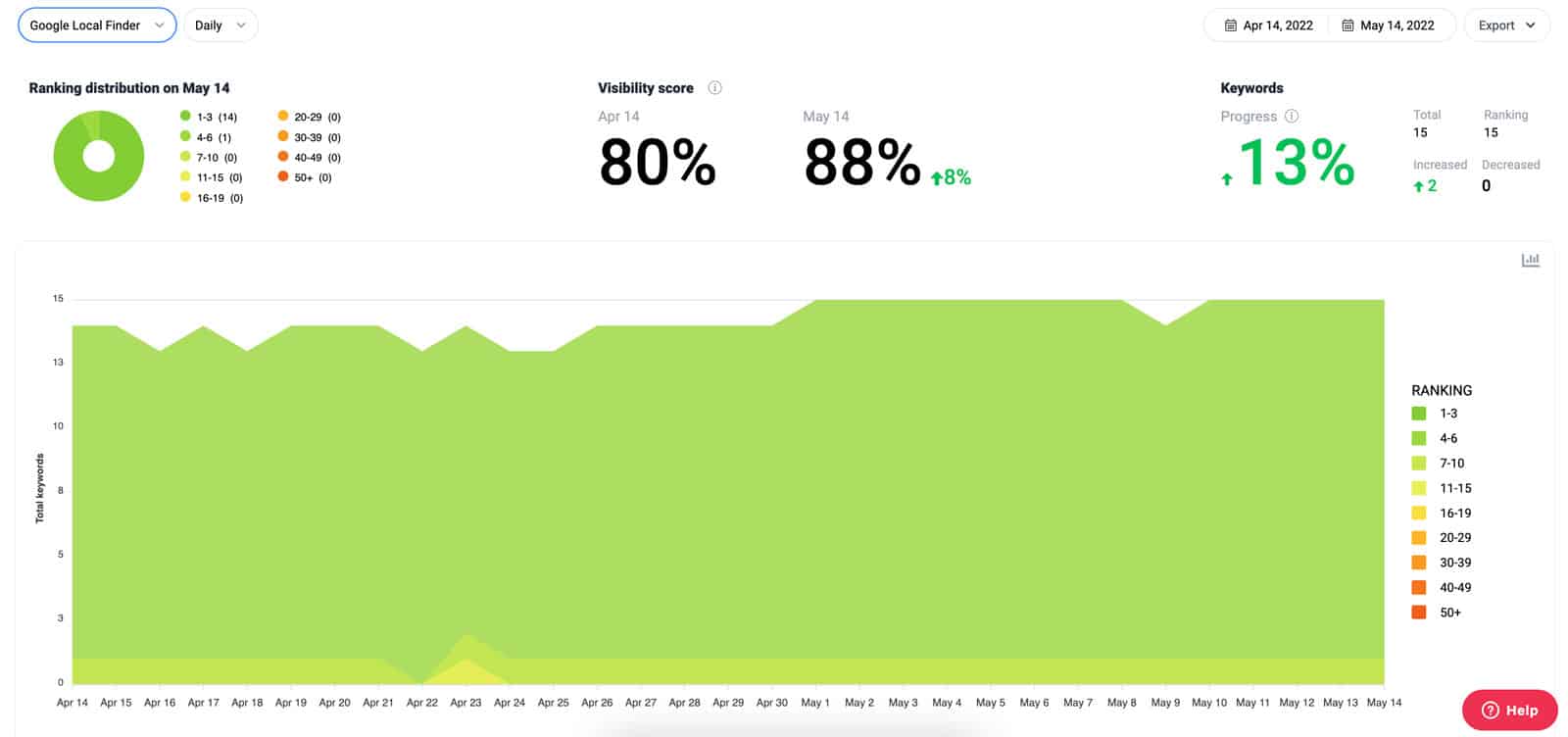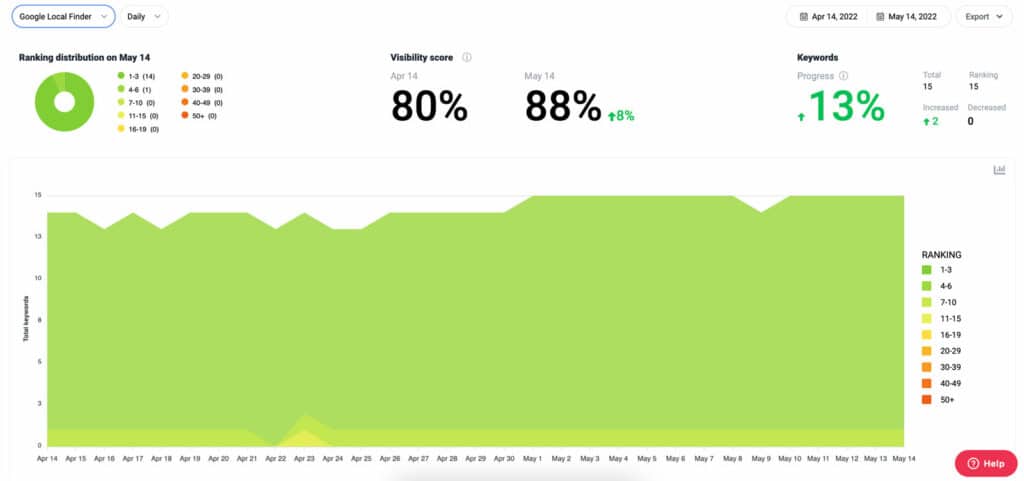 We turned this around by rewriting the title and meta description. Any sudden drops in rankings point towards a shift in search intent, which we address by rereading the article to ensure it remains relevant. While this stage of the process involves a lot of work, it pays off in the long run.
Tracking
When tracking results, we were highly focused on phone calls and local rankings, both of which are essential metrics for measuring the performance of drug rehab SEO. Most people who attend addiction treatment at a rehab facility do so locally since flying across the country take a considerable sum of money. The majority of individuals who choose to enter treatment don't want to be too far away from family and friends, which is why local SEO is critical for the success of the entire campaign.
Even if someone can fly to another side of the country for their addiction treatment, performing local optimization doesn't negatively affect site rankings. This optimization will improve rankings. We strive to add many different pieces of local information, which can be invaluable for people from out of state who want to know more about the surrounding area.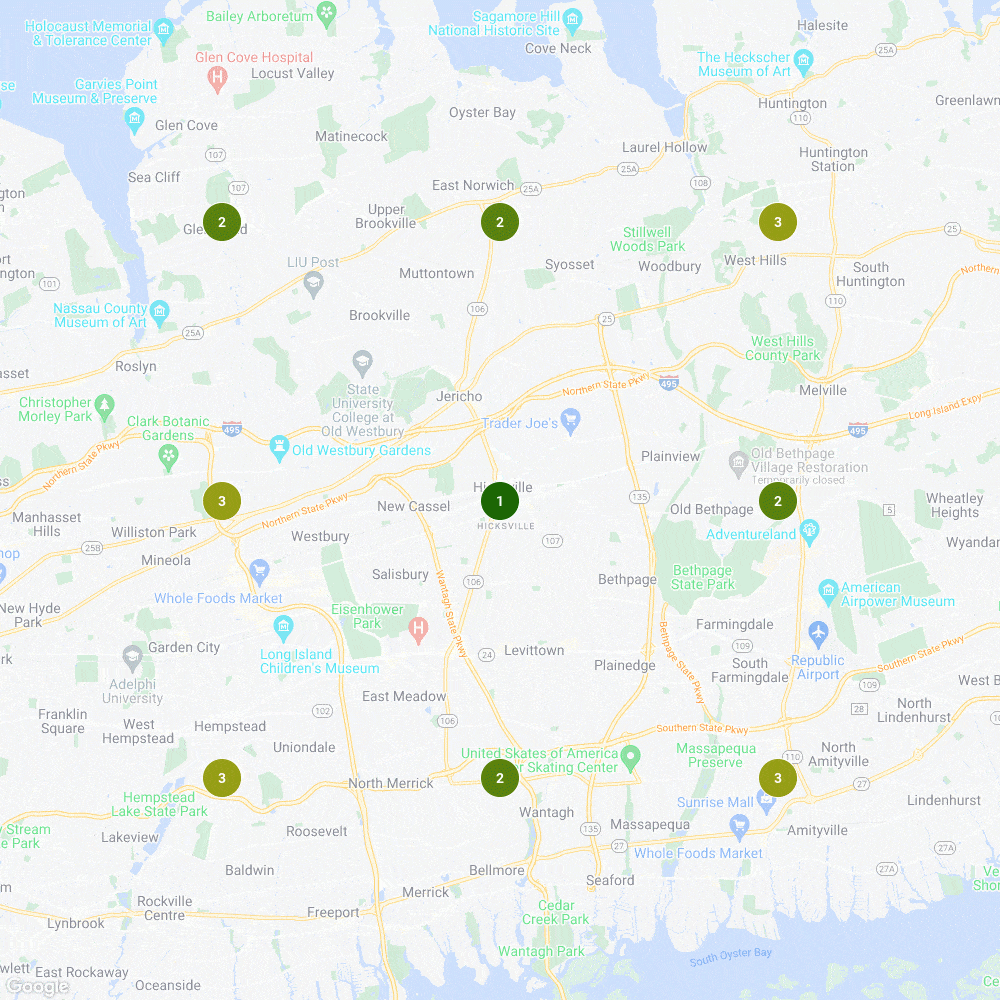 We compare backlinks and local treatment facility content during tracking since this content helps to "own" that specific area. Once we own the local area, we increase the size of the map and work out five miles in every direction to expand our reach bit by bit.
Project Metrics and Measurables – Ongoing
When looking at Geo-specific rankings for our client, we achieved the top three rankings for every location in the Long Island area. As for our client's Google Business Profile rankings, the visibility score increased from 80% on April 14th to 88% on May 14th, which represented an 8% increase in just one month.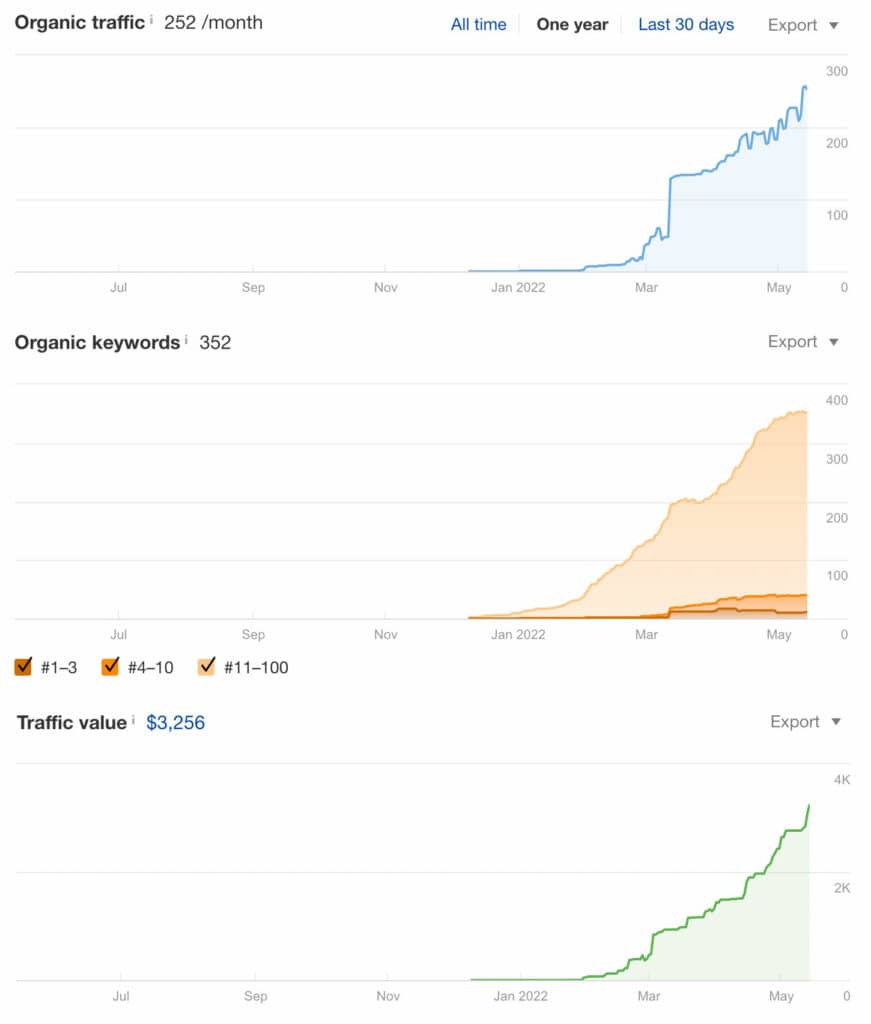 Organic traffic has been steadily rising since launch. In early March, organic traffic amounted to 60 visits per month. By continuing to iterate and improve our SEO efforts, organic traffic increased to around 252 visits per month as of May 14th, which represents rapid growth. Since we weren't building on an older website with this specific project, our organic traffic and traffic value metrics only apply to the website since it was first launched in early 2022.
The organic keywords implemented into site content have also risen consistently over time. Around the beginning of March, there were upwards of 120 organic keywords. By May 14th, this number has grown to 352. As for traffic value, the organic traffic delivered by SEO rose from around $400 in March to $3,250 in May.
Since the site launched around the beginning of the year, organic call trends have been on a steady and consistent incline. While traffic and keywords are significant, treatment facility owners mainly care about phone calls. These calls are what keep the facility operational.


419 calls have been received through Google Business. Organic search calls amount 164. There were also approximately 64 calls that came directly from the website. Over 80% of these calls were answered. SEO doesn't just happen through magic. It's a lot of hard work that requires constant updates. This work mainly revolves around content creation, data analysis, and optimization.
Continually Adapting
There are times when the Google Search algorithm will update and cause traffic to drop by a considerable amount immediately. We never shy away from these scenarios and always tell the client what's going on. Even though the client is typically upset by this news, we always arrive with a comprehensive plan on how to fix the issue.
We focus intently on EAT (Expertise, Authority, Trust) and YMYL (Your Money, Your Life). Creating content with these guidelines reduces the likelihood that your website will suddenly drop in rankings.
To understand how adaptive SEO must be, consider what it's like to build a house. There are times when supplies and materials will be delayed. In this situation, the builder must develop a solution to ensure that project development remains on schedule. The same is true with search engine optimization (SEO).
Money is a universal language that everyone understands. A rehab center's CEO speaks in money, so SEO measurables must be displayed in this manner. We always focus on traffic value during our projects, including comparing what traffic would cost if obtained with Google Ads.

Traffic and keywords aren't always easy to understand. However, showing that the value of traffic coming to the website is $3,300 indicates that our SEO services are worth the initial and continued investment. We also pair these metrics with more than +20 VOBs (Verification of Benefits) a month.
Our client's organic phone calls are usually worth around $50-$100. Our efforts have resulted in the generation of 640 phone calls year-to-date. When you multiply these calls by a return of $50, this results in $32,000 from organic phone calls, a 6.5x return on investment. If you consider all VOBs, traffic, and calls, our SEO services provide a +12x return on investment.
Contact SEO North today for drug rehab SEO help.
FAQ
---
Published on: 2022-05-16
Updated on: 2022-08-11