What is Link Building? A Definition
Link building is the practice of earning links to your website from other websites. Search engine algorithms use these links to determine how popular and reputable your site is. This means that incoming links are essential in determining where your site will rank in search results.
There are two main link categories: "incoming" and "outgoing". Outgoing/external links point outside of your domain. Inbound links are the opposite and link to internal content.
Why Build Links?
Why do you want backlinks? Backlinks help Google and other search engine crawlers find new content. The better the referring website, the faster pages get crawled and indexed. These are called "high-quality" links because they show that another site believes your site has relevant and valuable information – a decisive vote of confidence.
Why is Link Building Important for SEO?
For your site to rank in the search engine results pages (SERPs), you need to have a strong link profile. This means you need both quantity and quality links pointing to your website. Quality links come from websites with high authority, while quantity is simply the number of links you have. The following are some reasons why link building is so essential for SEO:
Search engines use links as a ranking factor: As we mentioned before, search engines use links as one of their many factors (PageRank) when determining a website's rank. Google said that "in general, the more high quality, relevant links pointing to your site, the better."
Search engines consider anchor text when calculating PageRank. Anchor text are the clickable words in a link. It tells search engines what the linked page is about. However, Google also says that anchor text should closely match the content on your page.
Links help with branding: Links and anchor text helps Google determine your brand name and relevance in the market.
Links help with website traffic: Backlinks are still the top source of website traffic, along with search engines and social media. A recent study by Ahrefs found that the number of referring domains (links from other websites) was the second most significant factor in predicting how well a website would rank in Google search results.
Links are an essential part of building an online presence: Besides helping with SEO, links are also one of the most critical factors for building an online presence. When other websites link to yours, it shows that you are an authority on a particular topic and provide valuable content. This can help you to attract new customers, leads, and followers.
Simple Link Building Strategies: How To Get Other Sites to Link to You
Now that you understand why link building is so crucial for SEO, it's time to learn how to get other sites to link to you. The following are some simple strategies that you can use:
Content creation & promotion: One of the best ways to get links is by creating high-quality content that others will want to share. You can promote your content on social media and submit it to blog directories and other websites. Other websites will be happy to link to it if it's good enough.
Reviews & mentions: Another great way to get links is by getting reviewed or mentioned on high-traffic websites. This can be as easy as reaching out to bloggers and other website owners and asking them to review your product or service.
Links from friends & partners: Another easy way to get links is by asking your friends and partners to link to you.
Internal Link Building can be just as important as External
Now that you know how to get other websites to link to you, let's learn how to optimize your internal links.
Anchor text: Using targeted anchor text is one of the best ways to internally link to your other pages. This is the text you use to hyperlink to another page on your website.
Quality of the linking page: Another vital factor to consider when internally linking is the page's quality to which you're linking. Ensure that the page you're linking to is high quality and provides valuable information to your visitors.
Match Search Intent: Make sure that the page you're linking to is relevant to the content on the page you're linking from.
SEO Link Building Wire Frame
Before you start linking every page in sight, it's best to plan out your strategy. This will show you the pages on your website that you'll want to link to. You can use Excel, a whiteboard, or any other tool you feel comfortable with.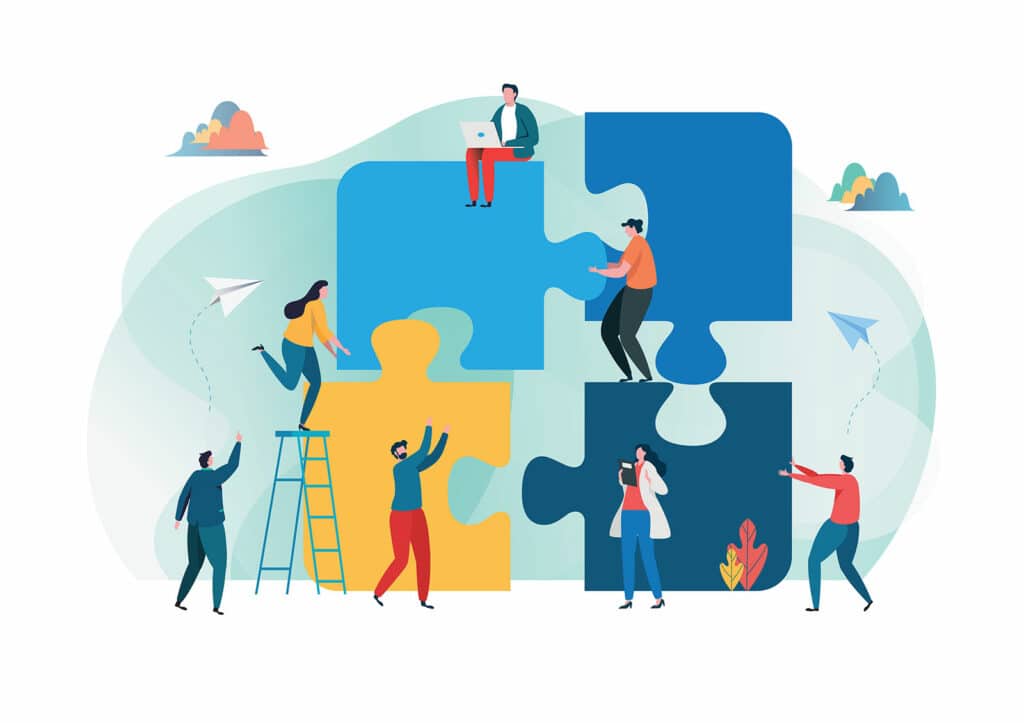 Internal Link Building Optimization
Now that you know how to use internal links for SEO let's look at some optimizations that will help you improve your link-building strategy.
Keyword research for link building: One of the best ways to find high-quality pages to link to is by doing keyword research. This will help you identify the types of pages you should avoid and those you should focus on.
Assign keywords to content: Another great way to improve your internal linking is by assigning seed/root keywords to your pages. This research can be done through Google Search Console (or your favorite keyword research tool) and recording which keyword you picked using the Yoast SEO plugin for WordPress.
Anchor text ratios: Don't repeat the same anchor text numerous times, find synonyms and related terms to use as anchor text. Repeatedly using the same anchor text is seen as manipulative.
Advanced Search Operators
The first step in creating effective internal links is finding pages on your site relevant to the new page you want to promote. One easy way to do this is by using an advanced search operator in Google.
site:domain.com keyword
This advanced search operator will provide you with results Google sees as most related to your search.
Finding pages on your site to link to a new page
Once you've identified a relevant page on your site, the next step is to create a link from that page to the new one. This can be done in several ways:
Add a text link: This is the simplest way to create a link, and it's also the most unobtrusive. Add a text link in the body of your content that leads to the new page.
Call-to-Action: You can create a button or section that prompts readers to click to a new page.
Add a reference list: If you have a lot of related pages on your site, you can create a reference list and include links to all of them. This is a great way to provide more information to your visitors and improve their experience on your site.
Conclusion
Whenever in doubt, always keep the user in mind. What will be best for user experience? Will this help people navigate to my most important pages? If you can build a website for people to use, then you will never lose.